Kankura Golf Shoes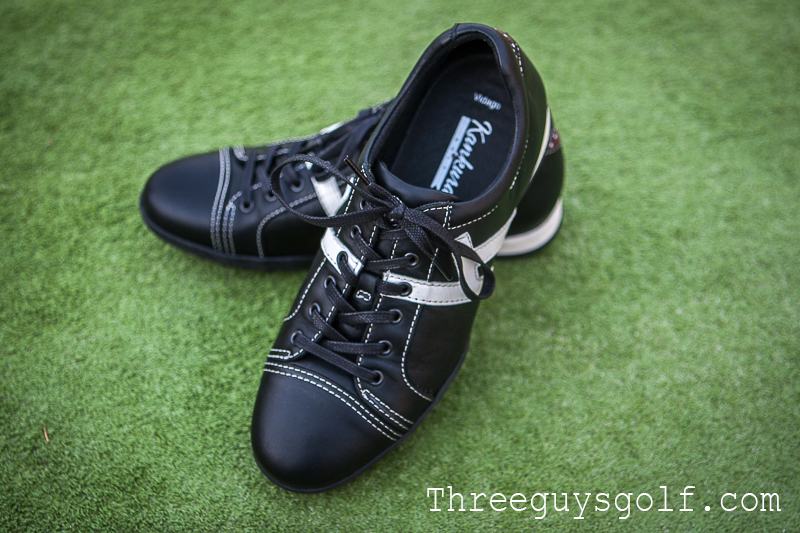 Taking on the challenge of purchasing a new pair of golf shoes can be a daunting task. Luckily for us golfers there are tons of sources when it comes to helping us choose which shoes to take into battle. Thankfully we are no longer constrained by what is on the rack at the local golf store, but still, even a google search for "cool golf shoes" can leave out a ton of potential winners.  
This is where our job as reviewers takes on a challenging aspect. We have to go beyond typical retail outlets to find the next big name. Personally, I find the challenge both exciting and rewarding. Especially when we are able to discover a relatively unknown company that is making outstanding products.
A perfect example of this situation is the shoe company Kankura Golf. Hailing from Portugal, Kankura Golf has created a masterful line of shoes that seamlessly blends craftsmanship, technology and style.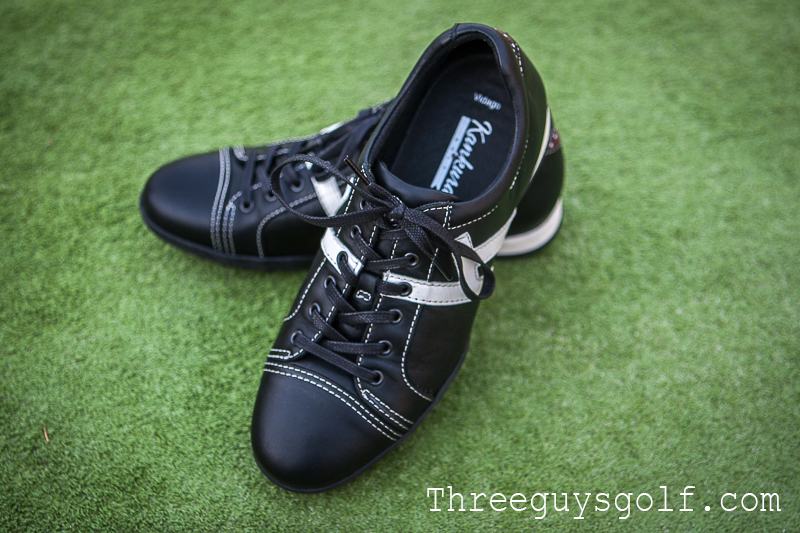 My first encounter with Kankura Golf came at the 2014 PGA Merchandise show. Oddly, despite their massive display of shoes, hardly anyone seemed to be paying attention to their booth. Red flag? Maybe, but since our job is to provide fresh content for our readers, further investigation was clearly needed. Maybe it was the unfamiliarity of the brand or the strong Portuguese accents, but either way, I had a hunch about this brand of shoes.
First thing I noted was that every single pair of Kankura Golf shoes showcase the letter "K" on the sides (some very prominently, some more subtly). In either case the "K" was stitched into the design to produce a striking and recognizable look.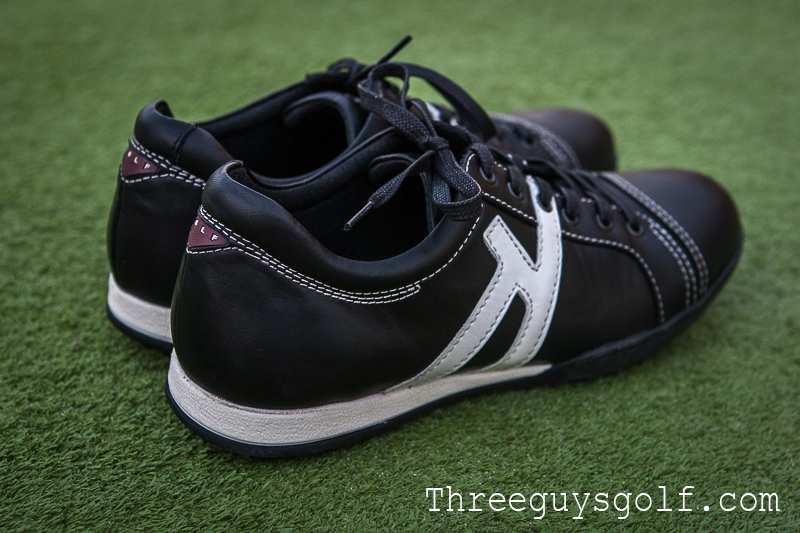 As I mentioned, the Kankura booth had a ton of styles. In fact, there were over 30 different variations to choose from covering 7 different styles. Needless to say, coming to a decision on which style I was going to choose for our review took me a bit longer than the typical "would you like black or white".
What I saw next surprised the hell out of me. The sole of the shoe is like no other golf shoe I have seen…diamonds. Now I'm not familiar with every golf shoe ever created but I'm pretty confident I've never seen a diamond spike pattern on golf shoes. So then the question becomes: why diamonds? Is there anything beyond the look or is there a real difference in traction?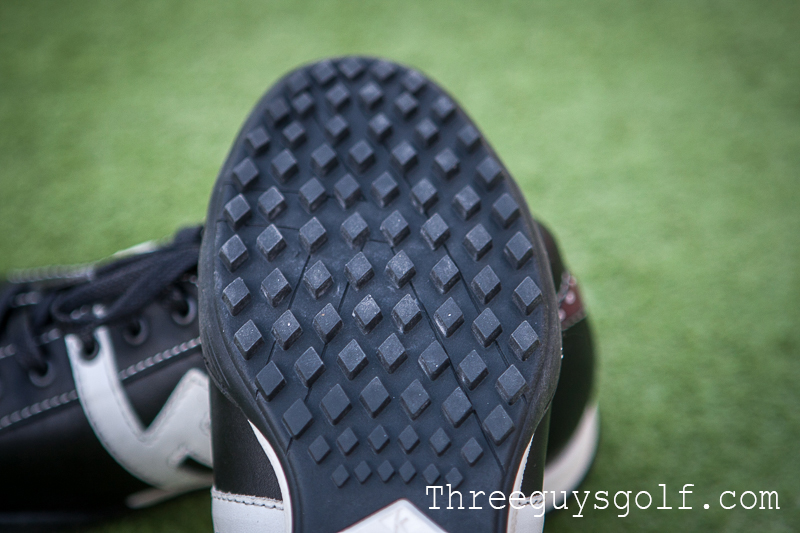 What I found is that the diamond shapes and their arrangement make it a very stable shoe when swinging and really comfortable shoe to wear walking. As you may have guessed, the restrictions to wearing these only on a golf course have been lifted. With a durable sole and the unique styling of the Kankura shoes you will want to wear them off the course.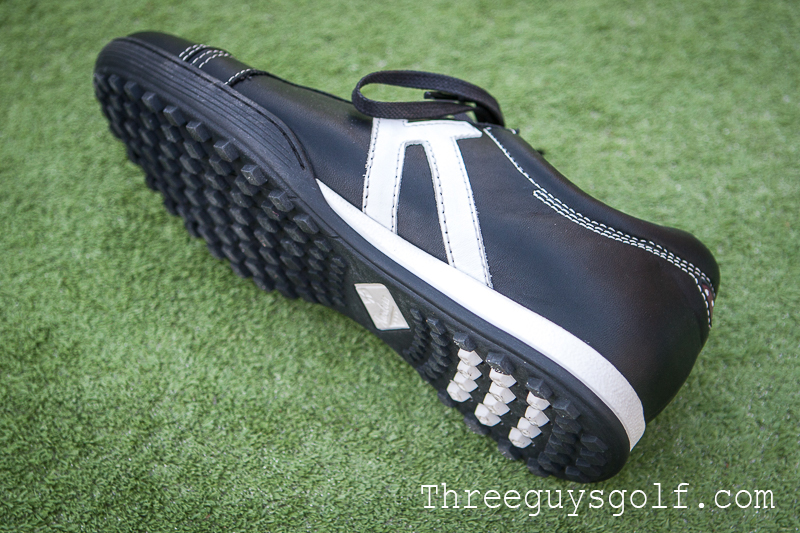 There I stood in the middle of their booth, trying on several different pairs of shoes, just perplexed why the two gentleman from Kankura weren't beating away the masses with sticks trying to maintain the peace. I mean, the look is outstanding, the design of the sole is refreshing, there had to be a reason no one was as engaged as I was. Unfortunately, I have no idea why the Kankura booth never seemed to fill up, but I was certainly happy to get the extra time and space to check out all of the models.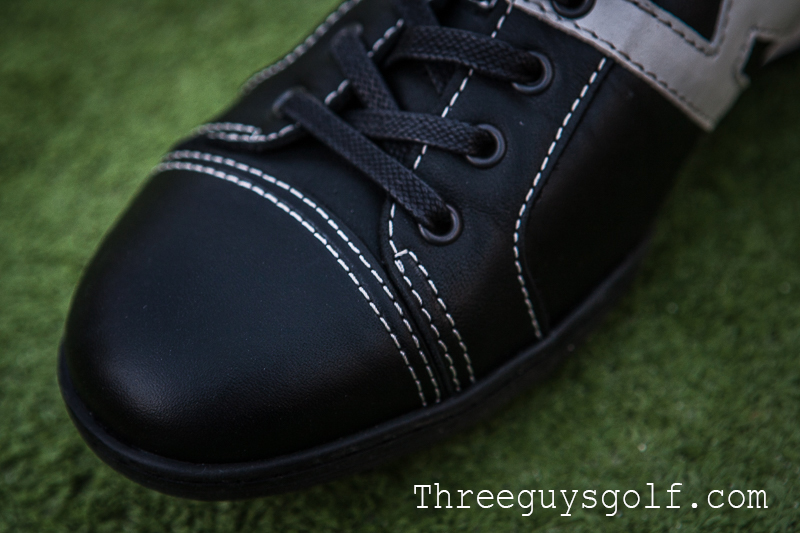 After trying on a few different sizes I exchanged information with one of the gentlemen running the booth and let him know that Three Guys was incredibly interested in doing a review, and while it may have taken some time for the Vidago pair I picked out to arrive, the wait was incredibly worth it.
I can tell you the several rounds I've played in them since their arrival have been nothing but impressive. What I wasn't able to do at the show because of my tight schedule was take some time to really look over the shoe from top to bottom. Now at home with the kicks in my hands I was able to go over them with a fine-tooth comb to see if the shoes were as good as I thought or if all of the people who passed the booth like it was a Spalding Golf Ball exhibit knew something I didn't.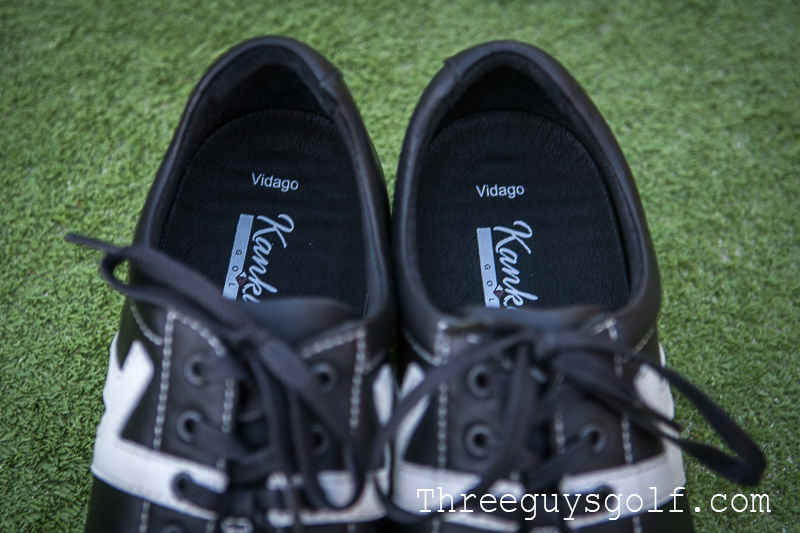 The box that arrived was well sealed and by the tracking number I could tell that the shipment came from Portugal (rather quickly I might add). You see, some international shipments can take literally weeks to arrive so I commend Kankura for somehow avoiding such delays.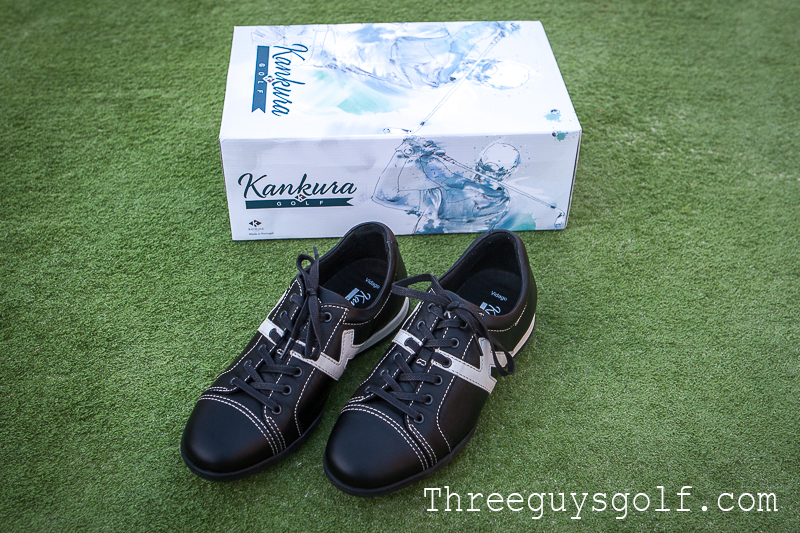 Much like the shoes, the box they come in is rather unique as well. The Kankura graphics cover all the sides of this drawer style container. While the drawer style construction could easily be used to keep shoes in, it will probably become permanent fixture in my closet for random nothingness (I'm a total hoarder when it comes to shoeboxes).
Also inside the decorative box you'll find a bag for your shoes and even a shoehorn. For those of you who have never had the pleasure of using an actual typewriter or had to use a PC with MS-DOS, a sho horn is a wonderful little invention that is way under-appreciated.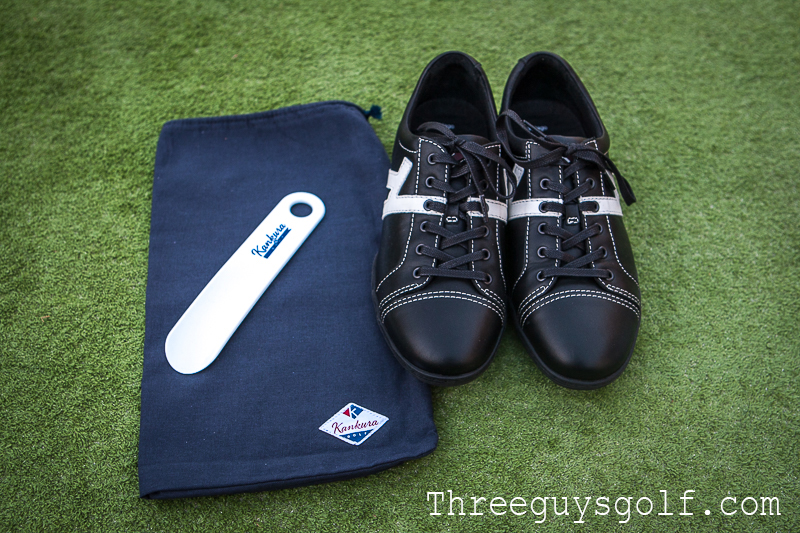 On the Kankura website it states you have to first love the look of the shoe before considering a wearing them. Kankura took that ideology to heart when crafting their shoes and it shows with every fine piece of leather and every stitch that holds it all together. They are, hands down, one of my very favorite golf shoes.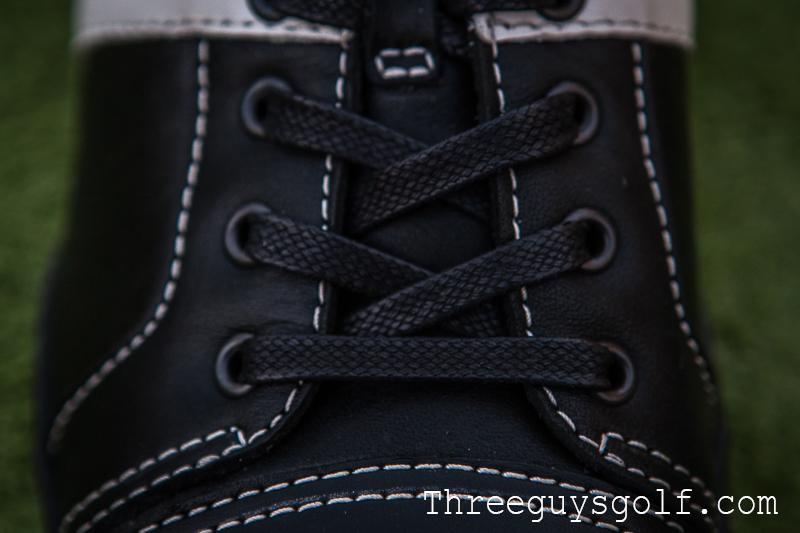 The attention to detail is outstanding and the design is gorgeous. This is no cookie cutter product and it does not take a discriminating eye to tell right away how much thought went into the design.
I took their vision to heart and wore the Kankura out to dinner the first night I got them. Kankuras decision to make them more than just a shoe for the golf course isn't anything new. Today's modern shoe companies are going along with the apparel trend that says I'm not just playing golf in this today. I have several "golf" labeled pieces that I wear all the time and I don't confine them to just a round of golf. Now that shoe companies are following suit it's nice to know that I can head into the local watering hole after playing 18 and not feel completely out of place wearing exactly what I wore to the course that day.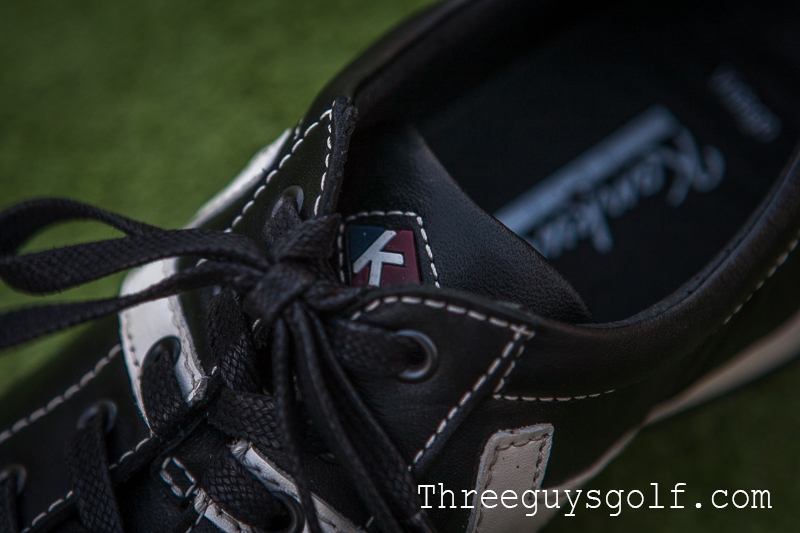 You may have the hottest looking shoes on the planet but unless they perform you're never going to wear them for a round again. That's why I was thrilled when my first golf outing in the Kankura shoes was a huge success. Not only did I shoot a personal best but afterwards while at the 19th hole I had someone ask me about the shoes. Vegas is a lot of things, but a place where people willfully engage you in conversation about your shoes is not one of them. So when someone asks where I got my shoes, you know they are cool looking. Again, the style of the Kankuras speaks volumes.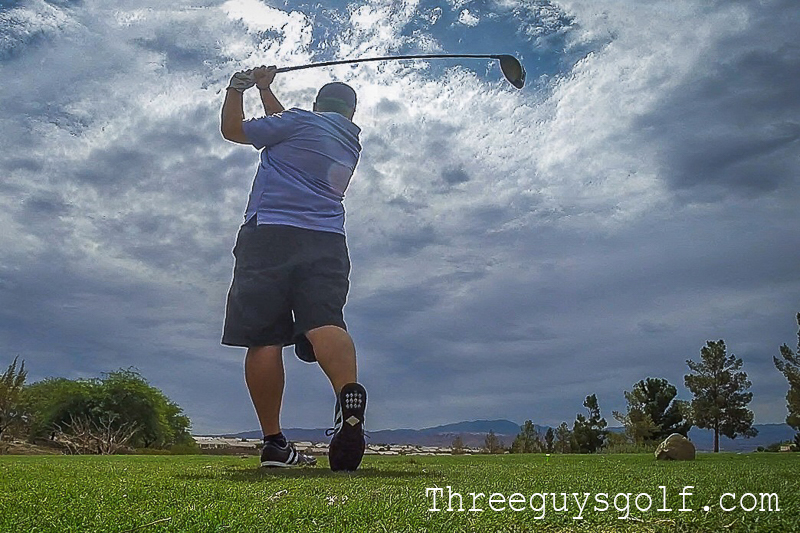 I've been 100% satisfied with the performance of the Kankura shoes. They are comfortable enough to walk 18 holes and durable enough to play in the nastiest of conditions.
With Vegas being so hot during the summer I'm not often excited to throw on a pair of black leather shoes and trek around the desert whacking golf balls, but for whatever reason I haven't once been uncomfortable while wearing the Kankuras. That's a testament to their performance.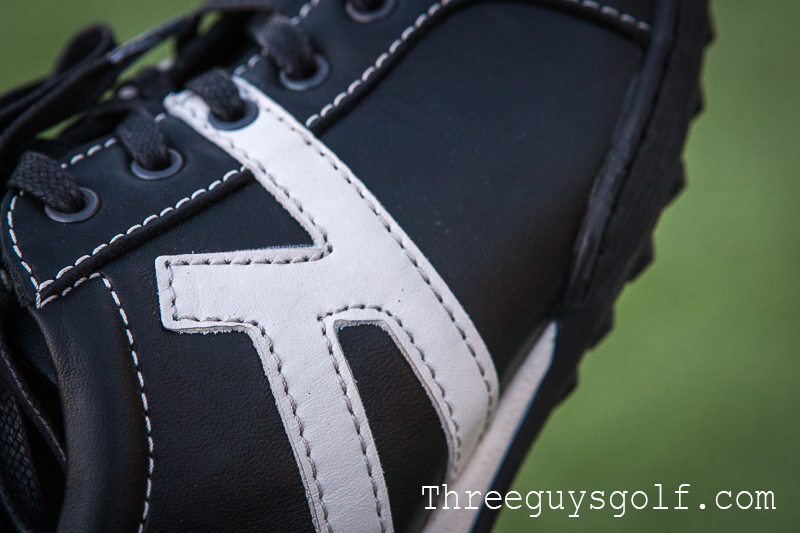 You have to remember these shoes are from Europe and the sizes are European as well. What I've found out about most shoes that come from overseas is they really don't take half sizes into consideration. I typically wear anything from a 7.5 to an 8.5 depending on the shoe of course. The 7 (Euro size 6) that I tried on at the PGA Show was a bit snug and not very conforming. The 8 (Euro size 7) fit much better, and even though it was easily a half size larger than what I should be wearing, it was the clear choice.
Be sure to take that information to heart if you decide to purchase a pair and you're in the half size area.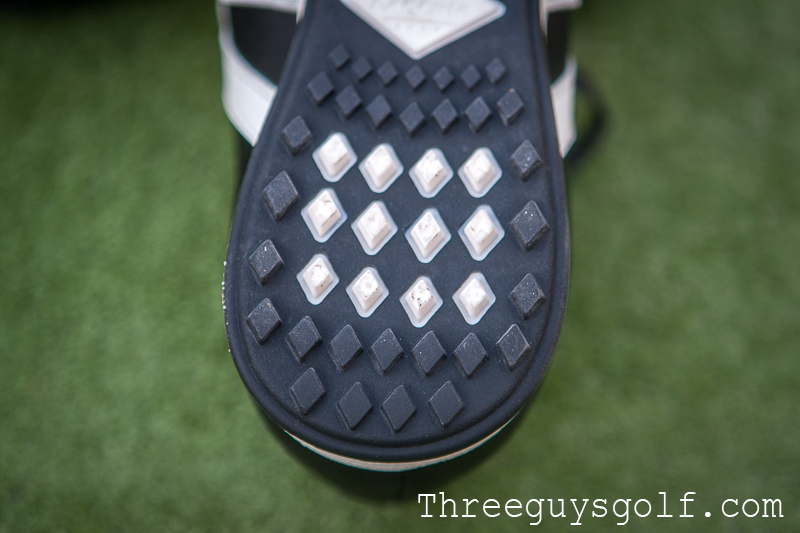 The Kankura Golf shoes range in price from $170 to $200. Because they hail from Portugal, expect to pay some shipping charges to get it over to the states. The wait is entirely worth it though and I feel these shoes can compete with any of the major brands you find in those big box retail outlets. To find out more about Kankura Golf and their amazing shoe company please visit their website.
I highly recommend you watch the videos they have too. It's not often you find a company that will show you the entire process of how their shoes are made with a very well put together video. It really brings to light how much work goes into each and every pair they make.