Pinehurst Golf Trip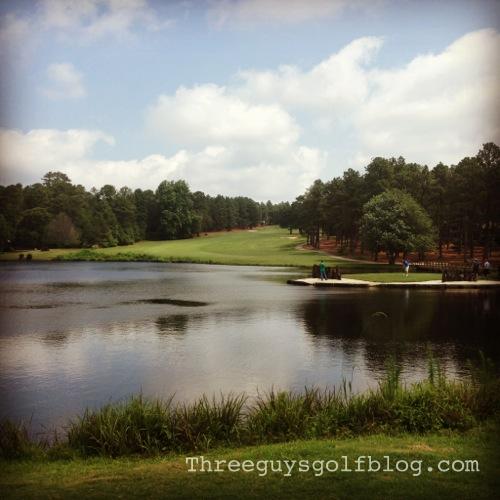 Pinehurst Golf Trip: If you somehow "lucked into" being in charge of organizing your buddy golf trip you know just how much work it can be. Fortunately, there are few things more fun than heading out of town for a few days of golf with all your buddies. So if you are in that unenviable position of outing organizer, let me give you a few ideas for a Pinehurst trip that I have picked up over the years.
While there are tons of great courses in Pinehurst within 6 square miles, we typically play a rotation of about 8. The first trick to planning your trip is to find a good golf travel coordinator. While it is possible to make all of the tee times yourself it is much more efficient, and likely cheaper, to hook into a travel coordinator.
For the past 4 years we have gone through the folks at Talamore Golf Resort.  Andrea has been able to get us preferred rates on a lots of courses, line up our tee times, make sure we don't get put on punched greens and house us in town homes right in Talamore. For a quick reference their number is 800-552-6292.
While I usually only spend about 15 non-sleeping minutes in our condo, they are more than comfortable. Each has a nice TV, kitchen and living room. They come with 2 bedrooms, 2 bathrooms and 4 beds. Plus a couple of big chairs for falling asleep in!
So on to the courses: This year we played Mid Pines, Mid South, Seven Lakes and Talamore: All great courses but each one unique:
Mid Pines: The sister course of Pine Needles where the US Women's Open is sometimes played. This is an older course with a huge club house (albeit not exactly modern). The layout is a Donald Ross design that is straight forward and pleasing. You will not find any tricked up holes here but plenty of beauty. This was our first year playing Mid Pines and while we all enjoyed it, the conditions were not as exquisite as I expected and that coupled with the fact it is one of the more expensive courses we will likely put it in the every 3rd year rotation.
Mid South: A staple of our golf trip year in and year out. This Arnold Palmer course has a bit of everything: hills, water, sand, trees and a great new club house. We love this course so much we sometimes play both a morning and afternoon round here (although this year we only played it in the afternoon). The course is private but when you book through Talamore they get you on which is another reason to use an agent.
Seven Lakes: Not your typical fancy Pinehurst golf course but one of our absolute favorites! Seven Lakes is located about 20 minutes from Pinehurst which is one reason we either play it twice on Friday or on the way out on Saturday. This Peter Tufts design is challenging but fair. Personally, I like the course because it feels mature but not old. More importantly, the greens are always in great shape and the staff is awesome. Plus they have a huge club house where 12 guys can chow lunch and drink beers in between rounds. While not as fancy as the other courses we play, it is every bit as good and the laid back setting suits us perfectly.
Talamore: There is nothing like rolling out of bed only 100 yards from the club house which is precisly why we stay at Talamore. A Rees Jones design will dish out all that you can chew. Even from the whites (6,100 yards) this course will test you with a desert full of sand traps and elevation made for a Llama. Yup, you can literally get a Llama to carry your bags.
Getting to Pinehurst: Even though I drive to Pinehurst, I do have a few buddies who fly in. Raleigh-Durham airport is only about 90 minutes away from Pinehurst making it super easy to get to from nearly anywhere.
Night life: While our trip is mostly focused around golf, we do go to "downtown" Southern Pines. Its only about 10 minutes away but we always call Johnny C at Pinehurst Taxi who will run a bunch of us there for $5 a man. Can't beat that with a DUI stick. Johnny will give you all kinds of suggestions, just tell him what kind of trouble you want to get into.
Format: If you are looking for match ideas suited for a bunch of varied handicappers, check out what has worked well for us.
That's it for this year. Let me know if you have any questions as I would be glad to help.
Disclaimer: I did receive partial rate reduction in consideration for our blog post but it was not a motivating factor in our booking this trip.