Adidas Adizero Golf Shoes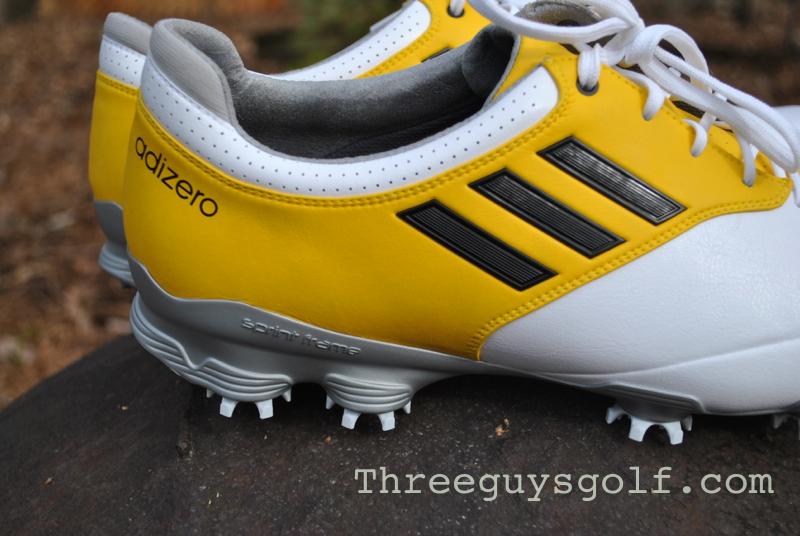 It has been nearly a year since I have worn a spiked golf shoe so I was in for a bit of culture shock (or foot shock) the first time I put on the new Adizero. One of the first things you notice about this golf shoe is that it sits up pretty high (at least on firm cement) which is completely different to the low to the ground shoes I have become accustomed to. However, unlike most spiked shoes, the Adizeros are crazy light which is pretty much what the name implies. In fact, they are only 3.2 ounces which is lighter than two apples or one can of warm beer I forgot to take out of my bag last fall.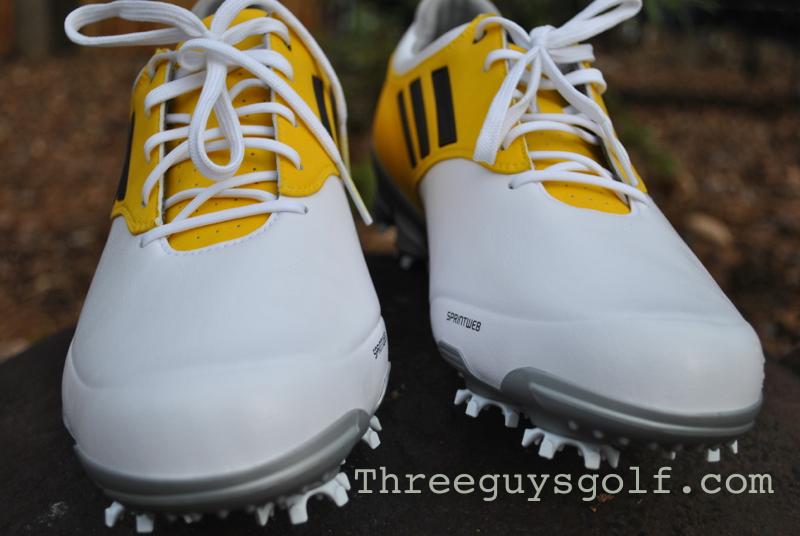 As for the grip, I have gone on record stating that most amateurs really don't need much more traction than what is afforded by simple treaded golf shoes, but there is no doubt the Adizero have an insane about of grip (and to be fair, my swing speed is half of Dustin Johnson's). The ten spikes firmly plant you on any surface and the shoes do not feel as high when on actual turf. So in the end there is no doubt additional grip is a benefit when you play on soft turf or if you really like to push off of the ground with force.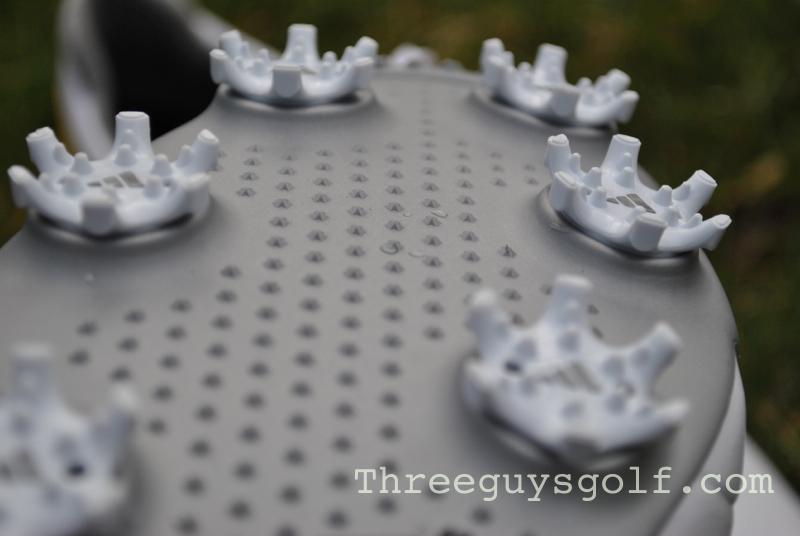 The other real technology that Adidas has put into the shoes is the structure. Both the toes and the heel section of the shoe is amazingly well molded to your foot so you have basically zero lateral shift inside them. The idea being that they wanted the shoe to mirror your foot as close as possible. While I was concerned that they would be too narrow for me, I found no discomfort at all. Instead, they have super padding and make for a perfect shoe to walk 18 in (or 36).  Additionally, I did not have any break in period as they were ready to go out of the box.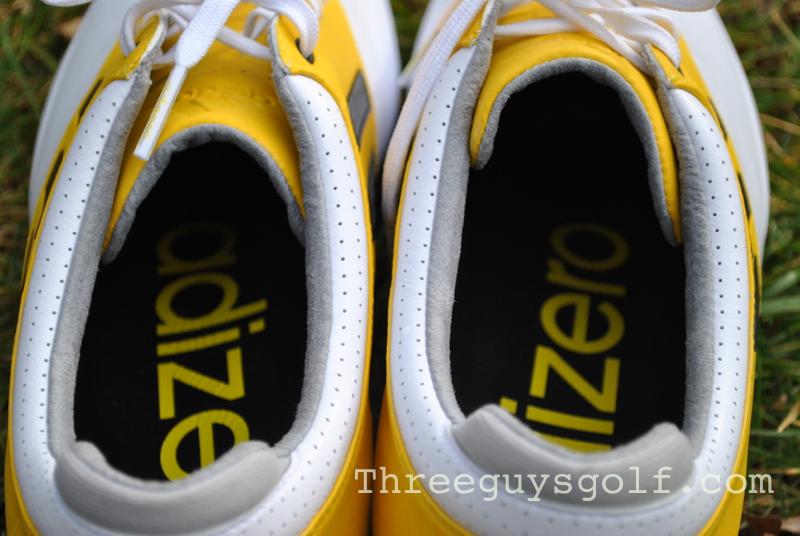 So when you say 3.2 ounces, or 2 apples, it's still hard to know what that means. As a reference point, when you hold up one Adizero and one "generic golf shoe" it is instantly clear which one is much much lighter. You can even perform this test with a "minimalist shoe" and surprisingly the Adizero is about the same weight even though it looks much more substantial.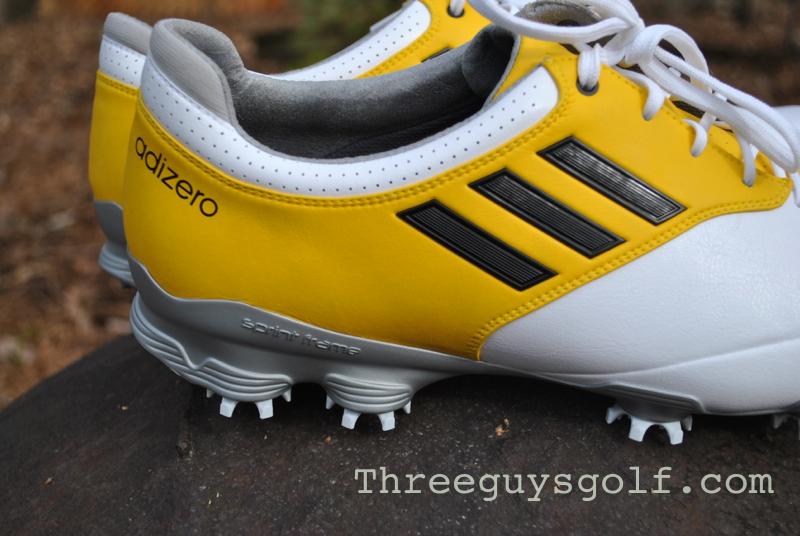 While it took me 2 or 3 rounds to get used to the feel of the Adizero, I have actually become quite fond of them. The additional traction is welcomed in the winter when the ground is soft and the shoe is waterproof so wet conditions are not an issue. And while they are white, the leather is easily wiped clean with a damp rag.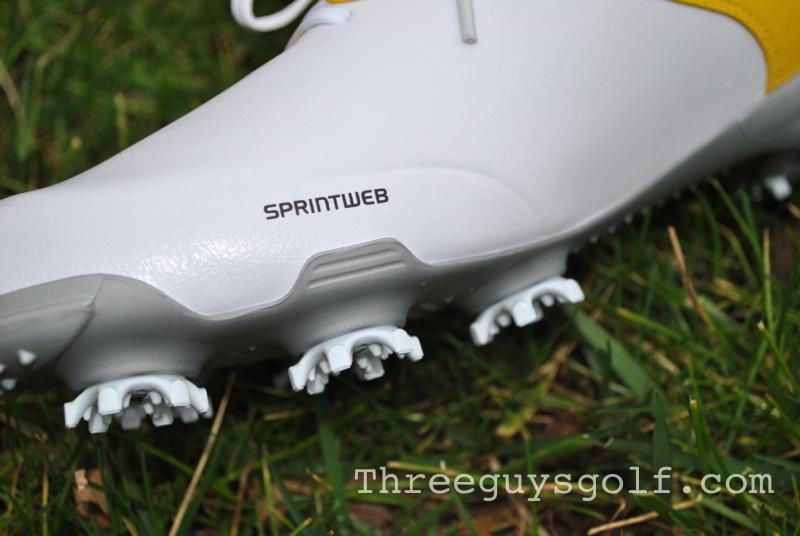 From a style standpoint, they are completly different from the shoes I typically choose to wear but I get really positive comments from my weekend golf group who acts as my unknowing "public opinion focus group"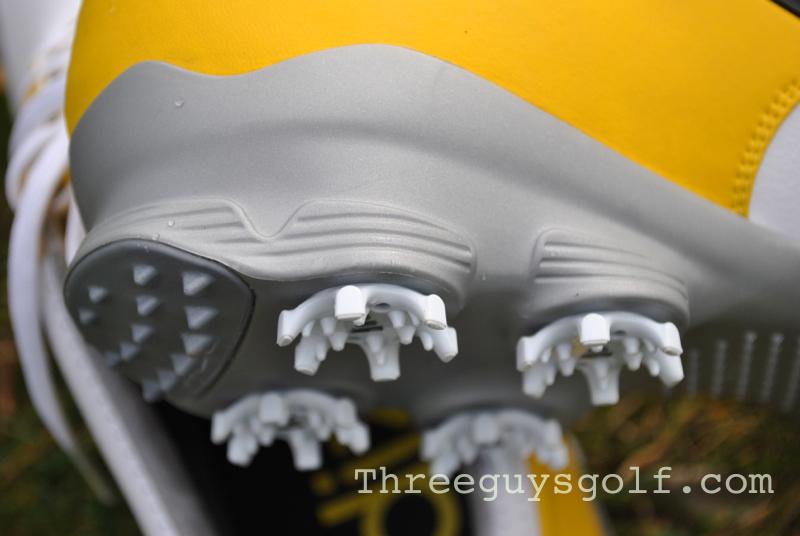 Really the only knock I have on these shoes are 1) the laces are a bit too long and tend to loosen up. I am not sure if they are just made from a slick material but I almost wanted to double knot them. 2) they are pricey. This is the Adidas Pro line so they currently run about $180.00, which definitely put them near the top end of the pay scale.
With that said, if you like a spiked shoe with tons of support but do not want the weight of your traditional shoe, then the Adizero fits the bill.
Note on sizing: I typically wear a size 12 and the Adizero size 12 was a perfect fit.
You can see more about the Adizero on their website.