Taylormade Penta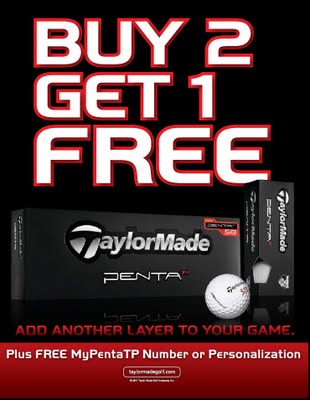 Three Guys Golf Blog talk Taylormade Penta Golf balls: I don't profess to be an expert on golf balls, but the way I see it, they fall into three categories:  rocks, average and professional.  Typical rocks are your Top Flight XL, Raw or anything you get at Walmart. While they may be cheap, I see no reason to ever play this type of ball unless you are planning on losing at least six per round.
The mid-range balls are anything in the $18 to $24 style.  One of my favorite mid-range balls is the Callaway Diablo.  While it is a two piece ball, I find it to be fairly soft with better than average distance. In fact, I believe it is very comparable to the Titlist NXT Tour which runs about $10 more per dozen.  This is my winter ball.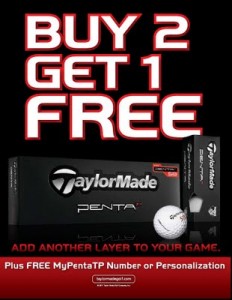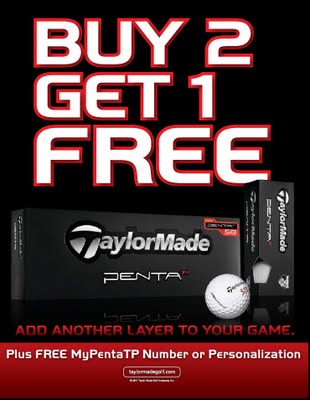 The top end obviously includes Titlist Pro V1.  Clearly a great ball but at $50 per dozen you don't want to honk more than one per round into the woods or lake.  Plus, I find that playing a Pro V1 can add stress to any shot that includes water or other hazard.  Really, who needs that on top of the regular stress.  Recently, I found a great alternative to the Pro V1.  The Taylormade Penta.  A really nice ball and with the current buy 2 dozen get 1 free promotion, they are a steal.  Unless you are a scratch golfer I would dare you to tell the difference between the Penta and a Pro V.
Whatever your choice, I would recommend avoiding the rocks and play with a ball that says "I have game".  Every little bit of extra confidence is worth a partial stroke so playing a ball that you are comfortable with is a must.  Also, try to find a ball you like and stick with it.  You would never switch out drivers every hole so why switch out a ball?