It's kind of cool when frustration actually results in innovation rather than just anther mangled 7 iron. As the story goes, the inspiration for Blunt Golf Umbrellas came to New Zealander Greig Brebner after he nearly lost an eye walking down the busy streets of London, where during a windy rain storm umbrellas were folding quicker than Superman in a laundromat. After this close encounter with the emergency room, Greig went back home to the drawing board, the design bench, and the wind tunnel. After much tinkering, the Blunt Umbrella was complete and able to with stand 73 mph winds.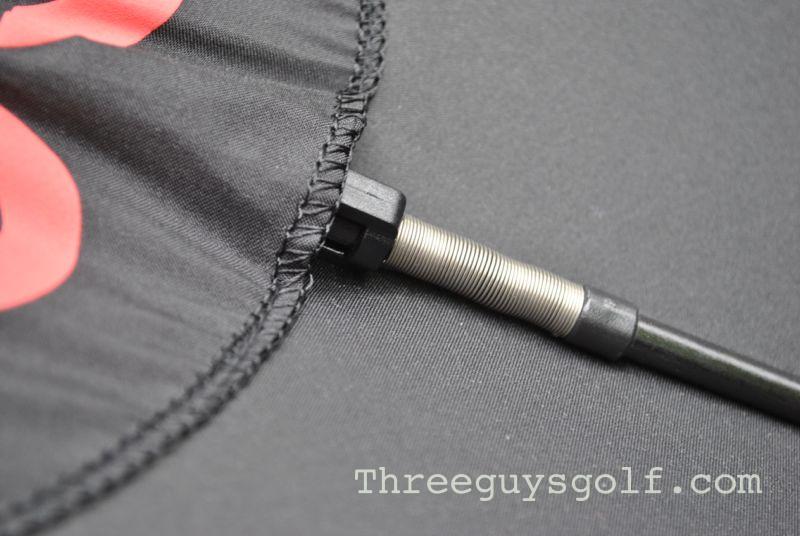 Adam had seen Blunt at the PGA Merchandise show but it was not until this spring that we actually got the chance to test the golf version of these amazing umbrellas, the G1 and larger G2. The technology that makes them work is very cool and is thoroughly explained on their website. Basically, the quick opening system pushes the tension out along the umbrella's floating ribs out to its aerodynamic blunt tips in something they call RTS or radial tensioning system. The bracing on the underside of the umbrella is unique and much stronger than regular umbrellas but without any extra weight. The result is that it takes about one gust of wind holding a Blunt umbrella to realize what makes it so unique.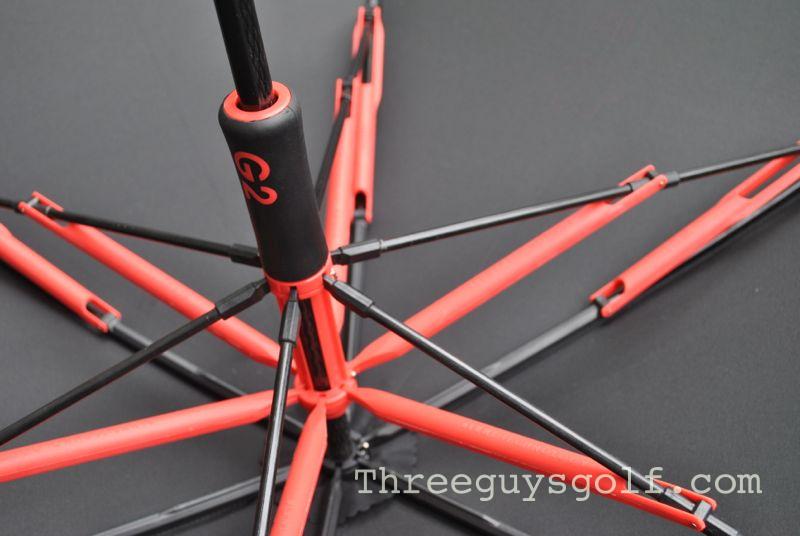 In practice, we did not get to test the umbrellas in 70 mph winds but we did use them in 25 mph gusts that were giving my conventional umbrella fits. Frankly, the only thing we were concerned with was Adam dislocating a shoulder while holding onto the umbrella. You see the umbrella wasn't flapping or budging or showing any problem standing up to the wind so it takes a bit of strength to stay grounded.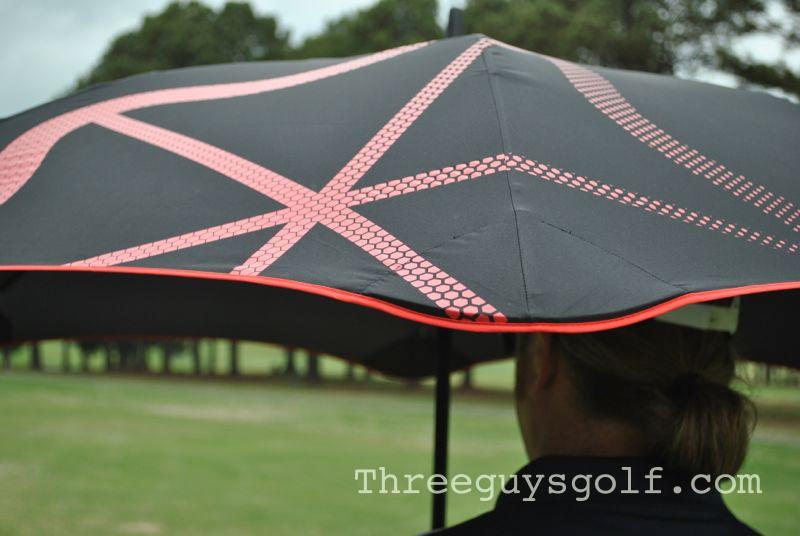 The Blunt umbrella is made from a polyester skin that is very durable and completely waterproof. Additionally, there is hardly any effort to put these lightweight beauties up and down; you simply grab the very comfortable, ergonomic handle and push the rubber piece until it clicks. You then pull on the same piece and the umbrella comes down with no buttons to push or to get stuck (like they do on my current umbrella). The shaft at the center is made from a durable and lightweight fiberglass which is strong enough to be driven over. Yes, Adam left his umbrella in the garage and his wife drove over it. No worries, it is a good as new (no, joke, this is a true story).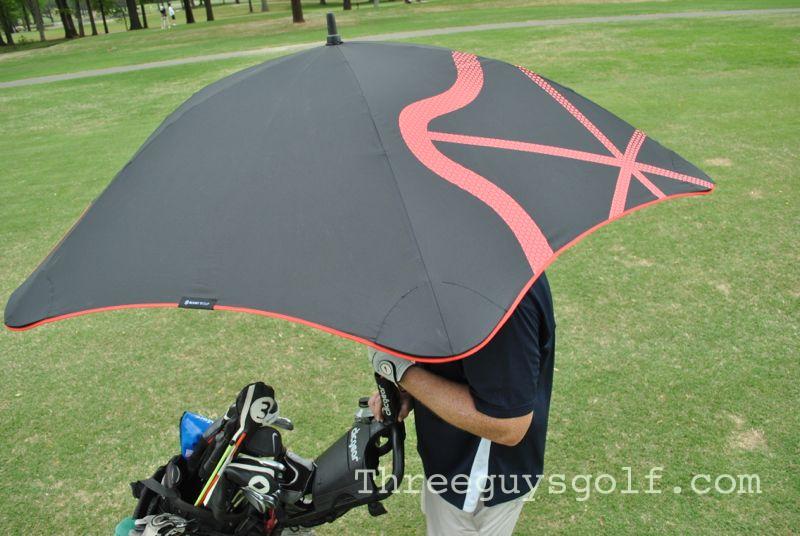 Adam and I are both 6 ' 2″ and use push golf carts that have an umbrella holder. The Blunt umbrellas easily fit into the carts and did a nice job of covering us and the openings of our bags. Adam tried the large G2, and I tried the slightly smaller G1. While both umbrellas are tall and wide enough, we would love to see even a larger model with a taller handle. I would expect that the only problem would be figuring out how to secure the umbrella to the cart such that it all does not fly away. Seriously, these umbrellas will not fold up so a strong wind will grab the Blunt and just go.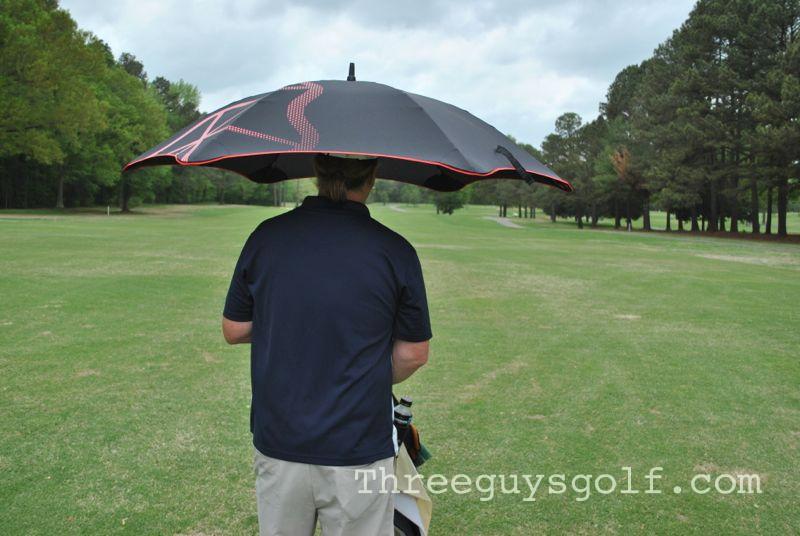 These umbrellas run at $100 and $120, so they're not cheap, but a huge part of their philosophy is that these last much longer and keep a bunch of cheap umbrellas out of the landfill which is where most of ours end up. I know I've tried to fix several of my golf umbrellas with super glue, or by trying to re-bend a messed up rib and I'll go ahead and say that I'm really glad to have an umbrella that just stays open.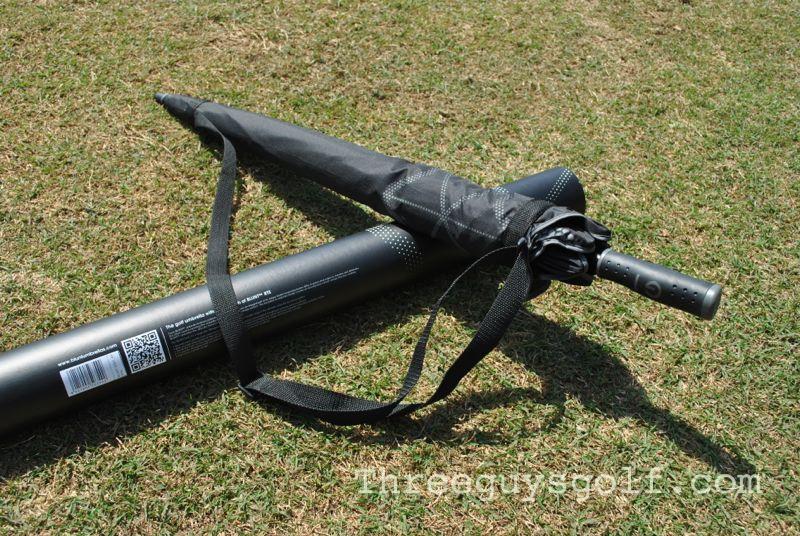 Blunt umbrellas come in a variety of accent colors, with the base being a simple black, and they also have a light cover that you can store them in, or carry with the light shoulder strap. Blunt umbrellas… they really do reinvent the wheel.
You can learn more on the Blunt USA website