As a certified technology junkie (okay, that's more of a self proclamation than an actual fact), I was thrilled when I learned I would be the one to review the ES12 portable launch monitor from Ernest Sports. Unlike some of my fellow bloggers, I am unafraid to utilize a bit of gadgetry to improve my golf swing. To be fair, the ES12 is far from gadgetry as it provides golfers with robust swing feedback at a fraction of the cost of its industrial counterparts.
Money aside, who would not want to own a personal launch monitor? Anyone who has ever stepped into a hitting bay at golf retailer knows the satisfaction that comes from smashing balls and then seeing the accompanying flight path, ball speed, distance and array of other stats that appear before us as the ball comes to rest on the virtual fairway.
The other reason I volunteered to review the ES12 was because I actually have a semi-legitimate home practice area (otherwise known as my garage). Hitting into a practice net nearly every night has its advantages, like developing a consistent posture, maintaining a good balance and working on things like tempo and timing. What it seriously lacks, though, is a visible ball flight. Unless you're good enough to tell exactly how well you hit a shot simply from feel, the obvious shortfall of a practice net is that you really get very little actual feedback or data on a given shot. And while the ES12 may not be as advanced as some of the big boys in the category, this little blue box packs a serious punch and pound for pound might be exactly what you're looking for.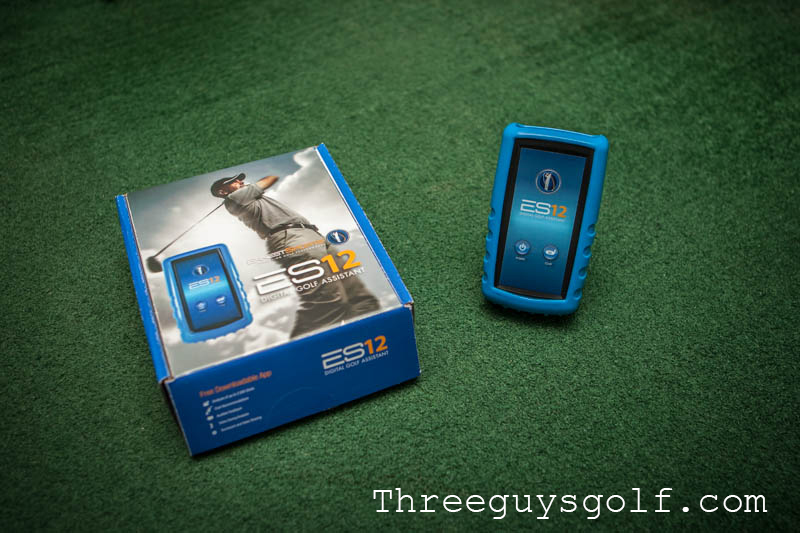 Armed with some outstanding technology, the ES12 can supply you with high-quality statistical information and then in the blink of an eye send all that info to your tablet or phone via a Bluetooth connection (I'm currently using it on both my iPad and iPhone) for you to assess.
Using the information you provide (which is basically the club you're using for the swing) the ES12 records the ball speed and then determines based on the loft of the club how far the ball would have traveled, and let me tell you, it is VERY accurate.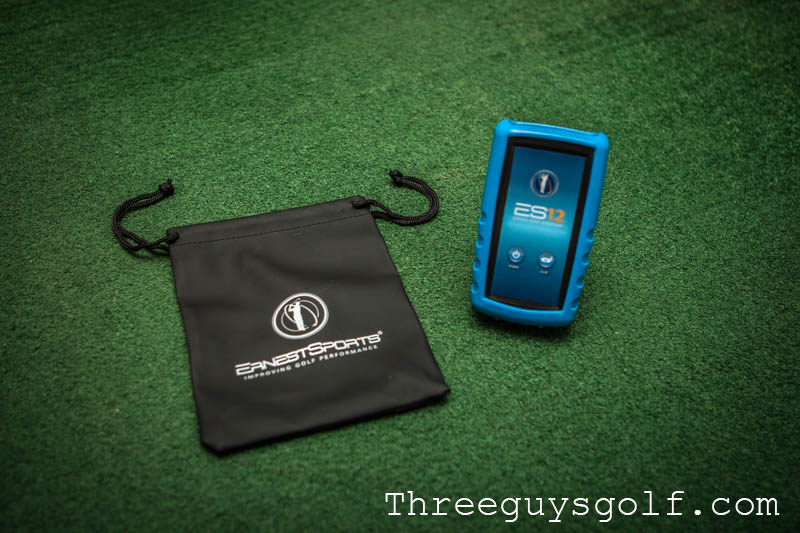 The ES12 showed up at the perfect time as I was preparing to leave for Florida on a partial work and partial play vacation. I had just received a new set of Pings for us to review and didn't have any time to get to the course to play with them (or the range), so I took advantage of the ES12 in my garage and learned a ton about the new clubs before ever stepping onto a real course.
With the ES12 and my home setup I was able to assess just how much of a yardage difference I was going to be experiencing going from my previous set to the newer more forgiving Pings. The loft difference from my old set to the new clubs was pretty dramatic – I witnessed my 7 iron distance go from a pretty standard 160 yards to right around 150. Thanks to the few sessions with ES12 before my trip, I wasn't in complete denial when I first took the new clubs to the course and saw with my own eyes just how different the ball flight and distances were.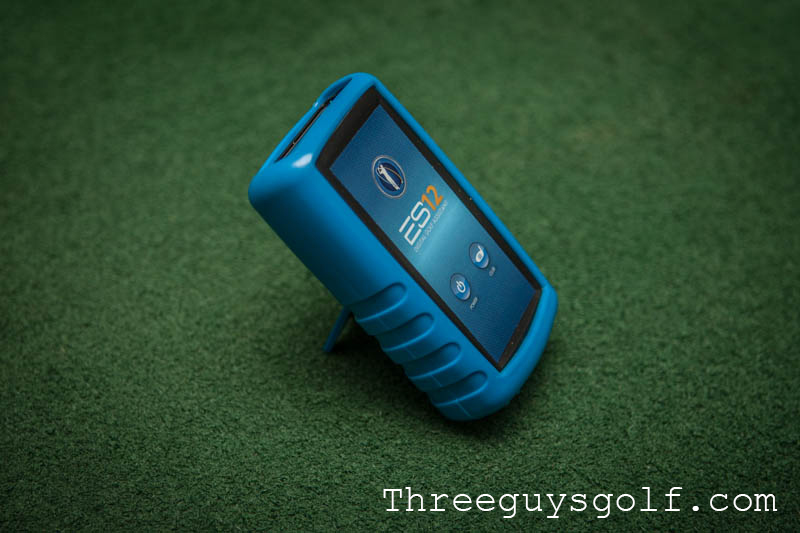 The ES12 device is incredibly simple. Just a few buttons to make choices from and that's really it. You can scroll through the club selection, which is honestly the only thing you'll be doing with it after you set it up initially, or change some of the settings like metric or standard and the elevation of where you're practicing. The ES12 comes very well protected by a durable shell and a coating that seems rigged enough to take on the occasional shank, but that's an area I wasn't willing to test out, intentionally. Figures I'd be the one to leave no stone unturned in my review process, and sure enough, I took a shiny new ball, shanked a good one and pelted the hell out of it. Like a heavyweight champ though the ES12 took the punishment with style and grace and never missed a beat. I highly recommend you do not try this yourself but it was good to know that if you happen to slip up it's not the end of the world.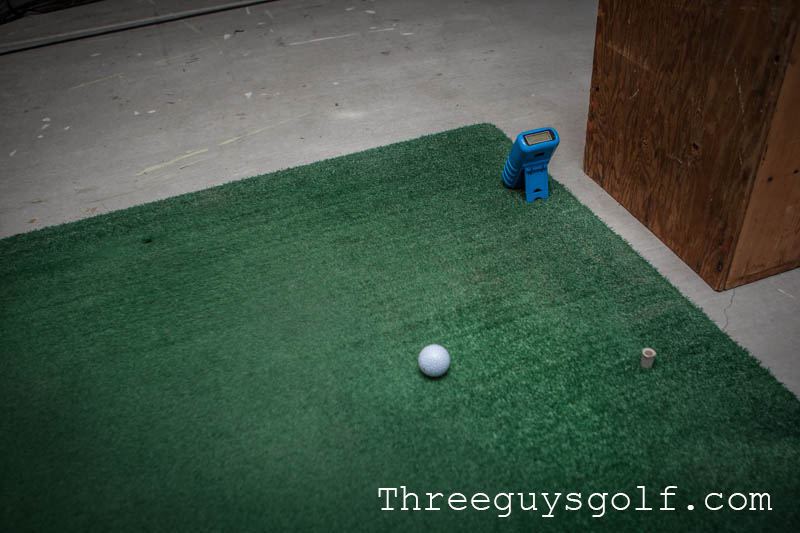 The app that Ernest Sports has developed is pretty much flawless. The main menu is very simple: start a new session or review and old one. That's it. Within seconds (after pairing the device of course), you're swinging away tracking your shots. You'll also find on the ES12 home page a Weather feature, Video Analysis, Course Caddy, Notes page, and the Skills Challenge to go along with the normal settings and Tutorial pages.
Durability and ease of use aside, the statistics provided by the ES12 are what truly make this a great training tool and not just an entertaining way to enjoy your session.
Here is how a typical range session goes for me. I of course warm up and after I'm nice and loose I'll set up the ES12 and start with my 7i. At home anything more lofted than a 7 iron and I'm just asking to do some ceiling repairs in the garage, so I tend to stay away from the bottom end of my set.
I'll set up my iPad so it's directly in front of me when I'm in the address position and then I just swing away. Instantly, and I mean instantly, the information is displayed on my tablet and a verbal announcement of the swing is played. You can then view the information and also select the shape of the shot if you are by chance out on a real range and not hitting into a practice net like I do most of the time.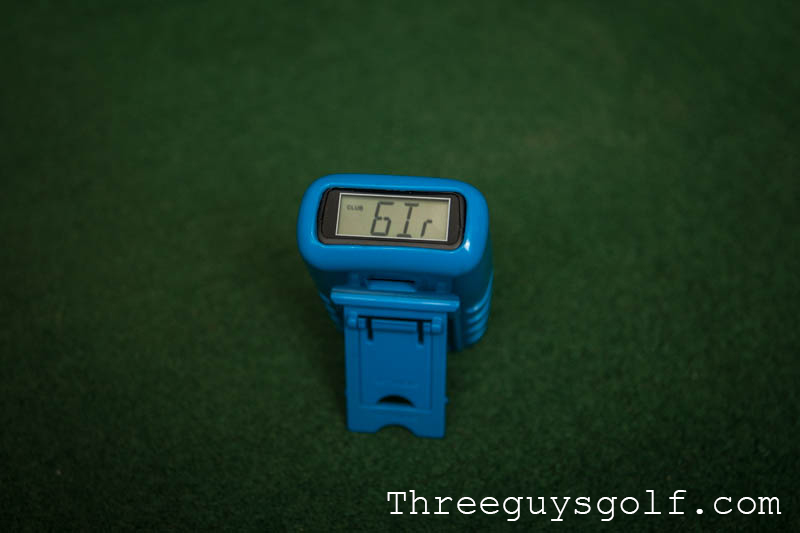 Because the ES12 uses a Bluetooth to connect to your tablet or phone, you can also connect to an earpiece if you prefer (or a standard set of headphones as well). This is a great feature if you're at a crowded range and can't hear the ES12, or if you just don't want the other patrons of the range to hear how far you're crushing the ball.
After a good 10-15 swings with one club I'll switch to another and go through my set all the way down to my driver. The main stat that the ES12 tracks is ball speed and based on those numbers it really easy to see how well you're striking the ball. With the instant feedback it's easy to see that the previous swing carried a ball speed of say 120mph but the last swing was only 110mph. Nothing like confirmation of an off-the-toe strike by seeing the intense change in ball speed right after it happens. What I found so incredible was just how dramatic of a drop in ball speed there was from a pure strike to a miss-hit. I mean we all know it's not going to go as far but to see the numbers was quite revealing.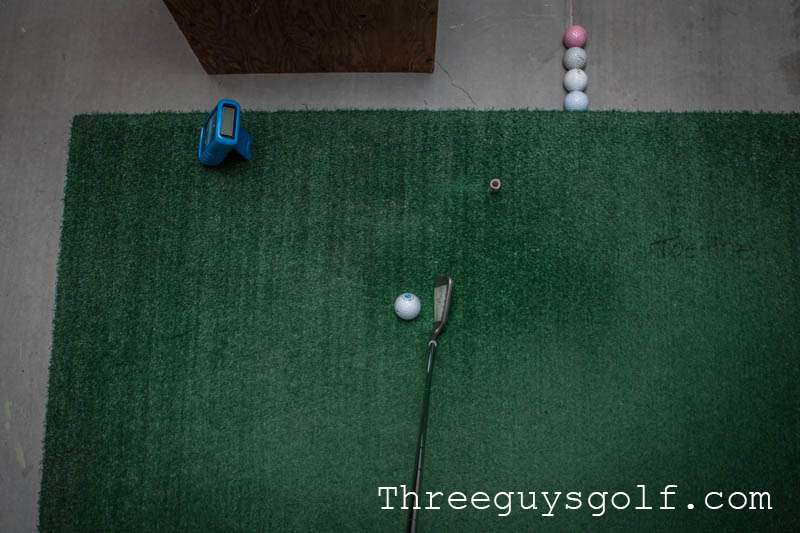 The ES12 app can take all the information from the session and give you several different ways of viewing the data. You can look at your numbers based on just one club, like the 6 iron for example, or you can take a look at the entire session and see how your numbers compared as you went from one club to the next.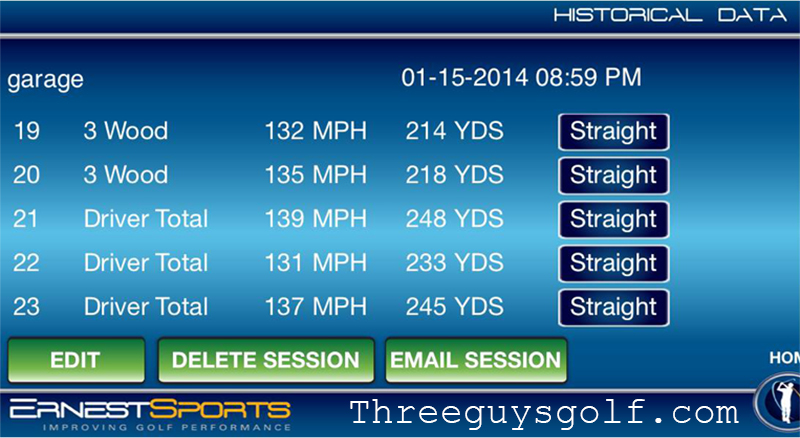 The single club view is outstanding. It will take your average swing speed and distance and give you the optimal distance you can expect to carry the ball and also the shape of the shot. Like I mentioned earlier, the shape of the shot; left, straight or right, can be inputted manually.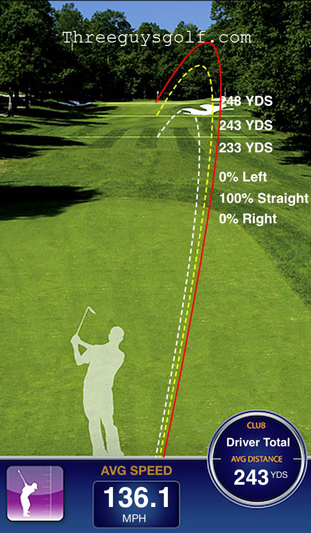 Another great resource the app provides is a breakdown of your averages so you can see not only what your averaging with each club but it also has an option where you can see the distance gaps you have between clubs like I have pictured here.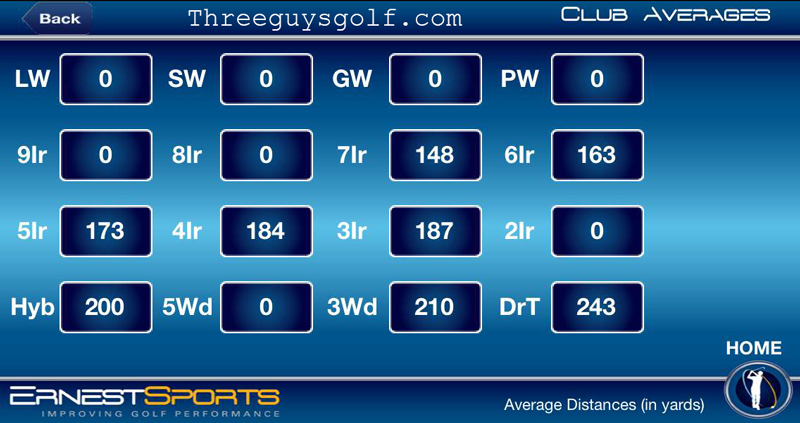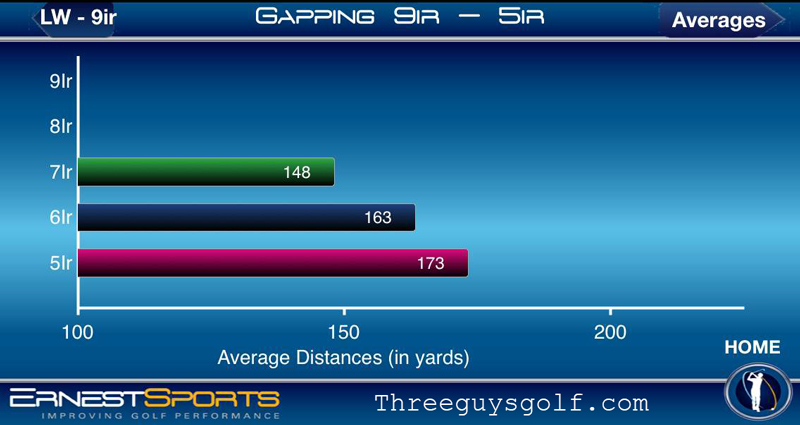 For me taking on the task of learning a new set of irons that had a dramatic difference in ball flight and carry, there was one feature that particularly helped me as I trekked through Southern Florida a bit lost on the course, and that was the "Course Caddy" option.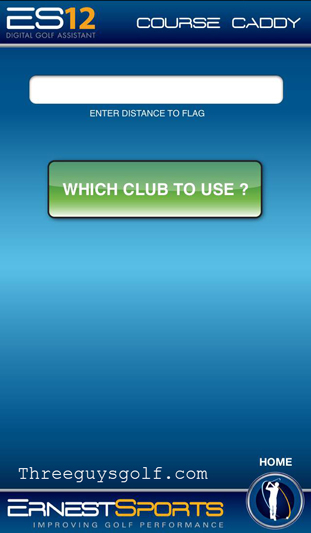 Just type in your distance and based on all your sessions the ES12 will make a suggestion for you.
It's not always best to get hack happy and spend a ton of time with one stick while you swing away at the range. I like to mix it up and unless I'm working on something particular like a hybrid or a fairway wood I like to change my clubs fairly often. Another outstanding feature (I know it's getting redundant but hang in there) that is in the ES12 app is what they call the "Skills Challenge".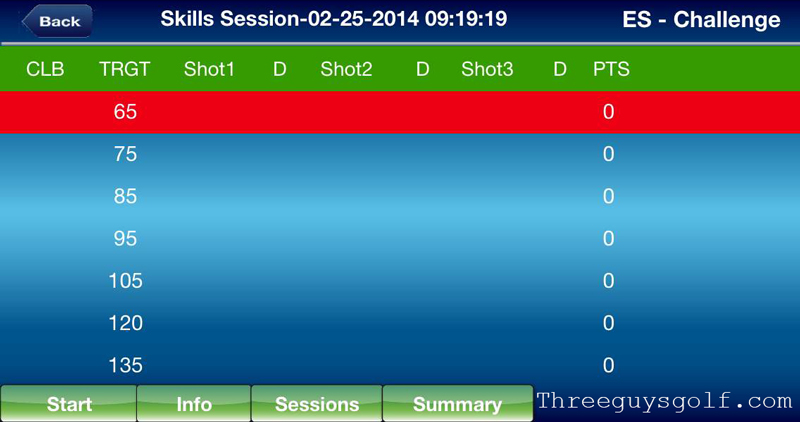 Here the ES12 will give you a list of distance and your goal is to get as close to those distances as possible. The closer you are the more points you get. Three attempts per distance and the distance go up in increments or you can select a random grouping. It is an utterly fantastic way to spend some time honing in on your club distances.
When I received the ES12 I was expecting a lot and it has more than met my expectations. I thought I'd have some fun seeing how far I'm hitting the ball and maybe have a contest or two with some buddies to see how far we can hit it, but in reality I never thought that I would enjoy using the ES12 as much as I have. I look forward to my range sessions at home more than I ever have and during the last round I played I was so much better at hitting the shots I needed to because I was confident in my ability to get the ball there. That alone right there has me loving the ES12 and I couldn't be happier with how it has improved my game in just the short time I've had it.
You can read more about the ES12 on the Ernest Sports website where you can also purchase it directly. The ES12 sells for $249.99 and comes with free shipping.