Fila Golf Shirts: With the trend in golf fashion moving farther and farther away from the standard blues and khakis, some of us are starting to really feel old. While orange may flatter Rickey Fowler, those of us who only have a six pack in the fridge usually find it hard to pull off many of today's golf fashions. Fortunately, there are still some options for those of us who are not exactly hitting the gym everyday but still want to wear good looking, well fitting fashionable golf attire.
Normally I do not associate Fila with golf, but like a lot of sporting companies, Fila is getting into the mix (in part because of their recent purchase of Titleist). Three Guys recently got a few samples of the 2012 Fila line to check out and we can report we were very impressed. The three shirts we looked at were the Vicenza Polo, Bristol Polo and the Phoenix Polo.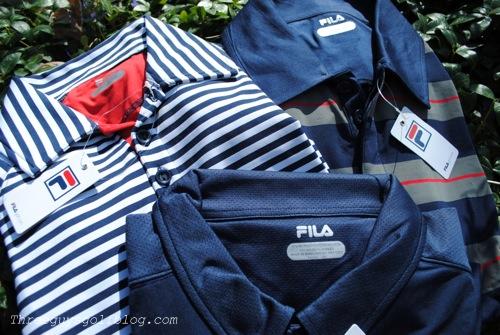 Lets start with Wade, who is what we call a big guy. Going 39″ waist and a XXL shirt, Wade is always the tester for "regular guy" golf fashion. Even though I have been able to talk Wade into some Euro shirts, it is clear that he is more comfortable in a more traditional style. So when it came to the Fila shirt, Wade immediately called to tell me how much he like the Phoenix Polo. With wide shoulder panels and a stretchy material, the Fila shirt gives even Wade tons of freedom to move and is way better looking than the average golf shirt you get at a big box store. In Wades words it "fits like a jersey".
The other two shirts we looked at were what I would call classic american style. Fitting was fair and the material has tons of stretch which allows for lots of movement. From a style standpoint, most of us dopes, just want to be able to put on tan pants and a good looking shirt.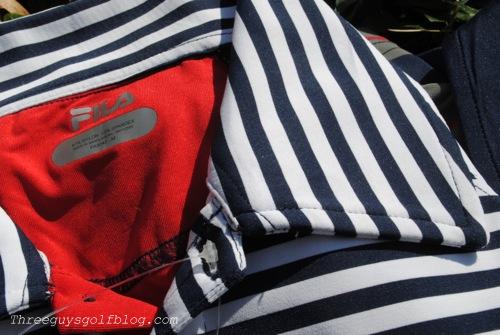 Fila absolutly fits the bill. They are clearly better than your off the rack shirt but you never feel like you trying to pull off a look. They are just plain old good looking, good fitting, well made golf shirts.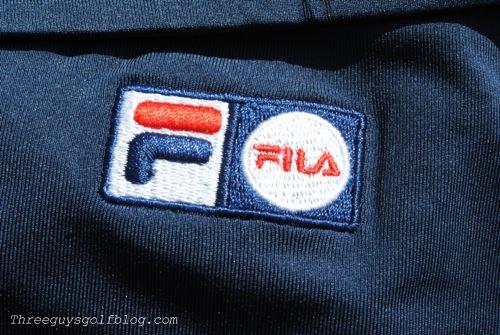 Since we started doing apparel reviews we have seen quite a number of shirts. While the styles vary widely, the one thing they all have in common is that they are all much better made than the stuff I used to get at the big box golf stores. Yes they may run a little more in terms of cost (these three shirts run between $80-$100), but they are all clearly much better in terms of fit and quality. So for those of you looking to upgrade your golf wardrobe, check out the 2012 Fila line as I think you will find something you like.
You can see the whole line of shirts on the Fila website.