One look at the Head n Home website and it is clear that these handmade hats are packed with more features than a mega-mall cinaplex. All products are Made in the USA, and the folks at Head'n Home are true artists of the trade. Head'n Home hats come from Freedom, CA. If you need to look at a map to find where that is, you're not alone. After checking my Atlas, I realized Freedom is in a part of the country that I have a real soft spot for, the Santa Cruz area. Gary Watrous started this venture back in the 70's and through years of experience and "the school of hard knocks", their family-owned and family-run business now produces a stunning array of lids that range from the workingman's everyday top to rock-n-roll extravaganzas. For example, their Steampunk line is frankly insane. While fellow-blogger Adam wanted to get me to try one of these contraptions, I think our golf club has rules about dials and copper pipes on your head (or at least they should). Who knows, they are, if nothing else, impressive so maybe I should have just asked for forgiveness after the fact!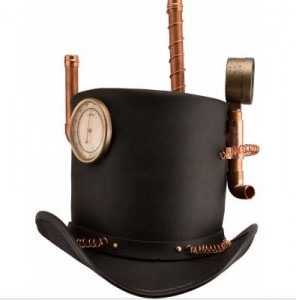 Back to reality, I've tried some other wide-brimmed golf hats, and there are some really nice options out there these days, but of the ones we've tried, this Sol Air Cabana tops the charts for sure. It's very clear that this family has done their research when it comes to golf hats. PGA Tour player Rory Sabbatini is featured on their website wearing one of their chapeaus and their caption is "the golf hat that gives you an edge." I am not here to lie to you about how many strokes it will take off your score, but I've also played rounds with an ill-fitting hat, and I'm not looking to repeat those experiences.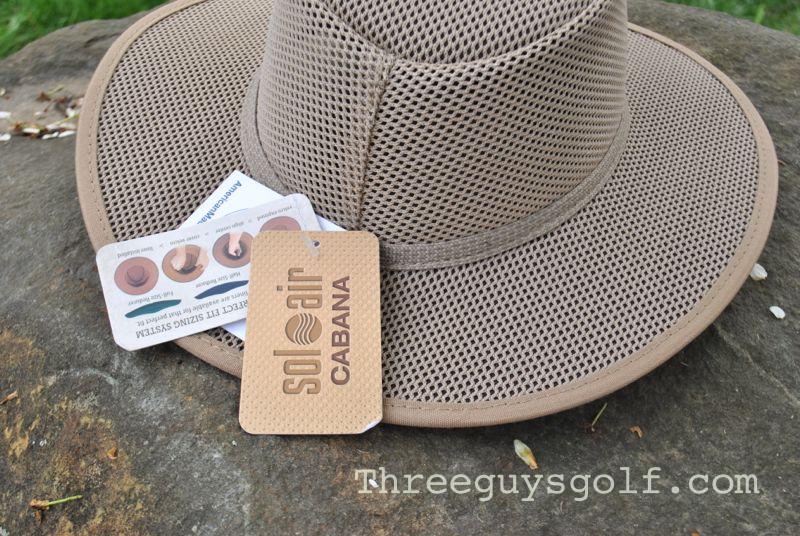 I have tested the hat for a number of rounds and practice sessions now, and for my review, I am up out of my chair clapping loudly. The standout features are easy to see:
-The fit is excellent, and the hat stays on in the wind! What a relief to not be worrying about a large brim hat flying off every time a gust of wind comes up. Not only do they send you a hat made for your specific head measurement, they also have different soft inserts to make sure that the hat adjusts to fit your noggin securely. I measured my dome, picked the hat that was my size, and that was that—I didn't even need to make any adjustments. You may need to order a size that is slightly larger than your measurement and then add some of their brilliant little inserts to find the perfect fit. Helpful instructions for measuring and fitting are on their website.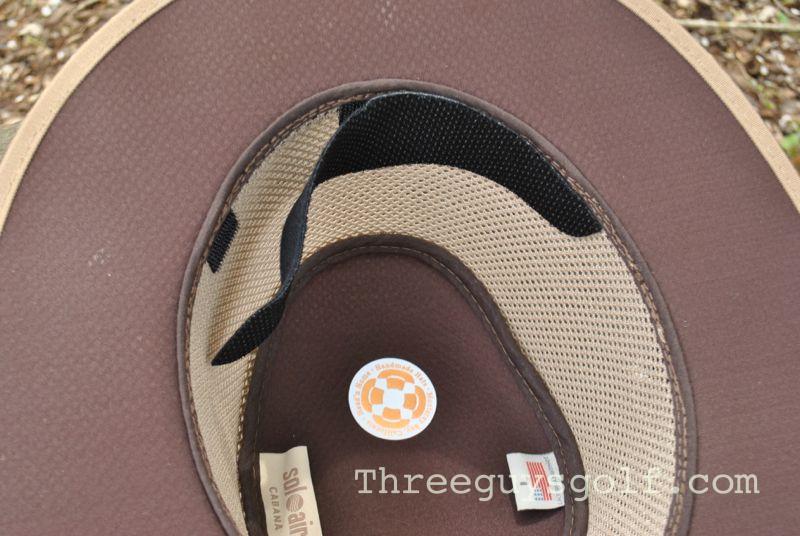 -The hat is foldable, and crushable. I have folded up this hat and squashed it, and the nylon/polyester blend jumps right back into shape with no effort at all. After simply folding the hat like a taco, it fits right in your suitcase or golf bag– ready to go wherever the golf sirens take you. It is remarkable how easily it regains its original form. I recently showed a friend on the golf course by popping it off, folding it up until it was as flat as a piece of cardboard, and instantly letting it spring back to shape. It truly is hard to believe until you see it. Most of my other experiences with hats that will fold up is that they continue to look like you folded them— while they go back on your head, they can look a bit like you're wearing an unmade bed.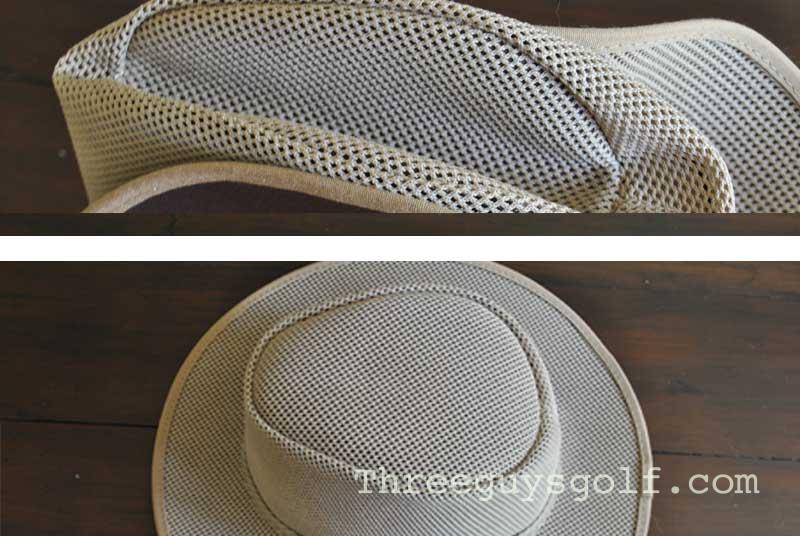 -The breathable weave is also lined on the dome and brim for a UPF of 50+, while the sides of the dome are just mesh. The sun is a formidable enemy of those of us that spend a lot of hours outdoors during the golf season. Since spreading or spraying sunblock in your hair really kind of sucks, it's really nice to be able to have a lid that keeps the sun off while allowing breezes blow right through the sides. It's really a no-brainer solution. Temperature-wise, this is one of the coolest hats I've ever tried. The way they've attached the lining to the inside of the hat is brilliant, and I'm amazed at the way it blocks the sun but not the wind—very cool.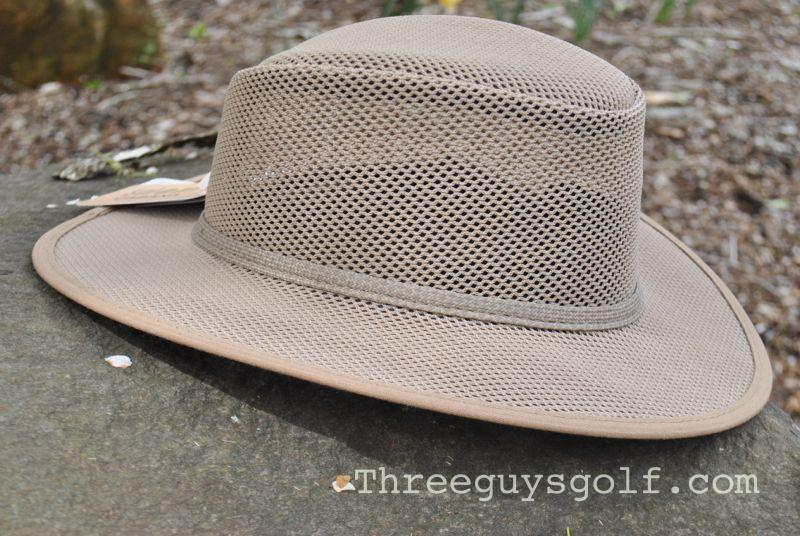 -It is hand-washable and soakable. I have gotten the whole hat soaked prior to some 90 degree rounds, and once I let the excess water run off for a couple of minutes, the breeze blowing through the hat cooled me off even more. After the round, it is a snap to run the hat under some cool, clear water to wash the sweat out, and get the hat back to new.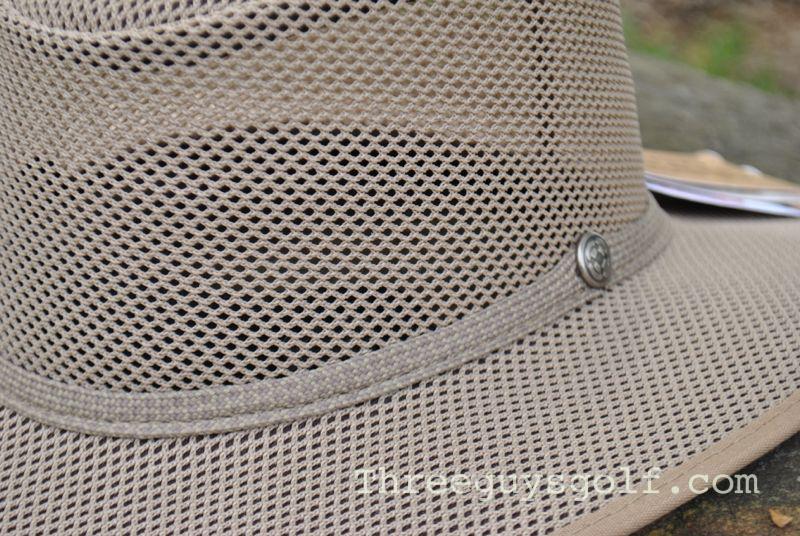 -The hat just looks good. The cut, width of the brim, the thin headband and small medallion are all marks of the craftsmanship and vision that goes into their work. There are a number of colors available for this hat, and if you prefer a different style, there are a number of golf hats to choose from on their website www.headnhome.com. The SolAir line is the golf line, but these folks are busy, and their hats range from American Outback western wear to fantasy wear that Hollywood hasn't touched. (NOTE, it still looks better on my student than me).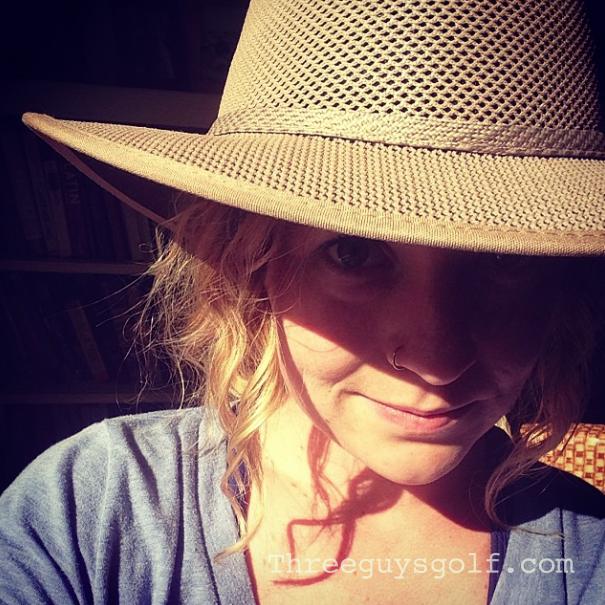 Skin cancer is no laughing matter, and neither is heat stroke. Where we live in North Carolina, these are both a concern during the summer months, and I'm really glad to have found the SolAir Cabana hat to keep me cool and shaded during the hottest months of the season. We think you'll have a hard time browsing their website and not finding something that you will really want to have on your head. The Cabana sells for $64.95, and they offer a 100% satisfaction guarantee on fit and a lifetime guarantee on materials and workmanship. It's true, they can't help if you throw your hat into the middle of the lake on number 17 after you miss that breaking four-footer; but if that's how you lose it, you'll have to buy a new hat along with your next lesson.
BONUS: Sign up to WIN a brand new Head n' Home Solair hat.
Check out all the hats on the Head'n Home website.