The name "Justin Boots" is synonymous with the cowboy lifestyle much like Titleist or TaylorMade is so clearly associated with the golfing world. If you have spent any time spent in states like Texas, Wyoming or Montana then Justin Boots is already a household name for you. For us city folk, however, the brand may not be as familiar.
So what in tarnation does Justin Boots have to do with golf? OK, I promise no more cowboy jargon. The answer is quite simple; Justin Golf is hoping to parlay their footwear expertise into the world of golf.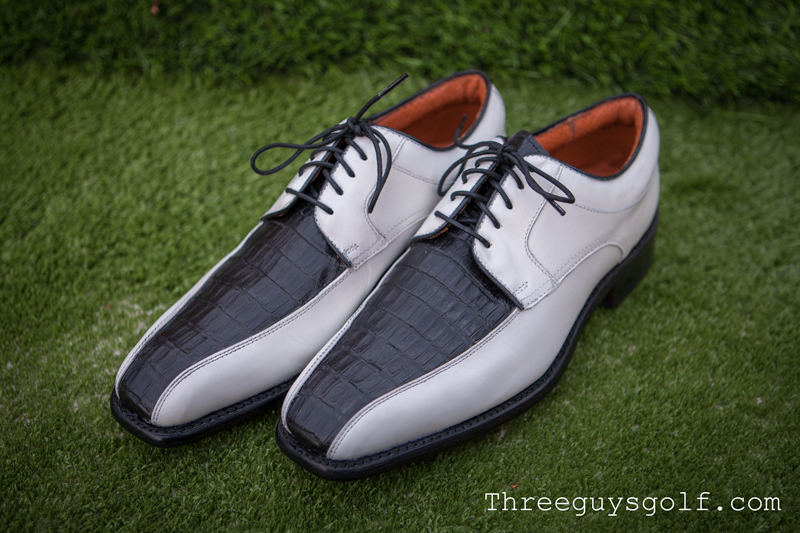 This is by no means an easy task. The list of failed footwear companies is about as long as the list of people who want to punch Brandel Chamblee in the nose. That being said, Justin Golf enters the market with a stellar resume and a long history in footwear. It should, therefore, not come as any surprise then that Justin Golf flat-out nailed it with their first line of high end golf shoes.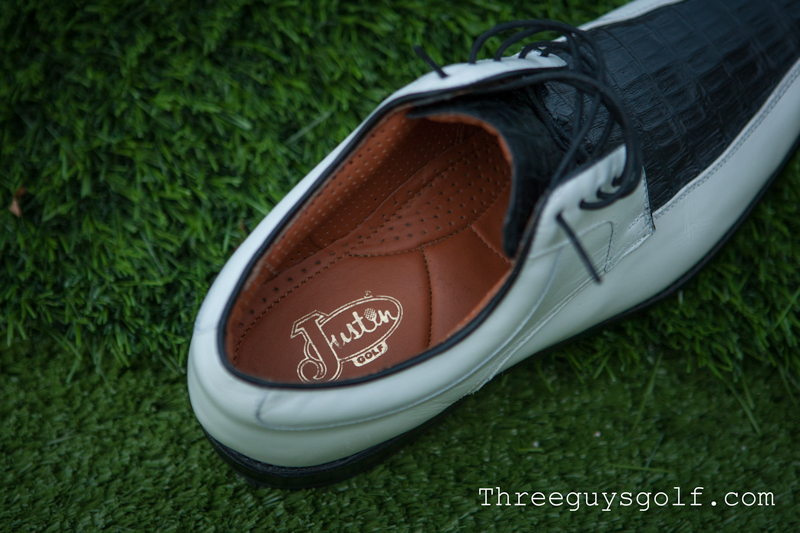 Justin has a rich history of American made, high quality products. Founded by H.J Justin back in 1879, they have over 135 years of boot making experience! The Justin quality and craftsmanship is so obvious that even a non cowboy boot wearer like me was drawn into their PGA Merchandise booth.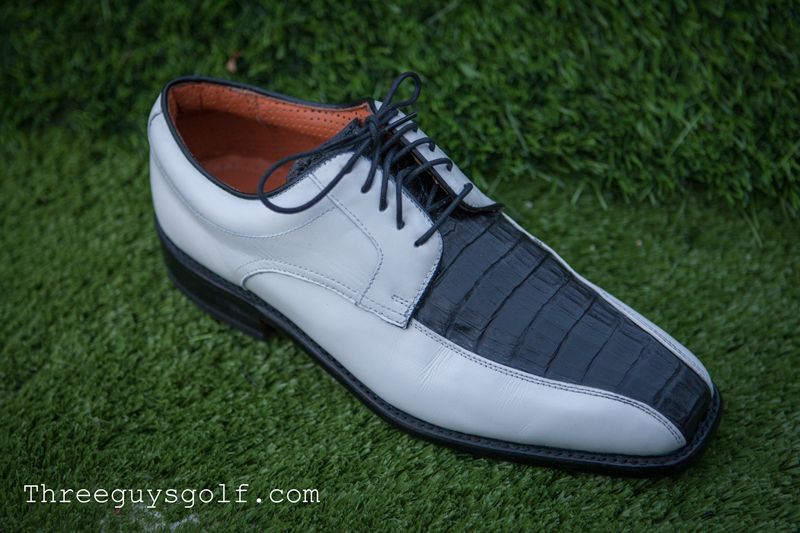 Traditionalists will love the Justin Golf line as it harkens to the golden era of golf when men wore their Sunday best. Now, to be fair, I am a huge fan of minimalist golf shoes but I also appreciate the traditional looking shoe. It's just that I have never been able to pull the trigger and actually buy a pair of traditional golf shoes. I partially blame my juvenile notion that how you dress for golf should be comparable to your game, and since I'm still a relative newbie, there was no way I could justify wearing Pro level shoes with a hacker's swing in my bag.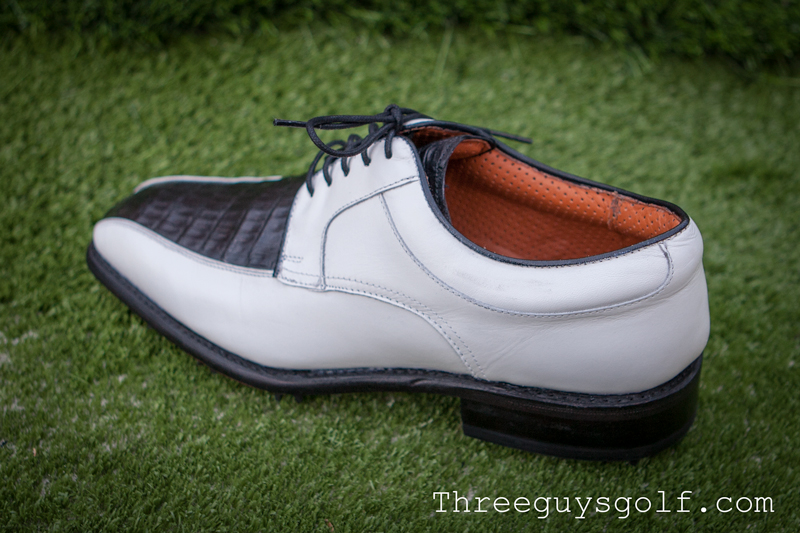 So here's the thing – it is super obvious that the Justin Golf shoes are insanely well made and carry a style that is completely unique from anything I ever wear. Add to that the fact that I have never played golf in a shoe with a heel, I decided I'd better take some baby steps. To break in my set of Justin Golf shoes I wore them around the house without the spikes for the weekend. Being a novice to the high end shoe realm I wasn't sure if a break in period was needed or not, but I figured it best to be on the safe side.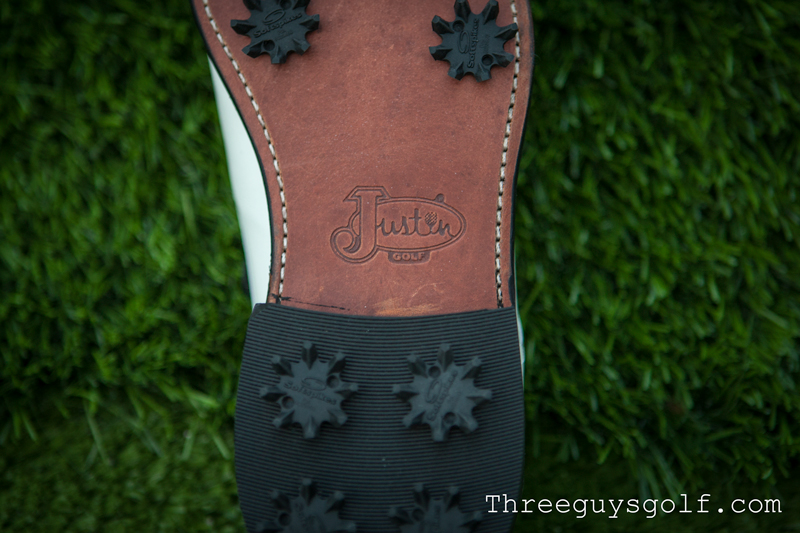 The break in time with the shoes was worth it on a couple of different levels. First, taking the time to basically learn how to walk in shoes with a heel at least saved me from looking like a fool as I played golf in them (Seriously, I NEVER wear shoes with a heel).
Aside from learning how to walk appropriately, I also learned just how comfortable they truly were. Mind you, it did take a little while to get used to the different way the shoe fits compared to athletic shoes, but the comfort was undeniable and I kinda felt like a badass strutting around the house in $400 shoes.
Justin Golf offers 17 different variations, but for this review we received the JG112. While all of the shoes have a classic look, the JG112 are visually stunning with a beautiful combination of an Albatross Classic white leather and a contrasting Phantom black made from Caiman lizard skin (perfectly at home in my little town of Las Vegas).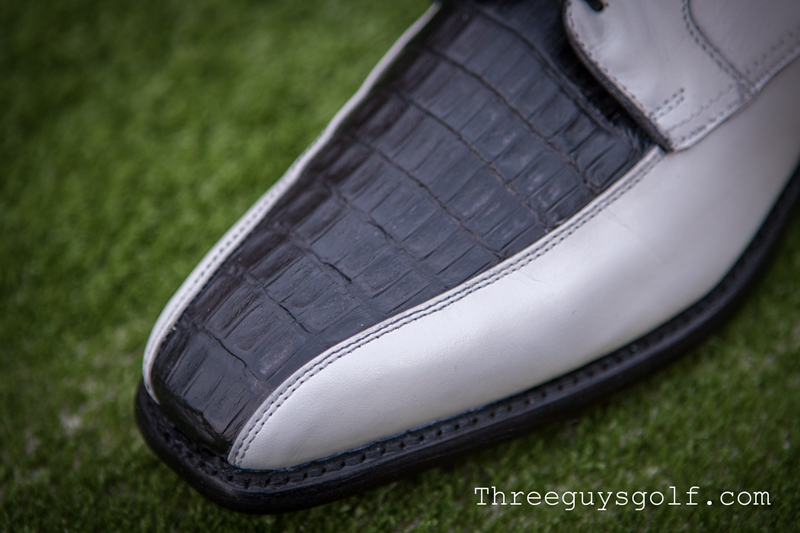 Beyond the style, one element that sets Justin Golf shoes apart from their competitors is the use of a leather sole. Unlike most golf shoes that have a synthetic sole, Justin Golf held true to its roots and kept the leather sole in place, which they believe adds to the comfort and durability. To ensure the highest level of stability Justin Golf added an additional spike to the bottom of the shoe, so rather than the standard 9 spike configuration, these have 10 (if it only went to 11).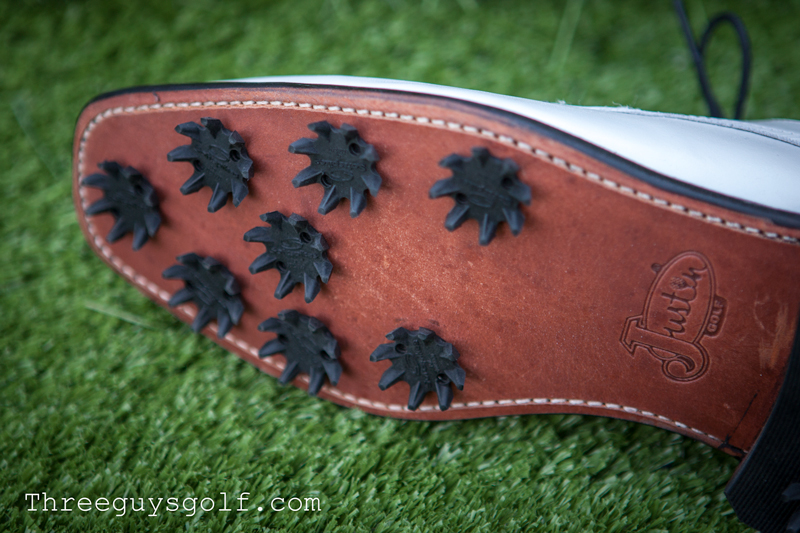 Satisfied that the style and craftsmanship of the Justin Golf shoes was unsurpassed, I was eager to see if those qualities would transfer to the course . . .
The answer is a resounding YES!
Like I had stated earlier, the heel of the shoe made me slightly anxious. Remember, I have been wearing a zero drop shoe pretty much every day of my life so I have become rather accustomed to the flat-footed feel. Going to a heel, albeit not a very big one, still gave me the sensation I was wearing 6" stilettos and standing over the ball at a 45° angle.
All my uneasiness was quickly stymied though when on the first tee I piped my drive dead and then knocked my approach within 20 feet! Reliving one of my favorite shoe campaigns of all time my inner Spike Lee jumped out and in true Mars Blackmon fashion screaming "It's Gotta be the Shoes!"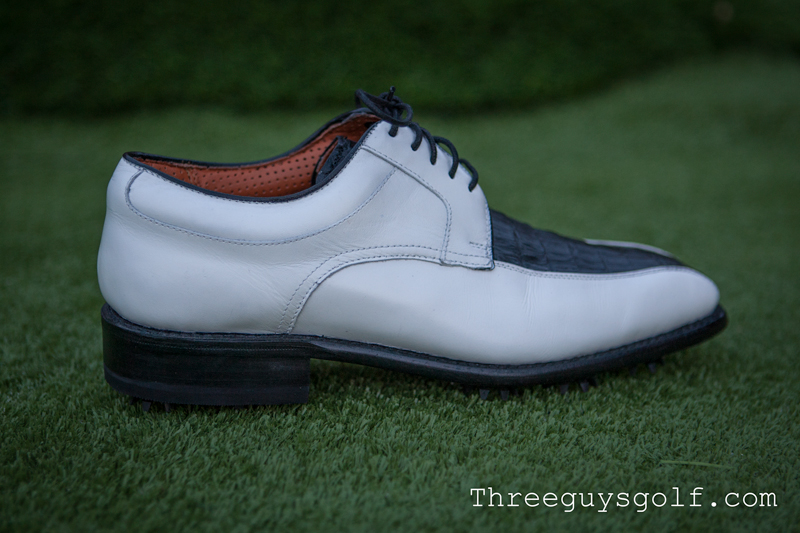 While I wish I could report a record round, I ended up shooting my typical score, but I did look like a rockstar! One item of note is how well they performed in the bunkers and in tricky lies. My footing or traction was never an issue and I stayed glued to course throughout the entire day.
As for wear and tear, the shoes should last for years as long as you treat them better than the ones you toss in your trunk and leave there until your next outing. Like any fine leather, these shoes need to be cared for.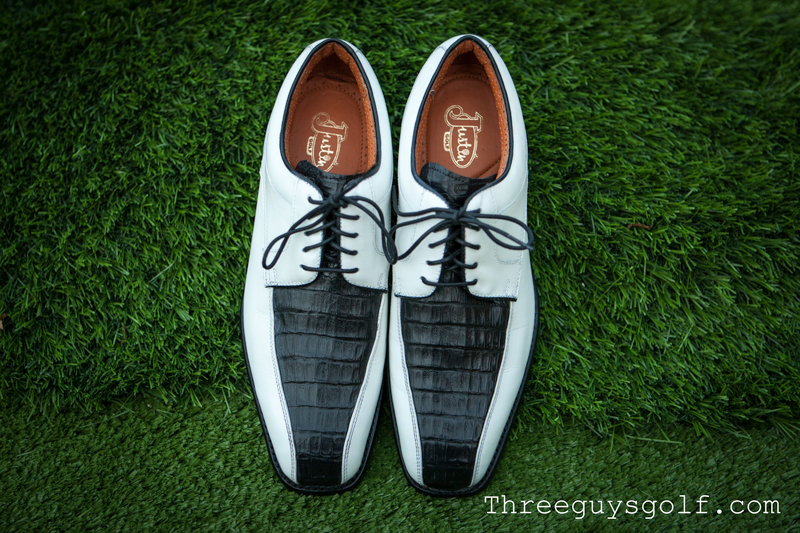 There is no doubt in my mind that Justin Golf is going to be a serious player in the high end golf shoe market. I say high end because all the quality, craftsmanship and exotic fabrics comes at a premium price. Starting out at $400 and peaking at $800 there is a price to be paid for this luxurious style. That being said I was completely blown away by the Justin Golf shoe.
SIDE NOTE: I've been told by many, many people that you just can't find a more comfortable pair of shoes than a pair of boots. I've even played in a softball league with a guy who wore boots and he was an absolute stud in the outfield. To that end, Justin Golf took care of the true cowboy. For those boot lovers out there that may have a soft spot in their heart for the game of golf, Justin Golf created several styles that are a full cowboy boot with spikes. How cool is that! I'm not the one who's going to challenge the notion of a boot being more comfortable than my running shoes, and if they're anything like the pair of Justin shoes I received I just might be inclined to give it a try.
You can see all the unique options that Justin Golf has to offer on the Justin Golf website.