Leisure Society represents our first foray into what I would call "golf lifestyle". While nearly all of the clothing made by Leisure Society is golf appropriate, it is equally or more so . . . simply awesome clothing. A quick peek at their website and it is clear that Leisure Society is targeting those who aspire to the finer things in life. While not everyone is comfortable buying pants for $200 or even $300, those of you who have a little extra spending money will not be disappointed.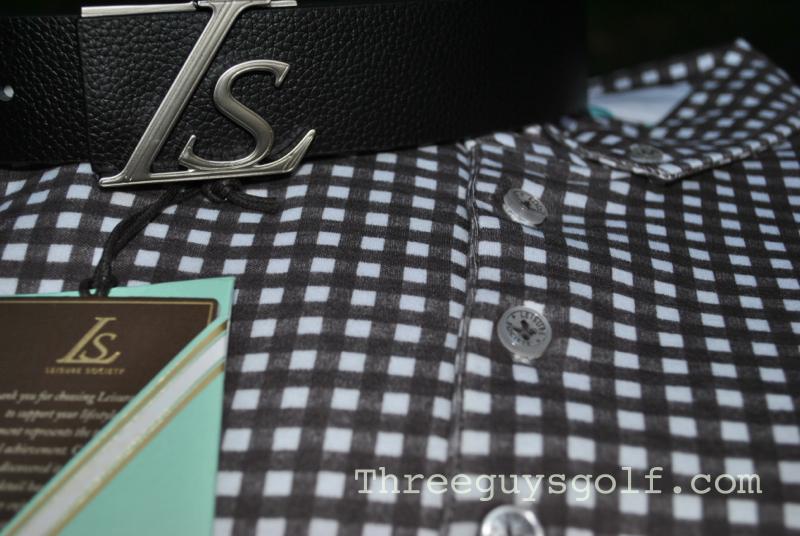 Leisure Society has a full line of apparel including shirts, pants, belts and even eyewear (to be reviewed in a separate post). To illustrate the functionality of Leisure Society, the first time I actually wore one of the shirts was not on the golf course but at a charity fund raiser. I kid you not, a lady friend of mine unexpectedly touched the sleeve of my shirt and said "oh my, that is about the softest shirt I have ever felt". Seriously, I am not making this up and I have no idea what prompted her as I have "no game".
This is the essence of Leisure Society, apparel that is a cut above without screaming "expensive". For example, the shirts are simple cotton with many solid colors or eye pleasing patterns. It is the deceptive quality and tailoring that is so impressive and while it may be lost on others, it is blatantly obvious by those who wear Leisure Society.
The two pairs of shorts and pants we reviewed were the Heirloom and Heritage. The Heritage may look like your run of the mill Khaki, but rest assured there is nothing regular about them. These 96% cotton pants and shorts are insanely soft and well cut. Nevermind the pocket in the middle back for you iPhone, I dig these because they are just plain great looking. As for care, they say to dry clean the Heritage pants and shorts, but I just throw them in the wash and they come out great.
The Heirloom pants and shorts are more dressy as they are 96% wool (although they do not really feel like wool). Clearly this style is not just for the course. While they are listed on Leisure Societies "sportswear", the Heirloom pants will likely be your overall best looking pants you own.
On the accessory side, LS has a great line of belts. The buckles come in two basic styles, each of which is just understated enough not to be obnoxious, but unique enough to stand out. Again, these belts are versatile and can be worn anywhere.
If you have read any of my posts, you know I am a huge fan of belt buckles. While many of my favorites are fairly big, the Leisure Society buckles impress me with the attention to detail and the contrasting textures. In the case of the monogrammed "LS" buckle, it may be a bit gaudy but because it is not a commonly recognized signature it plays off as an exotic brand.
So here is my lowdown on LS. When Travis Johnson (former founder of Travis Mathew) set out to create a high end apparel company, he did so in such a way that the "leisure" is the central vibe. It is an odd juxtaposition for most of us who shop on the bargain rack to purchase high end clothes that at first glance do not look expensive. However, with a disconcerting eye you can clearly see the quality of the material and tailoring of the clothes. It is both of these attributes that are almost instantaneously thrust upon you when you first see and wear Leisure Society.
You can see the whole line of Leisure Society on their website.