If you've been a reader of this site for some time now you'll completely understand how much we love reviewing the unique, boutique style putters you just won't find on the racks at your local golf shops. Finding new companies that are passionate about their craft and who are creating exceptional products, which could easily be passed off as "Art" as much as they are a putter, is the equivalent of hitting the lottery for us.
Our latest and greatest find is a well-known company on the social media networks, from Italy, called Mati Putters. Mati, as a new company, is doing a fantastic job at growing their presence here in the United States with their Instagram, Twitter & Google+ accounts, and we were beyond thrilled when they agreed to let us do a review of their Mati GAB 1 putter.
Before I get in to this masterpiece of a putter I want to talk about the man behind Mati, Mr. Seliano Brambilla. Based in Bernareggio, Italy, Mr. Brambilla has taken his experience of working with steel over the last 28 years and has combined it with his love of golf to create the one man show that is Mati Putters.
Named after his Daughter, Matilde, Mati Putters is quickly making a name for themselves and it is all due to a passion for the game and a desire to create a superior product when compared to the garbage that's constantly being regurgitated from places like China.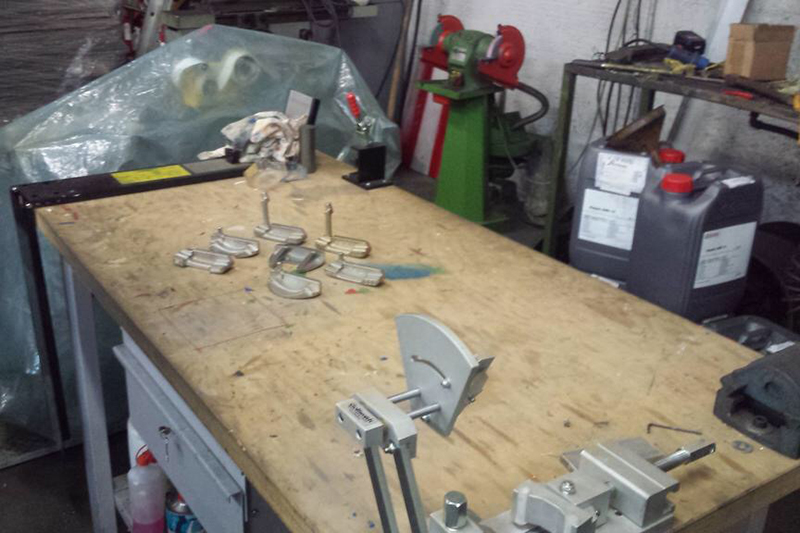 In the few conversations I've had with Mr. Brambilla, the pride in his work is profound. He's always inquiring how the review is going and what I think of the putter. I somehow doubt if we're ever enchanted with a review from the likes of you know "that guy" he'd be so forthcoming to send me Twitter messages asking how things were going with his putter.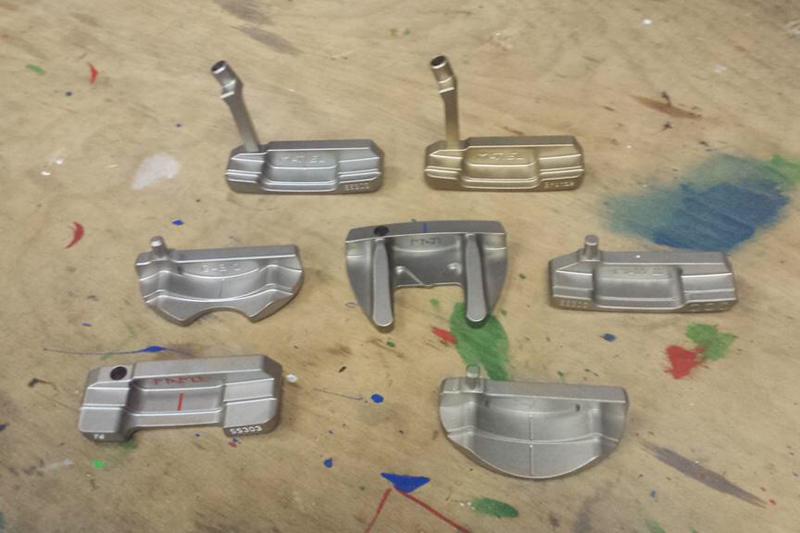 The truth is Mr. Brambilla cares about his product probably more than any manufacture I've ever encountered. He's the miller, the painter, and the assembler, and he wants only to put out perfection. It's that passion and pride for his craft that makes Mati Putters not only a fantastic story but an amazing putter as well.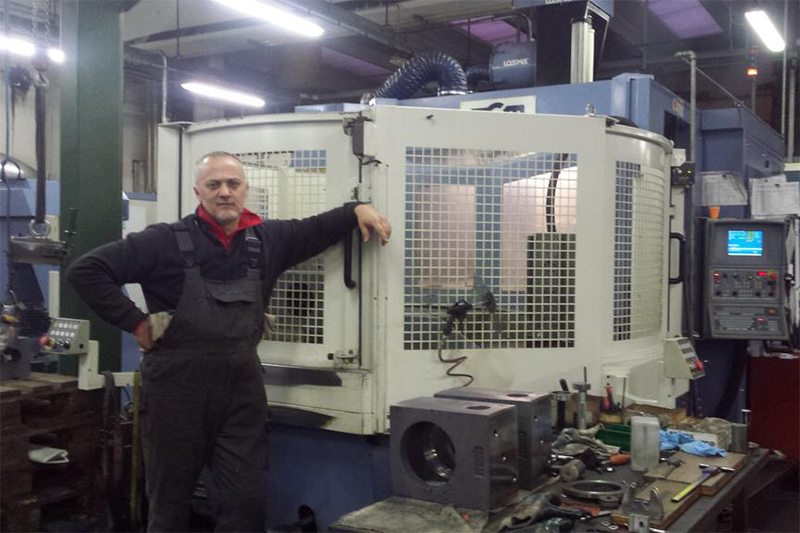 Stories like Mr. Brambilla's is what makes doing product reviews so rewarding. I know a lot of you out there think we just get free swag, write about it, take a few pictures and that's it. There is more to it though, and the special part about what we do is engaging with people who we find out are more like us than we could have ever realized. I guarantee you I could sit down with Mr. Brambilla and talk about golf for hours, just like I can with Adam, Matt, Wade or any of my other golfing friends.
For this review Mati sent us a 34" version of their GAB 1, which is named after his son Gabriele. Company named after his daughter, putters named after his son, you can get a sense just how much Mr. Brambilla loves what he's doing. The GAB 1 is a mallet style putter that weighs in at 350 grams and is perfectly face-balanced, and I mean perfectly.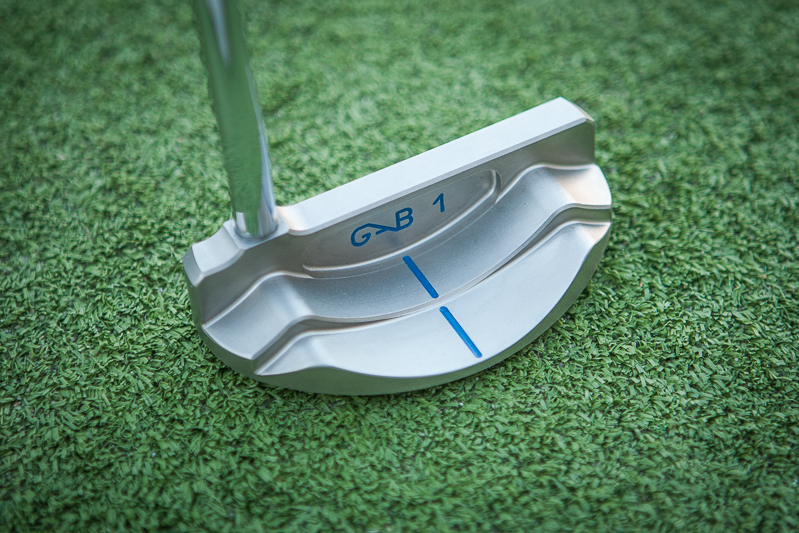 My first impression with Mati came in the form of a surprise and it was in regards to how fast the putter arrived. During one of our conversations I was told to expect the putter by Monday at the latest, mind you this was on a Wednesday. Normally you can lock in a 3 week to 4 week delivery time for products shipping out of Europe. Not the case with Mati. Just as he promised, on Monday afternoon the package was left at my door step. I know it's minor when it comes to an overall product review, but even the little things can be impressive.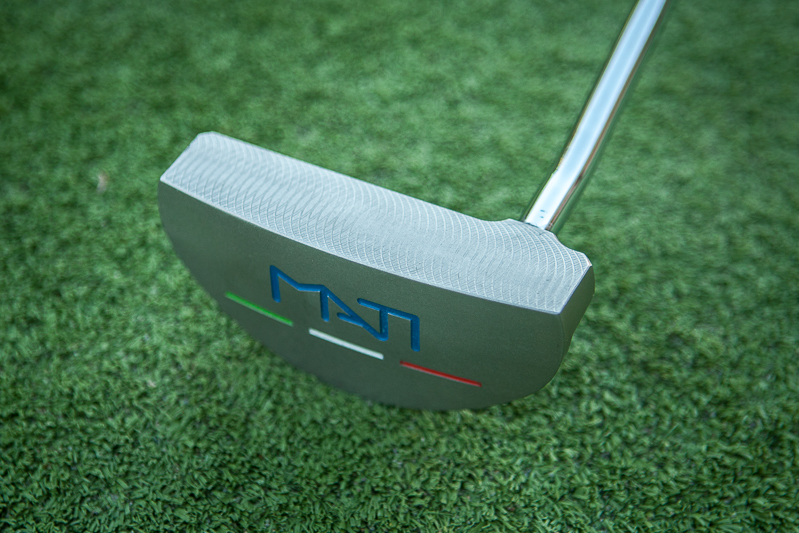 The putter arrived in a cylinder container (which in my opinion seemed a lot more durable than the standard cardboard box), and for our putter Mati installed a True Temper shaft and a Lamkin 3Gen EBL Paddle grip that I've grown very fond of. Based on wheat I've seen on their website, Mati is more in favor of the golfer purchasing the putter head and then taking it to a professional shop to get the right shaft and grip installed.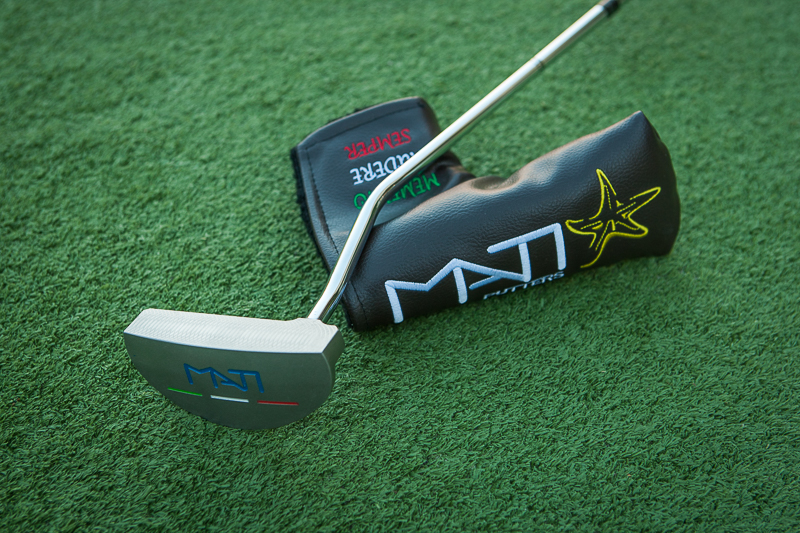 I likened it to how Vega does the same thing with their wedges. Head only and you get the rest installed. It was kind of Mati to go ahead and install the shaft and grip because I took it into my backyard and started rolling putts before the bubble wrap hit the floor.
The putter also came with a Mati logoed head cover. The embroidery is very well done and it showcases the companies name and their starfish logo. On one side there is a pattern of three starfishes sewn in the colors of Italy and also in large white letters '303 SS MILLED'. The opposite side features three words: MEMENTO (remember), AUDERE (to dare, to venture, to risk) and SEMPER (always). There are so many different ways to look at those words. From a player's viewpoint to Mr. Brambilla's own ideology, remember to be bold always now resonates within me just how passionate he is for creating such an amazing piece.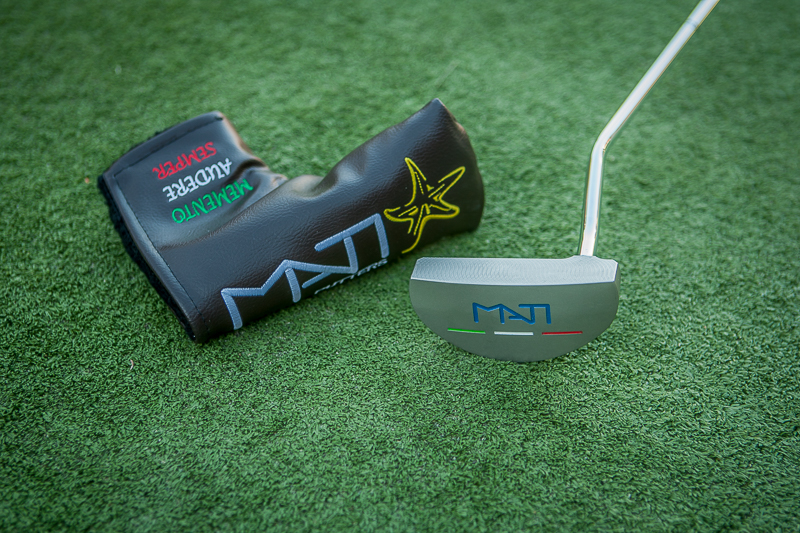 As you probably figured out, the 303 SS MILLED embroidery on the headcover means the GAB 1 we received was milled from a solid piece of 303 Stainless steel. The milling is downright exquisite and reminds me of the beautiful body lines you'll find in cars from Alpha Romeo 8C Competizione, which coincidently comes from the same country.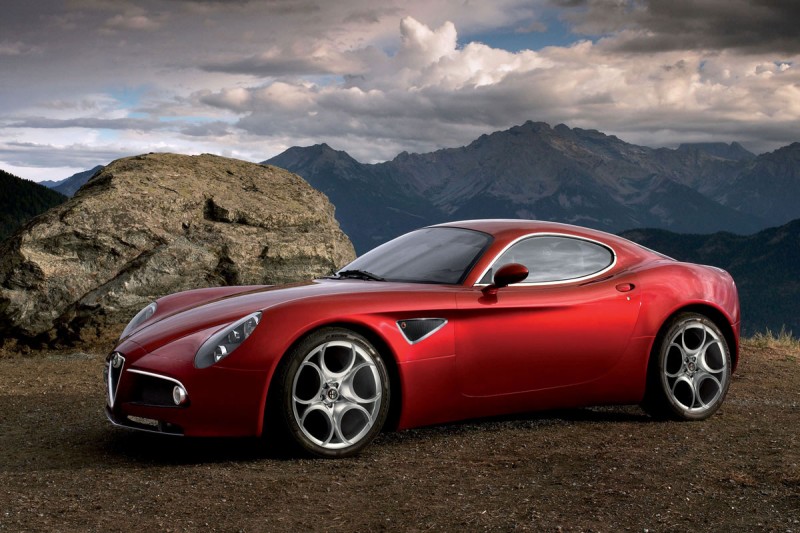 When looking down at address there is an alignment aide that starts behind the face and elegantly flows down the step towards the back of the clubhead. The blue paint fill matches the GAB 1 fill on the back of the face.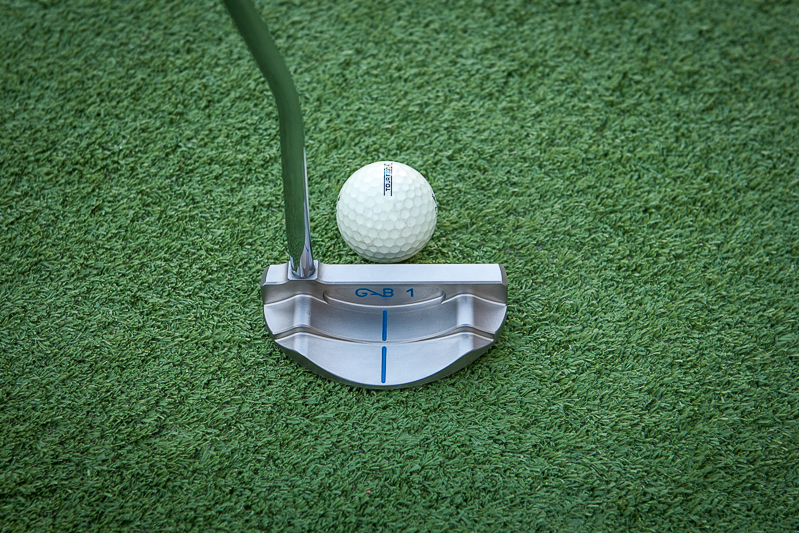 The alignment aide isn't overpowering in, you know it's there but it doesn't stand out against the satin finish and it seamlessly blends in with any alignment mark you may set up on your ball. I don't recall seeing a blue fill for this type of marking before. Typically they'll be white or black but the combination of the silver head and the blue alignment line is a nice touch.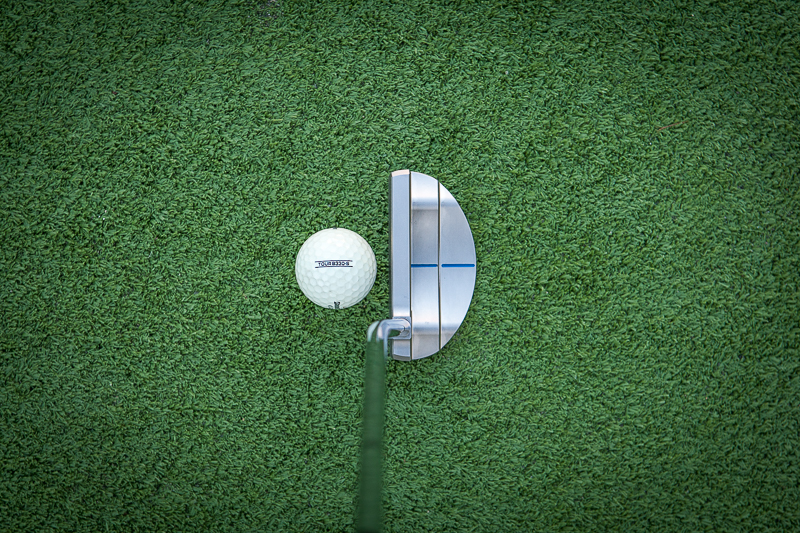 The sole of the club features the Mati logo with the same blue paint fill and also three separate dashed lines that have the colors of the Italian flag filled in. Mati did a great job adding this simple feature. It oozes Italy and does so in a way that isn't unbearable for the consumer.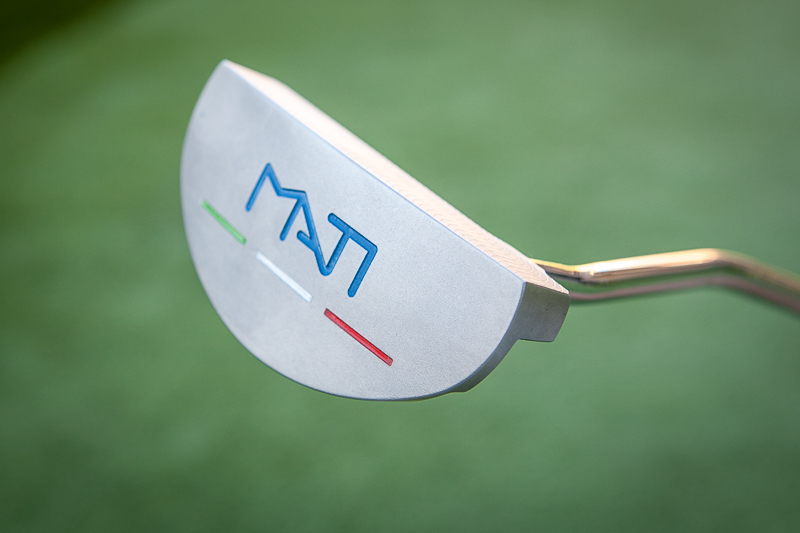 Aesthetically speaking the Mati GAB 1 is one of the finest looking putters I've ever had the pleasure of putting with, and without a doubt its beauty adds a tremendous amount of value to the club. I'll say this, after holding the putter and knowing how it was made and where it came from, I fully understood what it must feel like to own a putter from those Table Rock people.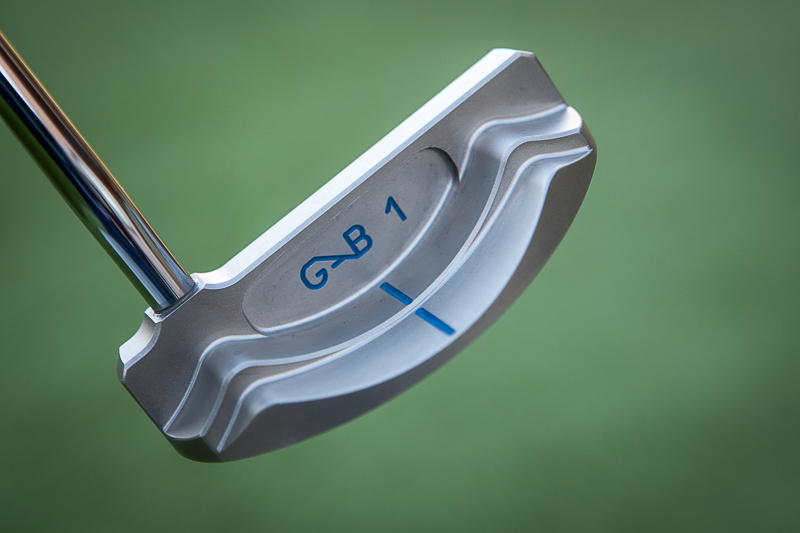 In the world of boutique putters, looks and manufacturing will take you a long, long ways but what I feel separates the "could be something" from the "is something" happens to be the most important element… How does it putt?
True story, the first time I made contact with the face and a golf ball I was lined up for an 8 foot putt. I have a section on my green that I had purposely constructed to be as flat and as smooth as possible so I can take any putter and see how I stroke it. When the Mati made the connection with the golf ball I truly believe I miss hit the putt. I moaned out the typical "ah crap" when you miss hit a putt and much to my surprise the ball kept rolling an rolling and dropped in the cup.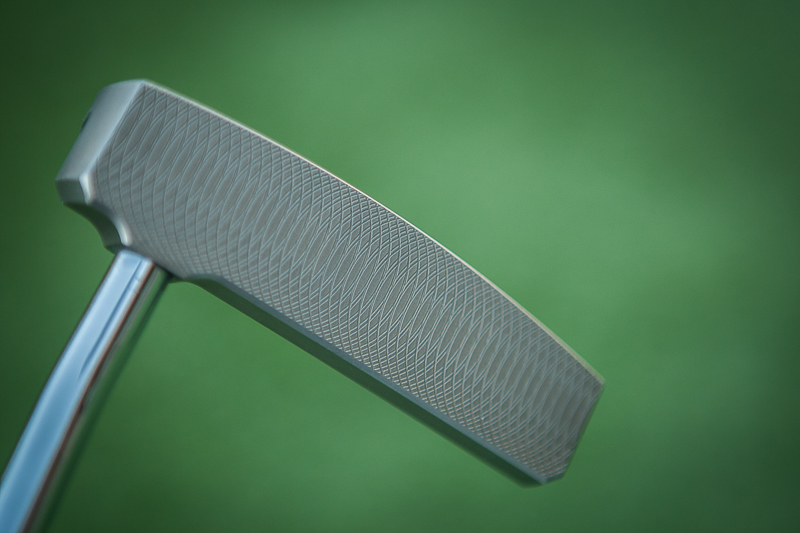 I've been using a milled putter for a little over 10 months. The change from a non-insert face has been one I'm thrilled about and I've adapted to it rather well. The clicky noise I used to hear from the impact of an insert is gone and I'm rolling the ball better than I ever have. The consistency I've gained was completely worth the change.
I tell you that because I want you to understand that although I'm relatively new to hitting a milled putter, it's not an anomaly to me.
I hit the Mati dead pure in the face and it was so smooth it felt like I barely made contact, and I truly believed I had miss hit the ball. That's not a ringing endorsement of my skills as a putter of the golf ball, but it's a testament to just how well the Mati GAB 1 is made.
My stroke is not really fit for a face-balanced putter, but as a reviewer I love tinkering with new clubs. I don't want to be known as the guy who only reviews blade putters so I accepted the challenge. Even with a putting path not suited for a mallet I've been draining putts like crazy with the GAB 1.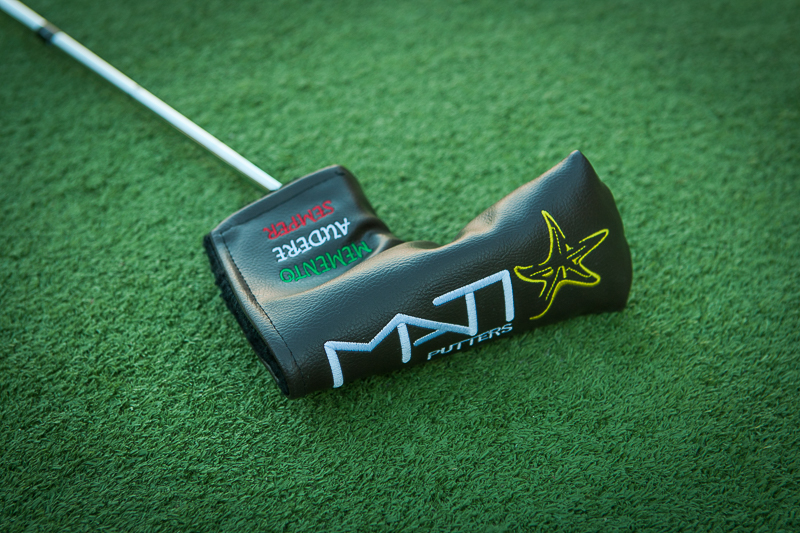 Short putts from 3' or long ones from 30' – the contact on the face is outstanding, and much like my other milled putters, the consistency has been outstanding. I always go back to the flat 8 footer that I practice at home to really judge how well I'm putting. There are no elements involved other than my stroke and the putter, and time after time the ball drops into the cup.
The Mati GAB 1 is a complete gamer. It's jaw dropping gorgeous and putt dropping madness all in one remarkably well-made putter. It will turn your friends' heads with its beauty and empty their wallets with its play.
Now that 2015 is upon us you may be in the market for a new putter. I highly recommend you find you way to the Mati Putters website and check out Mr. Brambilla and his wonderful line of Mati Putters. The GAB 1 sells for around $390.00 USD which equates to €330.00. Remember to plan on getting the clubhead shafted and gripped once the package from Mati arrives.
I want to thank Mr. Brambilla for letting me access his time and his great story for us to share with you here on Three Guys. Hopefully after reading this you'll be just as impressed with not only his work but his passion for the game and desire to create an amazing putter, which in my mind he has accomplished perfectly.