Pure Grips Review: Most people spend a lot of time picking out their clubs but relatively little time choosing the grips. Usually, it is not until the grips become slick that we ever think about what kind of grips are actually on our clubs. Unless you are a golf nut, the choices of grips is fairly confusing as there are a ton of  brands, colors, styles and installation processes.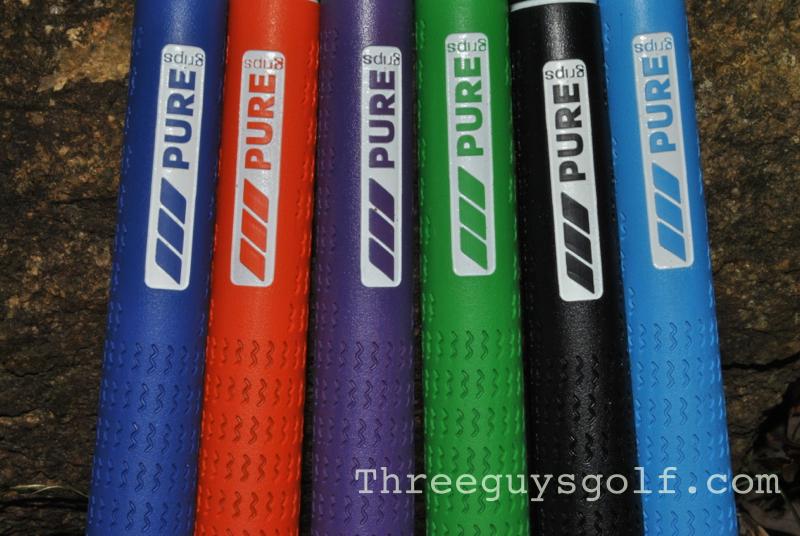 Like some other grip companies, Pure Grips offer a number of style and color options but what makes them truly unique is their very easy, efficient and green-friendly installation process. Plus, Pure Grips offer a 12 month guarantee. In other words if you manage to wear one out, they will send you another one.
Coincidentally, prior to this full product review, I unknowingly have been using the Pure Grip on the Miura wedge that I reviewed for Three Guys Golf. Beyond the look and feel of the Pure Grips, it is the installation process that is much improved from the more traditional taping method. Having re-gripped many clubs in the past, this revolutionary re-gripping method represents a huge benefit for those "do-it yourself'ers"
Since I did not own an air compressor, I picked one up in the $85 range but I figured it will also run a nail gun and paint sprayer for jobs around the house. The other solution of course is to borrow your buddies air compressor in return for re-gripping his clubs. Pure Grips sells the 'gun attachment' with a nozzle on the end to blow air through the grip (this will aid you in sliding the new grips on and off). The only prep work is to get the old grip and the old tape completely off before  installing the new grip. Please check out our video below to see how easy it actually is. Since you can easily pop the grips on and off with their 'no-tape' installation process you can quickly try one for a few weeks, pop it off, and try another one without having to cut up the grip and destroy it in the process.

As a reference point, my favorite grips in the past have been the simple Lamkin Crossline so I chose to review the Pure Grips Pure Pro model which has a similar feel. In the end, I found that I actually like the feel of the rubber better as there is a slight increase in tackiness. Plus Pure Grips have a ton of color options (but I still chose black). One of the main selling point behind Pure Grips is that the rubber is more 'pure' than what most grips are made of. Specifically, where other companies use silicone and plastics in their grips, Pure Grips are 100% rubber which helps to keep your hands on the handle in wet conditions. It also helps with durability because they won't dry up and crack. Again, the Pure Grips are noticeably more tacky than other grips which is really nice (and this tackiness stays with the grip over time).
In terms of real-world testing, I have really enjoyed the grip on my Miura wedge without even realizing what I was swinging. Now that I've had a chance to play with Pure Grips on all of my clubs, I'm honestly thrilled, and they are my new favorite grips. I have even spent a good bit more time hitting at the range without a glove because of how comfortable they are on my hands. Plus, the installation is so much easier so I will be more likely to keep my grips fresh rather than push them to where I have in the past.  Whatever grip you are used to, I think you'll find a good fit in their selection of styles.
You can see the whole product line on the Pure Grip website.