Arnie Wear: Ever find yourself watching reruns of the 1971 US Open and being mesmerized – not by the shotmaking but by the idea that somehow these men were not told by their wives to go back and put on a pair of slacks that actually fit? Well my hand is raised for sure, but as it turns out, there were apparently some hidden gems of style buried amongst the ill-fitting, poorly matched fashions of yesteryear . . . all we needed was access to the closet of perhaps one of the coolest men to walk the fairways – Arnold Palmer!
Coming off of their recent success, the guys at Quagmire Golf teamed up with Arnold Palmer to design a new line of clothing called…..wait for it…Arnie Wear. The idea is simple, take the essence of Arnold Palmer's style throughout the decades and modernize it to make it 2012 fashionable.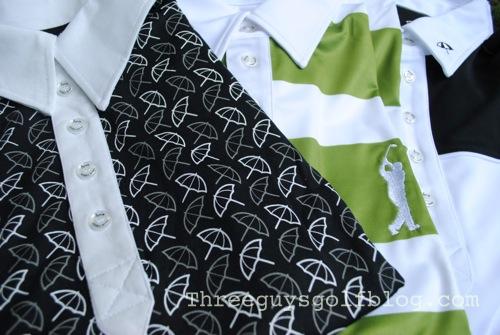 The story of how this was done is actually just as cool as the product itself. From what I was told, the Quagmire team literally raided Arnold Palmer's closets to photograph hundreds of outfits he had saved. Apparently Arnie has not heard of the PTA Thrift Store.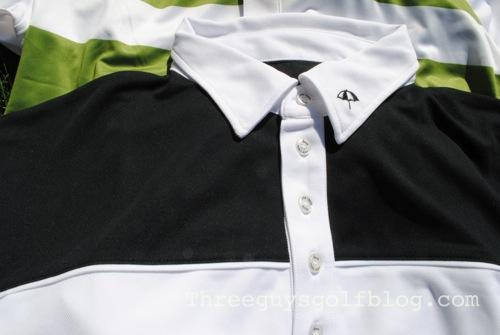 From that exercise in hoarding has come three lines of clothes, one for each decade: 50's, 60's and 70's. While not as dramatic as the original Arnie duds, you can definitely see the DNA of Arnie's old outfits in every item. The three shirts we looked at all came from the sixties – specifically, we saw the "Role Model", "Albatross" and "Sam". Here at Three Guys Golf Blog central, we all agreed that by far, the "Sam" and its wide green stripes was pure money!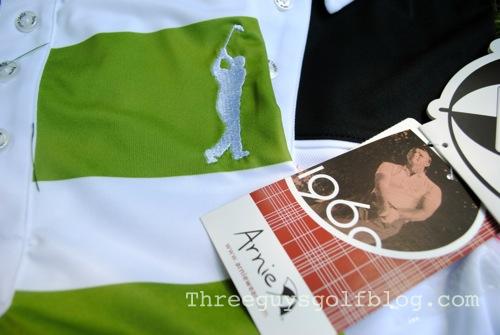 The "Sam" is 95% polyester so technically it should be a product of the 70's. Fortunately, this polyester is a bit lighter and cooler than its predecessor. Like most high performance shirts, Arnie Wear is breathable, moisture wicking and anti-bacterial. However, what makes this shirt pop is the large stripes and huge Arnie logo (Ralph Lauren Polo eat your heart out). So while the "Sam" shirt looks completely unique, it does not look over the top or out of place on the course. I would go so far as to say it has become one of my favorite golf shirts. Plus I actually saw Ryan Moore wear this exact same shirt during the Wells Fargo Championship, and that dude has serious style.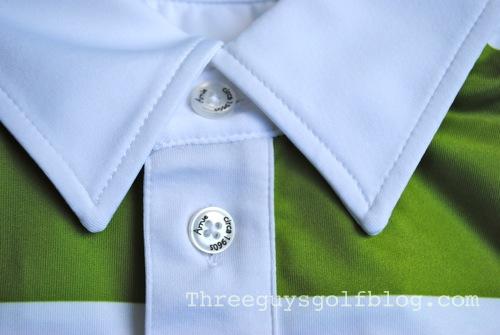 They say fashion always comes around so I guess it should come as no surprise that we are willing to go back 50 years to re-define cool. Fortunately, Arnold Palmer was and is one cool cat (and makes one heck of a good iced tea too). As I said, I love the "Sam" shirt, but to be honest, some of the Arnie Wear styles do seem to be directed toward an older crowd or are at least hindered by the fact that not all fashions in the 60's were necessarily cool.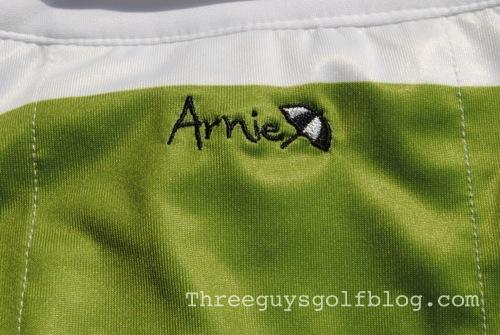 With that said, there is plenty of good stuff to choose from in the catalog and what I really like about all of the styles is that they are incredibly wearable by regular guys with regular builds, which as we all know is not par for the course with the euro trends these days. Arnie Wear can be found at many high end golf clubs and also in select online retailers for about $80.
You can learn more about the whole line on the Arnie website.