Sub70 Golf Apparel: Another brand name that is a cruel reminder of my mid-handicap status. Shooting in the 60's is probably a pipe dream for me at this point but just in case the Sub70 shirts are made with golfing god karma, I am willing to give them a try. While Sub70 has been in England since 2004 it has flown under the radar for most American golfers but this may quickly change since the inception of Sub70 USA which will sell directly in the US (and it does not hurt that Aaron Baddeley wore Sub70 during the 2011 Masters).
The truth is, we dig just about every thing we get at Three Guys Golf Blog but typically one of us is particularly jacked by a given brand (and hence that person is "rewarded" with the honor of writing the post). Frankly, I was not overly excited about Sub70 based on their website since the colors seemed a bit muted to me. However, once I saw the gear in person…. I knew they were money!  We actually looked at three shirts and shorts from Sub70 so here goes.
Sub70 Fredrik Green Golf Shirt:
I love this shirt because of the two pockets on the chest which is a bit unusual but super cool. It has just enough Euro/retro look to set it apart from most of the American shirts but not too Euro to draw the ire of my foursome. You know, it's a fine line to walk between looking sharp and looking like an idiot (this is especially true for us 40 something year olds).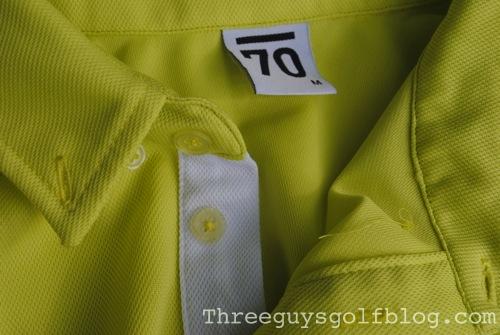 In my opinion, the Sub70 shirt is a clear path to fashion success even for those us who have a face for radio. In terms of fit and comfort, Sub70 runs a touch small but I would not classify it as too small just european cut. Fabric wise, they are made from a polar dry polyester that breathes well and is very comfortable (albeit not super soft).
Sub70 Plaid Shorts:
Lets face it, most of us wear khaki or blue shorts 95% of the time because we can barely match two colors or patterns. With that said, I went out on a limb and got the plaid shorts and like the shirt, I was pleasantly surprised. Mostly what I care about in shorts are that they fit well and are made from light material. The Sub70 shorts absolutely meet that criteria but they also have a few bonus features. Check out the flap over back pockets, double front pockets, wide belt loop in the back and the stitched cut on the sides – yup, they are money!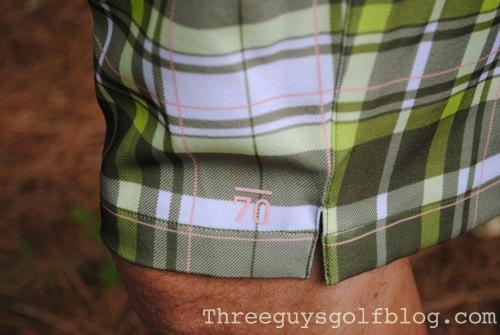 Sub70 Tristan Pullover:
Matt went with a sweater since he contends he has zero non-dopey looking cold weather golf attire. Again, the website does not do the sweater justice. Typically not one to get excited by golf clothes, Matt was genuinely giddy about the sweater.
Since no one ever says "I wish I had another layer so that I could feel more constricted", having a well fitting go-to pullover is definitely a must have for the cooler months. Plus, unlike many golf sweaters, the Sub70 does not scream "I just played golf" so you can wear it pretty much anywhere.
Sub70 Zane Golf Shirt:
Finally we have Wade who is always the tough nut seeing he wears XXL and is not too keen on anything remotely Euro in style. In general, I think most big sized shirts end up just being larger versions of the medium rather than cut for someone 6′ 4″ and 240 lbs. With the Sub70, even the XXL is cut to properly fit with the arms and shoulders being of appropriate size. So, while Wade prefers a stock blue golf shirt, he still gave the Sub70 at least 1 and 1/2  thumbs up in part because Sub70's description which reads "Designed with straight hem that looks good tucked in or worn out".  Music to Wade's ears (Wade is not a big shirt tucker). One thing to note with this particular shirt is that some of the stripes are actually made in part with a rubbery type of material which does give it a different feel.
In the end, Three Guys Golf Blog is now a big fan of Sub70. You can see the whole line of clothing and accessories on their website.
You can also see more full res. pictures on our Facebook Gallery.