Every time I find myself wandering aimlessly through Dick's Sporting Goods I inevitably end up in the clothing department. Clearly it's big business since millions of dollars are spent by golfers every year looking to obtain the "Tour" look, but frankly I am just as demanding of performance as I am style. And to be honest, it has always been hard for me to justify dropping close to $100 on just one shirt. Well it didn't take long for my opinion to be completely changed after I played my most recent round of golf in one of the new Silver Collection polos from Sunice.
Sunice is a Canadian based apparel company that just happens to know what the heck their doing. Established back in 1976, Sunice started out as a winter gear clothing company mainly for winter sports and was the official supplier to the 1988 winter games in Calgary. Following up the success from the Olympics, Sunice decided to take their products in a completely opposite direction from the winter sports gear and take their technology to the golf course. The Sunice Golf Outerwear line was introduced in 1992.
For comparison purposes please understand that my "usual" golf attire falls tremendously short of the Rickie Fowlers and Ian Poulters of the world so I was certainly excited to review the Sunice Silver Collection.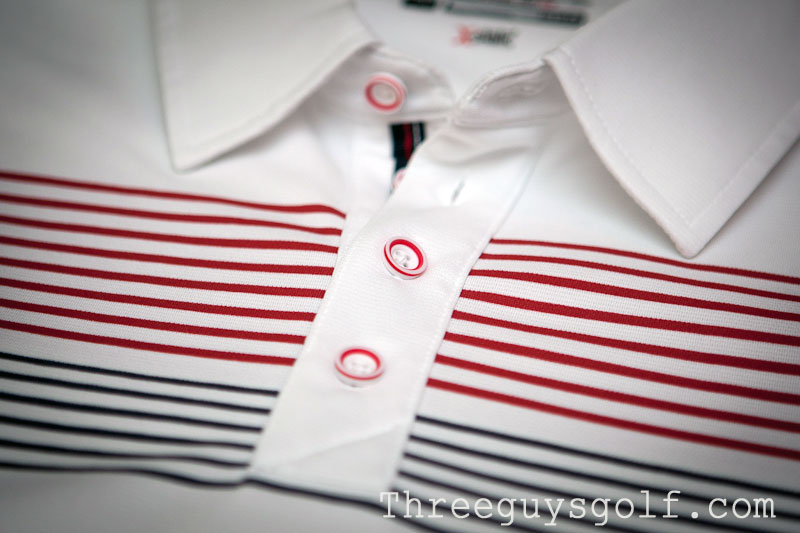 When I first took the Sunice polo out of the packaging I could tell right away that this was no "bargain rack shirt". The quality is of the shirt is just outstanding and the fit was perfect. Truth be told,  I'm no stranger to sipping down a cold one or two so needless to say the lower half of my torso could use some work. Fortunately, the sizing chart for the polo's on the Sunice website is spot on.
Now if you have never been to Las Vegas in August, let me assure you that the weather is absolutely miserable. It's hot, humid, sometimes windy and just plain not fun to be out in, but perfect conditions to see how the Sunice gear would hold up.
After nearly two hours of hitting ball after ball the shirt felt the same as it did when I rolled up. As a comparison, I have a couple moisture wicking shirts that do a pretty good job at keeping the sweat off your body but the Sunice trumped every one of them! I actually remember seeing a gentleman a few spots down from me that was only there for about 20 minutes and was drenched. I couldn't help but to think what was going on in his head when he saw that I looked like I hadn't hit a ball despite the two and half empty buckets my stall (yes I know I have a golf addiction problem).
With the range test complete I knew the shirt was for real but a full 18 was in order, if for no other reason than it was a great excuse to squeeze in an extra round that week.
Stuck on a course that was cart path only I got a little bit more of a workout than I planned but that only furthered my assessment. The cart path only rule not only lengthened the round but also allowed me to really get a feel for how well the shirt is designed. A few times out on the course I was caught without a towel and had to clean my club off with my hand after a practice swing. Not even thinking I wiped my mud on the back of the polo and went about my business. I didn't even realize what I had done until I had gotten home and took the shirt off. I am not embarrassed to say that I was seriously bummed at the thought of ruining my new favorite shirt after just one outing. Fortunately, once again the Sunice knocked it out of the park. Not a hint of any ground-in muddy remnants of the course anywhere on the shirt. It looked like it had just been taken out of the package for the first time.
Without a doubt my first venture into the high end luxury golf apparel has my mind whirling. The Sunice is definitely a shirt that is going to hold up for a long, long time. The construction is top notch and the look, style and comfort rivals any top shelf polo I have ever worn.
Beyond the shirts, Sunice sent us a pair of shorts. Apparently, I am not exactly a 34″ so I was not able to personally review them. However, fellow blogger Adam (pictured in Sunice shirt and shorts below) has informed me that he was quite pleased with the shorts. In addition to being lightweight he did note that the pockets are more shallow than most and the legs are about a 1/2″ shorter in length than many other brands. Neither of these comments are intended to be negative, but definitely a point of differentiation.
With how well this one piece from Sunice did I cannot wait to get my hands on more of their gear, and with the winter months just around the corner I can certainly see some Sunice winter golf gear in my closet in the near future.
Visit the Sunice Website to find out more about their products, technology and get yourself some amazing gear while you're there.