Tracey Lynn golf attire is a clothing line where fitness, style, and femininity all come together. Tracey Blake is the owner of Tracey Lynn golf attire and for years she had searched for fashionable clothes to wear on the course. Unfortunately, Tracey suffered a life altering event that left her paralyzed from the neck down for 3 months. During her lengthly ICU visit Tracey reevaluated her life. After she recovered, Tracey started her own company for women who want "fashion with function."
When I first went to her website, my first impression was that the line was very frilly as many styles featured ruffles or prints. However, after taking a closer look I found many collections that were both sporty, great looking and versatile.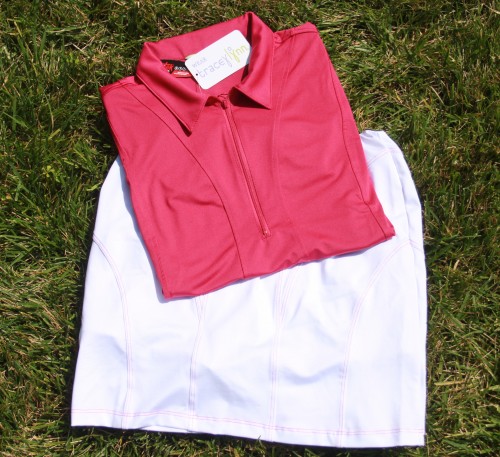 While the gear we get typically comes in a plain box, Tracey Lynn sent my outfit as she handles all of her orders – beautifully wrapped in a bright green tissue paper with a Tracey Lynn sticker holding it in place. Honestly, I felt as if I was opening a birthday present (yeah me!). This attention to the detail is always a sign of a company that truly cares. So I guess it was just icing on the cake when I read the enclosed card that said  "America is Beautiful, proudly made in the USA." How refreshing to find quality golf products that are made right here in the USA.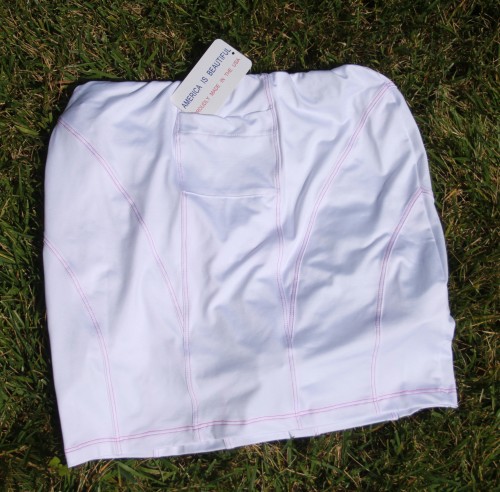 Tracey Lynn Golf uses Sportek® performance fabric, which lets you move and stretch with confidence. The material and cut are designed for women who want to look good and feel good about their figure. The lines of their clothes allow for stretch to adjust to the shape of your body, but not look tight or constricting. Tracey Lynn not only has SPF protection, but it also is wicking so you can stay cool and dry while on the course. Additionally, Tracey Lynn clothing never needs to touch an iron – it looks great and ready to wear after washing and folding or hanging!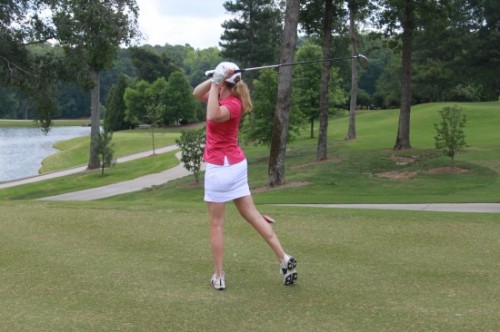 Tracey Lynn's skorts have either LYCRA® or Spandex. The skort I have has Spandex and I love the way it fits. All of Tracey Lynn's skorts include an elastic waistband, which makes them extremely comfortable and flattering. My skort has two hidden pockets underneath and a back pocket that has a Velcro® closure. But my favorite thing about the skort is the fuchsia stitching. It seems as if this skort would be a fit for any body type because the stitching appears to break the skort up into individual panels that stretch and give exactly where necessary!
The Tracey Lynn shirt that I have is the same fuchsia color that is in the stitching in my skort. SO cute! It also has a micropoly/lycra blend that is wicking and has UV protection. Yet what I love most about this shirt is the zipper. It is not a short zipper made for looks. It is a long zipper that is functional and you can adjust it to your personal style. The pull on the zipper is a round circle about the size of a penny. Not only is it stylish, but it is easy to adjust.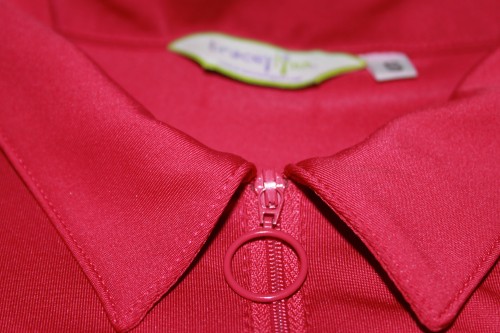 Here is the real reason I fell in love with this outfit: I played 36 holes with my husband in the 85 degree heat. Tracey Lynn's clothes are truly wicking, and I never felt overheated or uncomfortable. After golf, we went straight out to dinner with Susan and her husband. Yes, I was still in my Tracey Lynn outfit and even got compliments on my outfit at the restaurant. If that is not the true test for cute, functional golf clothes that make you feel good, I don't know what is!
So ladies, go check out the Tracey Lynn website. Whether your style is classic or more fun and daring, Tracey Lynn truly has something for everyone.