Most guys buy golf gloves like this: Hmm, XL, white, what's on sale? Then we wonder why it goes in the trash 2 weeks later. I don't blame you for passing over the $25 Hirzl glove if you have never worn one, but you are now on notice! They are worth the money. The short story is that the Hirzl glove is nearly indestructible. Plus it has extraordinary grip and breathability.
I know you are supposed to rotate gloves, but I typically wear one glove till it wears out (it's the Darwinian in me I think). At least this way I know how long it lasts. Hint, I find that my gloves will last much longer if I put them back in the packaging rather than just velcroing them to my bag.
So back in late October, I put my first Hirzl glove into play figuring to get about 6 weeks out of it (2-3 rounds per week). Well, it is mid-January, and I have decided, it may never die.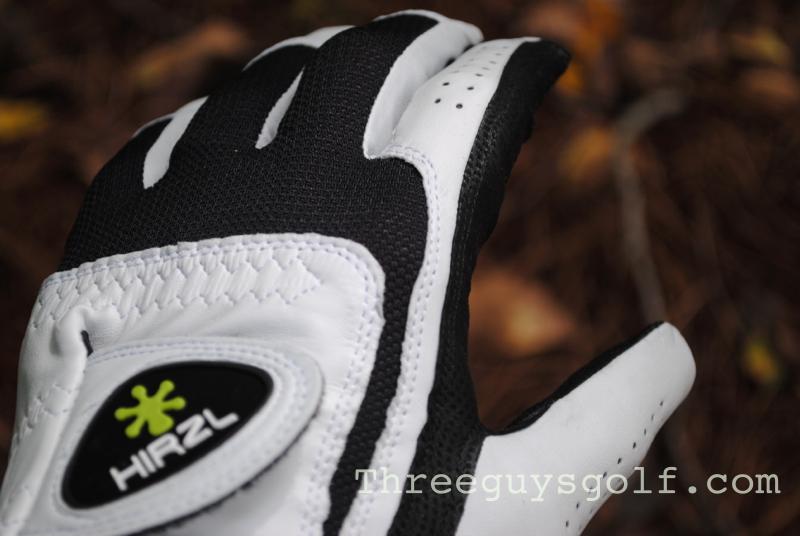 As I mentioned, I have played a ton of rounds in the Hirzl glove and in lots of conditions including rain. Specifically, in early November I was caught in a 4 hole down pour and while everyone was switching out gloves trying to stay dry, the Hirzl gave me no trouble and I was able to grip the club as well as when it was not wet.
As you can see the palm is made of some type of rubbery material which gives it the tackiness but surprisingly the glove is not hot to wear. To be fair, I have not played in the heart of the summer but I have played a bunch of rounds in the 70's and did not have any problems with it getting sweaty. Again, I put the Hirzl glove back in the case after each use so it always feels great the next round.
The way I look at it, for those penny pinchers (my hand is raised), if the Hirzl glove lasts 3 times longer than the $15 version,  you are actually money ahead. Not to mention, Hirzl claims 5 times the lifetime of most gloves but no need to split hairs, this guy is bullet proof.
So the next time you reach for the bargain bin, resist and treat yourself to a Hirzl golf glove. You can learn more about Hirzl on their website.