It has long been an axiom of mine that the little things are infinitely the most important — Arthur Conan Doyle
When I reviewed Sunfish Sales wool headcovers several people asked me "What can you say about headcovers?" The answer turned out to be "quite a bit." Before I tried a set of Sunfish Sales' heavy-duty knit covers, my headcovers were a source of annoyance rather than a compliment to my bag. I was far more likely to curse the clumsy neoprene socks that come on my clubs as I struggled to get them on and off or jogged back up the fairway to pick them up than I was to enjoy the look and feel of a quality piece of kit.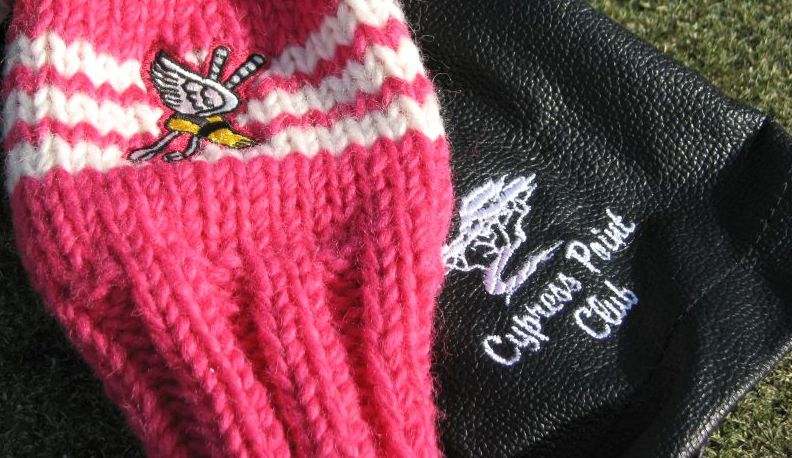 I call this the "Places you'll never get to play" collection
Since that first review my woods and hybrids have worn Sunfish for every round, rain or shine, hell or high water. I've gotten a lot of compliments about my Sunfish woollies, along with inquiries about where to get them. And adding some class to your bag with Sunfish Sales knit headcovers was pretty straightforward, since Sunfish supplies custom covers to many of the top 100 courses in the US. For those who couldn't wrangle an invitation to, say Winged Foot or Cypress Point, Sunfish's website and prices starting at less than $30 for a luxe knit driver cover made things easy and painless.
So clearly the guys at Sunfish Sales had it all figured out. They'd done what they set out to do, and it's time to put the shop on autopilot and head to the course for Cajun Martinis and afternoon golf, right?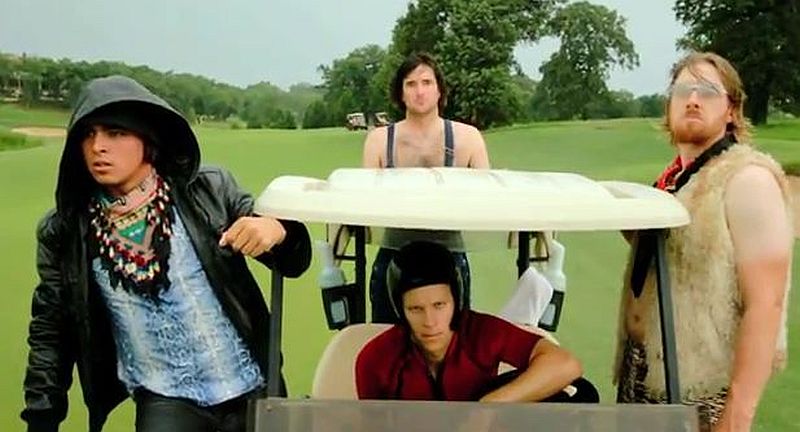 Not the staff at Sunfish Sales.
Of course if Alonzo Guess and David Riggs, the boyhood friends who run Sunfish Sales, thought like that then they'd probably be weekday morning golfers and gin-swilling ne'er-do-wells like your humble scribe instead of living their childhood dream of "having our own company that makes cool stuff." In my defense, weekday golf and gin-swilling ne'er-do-well-ism is pretty much my childhood dream, so I'm not entirely consumed with jealousy, but I am glad that Alonzo and David are happy to keep their noses to the grindstone, because their efforts have resulted in some interesting new products and really exciting features for Sunfish Sales' 2015 lineup.
Leather Headcovers
The biggest update to the Sunfish Sales lineup for 2015 is the addition of leather headcovers. If Sunfish Sales' wool headcovers are Spenser: For Hire, then the new leather headcovers are A Man Called Hawk. Yes, I know I just dated myself (and revealed some pretty questionable taste in television in my youth), but bear with me a minute. Spenser, as portrayed by Bob Urich, was tough but cultured. Well-read, a gourmet cook, as likely to talk the bad guys into surrender as he was to engage in fisticuffs. When the weather in Boston turned chilly, Spenser wore a classic wool peacoat.
Avery Brooks' Hawk was the dark side of Spenser, the Yang to his Yin, the Han Solo to his Luke. Bald as a Sunday US Open green, carrying a huge, chrome Colt Python, wearing his sunglasses at night, as cool as the other side of the pillow. Regardless of the Boston weather, Hawk wore a Shaft Signature Badass Edition(tm) trenchcoat, made from black leather.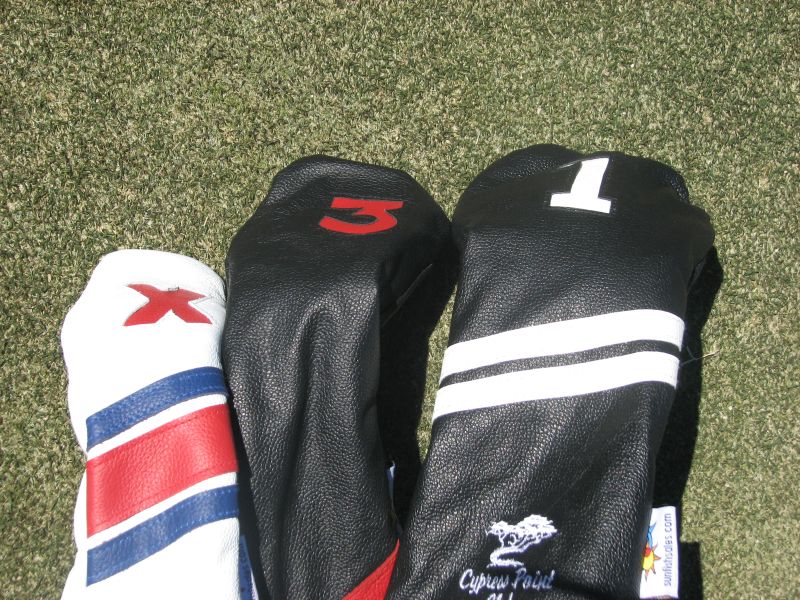 I was going to make a Shaft reference, but this is a family publication.
Sunfish's version of that trenchcoat is a series of headcovers for your driver, fairways, hybrids, and blade putter that are hand-crafted from full-grain leather. As with their wool covers, Sunfish's leather headcovers are handmade, which gives them character that's missing from mass produced products. Sunfish uses real, full-grain leather that's thicker and shows more grain than the thinner and more uniform split leather that some manufactures use. But leather is, after all, cow hide, and since cloning cows is illegal, different pieces of leather have different patterns and characteristics, even after the tanning process. Handcrafting their leather headcovers lets Sunfish accommodate the variances in the leather and makes each piece unique, which I think is extremely cool.
The quality of both leather and finish is top-notch. I tried my set with a selection of drivers, fairways, and hybrids, and for the most part they fit well and were easy to put on and take off. When I first put them on they were a bit snug, but being leather they soon broke in created a custom fit for my clubs. The nylon lining makes them easy to slide on and off, and the detailing makes identifying clubs simple and quick. Because of the design needs inherent in leather, the leather covers aren't as long as the knit ones, leaving a few inches of my driver shaft exposed. This only became a concern when I was using a putter that has no headcover, letting the head of my aptly-named "Big Ben" from Ben Hogan rattle against the shaft of my driver. No harm was done, and I eventually rearranged my bag to eliminate the problem, but if you're rocking a $300 aftermarket shaft in your driver you might want to check everything to make sure your clubs are riding safely.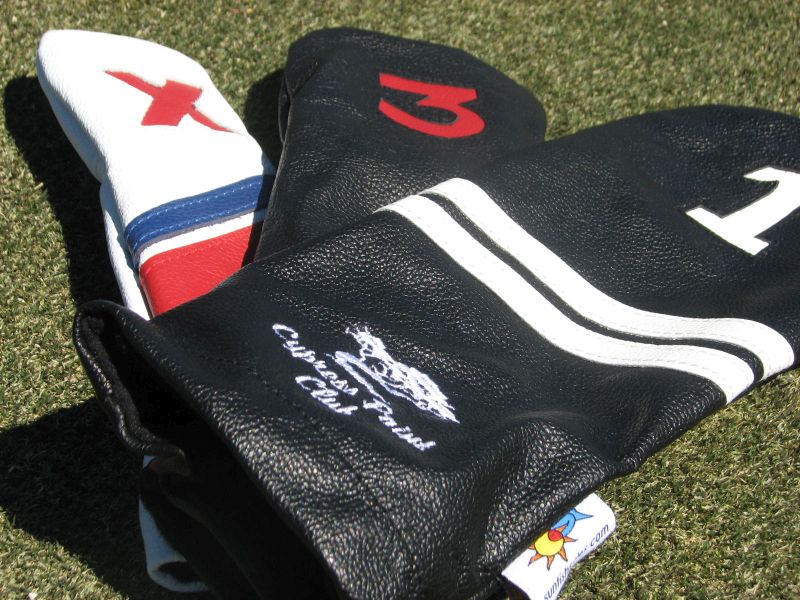 Cypress Point, where they can literally look down on Pebble Beach.
The covers are available as sets or can be ordered individually in a variety of colors and patterns. Best of all they start at a cool $34.99 for putters, hybrids, and fairways, and $39.99 for drivers. Buy them as a set and $90 will get you a set of headcovers that should last longer than your golf career.
Animal Headcovers
Of course not everyone wants to dress like they've taken the Red Pill and dropped out of The Matrix, and Sunfish has you covered there too. I don't know about you, but when I hear "animal headcovers" I think of the Caddyshack gopher headcovers that are apparently part of the Acme Big-Box Golf Retail kit. Fortunately, when Sunfish says "animal headcovers" they mean the same high-quality wool and hand-knitting that goes into their standard knit covers, knit into a line of animals that look like the makers of sock monkeys decided to branch out.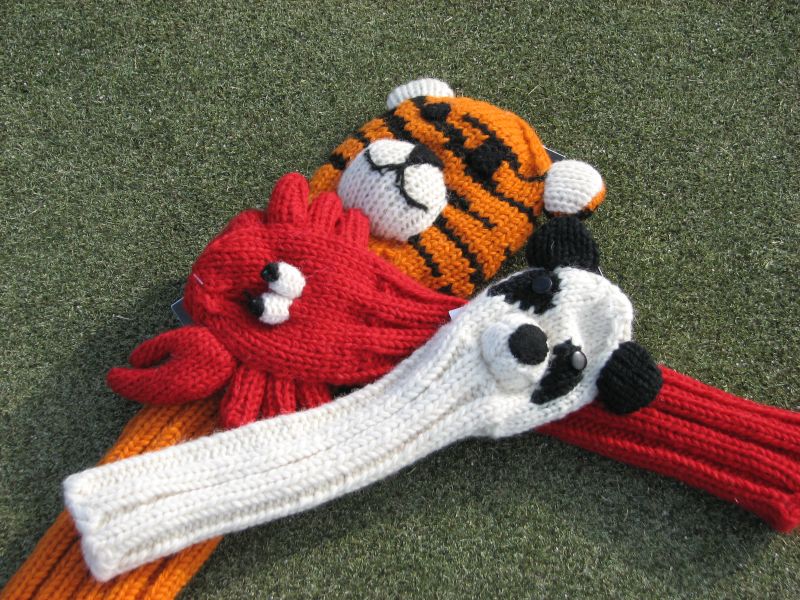 It's just one happy animal kingdom, until the lobster starts something.
Order them as a set or mix and match, starting at just $25 for fairways and hybrids and $30 for drivers, Sunfish Sales' knit animal headcovers are a great choice if your tastes are a little whimsical.
Scorecard/Yardage Book Holder
This is the latest addition to my collection of "things I never knew I needed until I had them." Until you've tried one, a scorecard or yardage book holder might seem like a necessity for the pros and their 3-volume yardage books, but a little shishi for weekend warriors who have more beers in their cooler than notes in their yardage book. Even when you try one, the difference is really in all the things you don't notice. Unless you think about it, you aren't likely to notice that you didn't struggle to get your scorecard in and out of your pocket once during your round. That means that you didn't have to stop and ask your partners what they got on the last par 3 because you couldn't get the dogeared, sweaty card out of your pocket in a hurry, so you bagged it and moved on.
Made from the same full-grain leather as their headcovers, Sunfish Sales' scorecard holder has elastic loops on both sides to hold your scorecard and yardage book, as well as a loop for your pencil. It sounds like a little thing, but having a loop for my pencil means that I always have a pencil, which beats the hell out of marking my scorecard with the same Sharpie that I use to mark my golf balls.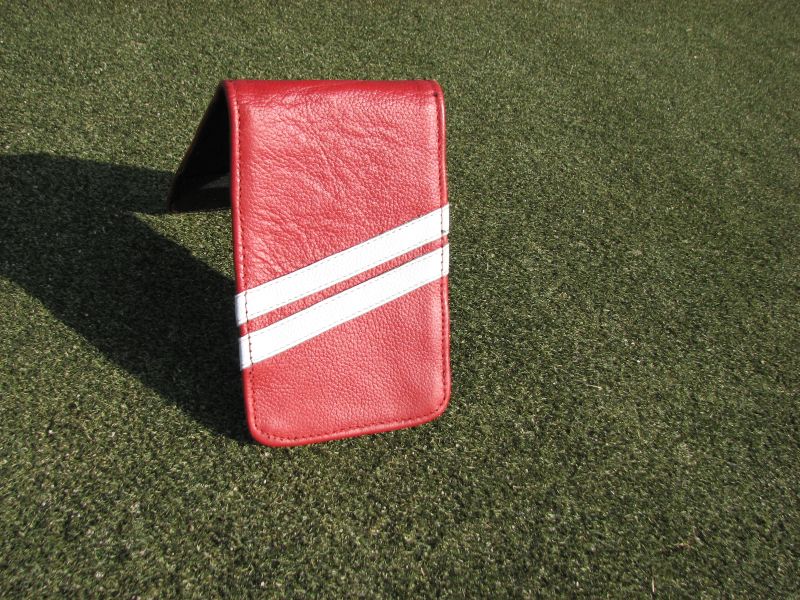 If you don't see "Diver Down", you should probably just order a plain vanilla cover.
Having my card and yardage book organized and easy to use hasn't made me a better golfer, but it has definitely made my rounds more enjoyable. Be careful though, when your buddies see how easy it is to manage the card you might find yourself designated as the permanent scorekeeper. It's a small price to pay for the convenience, as is the $35 price tag.
Customize your covers
Perhaps the most interesting addition to Sunfish Sales' 2015 offerings isn't really a product at all. New this year you can customize your headcovers right on the Sunfish Sales website. Visit https://sunfishsales.com/custom-headcovers/ and you can choose colors, designs, details, and even add custom text to your headcovers. Prices vary depending on the options you choose, but I priced a leather driver cover with everything, including having my name embroidered on it, and it still came in at a very reasonable $80. Considering that a leather headcover could well last longer than my golf game, I think that qualifies as an affordable luxury.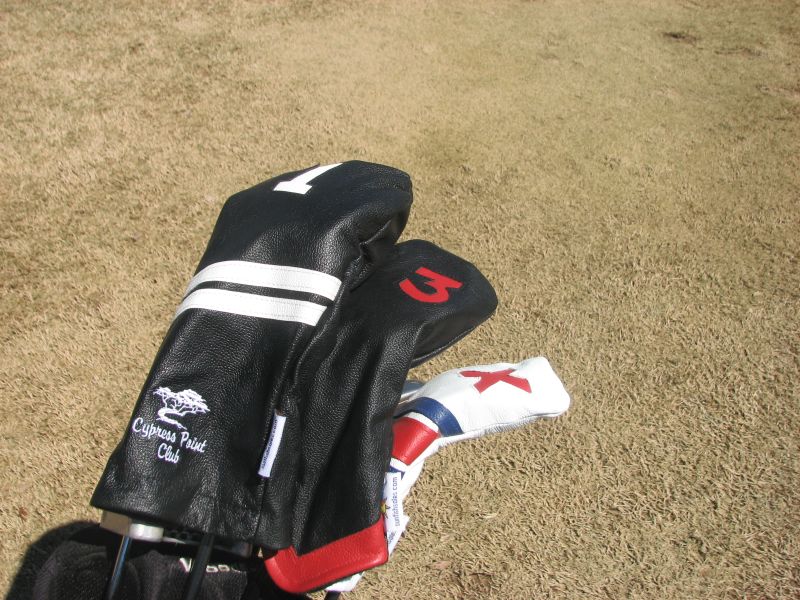 Seriously, you can get more options on your headcover than your Honda.
If Sir Arthur is right and the details are what's important, Sunfish Sales' 2015 lineup of knit and leather might just be the most important part of your bag. Adding a touch of class and removing the kinds of minor annoyances that can take you out of "the zone" can't help but be good for your mental game, whether it shows up on your scorecard or not. You can see Sunfish Sales full lineup, learn more, and even create and order your own custom headcover designs on the Sunfish Sales website