AlphaRD Duo Golf Cart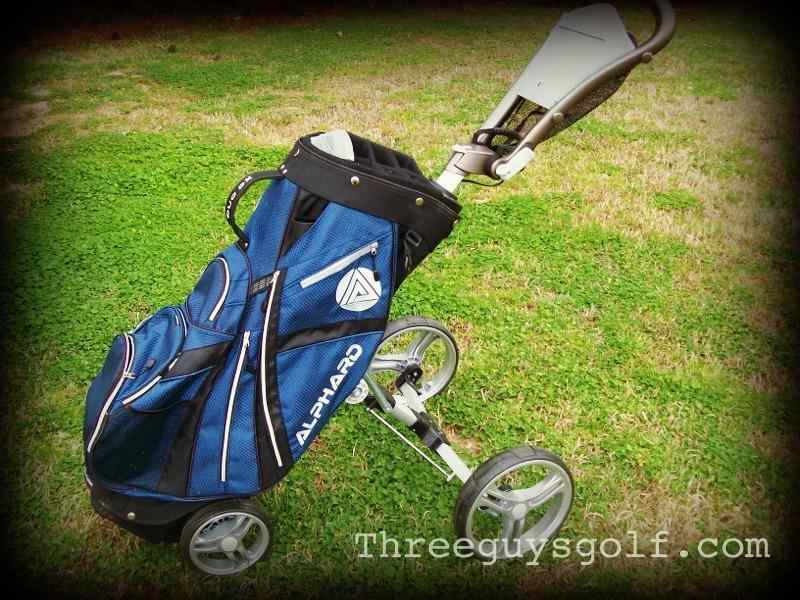 Every three months there seems to be a big technology breakthrough with drivers, but with golf carts, big changes are rare. Remember how long it took for us to figure out that push carts were way better than pull carts? Fortunately, companies are back in the lab working on the next revolution for the push cart beyond adding additional gizmos.
Notably, at the 2013 PGA show, I bumped into three companies who are now making an "all-in-one" push cart. AlphaRD is one of those companies and their new product has become recently available. We have been pushing this guy around for a few months and have been impressed with a number of features.
First, it's "all in one", duh. This means a few things. 1) you don't have to take your bag on and off the cart, 2) there is no bag slippage, and 3) you only have to buy one item not two.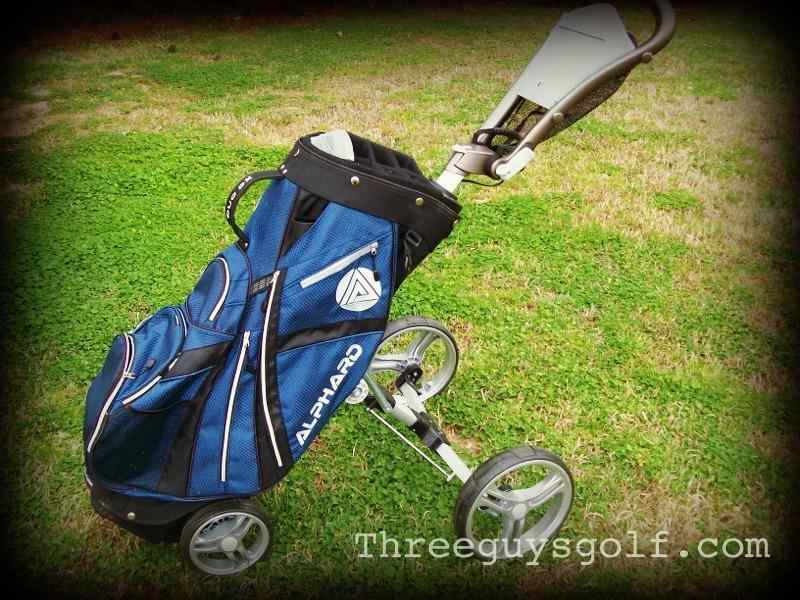 In terms of performance, the AlphaRD duo golf cart has 4 wheels which makes it very stable and well rolling. NOTE: I have been using a push cart for about 8 years and have used many styles, some great, some not so great. I would say the AlphaRD rolls very smooth, turns well and is plenty stable. One difference in the AlphaRD I did notice compared to some of the leading brand push carts is that is made primarily of molded plastic which is a change from the metal versions I am used to. At first I worried that it was going go be less solid but I found it to actually allow the cart to shift around over bumps.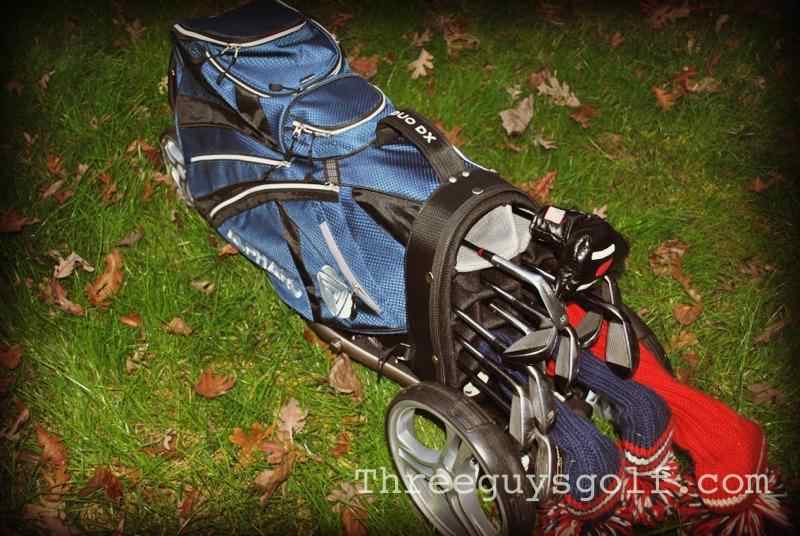 The challenge for the AlphaRD duo golf cart is that they need to not only make a great rolling cart but also a highly functional bag. I am pretty particular about the bags I like but was quite pleased with the functionality. First, all of the pockets make sense and are well organized. Plus there is a large cooler pocket which is awesome (why don't all bags have this?).
Second, the club organization is great with individual slots for each club and a putter holder, and because it is an all-in-one design, the clubs are perfectly set for easy access. This is perhaps one of the biggest benefits as many bags just do not work well with certain push carts as they were designed by different companies. Seriously, I know guys who have had to return the bag they picked out because it just did not fit right on their push cart.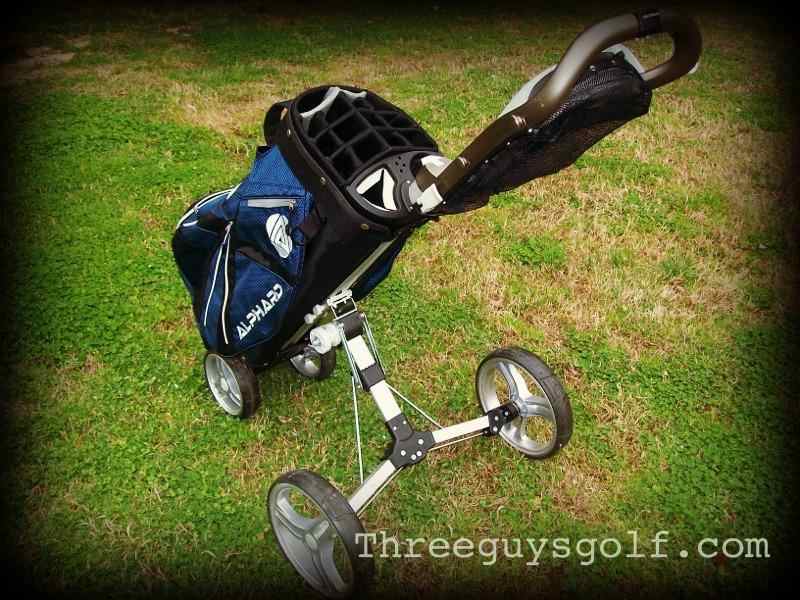 The other really unique feature of the AlphaRD duo golf cart is that the bag can be replaced with a "skin". Meaning you can unsnap the bag and replace it with a different color much like a skin for your phone. So whether you like to just have a makeover or the bag has gotten beat up but the cart is fine, you can just get a new skin rather than replace the whole cart.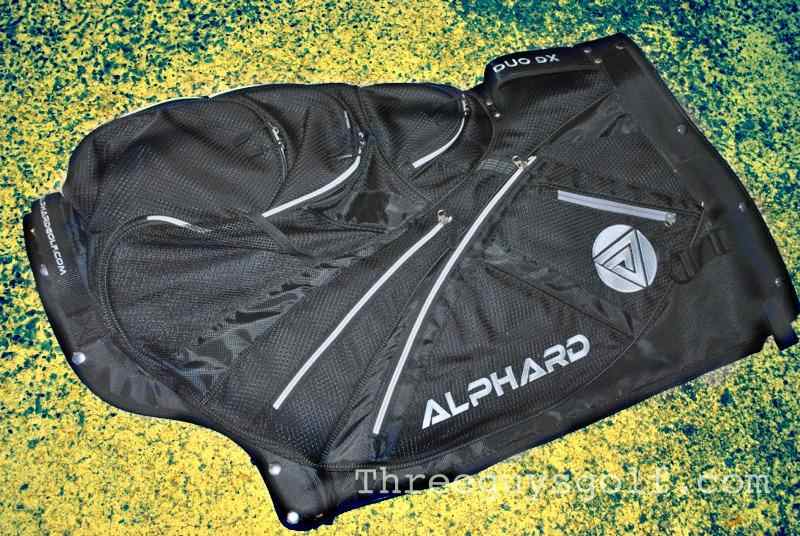 Getting the cart open and closed is relatively easy after you get the hang of it and the model I tested has actually been improved to make the process even easier. It is really just a matter of turning one knob, lifting up then swinging the handle out. The company provides a nice video on this process.  The handle, by the way, can be raised or lowered depending on your height which I found very useful since many push carts are set up too low for me.
In terms of overall size, the AlphRD is definitely thinner than stacking a bag and cart however it is slightly longer than the bag so you need to have a fairly wide trunk. My unscientific measurement puts it about 3 inches longer than my current bag with the irons inside. The reason this is important to me is because I drive a small car and need to take my woods out of my bag in order to have everything fit in my hatch back. With the AlphaRD bag, even if I took the woods out the entire cart was on the verge of being to wide to fit inside. Hence I never buy a car until I make sure my clubs fit.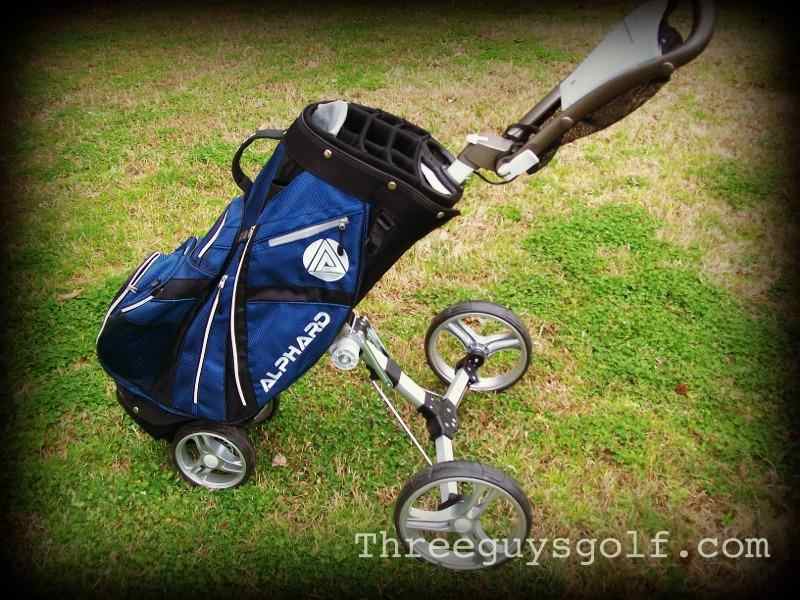 In the end, if you use a push cart for nearly all of your rounds an all-in-one cart makes a lot of sense. Besides reducing the number of pieces, the overall price is less than buying a bag and a cart separately. However, there are clearly some limitations as it is a bit bulky to strap it on a cart (although you can). You also can remove the wheels but again, it's not something I would want to do too often since the point is to make my life easier.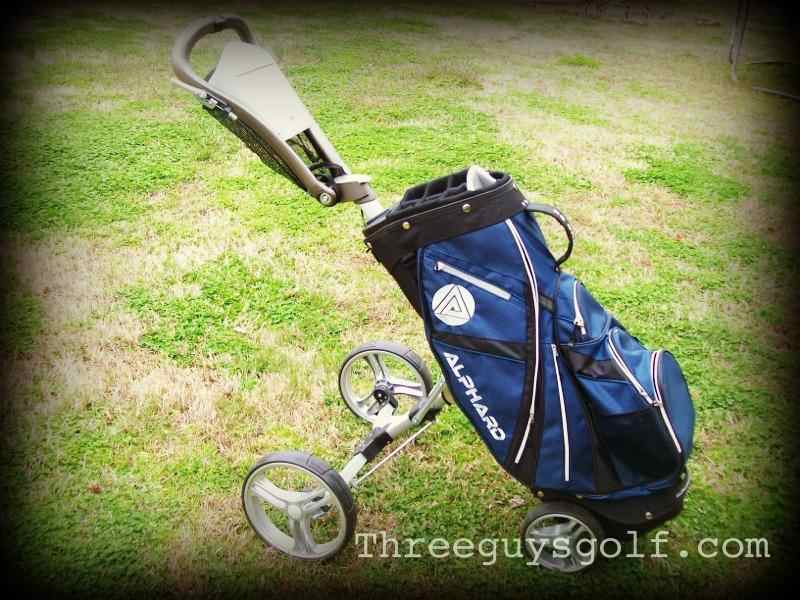 Overall, I am impressed with the concept and think AlphaRD makes a solid product; after speaking with the company I believe they will continue to tweak the model as they get additional feedback. As dumb as it sounds, I hate taking my cart in and out of the car and setting it up every time I play, so eliminating this step is welcomed.
You can learn more about the AlphaRD duo golf cart on their website.