Aruba's Tierra Del Sol Golf Course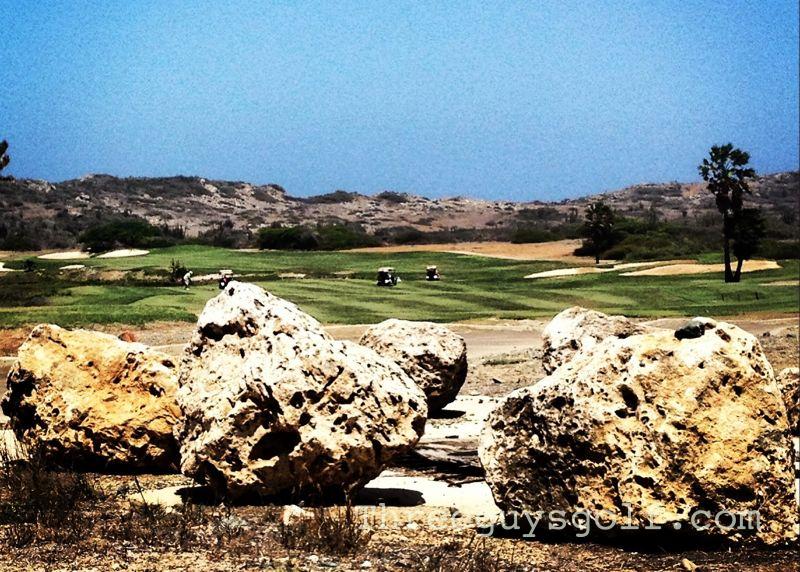 My Mission: fly to Aruba, play three rounds at Tierra Del Sol Golf Resort (4.5 stars of 5 from Golf Digest,), compete in an International Pro-Am, meet interesting people, eat gourmet food, sip cocktails, take on the town, and learn why Aruba is called "One Happy Island".
Okay, twist my arm…I am in!
I am hardly the "most interesting man in the world", but I get out of the house every so often. One spot I have been to a lot is the Caribbean, but for whatever reason I have never travelled all the way to Aruba. Before you check the atlas, Aruba is 15 miles off of the coast of Venezuela (but not much more of a plane flight than, say, Jamaica). Despite being part of Caribbean, Aruba looks nothing like more familiar spots like Jamaica, Tortola or St. Johns.
Aruba, frankly, looks like Phoenix, Arizona. With very little rain, Aruba's geography is rocky and arid. Yes, there are beautiful beaches of soft white sand but there are also long stretches of undeveloped coastline where vacationers trade in their beach balls for horseback and ATV adventures.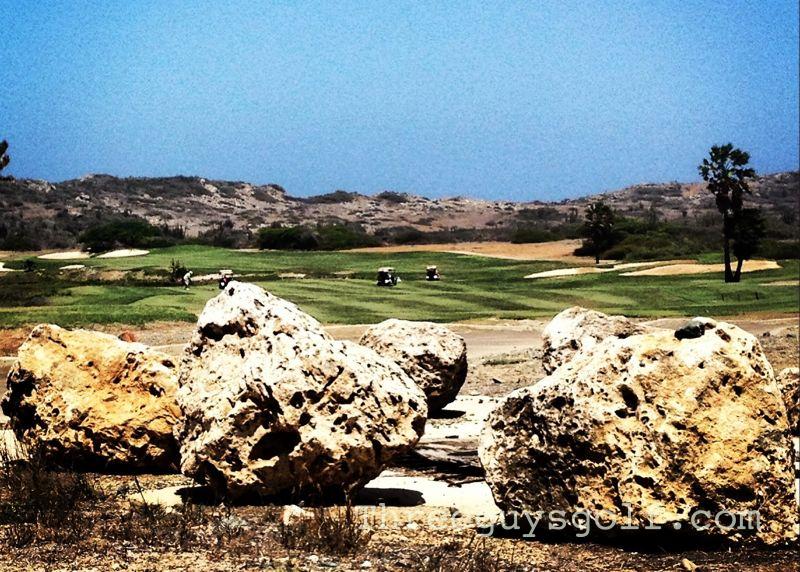 Nestled into the tip of Aruba is the Tierra Del Sol Golf Course. This 18 hole resort resembles no course in Jamaica or St. Thomas. Rather it is more akin to European links courses. With a constant 20-30 mph "breeze" (virtually every day of the year), the course is laid out such that you will play a number of holes downwind before back-tracking against the wind. Because the wind is very predictable, few holes have a cross wind, however, wind is wind, and hitting into a 30 mph breeze can be challenging. Fortunately, the course designers have taken this into consideration and made the yardages reflective of that fact.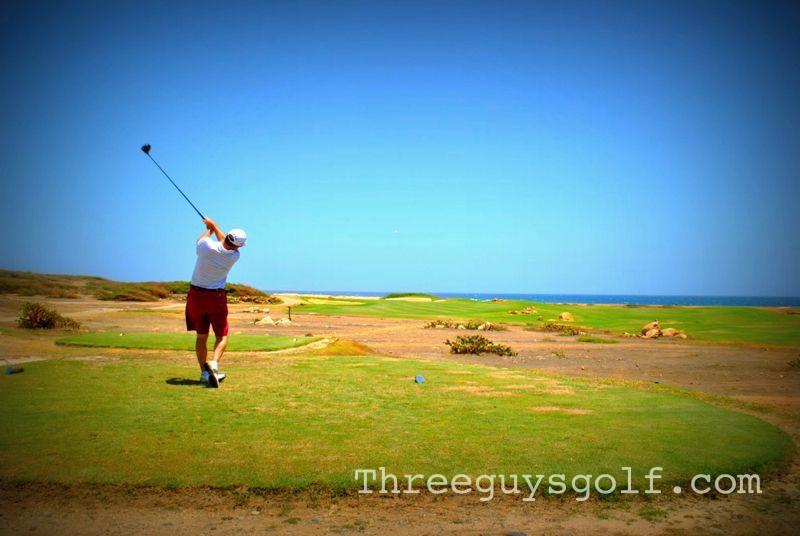 In terms of course conditions, there was no need to roll your ball in the fairway as the grass was extremely lush. The Bermuda greens were also in perfect condition. You will note from some of the pictures that areas off of the fairway look rough, but that is just desert golf – keep it in the fairway and you will be rewarded with a perfect lie. Moreover, tee boxes allow for breathtaking views of the ocean on nearly half of the holes and rarely do you ever see another foursome on the course, even if it is packed.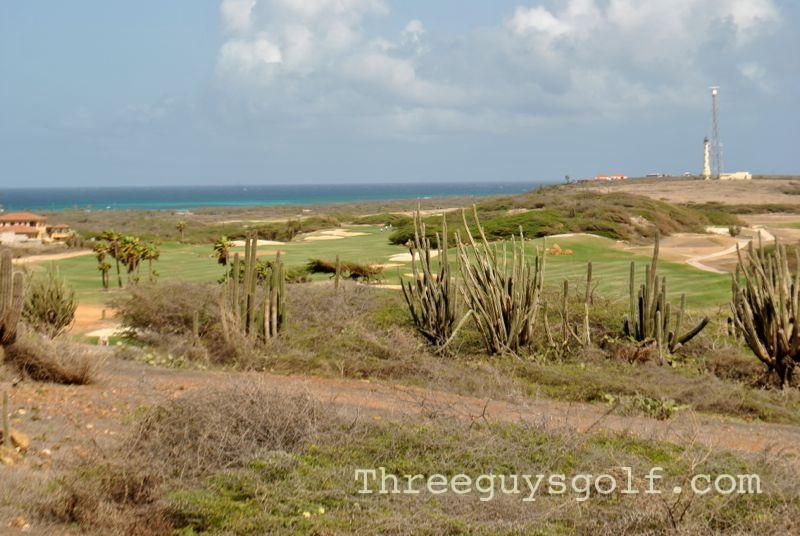 I found my way to Aruba when I was asked to play in the 19th Annual International Pro-am, held at Tierra Del Sol in late August. Now, when I say Pro-am, there were no "Tiger sightings", or really anyone you would know by name. Interestingly, what I was able to figure out is that most teams are made up of one Pro (who plays on a South American or other non-PGA tour) and of his buddies. This year I believe the winning Pro score was something like 66, 68, so yes, they have game.
The Pro in my foursome was a teaching pro from Florida named Mike Durst. While Mike may not have contended for the trophy, he was super nice and had lots of great tips for us. Plus, I was getting to play 54 holes of golf in three days so there is no complaining. Of note is the fact that Aruba only has one 18 hole golf course, although it does have another 9 hole course. Typically, I do not enjoy playing three consecutive rounds on the same track, but this was not the case at Tierra Del Sol. The course itself has lots of variation and because of the wind, you never feel like it is the same. Plus they have three men's tee boxes so you can really lengthen the course if you like.
My only knock on the actual golf course is the driving range which is essentially abysmal. And when I say abysmal, I don't mean "not very good". It sits on top of a hill where you have to hit into a 30 mph wind and strike balls off of sprigs of grass. Fortunately, the new management is taking measures to improve that aspect of the resort and it should be fixed soon, but as it stands, don't go looking to work on your range game. In the end, it was not a big deal for me as the course itself was so majestic and offered one amazing view after another. Plus, it was just a super fun, super playable course. One that tests your skills but does not beat you up and send you packing. Hey, we are on vacation, there is no need to battle your way around the track or have to go through a dozen balls.
After each round I spent a couple of hours at the clubhouse which is nothing short of awesome. Perched on top of the hill and overlooking the course and ocean, Tierra Del Sol members and guests can enjoy a swim in the pool, lunch on the patio or formal dinner inside. In my case, enjoying a few cocktails while watching the sunset over the links made for a perfect end to the day.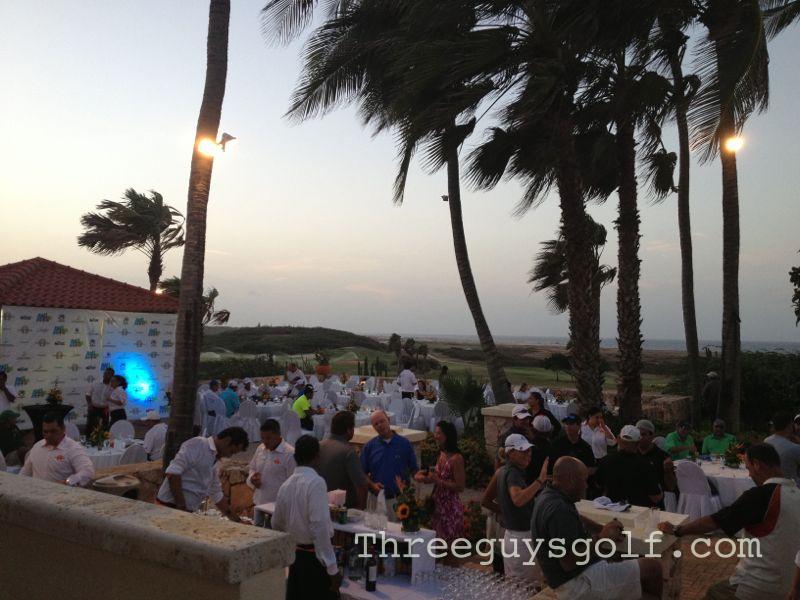 We had two social events at the clubhouse. One on the patio and one inside. The food was excellent, the view stunning, and temperature perfect. Even though Aruba is hot during the day, the breeze keeps it manageable and when the sun goes down you can comfortably wear shorts or long pants.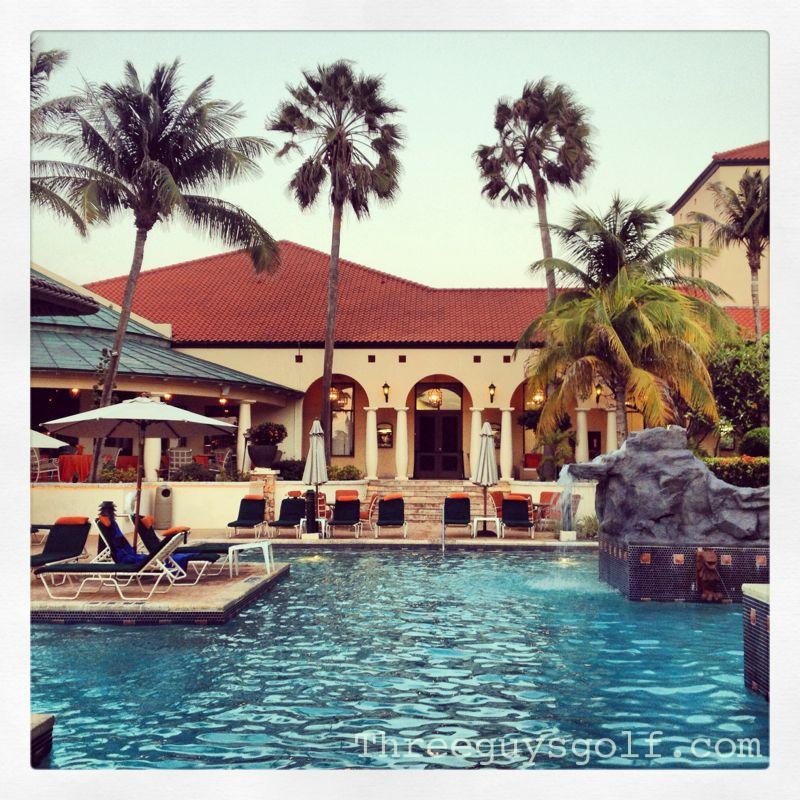 Beyond golf, Aruba has a ton to offer. Along with drinking tropical cocktails on sandy white beaches, Aruba is known for outstanding kiteboarding, exploring, shopping and nightlife. I would tell you more about shopping but I conveniently forgot to buy anything. As for the beach, I ended up pulling a "Chevy Chase Grand Canyon" visit so I can only say that indeed the sand is white and water is turquoise blue.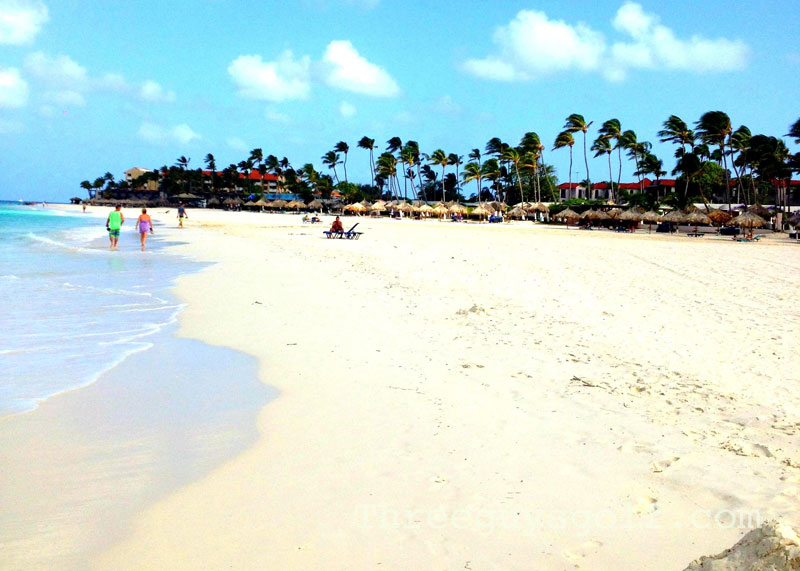 Unlike many Caribbean islands where you don't venture too far from the resort, Aruba is easy and safe to navigate (from what I saw there are really no bad sections of the island). Being a Dutch Providence and located so close to Venezuela, the island has a mixed European and South American feel. There are tons of restaurants, bars and clubs that cater to both wealthy travelers and young adventurers. One can easily walk from restaurant to bar to club well into the night and feel safe. In other words, bar hopping with a few sheets to the wind is definitely in the cards.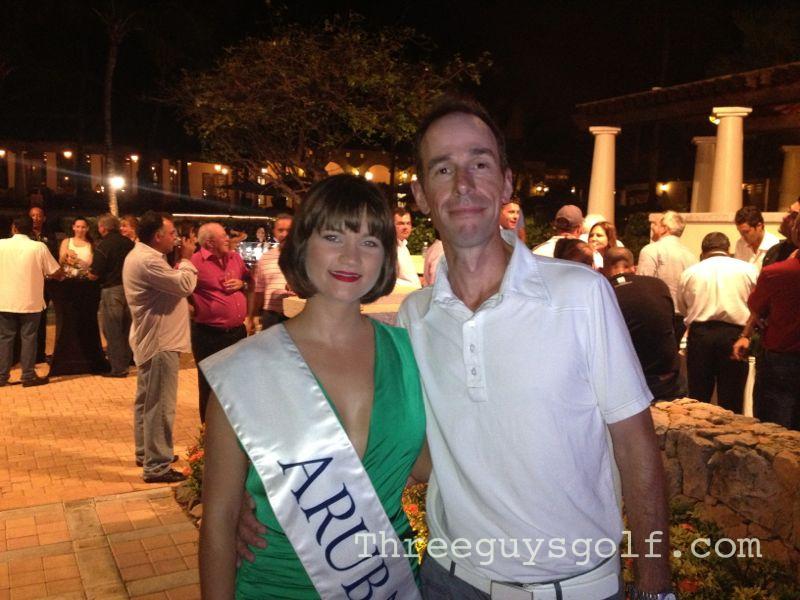 As I mentioned, Aruba has very European/S. American feel which leads me to small point – I think Euros / S. Americans may have it figured out way more than us. Obviously, they dress a hell of a lot better, seem to always have a tastier drink in their hand and are always in the company of a beautiful woman. In any case, when you are in Aruba you can judge for yourself as you will be sure to meet tons of really friendly people.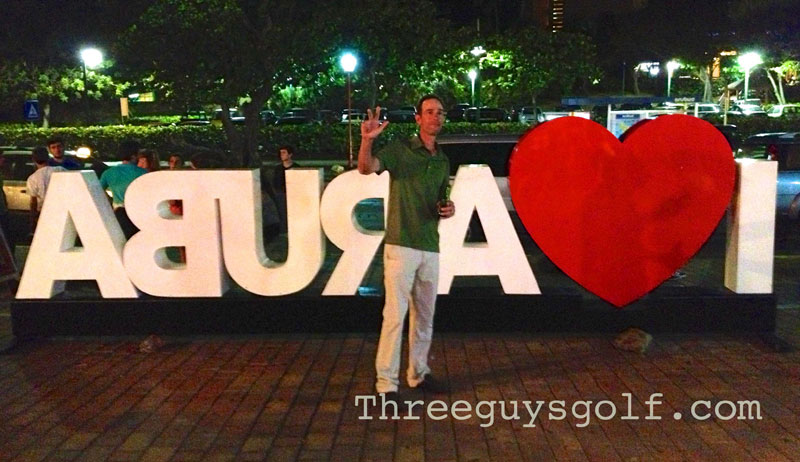 So the next time you are looking for a winter vacation spot where you get in a little golf, check out Aruba. It's not much farther than most of the other Caribbean Islands but has a totally different vibe (one I think is very cool and friendly).