National Golf Club of Pinehurst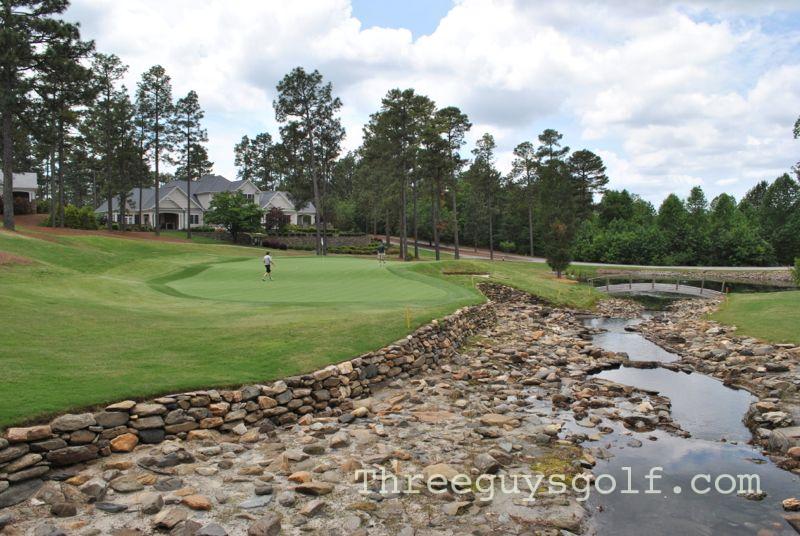 The Basics:
National Golf Club is a golf community that offers homes, club memberships, and "a relaxed and easy lifestyle with diverse amenities and member activities".  The amenities include a swimming pool, tennis courts, conference facilities, a ballroom, and most importantly, a golf course. A Jack Nicklaus Signature golf course, for that matter, and the only one in the immediate Pinehurst area. National is located right in The Village of Pinehurst and offers 4 tee boxes ranging from 5,378 yards to 7,122 yards. The course is semi-private, and rack rates for the public range from $175.00 in the off-season to $200.00 in primetime. If you just choked on your beverage – this is higher than average for Pinehurst, but not by much.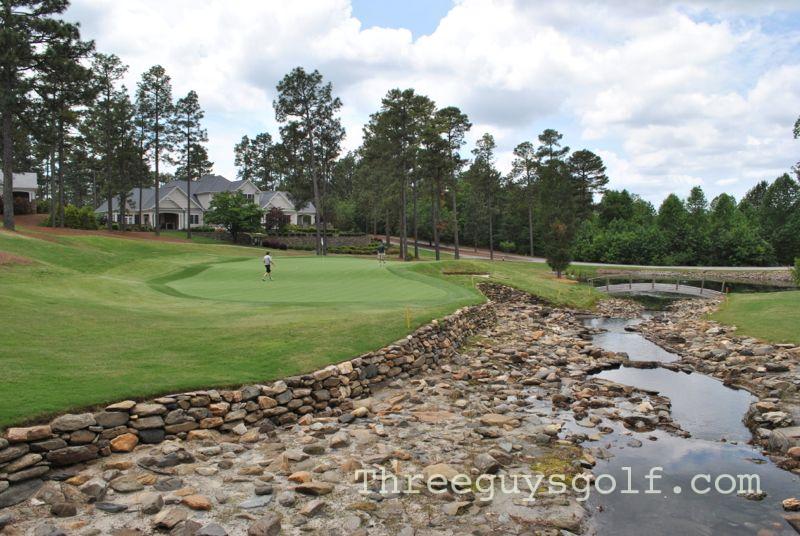 The Vibe:
Well it's a Jack Nicklaus course, so we know we're not rolling up to a goat track. That being said, National Golf Club definitely has the feel of an actual "club" and not just a course. As you approach the clubhouse you see the tennis courts and pool off to the side, as well as some other buildings that probably have some really cool stuff going on that I don't even know about. The clubhouse itself is enormous, and we were immediately greeted by a receptionist in the lobby when we walked in. In other words, this place is the real deal and that's the initial vibe you get. You would think the receptionist would be for a real estate sales office or something specific, but she also seemed to serve as an overall concierge-type representative, just making sure everything is copacetic for their members and guests.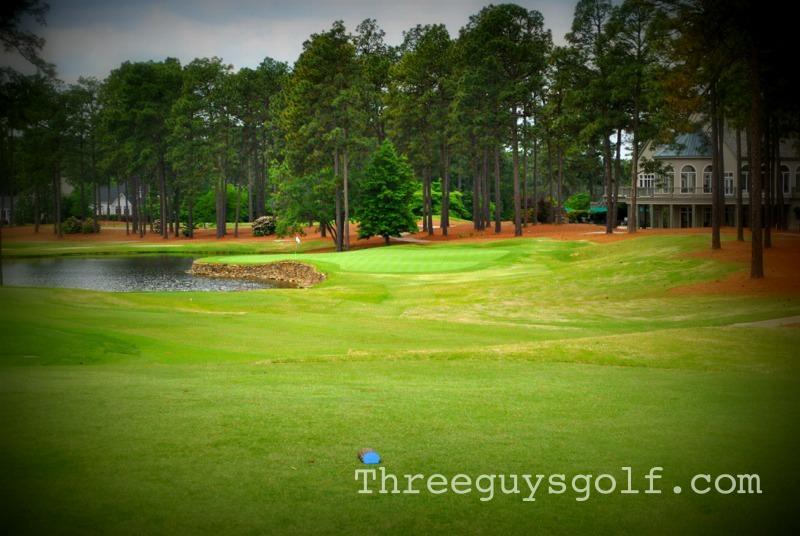 When it's time to get in the cart and head to the range, you know you are in the epicenter of a cool course. You can see one or two tee boxes, the 9th and 18th fairways coming back towards the clubhouse, the driving range across the way, and the chipping green beyond that. There's plenty of space, but that is not the overriding thought at first glance – it's more that the facilities are well-maintained, the landscaping is top notch, and the course looks glorious. Fairways are lush enough to show the dark green/light green mowing stripes, which is about all it takes to get THIS GUY pumped to play some golf.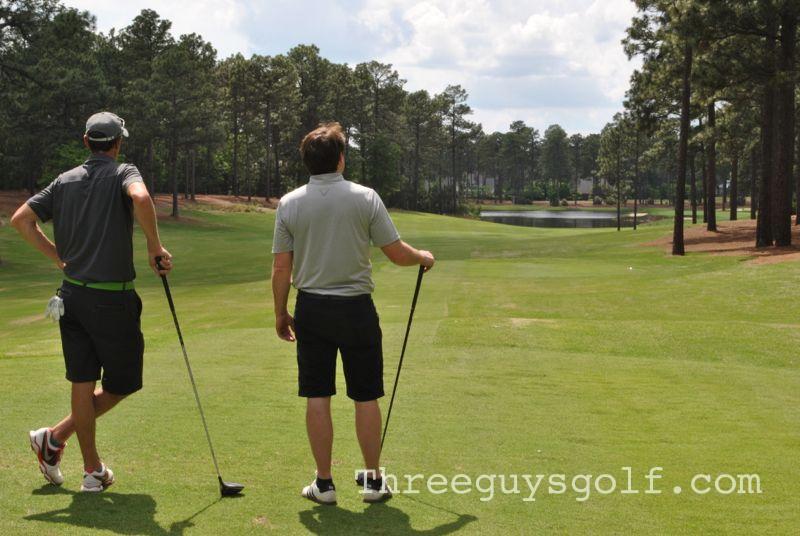 On to the vibe of the actual course itself – and this is where it gets weird. Somehow the National has struck the perfect balance between being challenging and playable at the same time. There are no holes that look easy, and on the first tee you feel pretty sure that you are about to have a rough ride if you bring out anything less than your best ball-striking. No tee shot on the course looks so wide and vast that you feel like you can bomb away with no fear, and most approach shots find a way to make you feel like a badass if you drop it on the green. But ultimately, the course is eminently playable. I never lost a ball – that's evidence.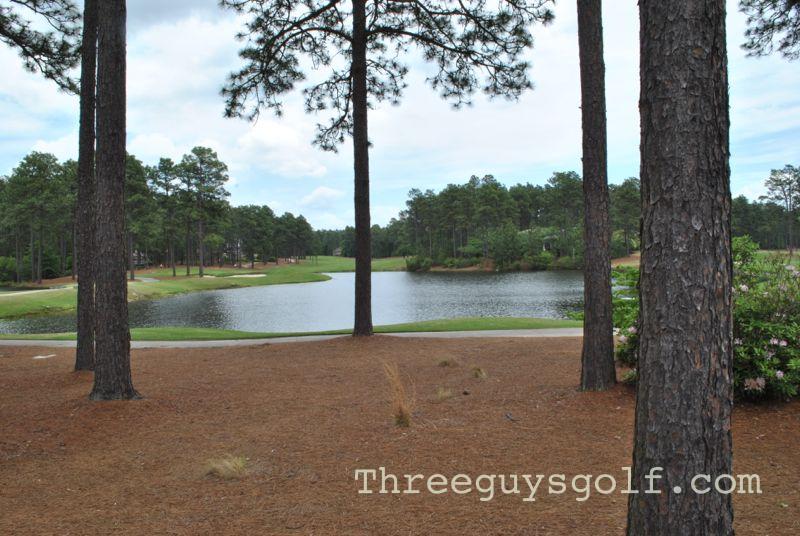 It's almost like the course will play to your level . . . if you just want to knock the ball around and not embarrass yourself, no problem, each hole can accommodate a slightly squirrely tee shot and your approach to the green is always fair. If you want to flex your A game, however, the National is up to the challenge simply because there is a next level you can pay attention to, and that is the greens. National's greens have huge undulations in them, more often than not creating tiers that will decide whether or not a birdie is in the realm of possibility. If you want to go low, you have to respect this aspect of the course . . . get sloppy and leave yourself on the wrong tier and you will now be grinding -hard- for a two-putt par. And of course, in order to be precise with your approach, a lot more considerations come into the tee shot as well.
The Driving Range and Putting Green:
The driving range is great – certainly large enough to allow you to swing away and the balls are all new and in good shape. What's most noticeable about the driving range (besides the big buckets filled with sweet, sweet range balls), is the large number of different flags dotting the terrain, allowing you to hit a number of different clubs to an actual flag. A sign in the middle of the teebox row lists the daily yardages to each flag, which sounds ho-hum, but given the fact that like 1 out of 20 courses are able to provide this no-brainer luxury, the National range earns high marks for it. There is a separate chipping and pitching green off one end of the range, and it provides plenty of landing space as well as well-maintained turf to chip from. Same basic idea at the putting green, which is located closer to the clubhouse and behind the first tee – there is plenty of green to work with and plenty of different looks at holes.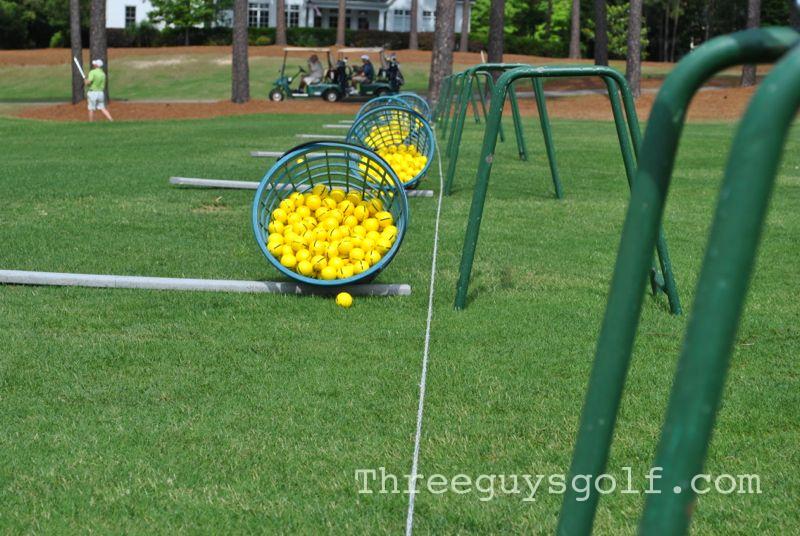 Greens:
Fantastic. The greens are in perfect shape – they look great and roll true. Several greens jutt out into water, and these areas are bordered with a very appealing stone wall, giving the course that "extra-touch-of-class" edge. One thing we noticed throughout the round was that the greens were a bit slower than we expected, especially since we generally associate fast greens with great courses and these greens were in such good condition that it was hard to grasp that they weren't super-fast. I have to say that we kinda figured out the reason for this on our own, but really it took until we asked the Pro for us to nail the answer – the undulations! If the greens were any faster, they would be way too difficult, as so many putts are navigating ridges and tiers. In other words, the greens are the speed they are by design, which hints at the kind of effort that goes into creating a positive golf experience at National.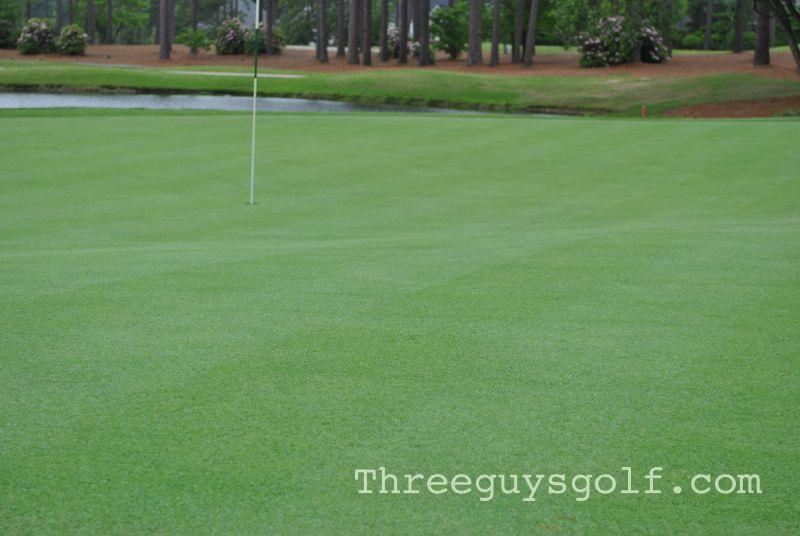 Another note about the greens that speaks more to layout – there are so many holes at the National where the green looks flat-out glorious from where you stand in the fairway. This seems to be a bigger deal to me than most folks, but I do not enjoy when a green is just at the same level as your feet and you just see the flag coming up from the grass. This is never the case at National Golf Club – each approach shot has a nicely framed green (whether it be by water, rocks, etc.) that calls on you to dial in a nasty wedge shot . . . if you execute, you feel like you just posterized  your game. Jeez I hope that makes sense.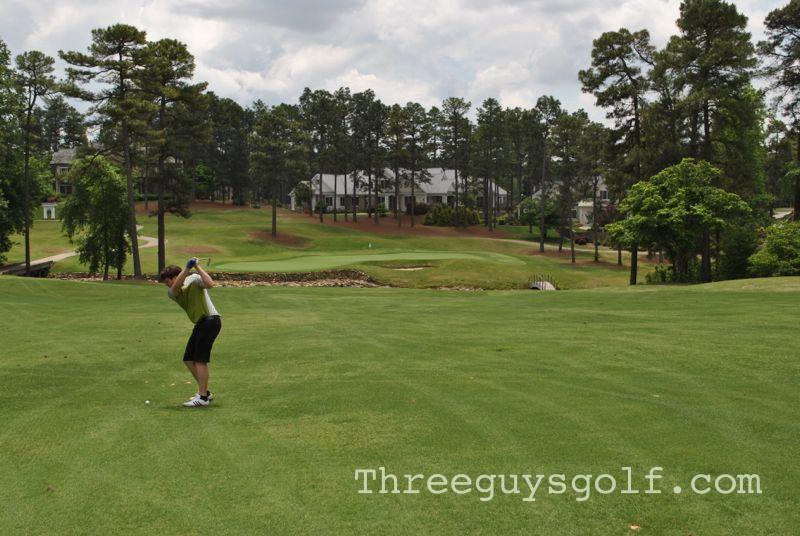 And lastly, yes, there are huge undulations in these greens. Nobody in our group was really firing at pins on this day, and as a result we had a lot of "please don't be awful" putts; less excited about the prospect of draining it than we were just hoping to stay within two-putt range. We carded two birdies on the day, one was a short putt after a stuffed iron and one was an absolute prayer that rode a ridge just right. If you are on the right tier, you can stroke it into the hole like anywhere else, but if you aren't on the right level of the green, you're not even thinking about making the putt.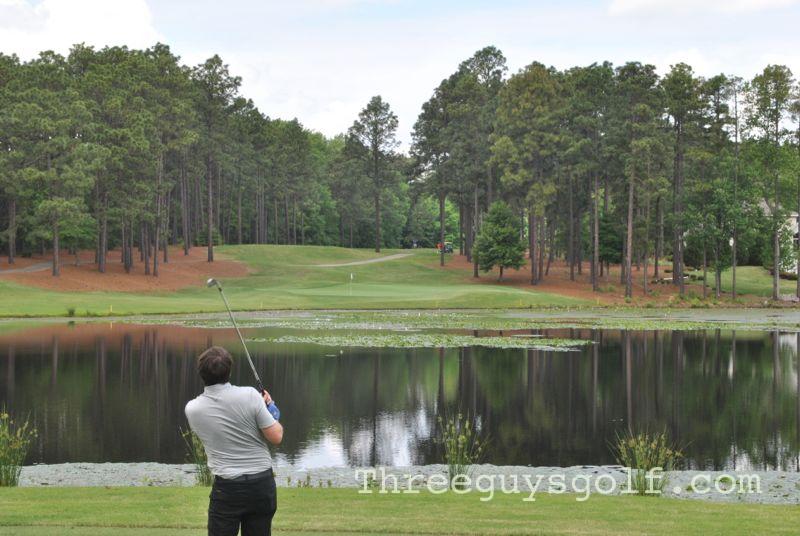 To that end, I should note that National's yardage system is deadly accurate to accommodate those looking to go low: you are given a pin sheet with exact yardages from the front of the green to that day's pin placement. So the marker on the fairway tells you how many yards to the front, center, and back of the green, and then for the sharpshooters, you can look at the pin-sheet and get an exact reading.  Again, if you want to be a player, National is up for the task.
The Fairways:
Good stuff, including the mowing stripes I mentioned earlier. We played in mid-May, so my impression is that fairways were at about 85%, and they still qualified as lush. On most holes an errant tee shot would land you in the pines . . . the branches of National's pines start pretty high up, so the real challenge was less about navigating trees from jail and more about making good contact in the pine needles. That was a bit harder than I expected at first, simply because there are spots where there is a LOT of pine straw under the ball, not the usual dusting with dirt below.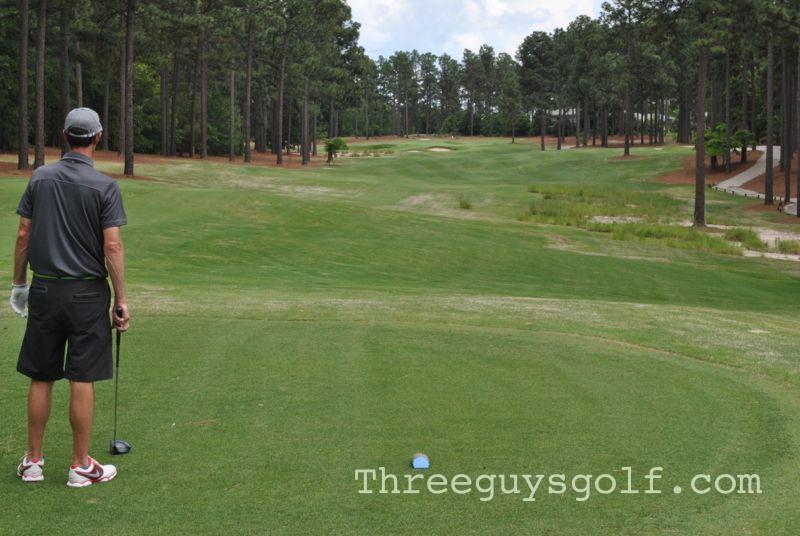 Fairways were set up fairly for tee shots, never so wide open that it seemed like cheating, but never unfairly punishing either. There were a few tee shots where you thought there was a tree or a waste bunker that was going to cause some trouble, but once you hit the ball, you realized that it wasn't quite as in play as it looked. A cool concept, we thought, especially in comparison to the opposite phenomenon. Again, gives you the feeling of challenging but is ultimately playable.
The course utilizes waste bunkers at a decent clip – not on every hole, but they are out there. You are allowed to ground your club in these waste areas, and the Pro told us that for tournament setups they will actually use blue stakes to identify waste areas vs. normal bunkers, thereby eliminating any Dustin Johnson moments. Another well thought-out item at National.
The Sand:
The sand was consistent in all of the bunkers. The area had just gotten pummeled on and off by rain for about two weeks, so the sand was not fluffy but we felt that this was reasonable given the circumstances. This is speculation, of course, but I've got to believe that the sand is high-caliber under normal conditions, just given that it is a Nicklaus course and how in control of the facility they seem to be at National.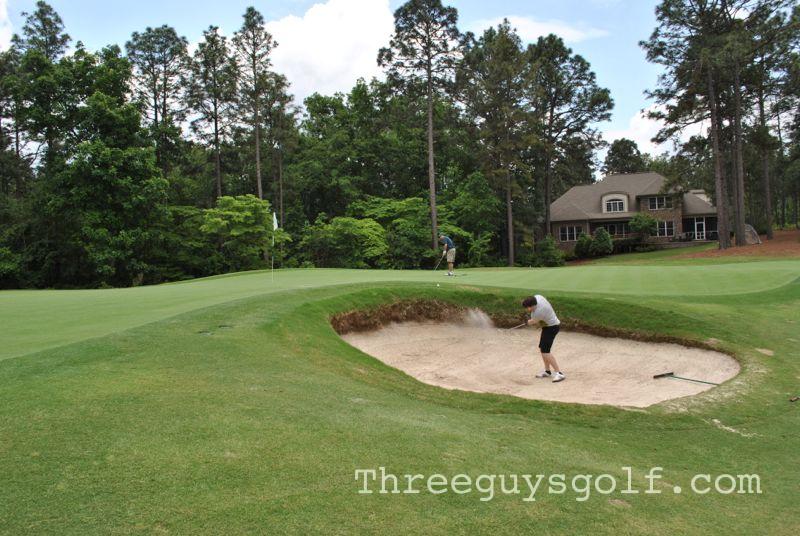 The Clubhouse:
Like most Pinehurst area courses, the clubhouse at National Golf Club is big. They have conference rooms and a formal restaurant upstairs (as well as a receptionist), and downstairs you'll find the pro shop, locker rooms, and bar/restaurant. The pro shop is legit, with enough relevant clubs for sale that it does not appear they were just appeasing a formality. The bar area is large and very nice – there is a separate ice machine and drinking water faucet for golfers to use if they don't want to wait for bar service – genius! The bar is big and surrounded by large glass windows that look out onto the course, and just outside is a huge patio with a stone fireplace, etc.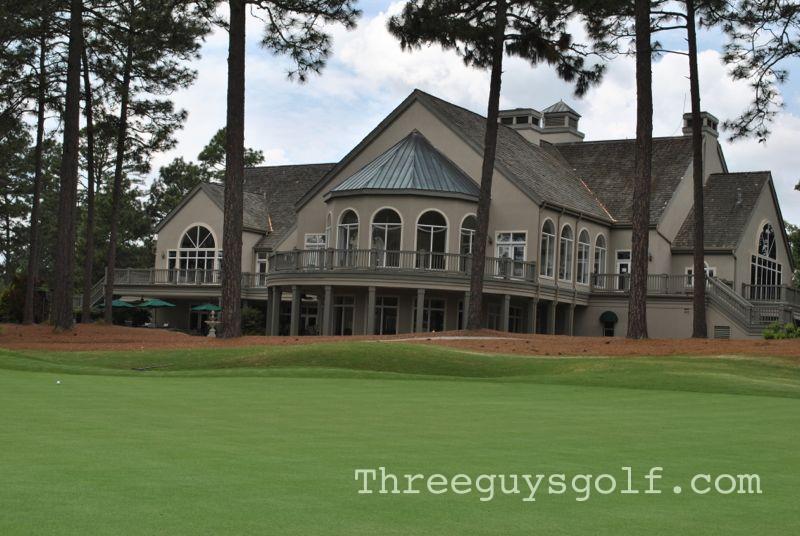 The Food:
I've always been a tough sell on golf course food (see Golf Course Hot Dogs), but I've noticed that Pinehurst is much like a ski resort in that the establishments simply do not mess around with shabby food. National lived up to this standard. Good burger, good BLT, steak fries(!), and a good selection on the menu. Bonus Item – if you buy a 6-pack of beers, they throw in a free sandwich! I think someone at National went all "Inception-like" and raided my dreams.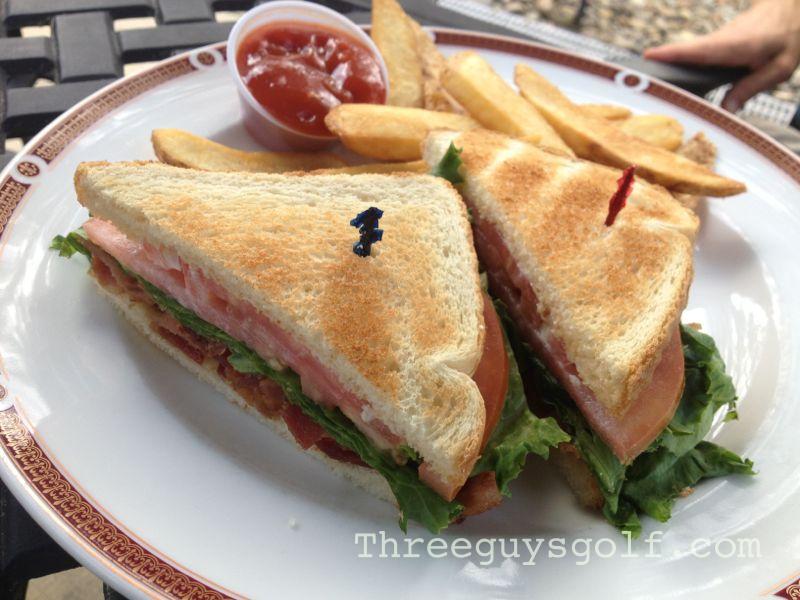 The Service:
I'll spare you the details – top notch, top noottcch! And a pro that looks and acts the part.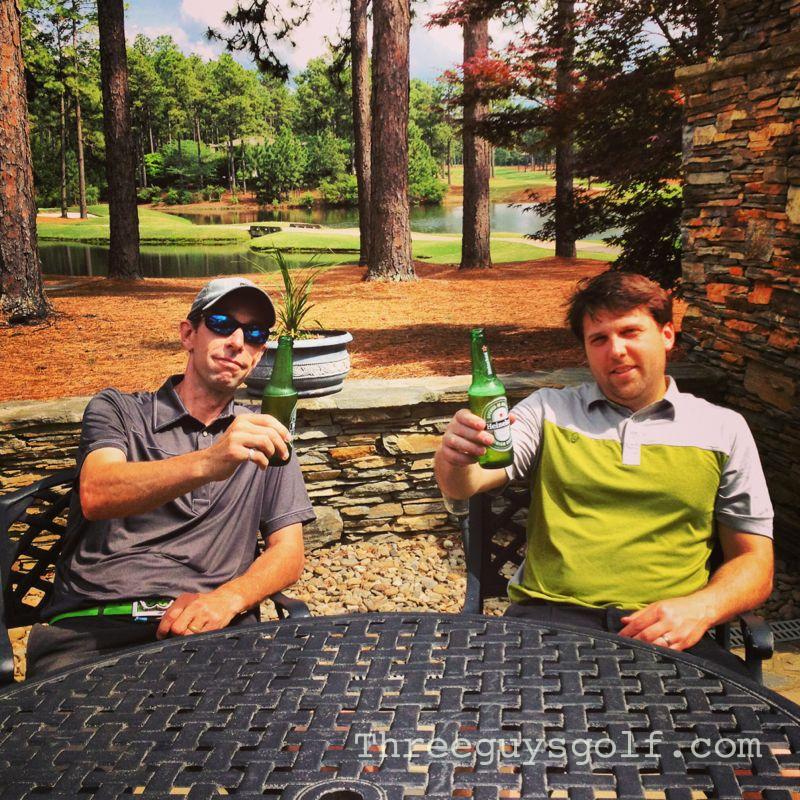 The Verdict:
National Golf Club lived up to the hype in every sense. They are in complete control of their golf course and their facilities – the place brims with competence (yes, I said competence, not confidence). I would liken it to the old expensive neighborhood in town . . . sure, they're building some new developments with brand new houses and pools'n'waterslides'n'walkingtrails on the outskirts of town, but there's a reason the old country club 'hood is still the king. They know how to get it done.
You can visit the National Golf Club website here.