Mizuno ImpermaLite Flex Rainwear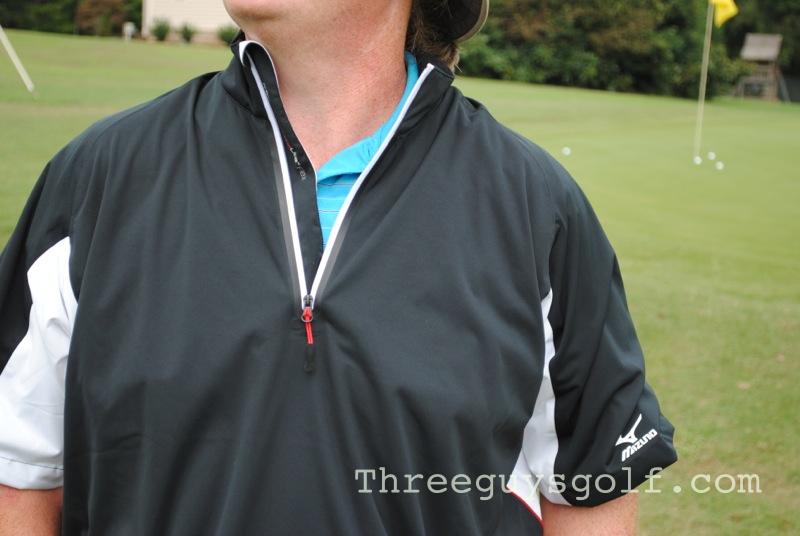 I'm a bit of a self-confessed geek/freak about rainwear. Proof to my geekdom is the fact that after I bought my first rain suit 22 years ago I stood in the shower just to make sure it was really water-proof. The way I figured, it was better to find out how well it worked before I was actually miles away from shelter.
Since then I have owned a few pieces of rain gear but as you know it's not super cheap to get quality stuff. So, when Adam asked if I wanted to review the Mizuno ImpermaLite Flex raingear, I jumped at the chance for a what would hopefully be a major upgrade. The 3 pieces that we reviewed were the Mizuno ImpermaLite Flex SS RainTop and ImpermaLite Performance Shell & Pants.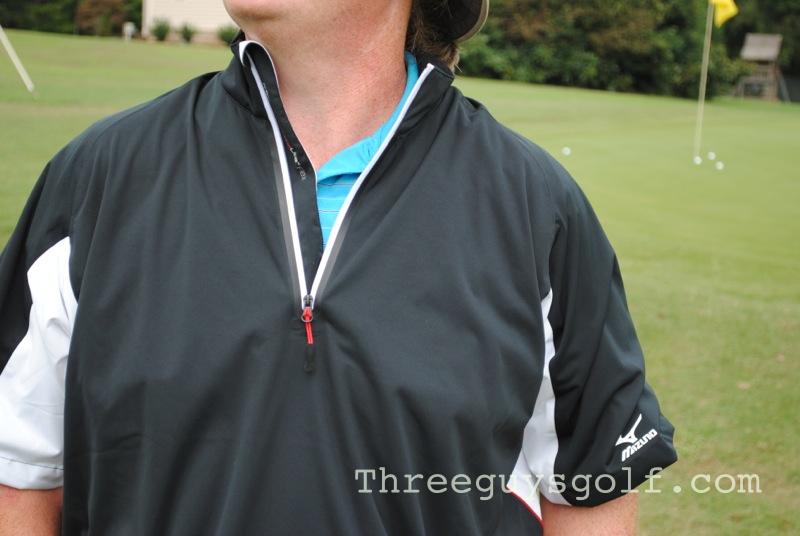 Let's start with why we own rain gear. In a perfect world, we would always play golf in 72 degree sunny weather, but alas for us golf nuts, we are not content to limit our days to play golf. Therefore, we need to have the proper gear. Playing golf is hard enough, but playing golf when the elements are against you is even tougher. Staying dry and comfortable is simply invaluable if you want to play well in bad conditions, period!
Starting with the short sleeve jacket, I found it to be a superior combination of style, function and fit. I wear XXL shirts and jackets, and having enough room to swing is usually an issue for me. Not only is the fit of this jacket perfect, but the stretchy material is amazing in terms of how it moves with your body during the swing. The shell is a stretchy, breathable polyester with PU laminate to make it waterproof, and the lining is a mixture of polyester and a bit of spandex.
There are generous pockets, and really cool zippers that have the little pockets for the zipper to run up into when you're not zipping them. This way you don't feel any metal on your body when you're swinging. So while the short sleeve ImpermaLite Flex is waterproof, it is also just great for those days when the temperatures are too cool for just a shirt but you really don't need a jacket.
Moving on to the ImpermaLite Flex rain shell and pants is where Mizuno got serious. This thing is hard core. Simple black and white with clean lines, it's very sharp but traditional. However, when it is raining and windy what you really care about is will it get the job done – the short answer is yes, but let's look at some of the details.
All of the zippers fit snuggly into pockets such that zero water can get inside the shell. Grommets and pull straps keep everything tight and can easily be adjusted to fit just right. Even so, the shell breathes well and does not feel overbearing. Sure, I would prefer to wear shorts and shirt, but if I am going to play in nasty conditions I do not want to have to be fussing with my jacket.
The pants are of equal quality with all seams being protected. You can even adjust the length of the pants using a snap feature on the leg. Armed with the shell and pants, you will be ready for anything mother nature can throw at you.
Both Adam and I were over the top impressed when we reviewed the Mizuno ImpermaLite Flex SS Rain Top and ImpermaLite Performance Shell. In fact it was not long after I got the short sleeve rain top that I texted Adam to say that this was the most impressed I'd ever been with a piece of rain gear. While it took a few weeks for Adam to get the chance to play in the rain, he ended up christening the gear on the final day of the Club Championship. Forced to play in less than ideal conditions, Adam relayed to me that the pants and performance shell were amazing and he ended up playing very well (6th lowest round of that day). Yes, he made me put that sentence in.
If you're in the market at all, do yourself a favor, and at least give some consideration to Mizuno this year.  They have a variety of rain jackets, pull-overs and pants, and they are simply amazing.
You can see the whole line of Mizuno gear on their website.