Annika Sorenstam on Feherty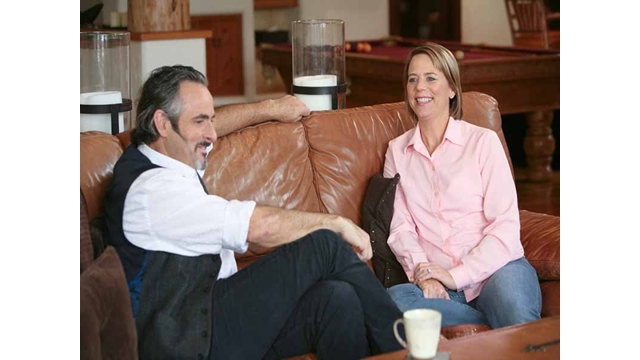 Ok, I will admit it, I don't follow the LPGA very closely but I do have a huge appreciation for Annika Sorenstam, who made her debut on the Feherty Show last night. It was actually only a few weeks ago that fellow blogger Wade sent me her swing sequence as an example of standing tall which is one of Wade's big things. As I have mentioned in other posts, most of the men on tour, like Bubba Watson, swing so hard that we cannot physically even try to mimic their swings without pulling a muscle. In fact, we are much better served by trying to copy the swings on the LPGA tour.
So here's the two second recap of Annika's records: She has won 72 times on tour, has 10 majors, and a LPGA low round of 59. But for me, the beauty of the Feherty show is not in the history of the player but rather in getting to understand what makes them tick.
Being a father of a female athlete, albeit not world class, but college level, I have been around women athletes for a long time and I am convinced there are absolute differences in how they view the game and the world. However, there is no doubt that women, especially world class women athletes, are every bit as competitive and driven as their male counterparts. Annika Sorenstam was not given her 72 victories, she earned them beginning with hours upon hours of practice in her father's basement (yes her basement is bigger than most).
On the other hand, Annika does not define herself by golf. Like Greg Norman, she is a very successful business person and continues to be part of the game at many levels. But, where Annika differs, and I think where women differ, is that many ultimately become mothers. Yes, men are dads, and good dads, but you just get a sense from how Annika interacts with her daughter that part of the reason she does not define herself by golf is that she defines herself in large part as a mother. I say this without passing judgement, it is just that I have seen tons of interviews with retired male athletes and they simply give off a different vibe than their female counterpart.
Part of the trouble with comparing men's and women's sports is our desire to see how they would compete against each other (ie. Michelle Wie). I think this attitude misses the point that men and women may play the game by the same name but they are different sports – not better or worse, just different.
Lastly, I must say, as bad as the men's golf fashion used to be, the women's was even more horrendous (so bad that they have apparently taken down all of the incriminating pictures from the internet). It was either ill fitting men's garb or some crazy jumper type outfit. Seriously, this is what happens when men design clothes for women. Thankfully, this is something else Annika has brought to golf: women's golf fashion that is actually flattering.