If you aren't familiar with Crocs, then I assume that you either don't have kids or have never seen one. I suppose because Crocs are so easy to manage, lightweight, comfortable and a year round choice (yes, even with socks.) they seem to be the shoe of choice in at least my neighborhood. As a parent, what I love about the boys' Crocs are that they are odor and bacteria resistant – very beneficial with 3 boys in the house. Yet, I have never owned a pair nor really thought about needing a pair. So when I heard Crocs now has women's golf shoes, I was more than excited to try them out, but for a different reason.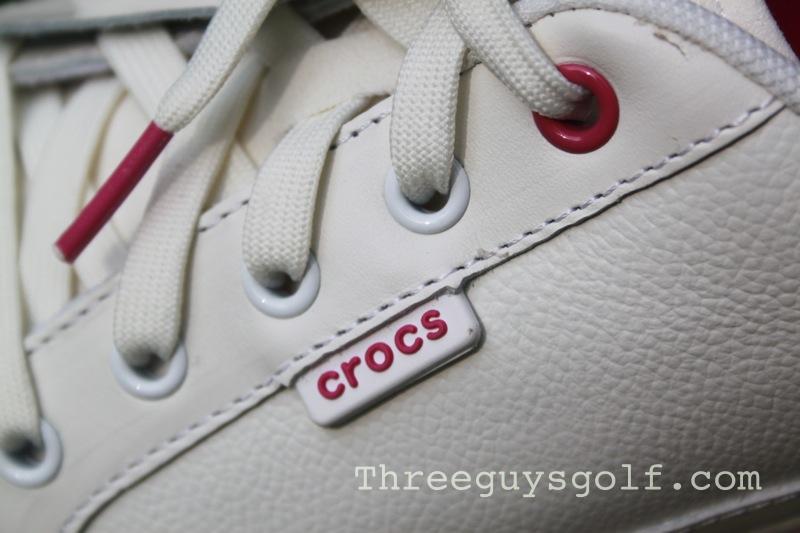 Not your kids Crocs
If you have read any of our shoe reviews you may have noticed at least half of us have miserable foot issues. In my case I recently had foot surgery that went horribly wrong. What should have been a relatively simple outpatient procedure turned into a serious 9 day hospitalization. The recovery was brutal and I am only now beginning to wear "real" shoes. When I say real shoes, I mean running shoes because I am still not able to comfortably wear anything else, including golf shoes.  This, of course is not ideal as golf sometimes requires you to hit shots out of the sand or other areas of bad footing (not that I am ever in such a position). Therefore, I was very excited and a bit anxious to try out the Crocs Golf Shoes for women. I mean, our kids seem to be on to something, right?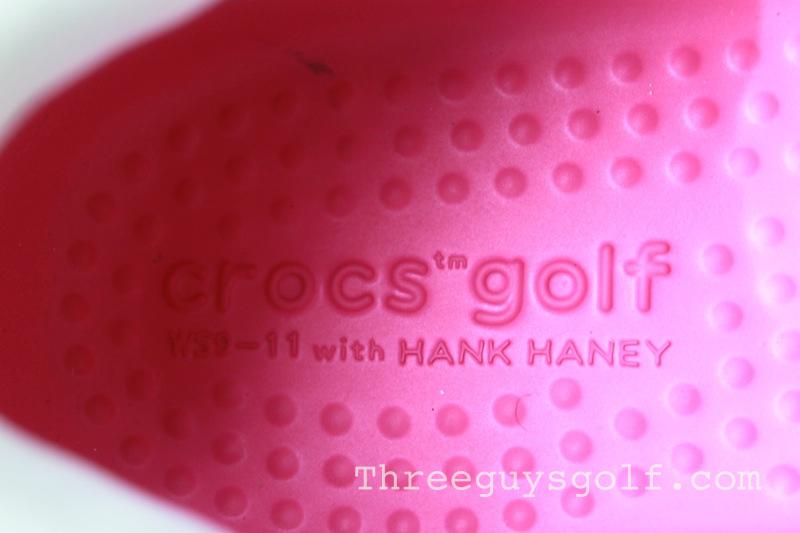 Yes, that's the inside
Croc's Golf Shoes for Women are part of their Hank Haney Collection. (Hank Haney is an internationally recognized golf instructor who is best known for coaching Tiger Woods and Mark O'Meara, but I am SURE you already knew that.) He has paired up with Crocs to design a shoe that is intended to be worn both on and off the course. Crocs Golf Shoes with Hank Haney was selected as one of three overall "Best New Products" at the 2012 PGA Merchandise Show. So far this has my name written all over it – golf to dinner?? Excellent.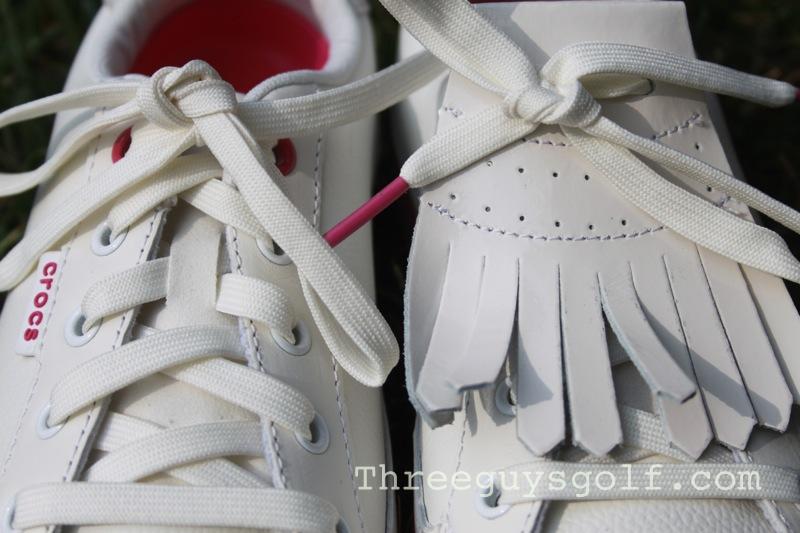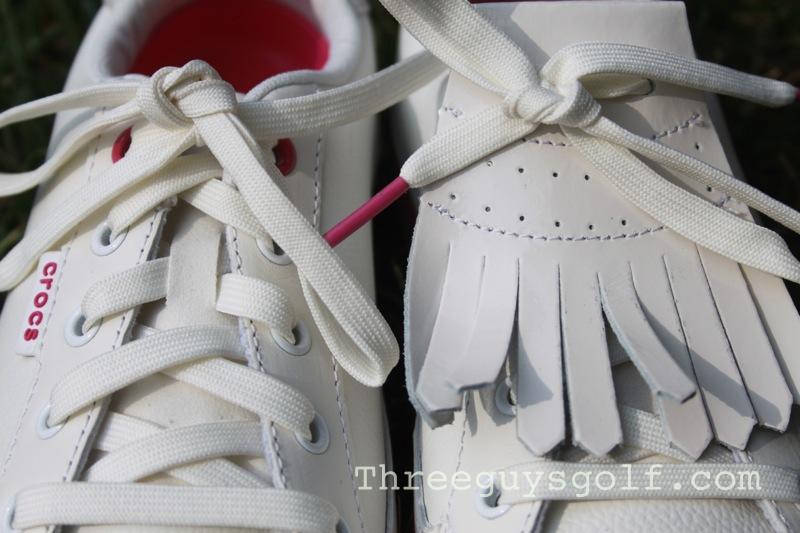 You can go with this, or you can go with that
I received the Women's Bradyn golf shoe in white and fushia. The first thing I noticed is that these golf shoes look like a sneaker. They are super cute with interchangeable leather kilties and shoe laces in either white or pink. I feel like I have 2 different pairs of shoes! The second thing that I noticed is the inside of the shoe. It has the same look as the kids' Crocs, including the bright color and Croslite material that provide form to foot cushioning. (I'm not going to lie – I wore my son's Crocs when I had to walk the dog – and, dang it, those bumpy shoes WERE comfortable.) Lastly, I turned over the shoe to check out the bottom. My Crocs Golf Shoe has a multi-traction TPU pink outsole that looks like hard rubber cleats, although they are spikeless and fit into the hybrid category of golf shoes. Cute, but how are these going to feel on my messed up foot??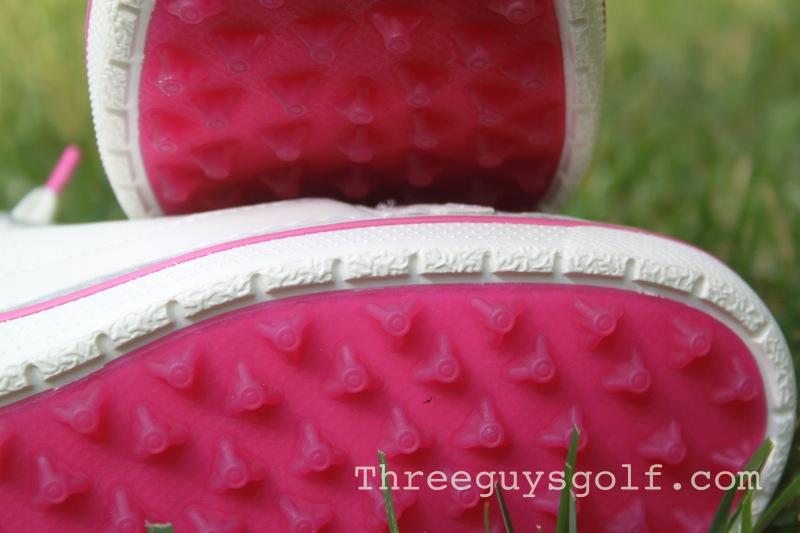 Are nubs the new norm?
Did I mention the Crocs Golf Shoes for Women looked like a sneaker? Well, they feel like one, too. I was THRILLED to be able to put this shoe on and not immediately want to take it off. These shoes are so incredibly light and not tight at all with regards to width. Ok, so they felt fine for the moment, but I thought I better take my running shoes with me in case these Crocs start to hurt. Guess what – I never needed to change shoes. I couldn't believe it. I played 18 holes of golf, with a foot that has lawsuit written all over it, and never thought about changing into my running shoes. If there could ever be an endorsement for a pair of shoes, this is it. Crocs Golf Shoes for Women will be your new favorite golf shoe, even if you don't have dreadful feet.
You can learn more about Crocs golf on their website. Crocs Braydn run about $99.