Chase 54 London and Luke Pullover
While Chase 54 is far from a household name, they have grown incredibly fast over the past 4 years and there is a good chance you can find them in your golf club. Unlike most apparel start-ups that are founded by designers, Chase 54 comes from the manufacturing side. Basically, the company had tons of capacity so they decided to start their own line of apparel. With the cost side of the equation under control, Chase 54 has been able to pound out lines quicker than Rick James back in 1981.
This manufacturing capability is also a benefit to the consumer, who gets more choices and better prices with Chase 54 than many other brands. Having worked in the apparel business for a brief time, I quickly learned that manufacturing costs and flexibility can be very difficult to manage. Therefore brands that control the manufacturing have a huge advantage in cost and time to market.
Chase 54 clearly understands this and has been able to turn this asset into rapid market penetration. Four years ago we reviewed one of the first Chase 54 lines but never expected them go from a 10 x 10 PGA booth to a 30 X 60 booth in just a few years. Today, I will review two new outwear pieces from Chase 54.
Chase 54 London Pullover:
Pullovers are the most common piece of cool weather apparel. Easy to care for and multi-purpose, the pullover is a staple of every guy's golf wardrobe. The Chase 54 London should fit this bill. I really like the mix of material, which not only provides a unique look but functionality. As I mentioned, Chase 54 knows material and they use that knowledge to provide moisture wicking body (called DryFuse) along with down material that covers the shoulder and part of the arm.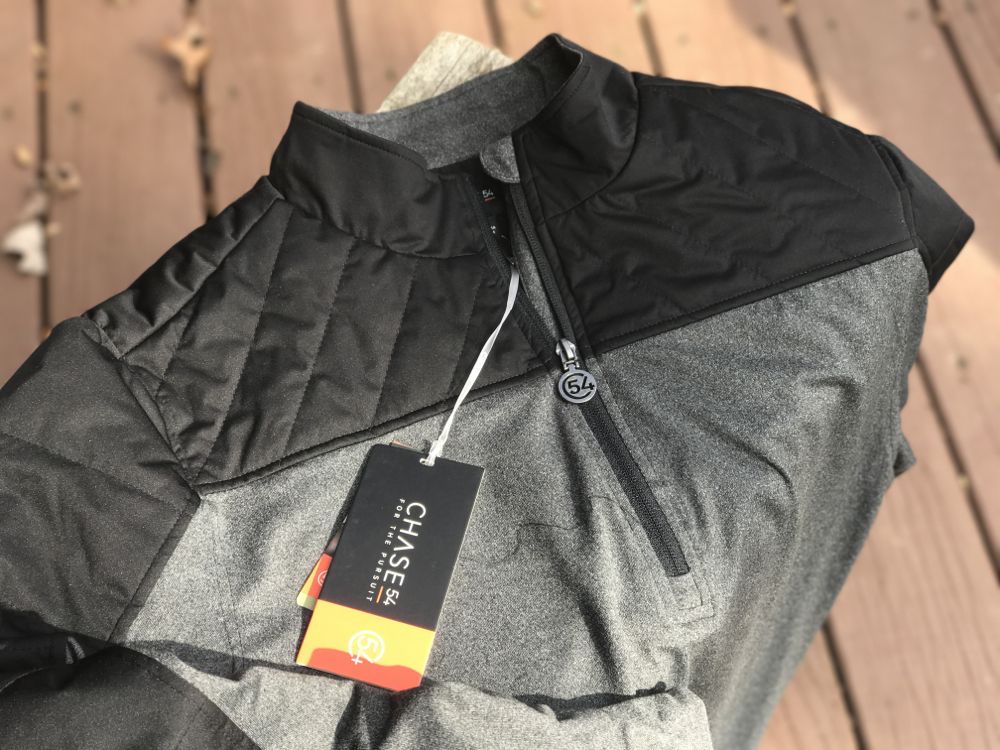 When I first put on the London pullover, I was very impressed with how it felt and looked. However, when I took a practice golf swing I realized there is zero chance I could ever play golf with this pullover. At first, I thought it might just be that it was mis-sized so I asked my son to try it on (he is obviously smaller than me). Survey says… nope. For whatever reason, the London pullover is just cut wrong for any type of athletic motion.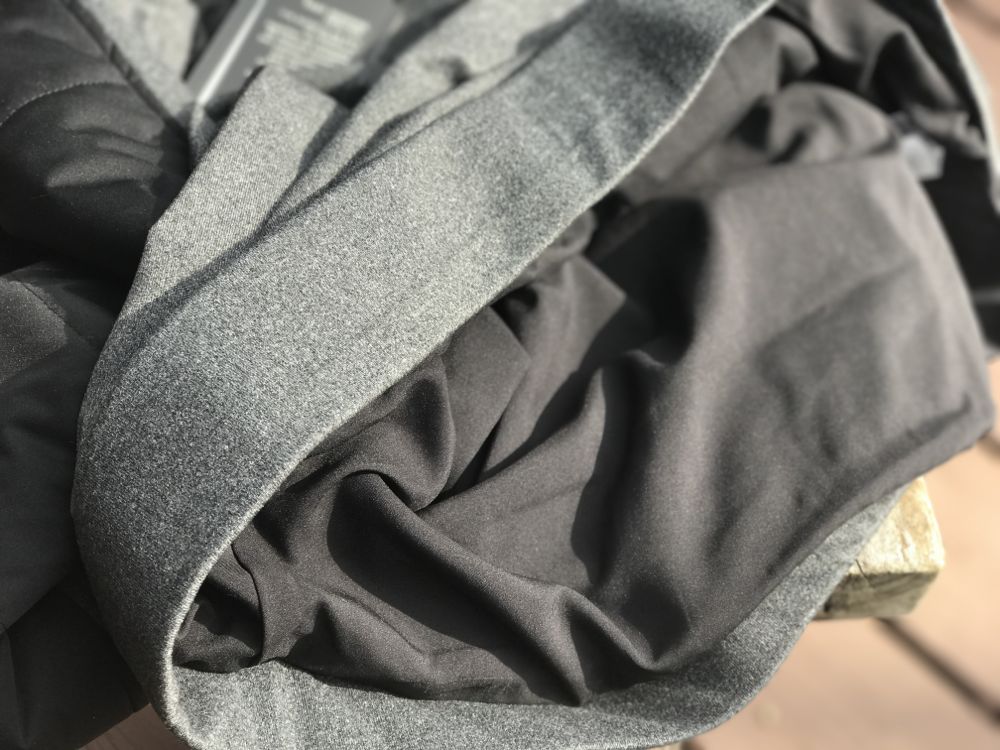 There is also an issue with the bottom section of the pullover which is attached such that it wants to roll up. As you can see in the picture above and below, this 2 inch band in not secured at the top an bottom so it moves around a when you twist and turn. Frankly, I am not sure why it was designed that way, but it does not seem to serve any purpose and actually is annoying.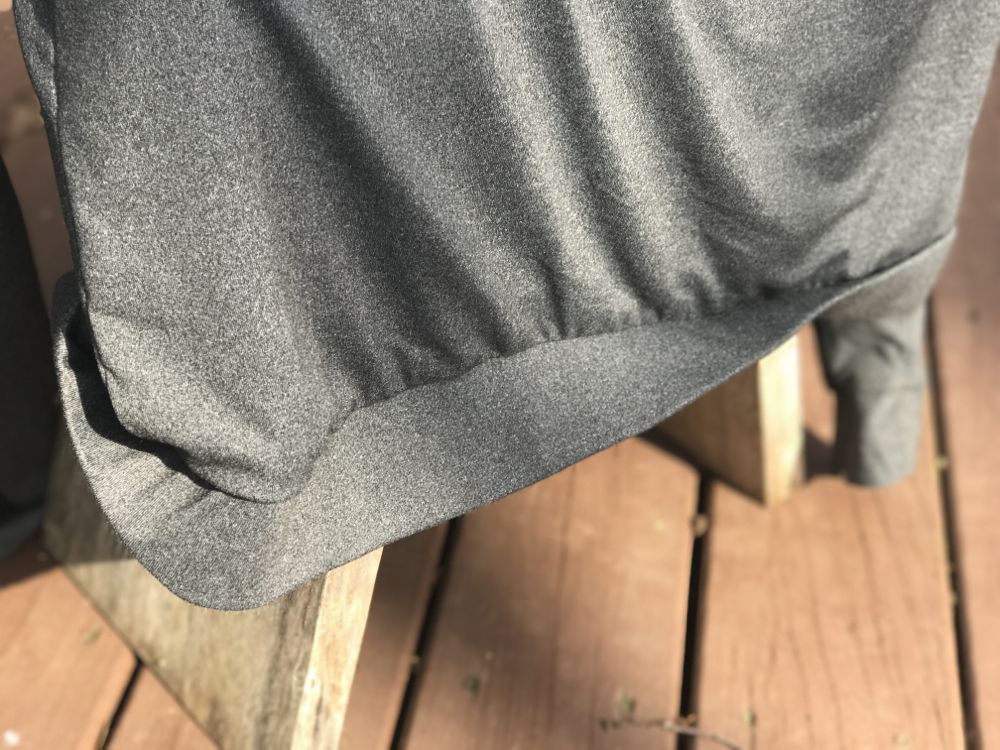 Suffice it to say my verdict is: decent fashion piece but not for golf.
Chase 54 Luke Pullover:
The other piece we received for a review is the Chase 54 Luke pullover. Unlike the London, I can safely say this piece is absolutely golf appropriate. Style-wise, there is not too much special about this piece. It is your typical 1/4 zip with a half collar. What makes this piece interesting is again the material. Chase 54 uses ClimaFuse to help seal in heat to keep you warm, so even though the Luke pullover is very light, it does the job even in colder temperatures. Additionally, the material has some texture which makes it stand out a bit.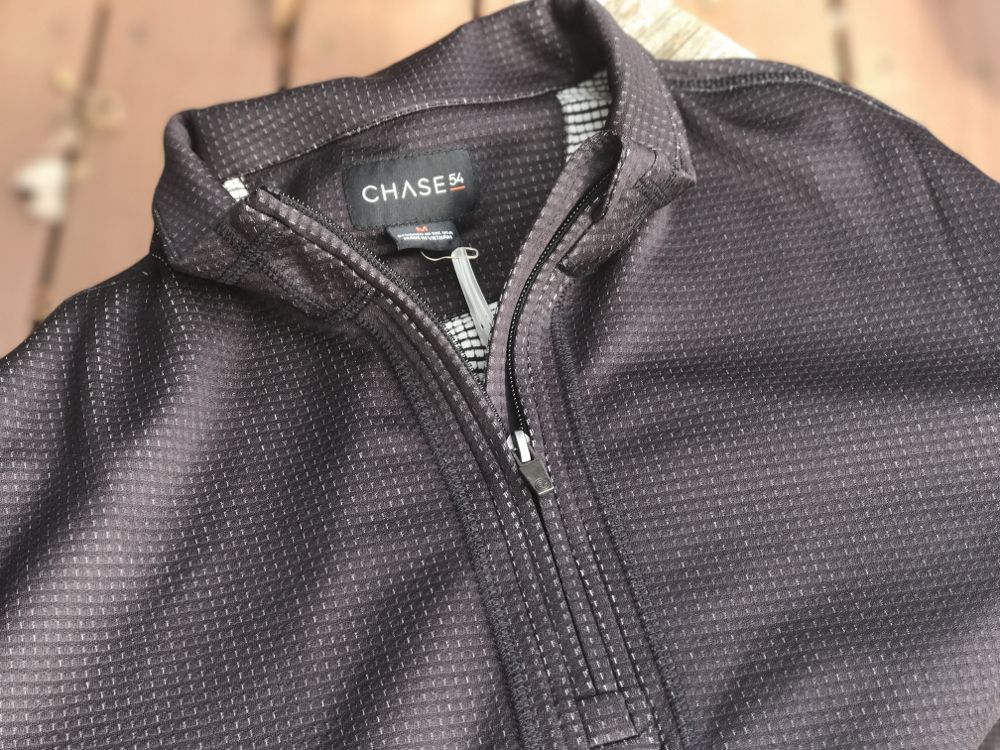 Unlike the London Pullover, the Chase 54 Luke pullover is sized and cut much better. The medium fit me well (although it runs a touch smaller than most American brands). Partially offsetting this is the fact that there is some mechanical stretch to the material.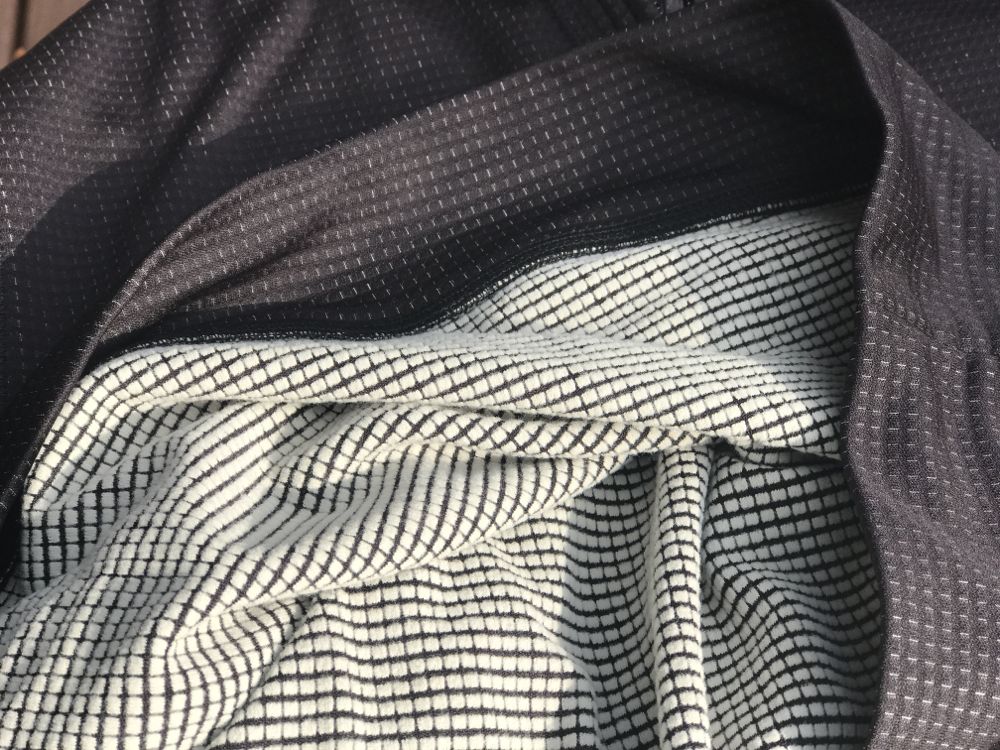 For those looking for a simple yet effective pullover the Chase 54 Luke will fit the bill.
Bottom Line:
My experience with Chase 54 is that they have a ton of pieces… which is great for giving you options. However, the fit, size and material can vary widely. With that said, most price points are quite competitive and I do believe they have an advantage in terms of technical knowledge and material access. One thing that is clear is that Chase 54 is committed to growing their brand.  While I don't love many of their designs, I do think their manufacturing advantage will ultimately be a huge factor in their success by allowing them to move faster through the concept to production process. Judging from what I saw at the PGA Show this year, buyers also see this advantage and are filling their golf shops with Chase 54.
See the whole line on the Chase 54 website.