NexBelt Review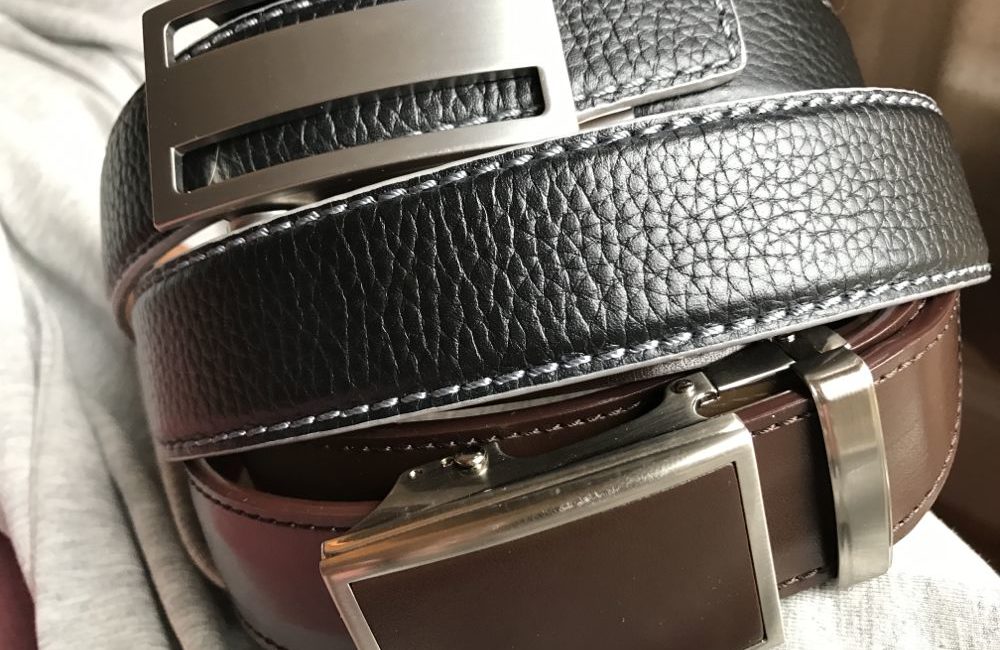 The modern belt has been around for centuries – obviously there is little technology involved and the only materials required are leather and metal. For me, that is part of the appeal of belts. The fact that two simple materials can be combined in so many ways to create a one of a kind "pants holder upper". Well, a funny thing happened a few years ago. Nexbelt came out with a buckle that totally changed how a belt and a buckle work together.
Personally, I am a huge fan of belt buckles and for the most part the bigger the buckle the better. Anthony Kim style baby. Sure I know they are slightly obnoxious, but done right, they make a statement and dress up any outfit. Obviously, every buckle needs a strap. Historically, men have worn a simple black or brown leather strap. Today, there are tons of color and material options including exotic skins, embossed leather and synthetic fibers.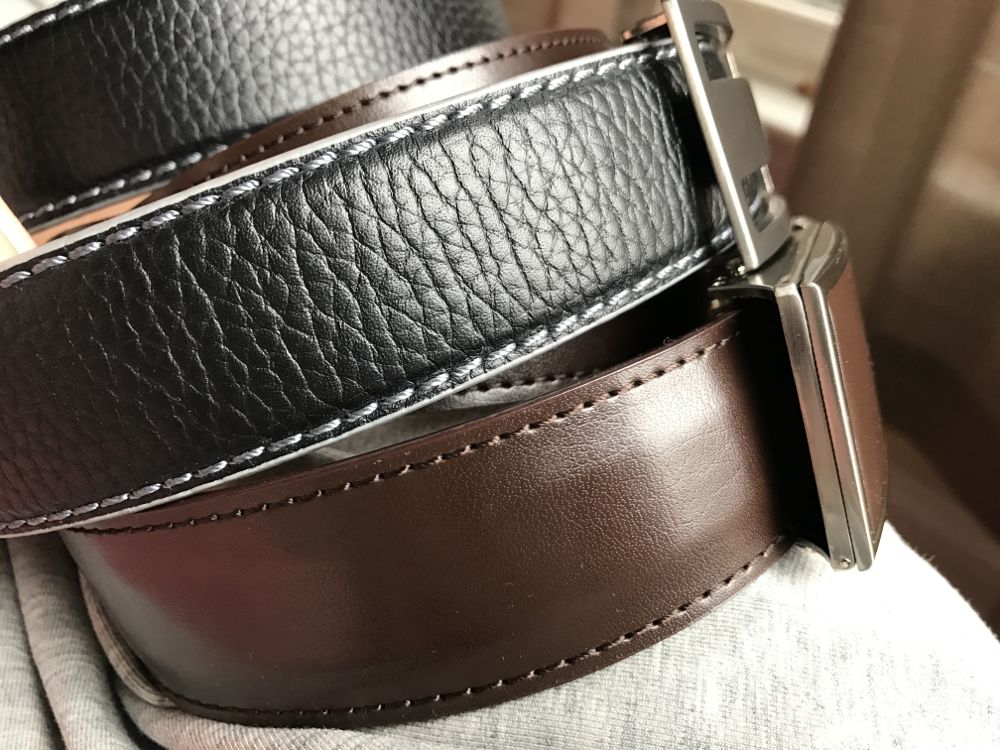 However, almost all belts share one thing – how they clasp together. 99% of belts (a total guess), have holes that allow you to tighten and secure it to the proper size. This tried and true methodology is great because it means you can loosen or tighten your belt to compensate for changes in your waistline.
Still, most belt sizes can be only adjusted in about 1/2 inch increments. Nexbelt changes this. Now you would not think that makes a difference, but oh how you are wrong.
I heard about Nexbelt a few years ago and understood what they were saying, but I was so underwhelmed with the actual buckle that I had no desire to try them out. The first generation Nexbelts hyped having a hidden ball marker, which to me was a red flag for a gimmicky product. And remember, I place high value on the style, so hyping a "so called" improved latching system was not going to cover the fact that the buckles looked cheap.
Fortunately, Nexbelt has significantly upgraded the buckle and strap selection so I decided it was worth checking them out to see if the latching system hype was justified.
Much to my total surprise, the latching system is freaking brilliant. For those unfamiliar with the Nexbelt latching system, a series of notches inside the strap are used to ratchet the belt to a perfect tightness. They call it Precisefit.
Why Nexbelt Precisefit makes sense:
You may not think that this system would be different than just choosing the proper hole to buckle in a standard belt, but you would be wrong. Somehow, just a 1/4 inch really makes a difference on how well the belt supports your pants both in terms of comfort and drape. Again, I never in a million years thought it would make a difference, but it was instantly clear to me the technological advantage. Not to beat a dead horse, but it is a total game changer.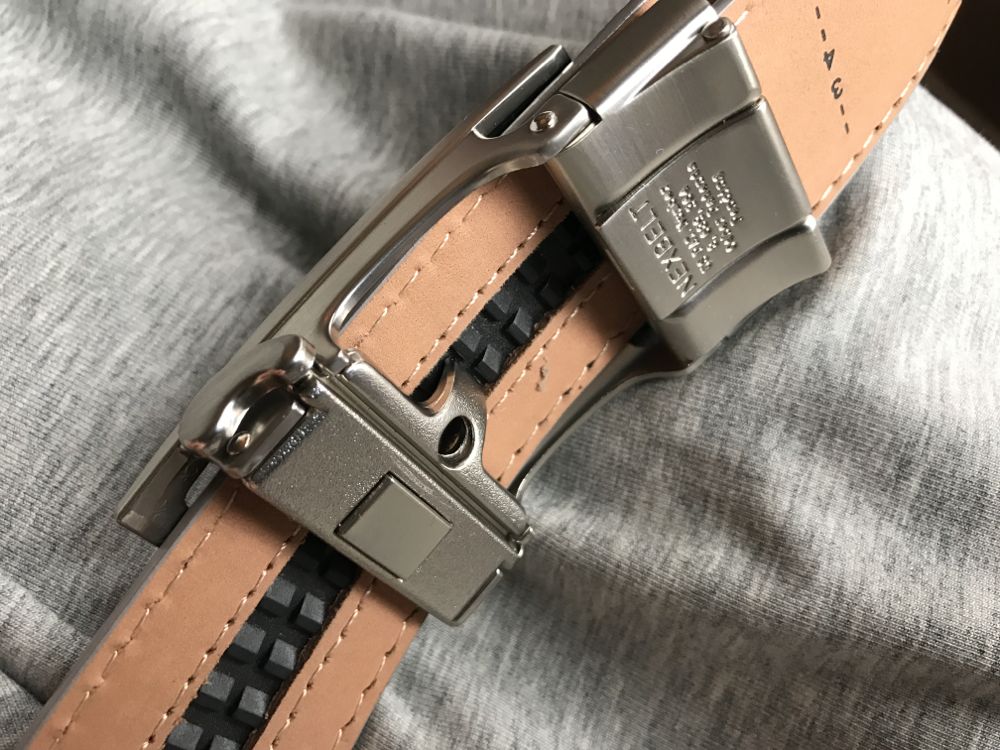 The only downside I have found that it takes a little while to get used to learning how to release the lever, which can be important when you need to drop trou' in a hurry.
Sizing your Nexbelt:
Sizing the Nexbelt is also a snap because they ship a one-size fits all product. Once you get your belt just use the markings on the back of the belt properly trim to the correct size. The rule of thumb here is to take your waist size and add two inches. For example, I am a 34 waist so I cut the belt to 36 inches. This will leave just enough extra for you to thread the belt though on a loop on your pants or shorts.
Nexbelt Buckles:
Nexbelt has been around for a few years and I think my initial lack of enthusiasm stemmed from the buckle and strap selection, which in my opinion was not very exciting. Well, things have changed. Nexbelt now offers tons of options for both buckles and straps.
In terms of buckles, you can find simple dress belts, embossed leather, over-stitching, motorsport designs and gun belts. While the straps may not be exotic skins and the buckles not handcrafted, they are far above what you typically find at these price points.
The two belts I received were the Pebble Grain and the Go-in Series.
The Pebble Grain Nexbelt
Of the two Nexbelts I received, this one is by far my favorite. What I really like about the Nexbelt Pebble Grain belt is the combination of the soft reptile embossed leather and over-stitching. While they offer a number of different colors, I am quite happy with the back strap and grey overstitching, which can be worn with just about any outfit. I have always been a big fan of overstitching as I think it provides subtle detail that makes it stand out.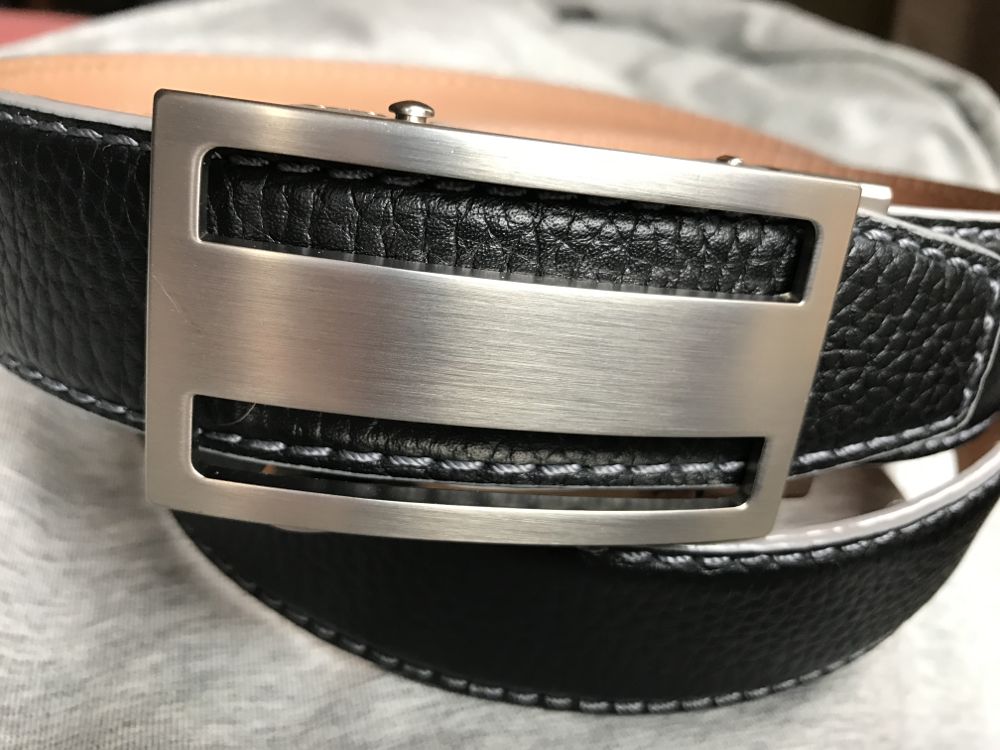 The buckle on the Pebble Grain series is a matte nickel which gives it a modern look. Taken together, I give this Nexbelt high marks for fashion and price. Sure, the strap is embossed and the buckle lacks a certain weight, but at $89, you won't be disappointed. I have personally put this belt into regular rotation and expect to wear it for many years both on and off of the course.
Go-in Nexbelt
This belt is more in line with their original Nexbelt designs. First off, it features a hidden compartment for a ball marker. I am sure some dudes think this is cool but frankly I hate it. I don't like mixing my belts and ball markers and it just seems like Inspector Gadget. Fortunately, you can simply decide to never use this feature and no one will be the wiser.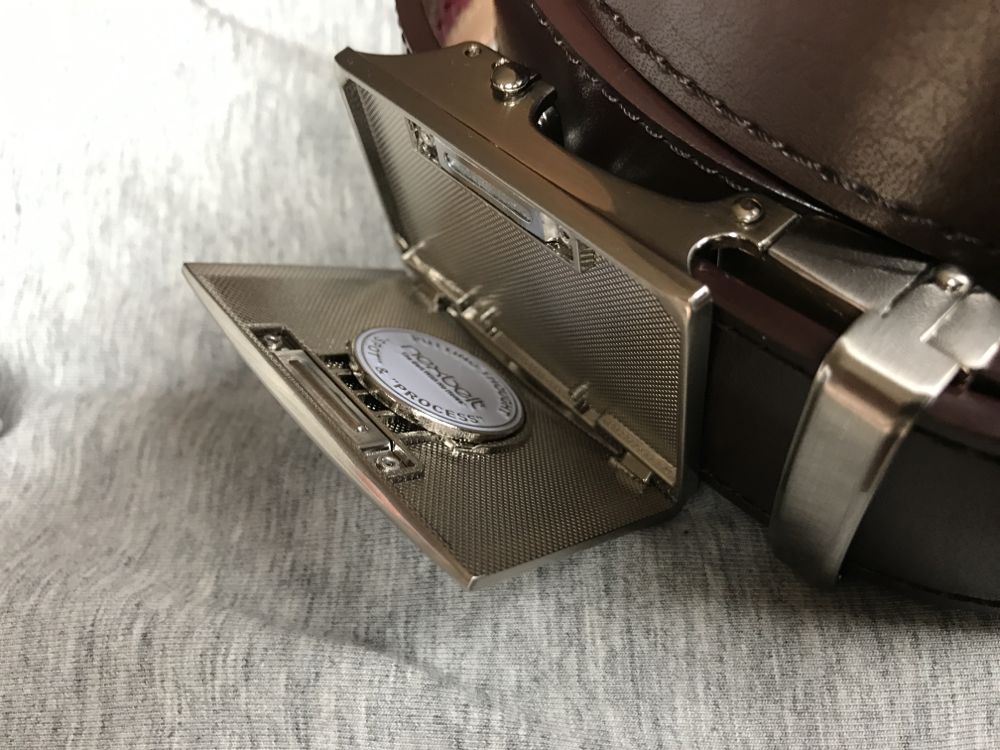 The buckle on the Nexbelt Go-in is color coordinated with the strap, giving it a very clean look. In this case, brown buckle with a brown belt, but they also offer other combinations (please refrain from getting a white belt #nowhitebelts).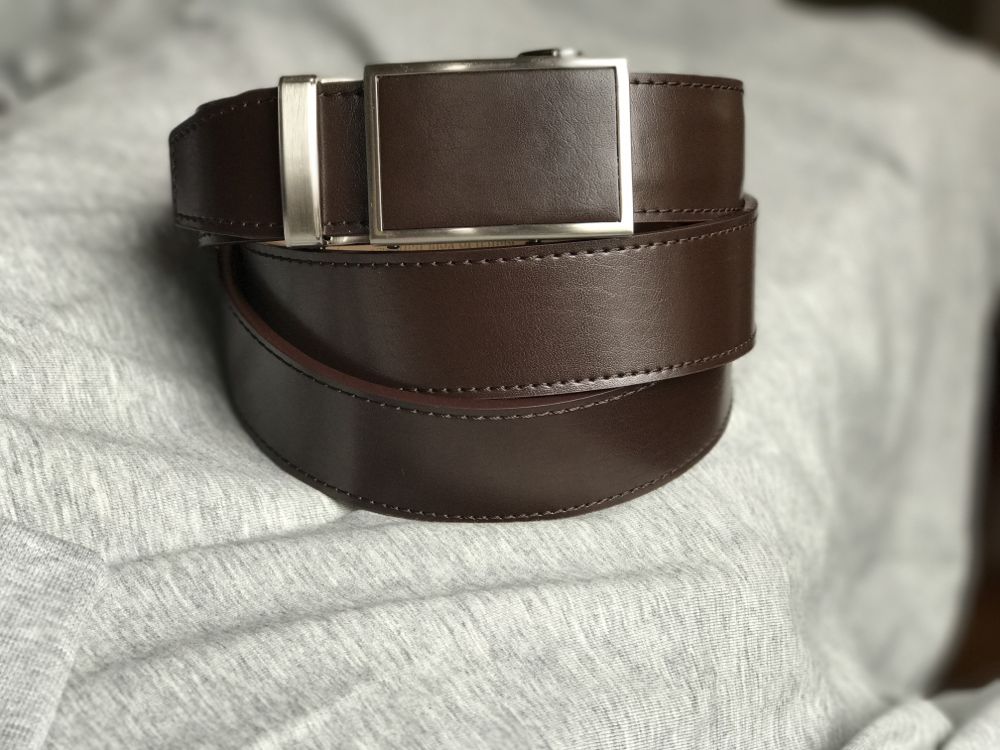 Overall the Go-in Nexbelt series seems a step down from the Pebble Grain line. In part this is due to the $59 price point so I am not surprised the leather does not have the same high quality feel as the Pebble Grain. With that said, the Go-in is a great option at this price point.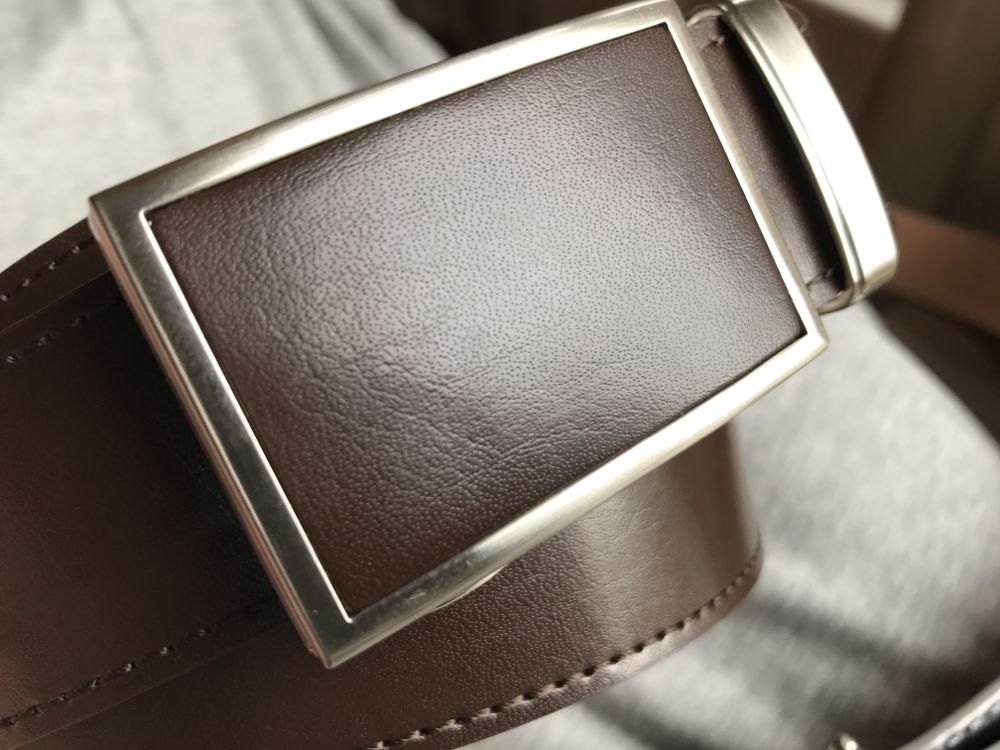 Bottom Line:
I am honestly stunned at how much of a difference the Nexbelt latching system matters. Assuming none of the parts break (there is a one year warranty), this is a really big deal for belt technology. Moreover, I am glad to see Nexbelt expanding their leather and buckle collection to include higher end selections rather than just focusing on the technology. If Nexbelt can continue to offer straps and buckles that rival others in their price point, then the latching system becomes the deciding factor – in my opinion it is a winning factor.
Shop for Nexbelts on Nexbelt