The Country Club of Winter Haven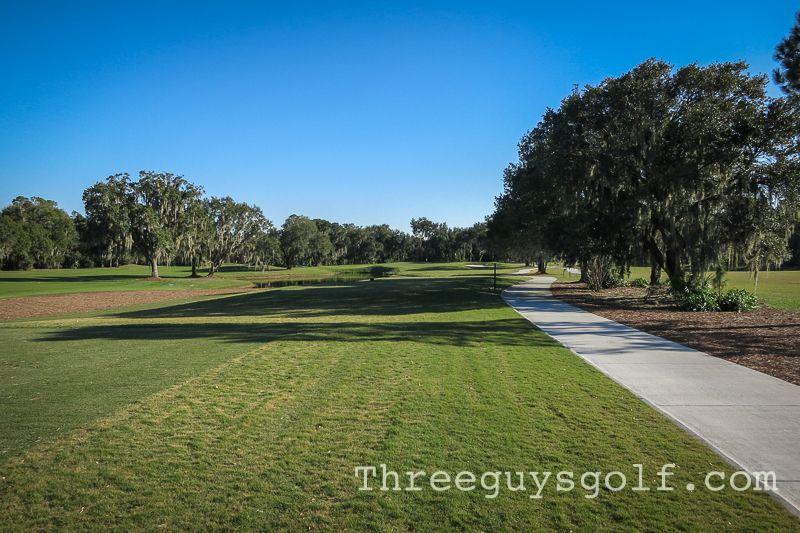 Three Guys was recently invited to come check out the Country Club of Winter Haven (in Winter Haven, FL) and play some golf. Naturally, we obliged.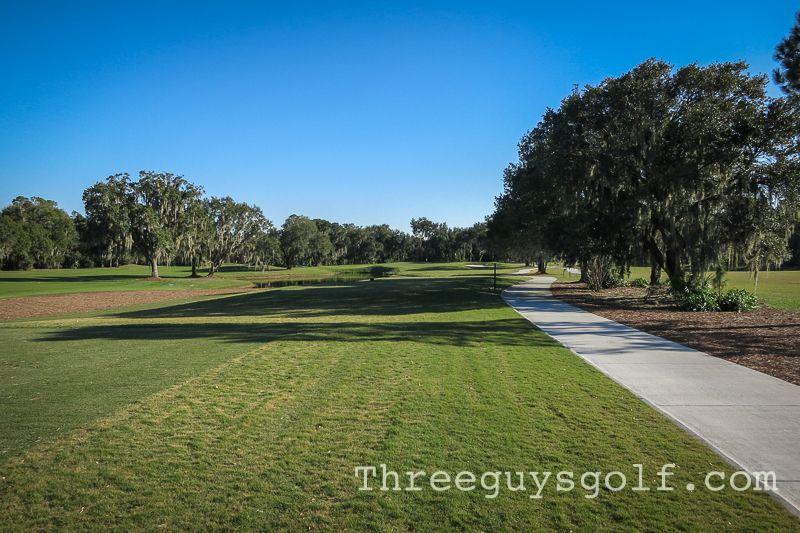 Originally founded in 1923, the club has a long, storied past. Once a golf and yacht club known as the Lake Region Yacht & Country Club, it was sold in 2013 to a group of private equity members to create its current iteration. The entire property spans approximately 200 acres of land, with about one mile of said property being on Lake Hamilton. So it's got that going for it, which is nice.
As we speak, the club is in the middle of a complete facilities overhaul and membership drive. The course was recently re-designed by Rees Jones (heard of him?) and Bill Bergin, so if you're yawning right now and saying you played that course back when balata was in, you don't know squat. The next phase will be clubhouse renovation, and then on to the non-golf facilities like the tennis courts and the fitness center.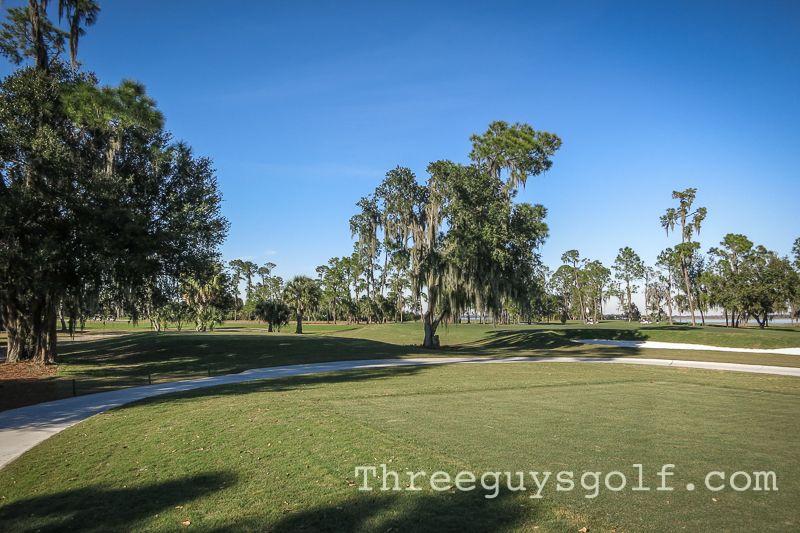 When you roll up to the property, you definitely get the feeling that you are at a country club and not just a course.  The long tree-lined drive reveals glimpses of fairways, some tennis courts, a pool, and of course the ever-present Lake Hamilton. The general tone of the property is that it's been around a while . . . the mix of oak trees, pine trees, palmettos, and Spanish moss hints towards an old South Carolina plantation vibe, which is a good vibe, for those of you who remain unclear. The outside of the clubhouse is in keeping with that image, with pillars rising up to a balcony on the second floor, making you think of more a southern manor than the central Florida we had previously seen in Orlando.
Practice?!
To be brutally honest, I did not get a chance to hit the driving range, as my accomplice Adam is an utter failure behind the wheel of a rental car. Our colleague Mathew, however, was able to take a few swipes and said the practice area was perfectly competent. You can see the range from the clubhouse and the first tee, and it certainly has plenty of room and targets to fire at. The putting green is generously sized and gets the job done for sure, but again, call that speculation because I was too busy trying to not fall out of the cart while tying my shoes on the way to the first tee.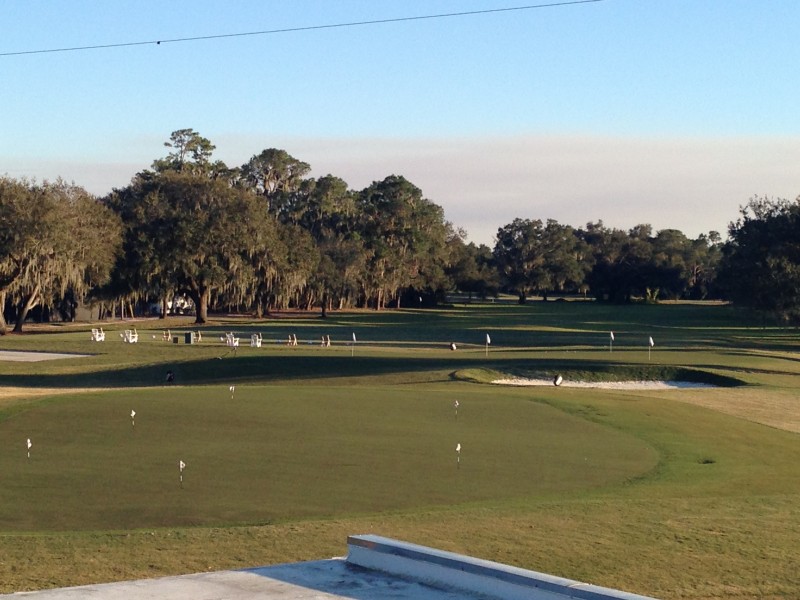 Three Guys, you're on the tee!
I'll make this simple – central Florida is flat, and as a result, this course is relatively flat. What you see is what you get, and what I saw was cool looking trees, generous fairways, and large greens that were begging for some lawn darts. The first hole is a straightforward par 4, trees on left, bunker on right about 230 yards out, approaching into a large green sloped towards the teebox. It's a great opening hole to get your swing grooved without too much apprehension, setting the tone for what I would call a perfectly playable golf course. Each time you tee up the driver you feel like you have a reasonable chance of finding fairway, eliciting the kind of confidence that actually helps you make a good swing. There are trees lining the fairways for sure, but somehow when you find your ball over there, you might still have a decent chance of making a legit shot because it's not really "woods" as I have come to know them (well), just individual trees plotted along the holes.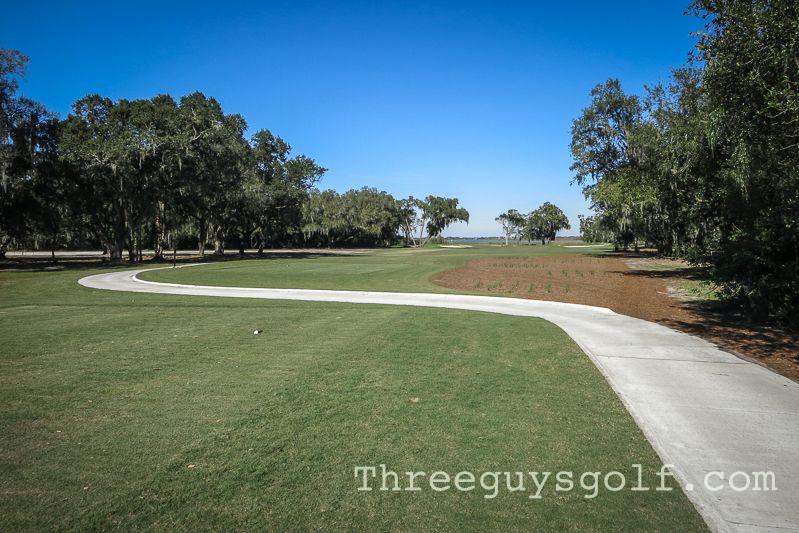 That being said, the track runs 7,021 yards from the tips, and with the wind coming in off the lake (at least on the day we played), this sucker can play sneaky long. Due to a miscommunication within the group, we played from the blues and it was a bit much for our mediocre selves (of course we were too stubborn to adjust when reality set in, primarily because we are dumb). Interestingly enough, the par 5s were still very playable from the blues, but there were a number of par 4s that had us reaching for the fairway woods, hybrids and long irons on the second shot. Take heed, do not call us wussies . . . you will find some very challenging par 4s from the blues.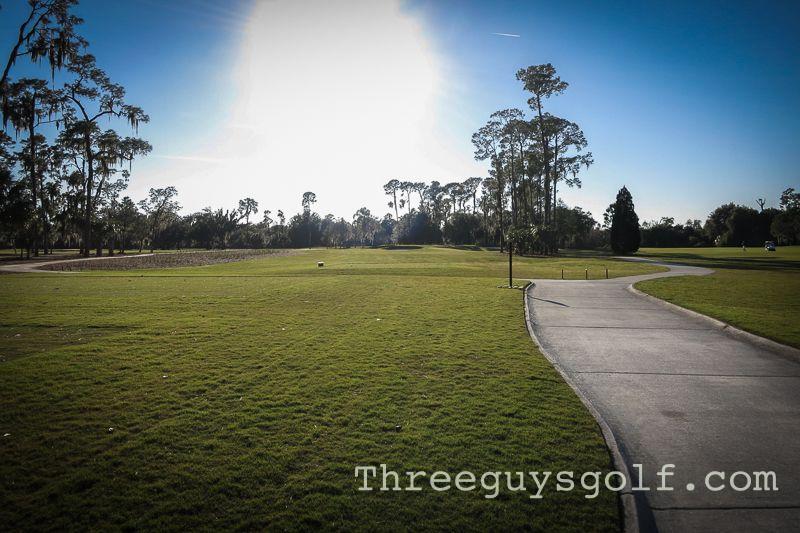 The layout offers a diverse array of doglegs, hazards, and approach shots. There were few times where we were fooled by a false front, but it wasn't direct trickery, just a result of the flat landscape paired perhaps with water behind the green messing with our depth perception. Playing the course a second time, we would be sure to trust the yardage and not get too cute.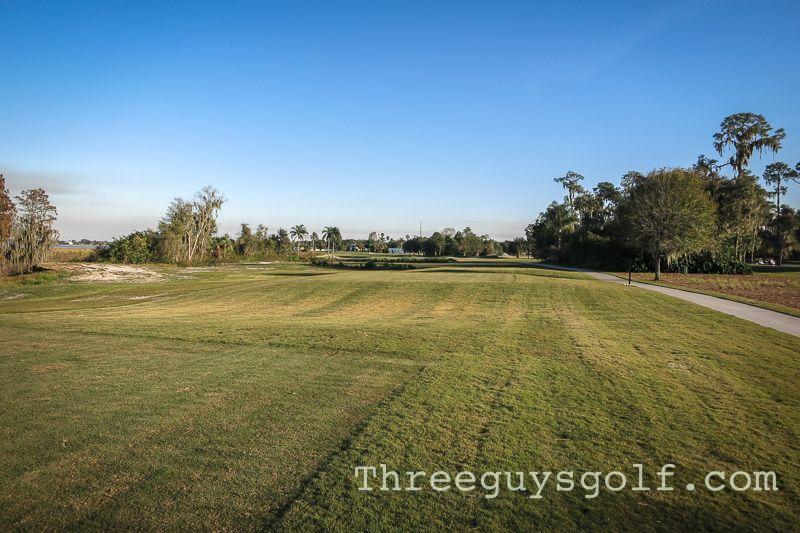 The greens are Championship Bermuda grass, and they look great and roll true. They were not any kind of spectacular fast or tricky, just good solid greens that made you feel like you were playing real golf, and they were large enough that you could feel confident firing at pins. Tough to ask for much more, and here again on the greens, The Country Club of Winter Haven allows you to have a solid, fun round of golf.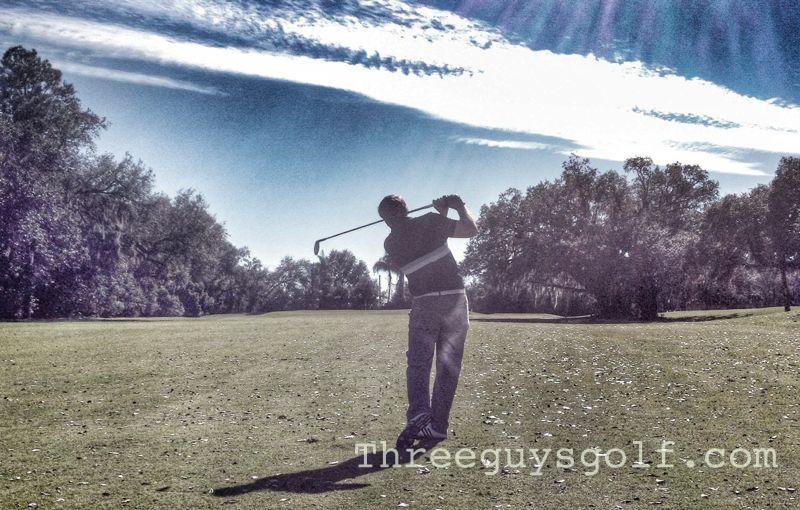 Getting into the minor details, the tee boxes are all in great shape, as are the cart paths and various signs. In other words, no points lost on the little things.
One final note I would like to make, with the help of a not-so-great picture below: Lake Hamilton is a strong presence at this course. It does not come into actual play on any holes, and for some reason it does not create the same awe that an ocean would, but there are just so many points in the round when you are looking out onto a lake thinking "money". Our group discussed it several times . . . it's not necessarily a majestic body of water, I think because it is not densely wooded across the shore nor does it have expansive marshes, but it's still a big lake that you can see as you play golf – a lot. This is not a bad thing, for sure.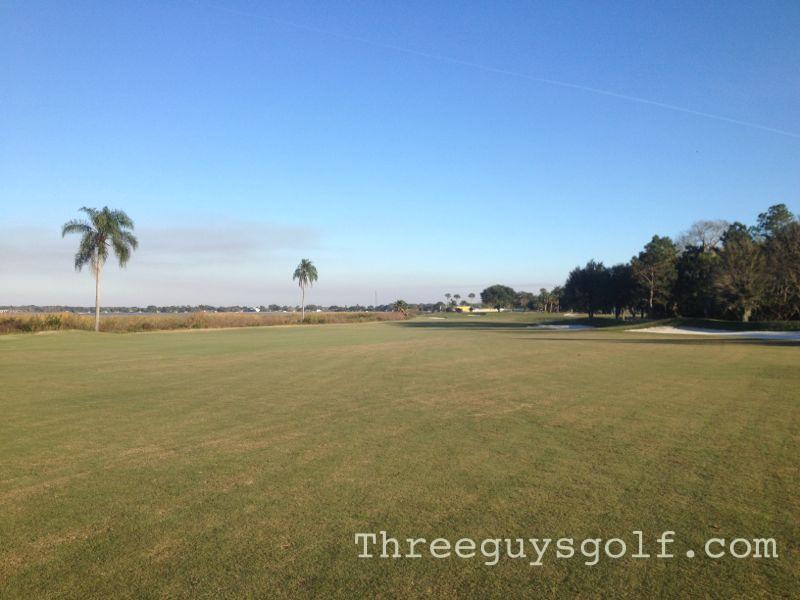 Right right, but how does it make you feel?
I'm not sure if this is due to me being a North Carolina dork on a Florida course, or the fact that there was water often in view and palmetto trees surrounding me, but I always had a slightly "sandy" vibe out there, like it was the kind of course that would have natural wastelands instead of bunkers.
In reality, there were proper bunkers and the fairways were green and lush, so you can chalk that up to the plantation thing perhaps. I guess my point is that it's an open, sunny course that lends itself to a relaxed, vacation feel. And really, one can't say enough about the trees . . . just look at the pictures! With regard to the playability that I keep mentioning, The Country Club of Winter Haven is just a great "country club" course, one you can play over and over as a member. You won't get bored, and you won't get overly frustrated – the course offers a great chance for golfers to play well and hit some greens in regulation without getting a headache – and if you need more challenge, just move it on back to the next teebox. And, if you need more of a challenge than 7,021 yards, congratulations . . . you just became my hero.
Keep in mind that we played in January as a little boondoggle addendum to the PGA Merchandise Expo, so I would expect the conditions to be even better in-season.
This is crazy . . .
After the round we chatted with the Head Professional, explaining that we thought it was a great track in great shape. He quickly pointed out that these fairways did not have any grass on them until something ridiculous like 2 months prior. What?! That is totally insane, especially given the great condition the course was already in. I'm thinking PEDs. Anyway, speaks volumes about this crew's ability to pull off a renovation.
The Clubhouse
As I mentioned earlier, the clubhouse is slated for renovations in the coming months. The facility has the bones of a great clubhouse, with a large bar and dining area and an equally as expansive outside terrace. The dining area does look a bit dated however, with none of the new materials that most premier facilities currently employ. Rest assured, says management, this will be addressed in the renovations and the clubhouse will soon be at a level befitting of an elite country club.
Some of you may be familiar with the Three Guys stance on golf course hot dogs, seen here. The Country Club of Winter Haven batted a clean .500 on this point . . . the wait was agonizingly long but the end product was, well, brilliant. A dog the likes of which we had not yet seen. I'm so bummed I didn't photograph the product of the cool grilling technique or whatever the heck they do to this thing; I was too busy cramming it into my cakehole. Easily the best high-end dog we've encountered in our travels, including a grilled, buttered, roll. Anyway, I don't want to place much stock in our clubhouse experience because such big changes are on the horizon. My gut feeling, after talking with the management, is that this is an outfit that understands what aspects need to be crossed and dotted to produce a premier club experience.
Wrapping Up!
The Country Club of Winter Haven offers what I believe to be a great membership opportunity to anyone that enjoys golf and a little bit of the good life.  The property is one of a kind and the course itself offers a fun, solid round that can be as challenging as you need it to be by adding distance. Plus, isn't golf always challenging? I never get that. Anyway, the club offers several different levels/types of membership, all of which can be explored at the Winter Haven website.