Cross Golf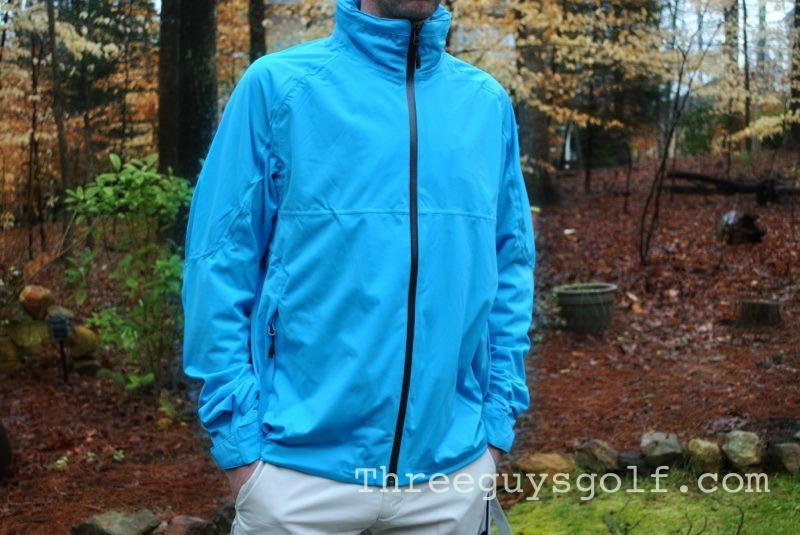 I have long suspected that European apparel companies have an inherent advantage when it comes to designing clothes meant for cooler temperatures. The fact is, their weather can be politely described as "not so good". It makes sense then that Scandanavian based Cross Golf has become very good at making clothes that are well suited to windy, wet, and rapidly changing temperatures.
I first ran into Cross Golf at the 2012 PGA Merchandise Show but it was not until February 2013 that I actually got to put their gear to the test. Seeing that the conditions in North Carolina throughout February and March are pretty similar to the best of weather in the Old Country, I figured it made for a good testing environment. Specifically, we will review the Cross Golf Pro Jacket, Vitas Pants and Yannick Polo.
Let's start with the Vitas trousers since I think there is a dearth of solid pants on the market. The first thing I noticed when I put on the Vitas Pants was they were extremely light, slick and breezy. Because they are made with a polyamide/elastane poplin they are incredibly easy to care for and are perfect for even warm temperatures.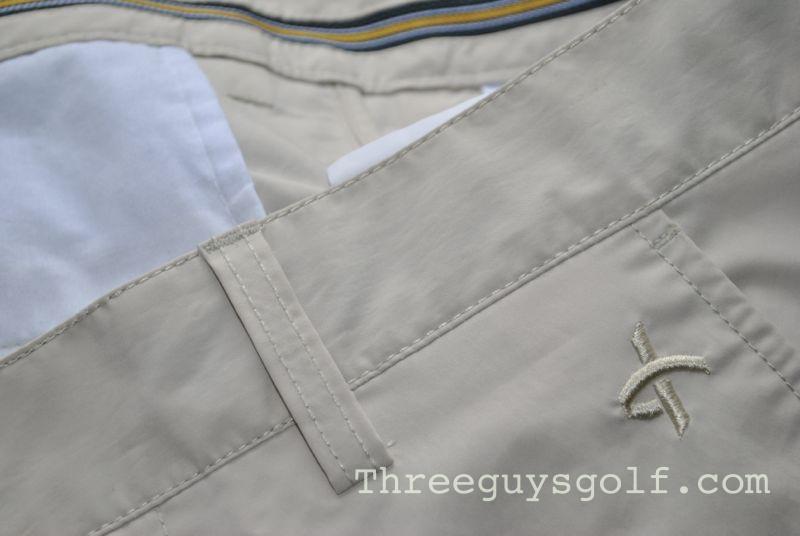 While not waterproof, they are extremely water resistant (I have held them under a stream of water for over 5 minutes and not had them leak). You can see from the below picture how the water just runs off the material. Great news for when you get caught in a rain shower. Not surprisingly, the Vitas Pants have a much slimmer European cut which I think is better looking for the athletic/thin build. In terms of care, these guys are a simple wash, dry and wear. Super easy and always look great.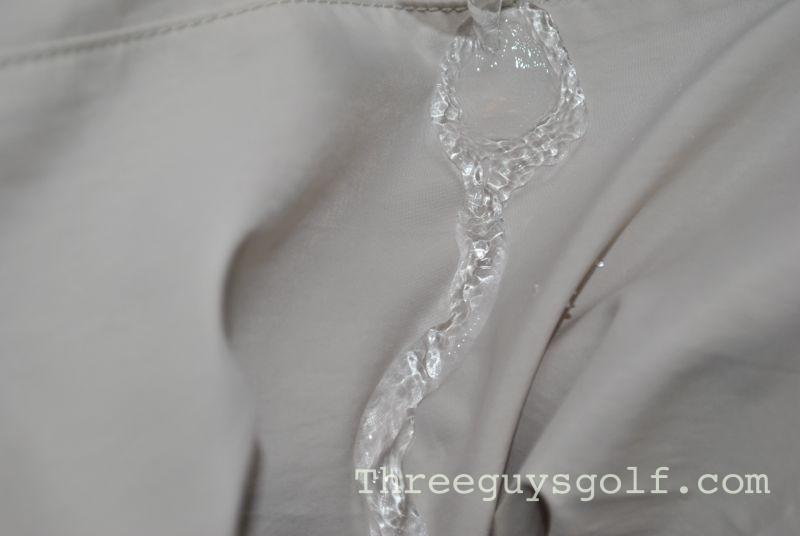 The Pro Jacket is again a perfect example of technology made for changing weather. Cross Golf uses FTX technology which is made to be waterproof yet breathable. I actually had no idea the jacket was waterproof for a long time because it does not feel like a rain jacket and I have primarily been wearing it during windy and cold conditions. Additionally, because of the breathability, the Pro Jacket it works really well over just a shirt on warm breezy conditions or covering a sweater when temperatures are in the low 40's.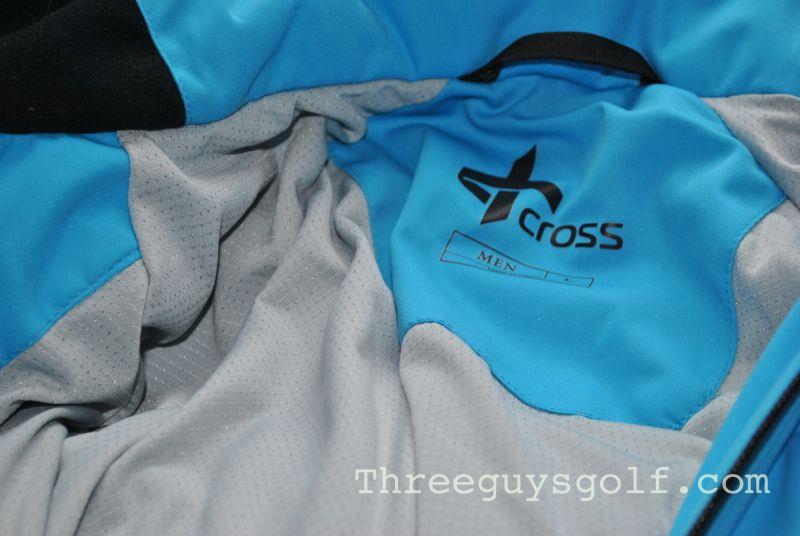 Even though the Pro Jacket is really light, because of the tall collar, taped zipper and velcro arms, you have the ability to lock out all of the elements to stay warm even in harsh wind, cold and even rain.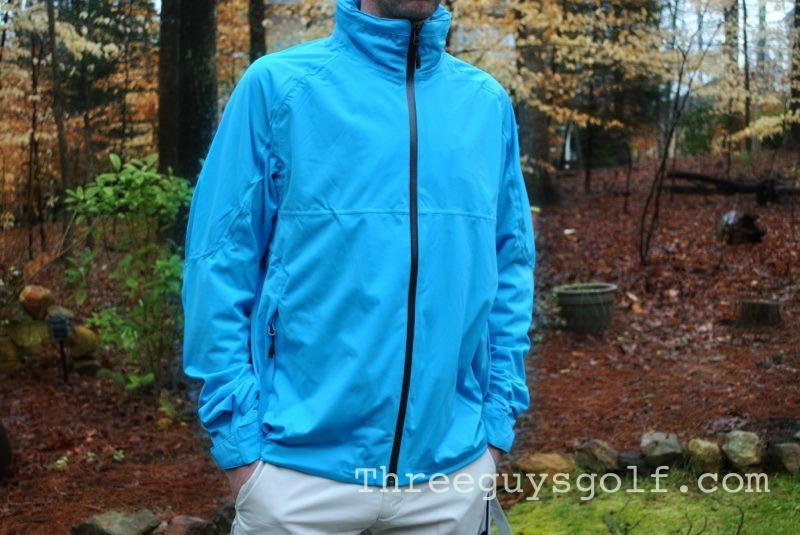 Lastly, we took a look at the Cross Golf polo. First note – they run small, a full size by my estimation. Made from performance material, the polos are very light and progressively cut with short arms and small collars. Like the rest of the Cross Golf line, the Polos are very well made and easy to care for. While maybe not as impressive as the jacket and trousers, the polo holds its own.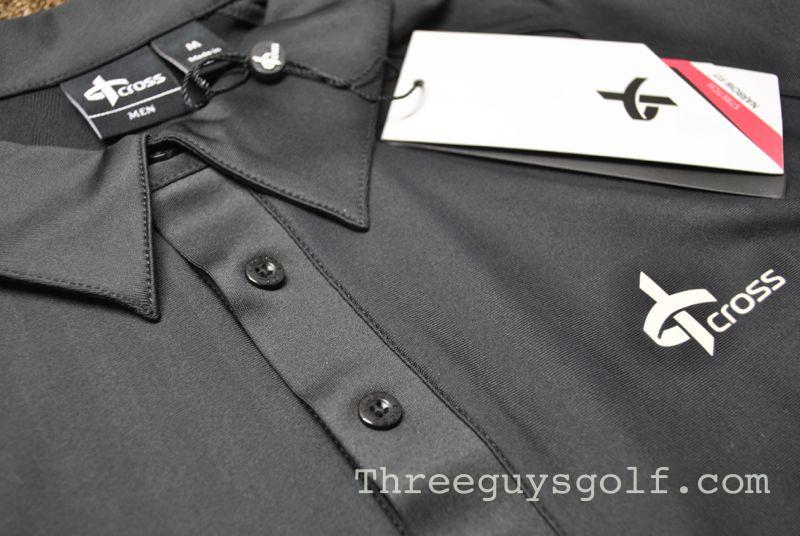 As I have written before, one of the perks to the blog is the opportunity to check out gear I would otherwise never get to. Going back to the 2012 PGA Show, I was pretty sure I would like the Cross Golf apparel line in terms of looks but what I was super impressed with was the construction and versatility. The Pro Jacket can be worn in temperatures for the 40's to the 60's and double as a rain jacket. The Vitas Pants are so comfortable and easy to care for that they will be your "go to" golf pants.
You can see the whole line of Cross Golf on their website.