Michelle Wie on Feherty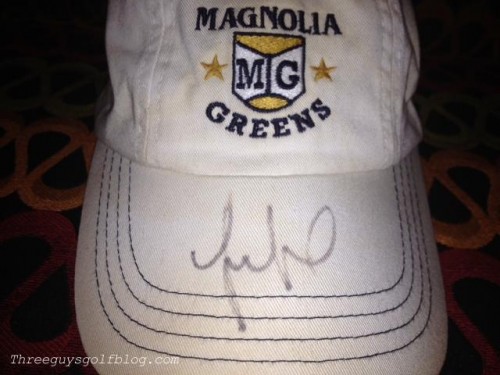 "I feel exceptionally old" is what David Feherty says a few times during his interview with Michelle Wie and that is exactly how I felt as well. Even though we have watched Michelle play golf for over six years, she is still only 22 years old. So while she has been around the world, played on two Solheim Cups, teed it up with the men, in the end she is just 22 years old.
As a side note, I have never been one to get autographs. However, one of the very few autographs I do have is from Michelle Wie. During the 2007 Women's US Open I was able to watch her work with David Leadbetter on the range while I sat barely 6 feet away. Now if you have ever been to a PGA event, you know that there is now way you get within 50 feet of the men so being close enough to actually hear the dialog between Michelle Wie and David Leadbetter was a real thrill. As it happened, I was able to get her autograph later in the day and still wear the hat every so often.
I digress. As Feherty reminds us, he is significantly older than Michelle Wie which I think makes for an interesting dynamic. For any of you who are over 40, you know speaking with a 20 year old is almost like speaking with someone from a different planet. While Michelle is quite interesting, smart, funny and charming, she is saddled by the fact that she only has a few short years of life experience to draw upon. For me, one of the great things about the Feherty show is that typically we get to hear from people who have 30-60 years of golfing experience and stories. So while I was very impressed with Michelle, at some level, I just find Feherty's interviews with people over the age of 50 to be more substantive.
With that said, I was truly impressed by Michelle's commitment to attend Stanford as a regular student. And when I say regular, I mostly believe that she lives in a regular dorm and goes to regular classes. We all know that big time athletes don't go to college like most of us do (or even class for that matter), but I do believe that Michelle is getting basically a normal college experience.
I give Michelle and her parents a ton of credit for making the choice to go to Stanford and wait on a full-time golf career. While we will have to wait to see how Michelle's career will play out, I believe her time at Stanford will serve her well. So despite her ups and downs, I very much expect her to be a champion on the LPGA Tour and I for one will certainly be rooting for her.