Galvin Green Aron Rain Jacket
With summer coming to a close pretty soon here, we at Three Guys thought it appropriate to review a soon-to-be appropriate garment – the golf jacket. A Galvin Green golf jacket to be exact. As their website tells it, Galvin Green is a "pure golf brand specialising in the design and supply of high-performance clothing to golfers in more than 20 countries worldwide". So they're pretty established, and a deeper look into their product offerings reveals that Galvin Green focuses primarily on protecting golfers from the elements. They take a multi-layering approach to keeping golfers dry/warm from head to toe, and they take it all very seriously. In fact, in just jackets alone the Galvin Green website offers 29 different styles (differences might be shell vs. inner layer OR just design).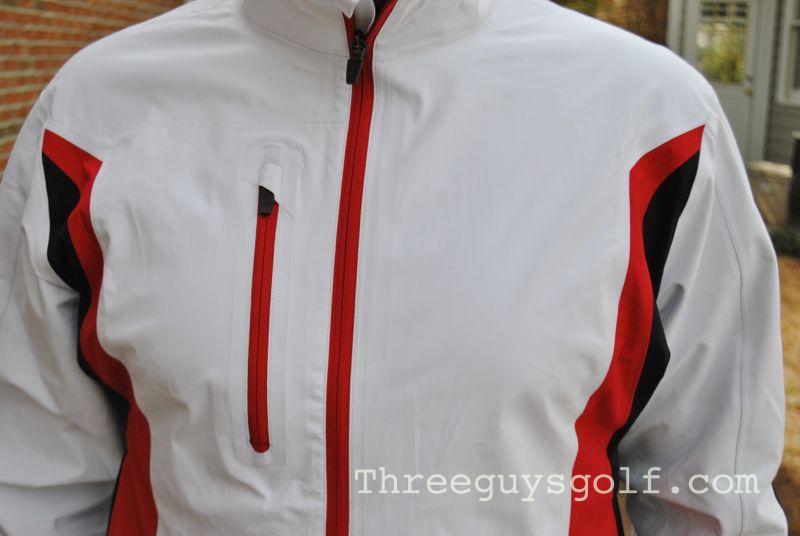 And while Galvin Green makes hats, pants, vests, and underwear, I kept it simple and SFW with the Aron rain jacket, one of Galvin Green's new styles for 2014. The idea behind the Aron is that it offers waterproof protection with stretch capabilities that allow for a free-flowing swing (if you have one to begin with). It is a full zip jacket made with Gore-Tex Pacilite Technology, and the deal is that there are different places designed to stretch in different directions, thereby accommodating your sick swing.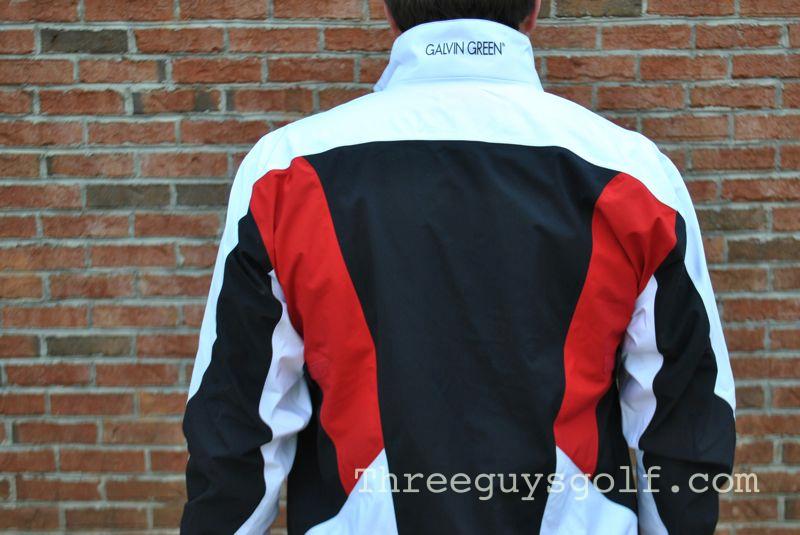 It's been pretty hot here in NC, but I was recently able to test the Aron out  during a trip to San Francisco, where I was lucky enough to pay $175 to play the vaunted TPC Harding Park. That's sarcasm. That course is laaaame . . . no idea how they will make it cool for the 2020 PGA Championship. No joke, the best part of the course BY FAR was the two hole stretch that allowed you to look across the way (and up) onto Olympic Club. Other than that it's just back and forth with the same crap holes, and it is wide open. San Fran definitely has the cool points to warrant many a tournament hostin', but this is a fool's Bethpage Black for sure. But anyway, it was chilly and misty in San Fran that morning . . .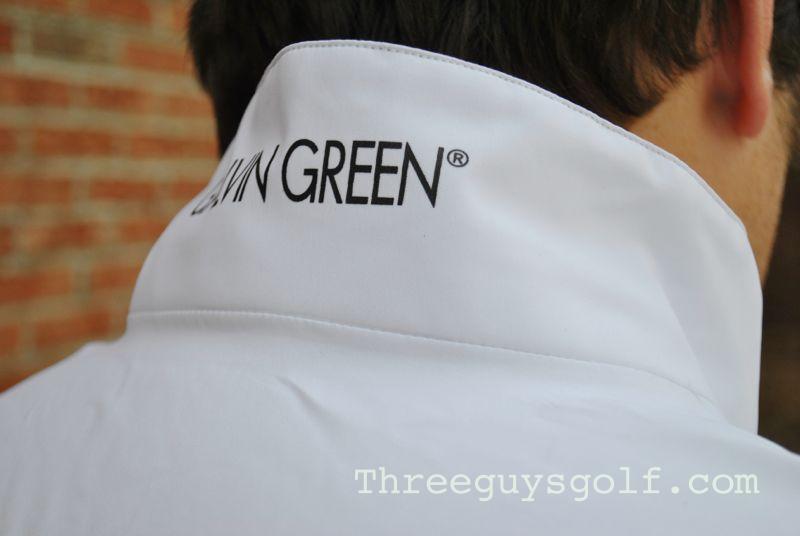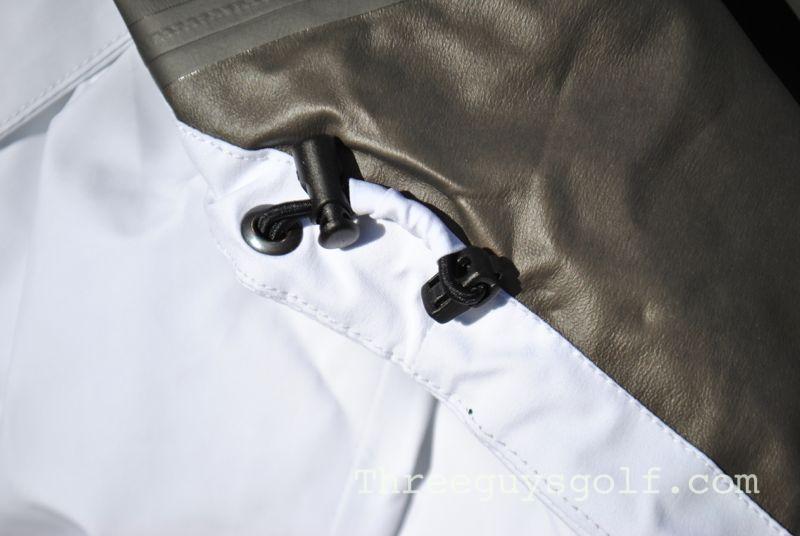 I knew going in that Galvin Green was a high-end brand, so I was not surprised that the jacket felt first class from a materials standpoint. The zippers are sturdy and work great, the velcro cuffs are very functional, and the waterproof claims are backed up. My first few swings, however, felt a bit cramped. I was feeling some restriction around the sides of my chest each time I swung, which confused me because I know Galvin Green has done their homework by player-testing all of their equipment, etc. Turns out, there are two velcro straps on each side of the jacket that allow you to adjust the chest width. WHAT?! Pretty smart – tighten it up so the jacket can make you look like a stud (and not like Grimace, which many golf jackets are wont to do), but not so tight that you can't put a good move on the ball. Brilliant.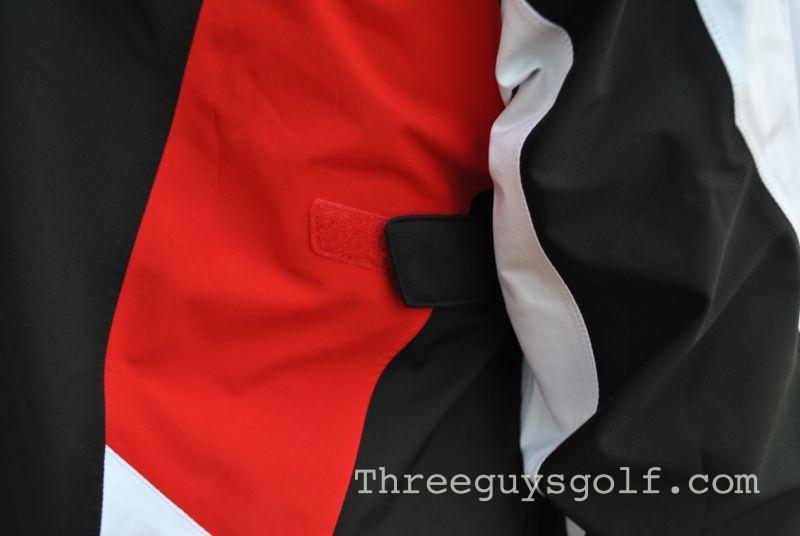 The Aron also boasts "rain channels at the sleeve ends". To be honest, I didn't really notice those, and upon further review, I still don't know what they look like. I'm looking at the sleeves right now . . . I got nothin'. On the course though, I was definitely satisfied with how the jacket performed in cold and wet conditions.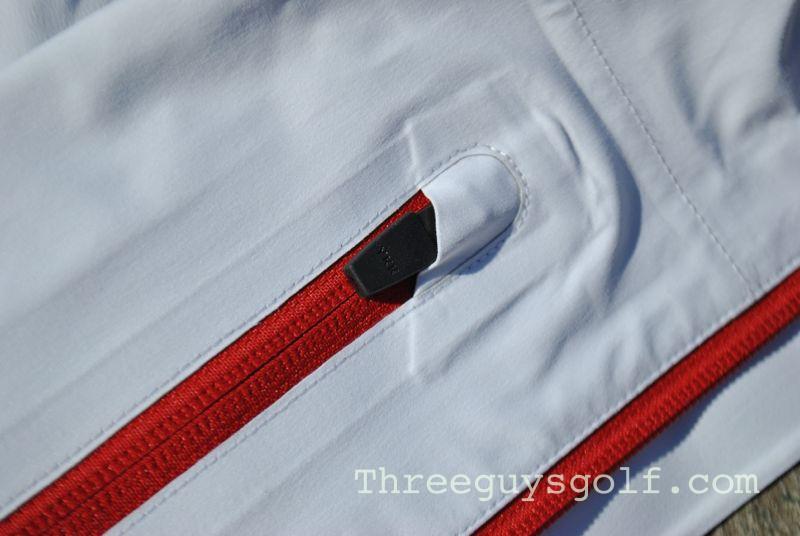 In the looks department, I was a bit disappointed by the Aron (at least in this color scheme), because the shape of the jacket is so cool and is sort of asking for an equally cool design. I've seen enough styles on the website to know that Galvin Green can definitely crank out some good-looking stuff, so I'm actually surprised that they would make a run with the white/black/red shapey thing from my high school days. And on a final grumpy note, I don't think the boldfaced citing of "GORE-TEX" on the left sleeve and right cuff is necessary. I would argue that 1) nobody cares, and 2) I remember my dad crowing about Gore-Tex when I opened a highly disappointing Christmas present of sledding/shoveling gloves . . . that was in like 1987. In fact, I think that was the same year he regaled us with office tales of an alleged "facsimile machine".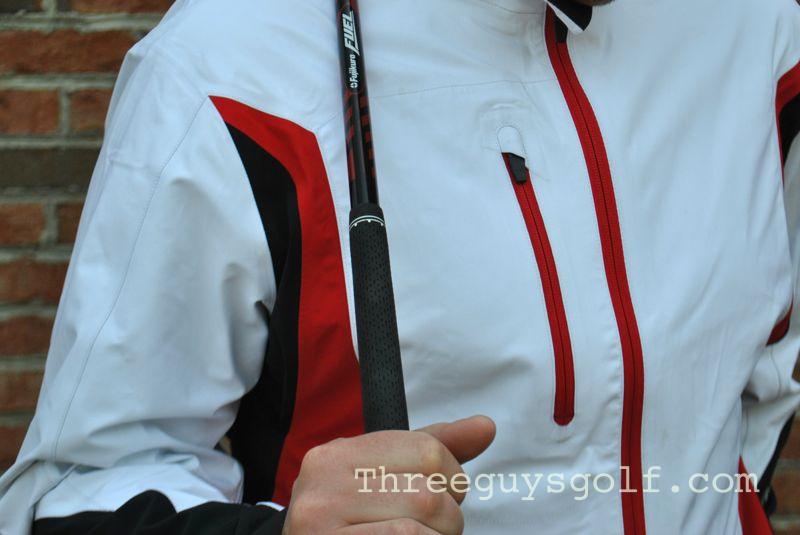 All in all, the Galvin Green jacket definitely gets the job done and lives up to its claims on all fronts. Waterproof, comfortable, swingable. Galvin Green jackets range in price from $300.00 – $460.00, and the Aron lands on the high end of that range. I'm gonna have to leave that one up to you.
You can see this and other styles on the Galvin Green website.