Bushnell Pro X2 Laser Range Finder
It's been about three years since I went all in on laser range finders, and given the current state of technology I do not see any reason to turn back. Obviously, the main advantage of a laser range finder is accuracy. Even the worst of range finders are accurate to a few yards, and with the Bushnell Pro X2 you get up to 1/10 yard accuracy inside of 130 yards.
The only real downside to laser range finders has been speed. With lesser range finders it can take 5 or more seconds to lock onto a pin (or sometimes it never locks). For the past year I have been using the Bushnell Tour V4. This device has been excellent in terms of accuracy and the speed was above average, but there were still times I found myself frustrated with locking in a distance.
Bushnell Pro X2 is crazy fast:
Compared to the Tour V4 model, the Bushnell Pro X2 is like night a day. The company states it is 5 times faster. In raw numbers, I feel like it takes about one second or less to get a yardage. Moreover, the Pro X2 is just a fast when shooting pins without reflectors. To me, this increase in speed is a game changer. While I have only reviewed about 7 range finders, I have used nearly every brand and none have been as fast as the Bushnell Pro X2. I cannot overstate this – the Bushnell Pro X2 picks up a pin crazy fast.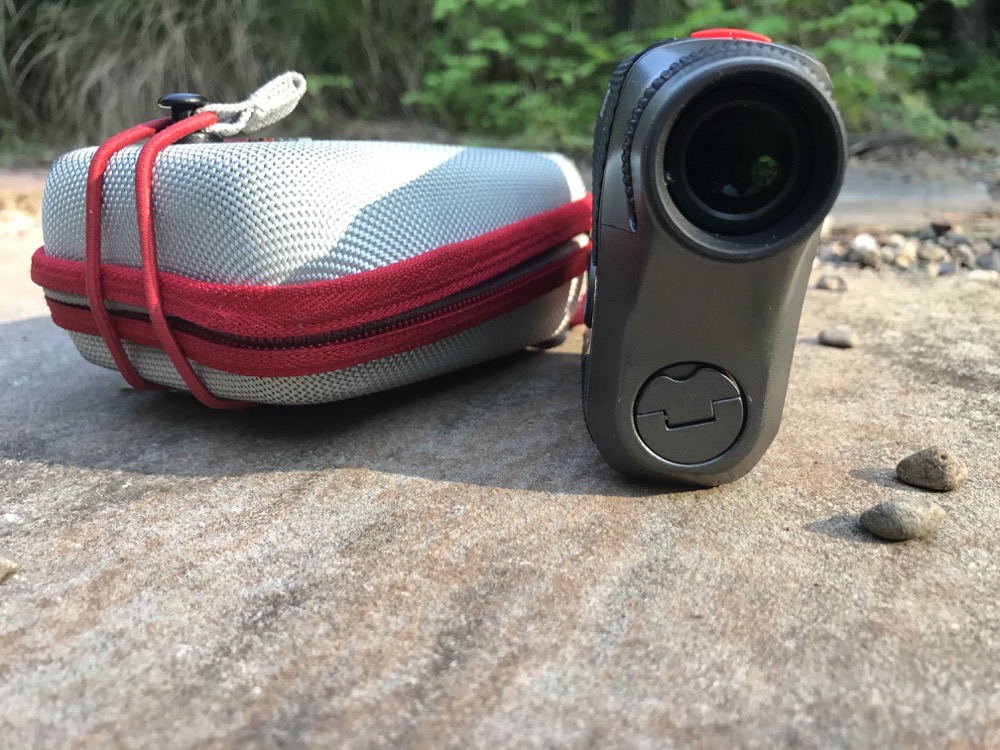 Jolt Technology is here to stay:
For the past several years, Bushnell has included Jolt Technology in their laser range finders and I don't expect it to go away anytime soon. The now familiar buzz of the device when the distance is locked in is so common sense it is hard to imagine using any range finder that does not have something similar. Fortunately for Bushnell, I suspect they own a few patents. If for some reason you don't like the jolt you can turn it off, but why someone would do this is beyond me.
Slope function:
Like Jolt Technology, having a slope function is a huge advantage, which is why it is not legal to use in USGA tournaments. Past Bushnell models have allowed users to turn on/off the slope function making the range finder appropriate for all events. However, switching between slope on/off modes is way easier in the Pro X2 model. For example in the Tour V4 version, users had to toggle using the eye piece and top button. To move between on/off slope in the Bushnell Pro X2, simply slide the X2 logo up or down. It literally takes 1 second and it is clearly marked on/off on the outside of the device so it is clear to your playing partners.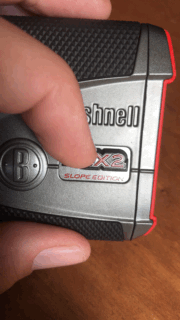 Once the slope function has been turned on all you need to do is refer to the number below the actual yardage. This is the number the hole is playing based on elevation. Having used the slope function for the past year I found that I have gotten much better at making mental adjustments to elevation. For example, how many times on an uphill par 3 will guys say it is 150 playing 165 because it is a big hill. However, what most of us don't know is that the distance is just as important as the hill; I think we often over compensate for the size of the hill when the yardage is relatively short. Likewise we tend to underestimate the difference in yardage in a small slope when the yardage is long. Again, Bushnell, makes this math easy with the slope function.
Dual color display:
The Bushnell Pro X2 comes with a black or red display. Both are easy to read but the red is really easy to read. Simply hitting the large "B" on the side of the unit allows you to switch between display colors.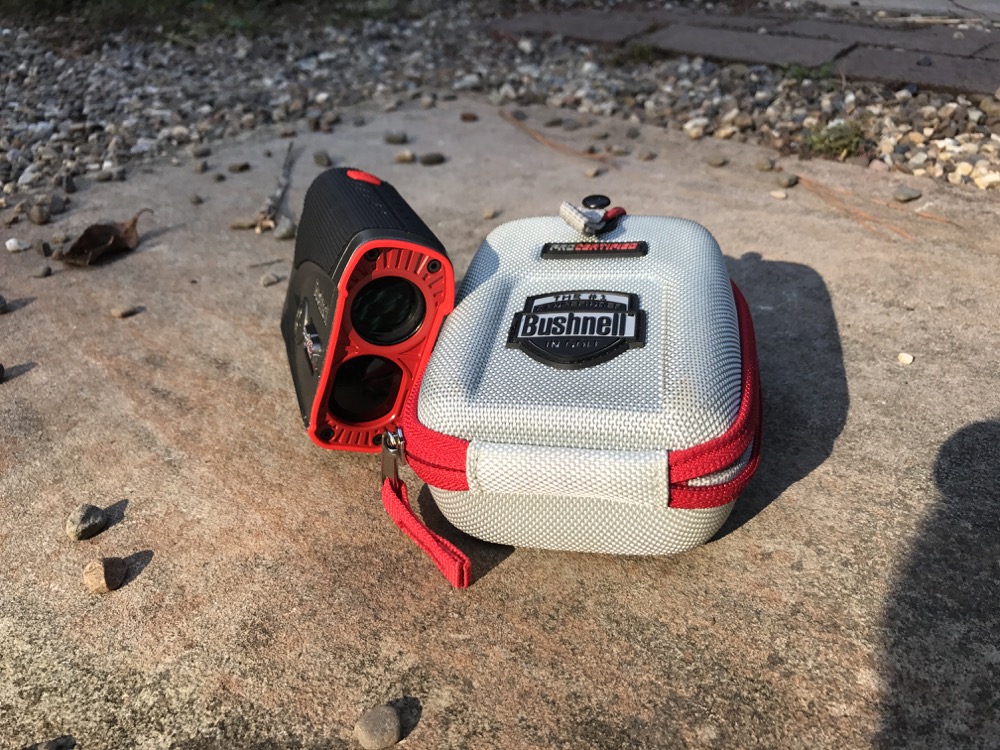 Size, weight and packaging:
My knock on older Bushnell models was the size. Fortunately, the days of bulky range finders a gone and we now have a device that fits comfortably in one hand. Additionally, Bushnell beefed up the outcasing, making it nearly indestructible and fully waterproof. In other words, this baby is meant to last.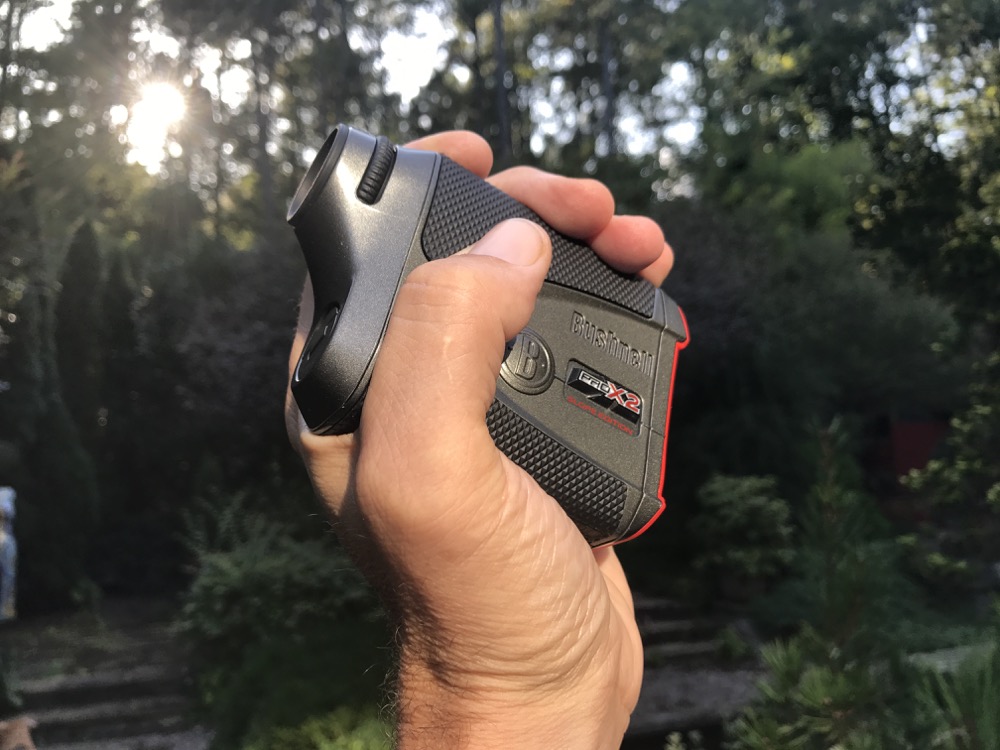 Like the Tour V4, the Pro X2 comes with a great carry case. The two case features I really like are 1) carabiner on the side so that you can attach it to your bag or pull cart and 2) dual zipper and stretch tab closure making it easy to take in and out during a round.
Battery Life:
If the battery life of the Pro X2 is similar to the Tour V4 then you should expect to get about 100 rounds out of the battery. Since the batteries are fairly expensive (like $12 each), it is nice that Bushnell has included a battery. Just make sure to remove the plastic tab on the new unit so that the connection is made.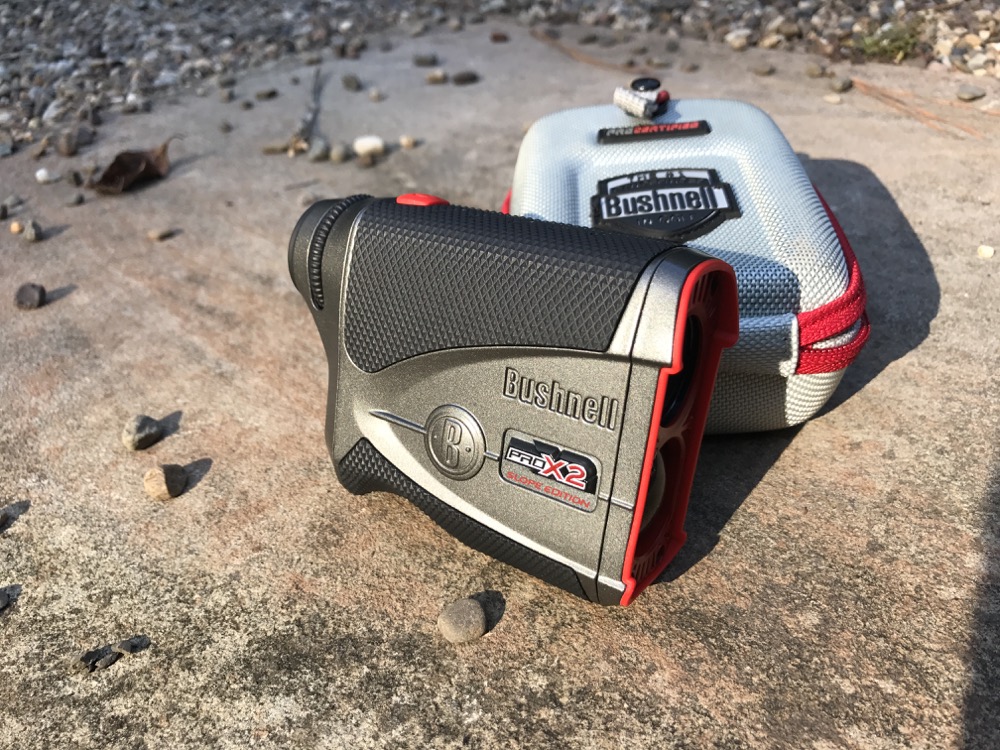 Bottom line:
If you have been holding out for a laser range finder this may be the time to pull the trigger. While I am sure there will be advances in technology, this baby is so fast and so accurate it is hard to imagine it will ever feel obsolete.