Glenmuir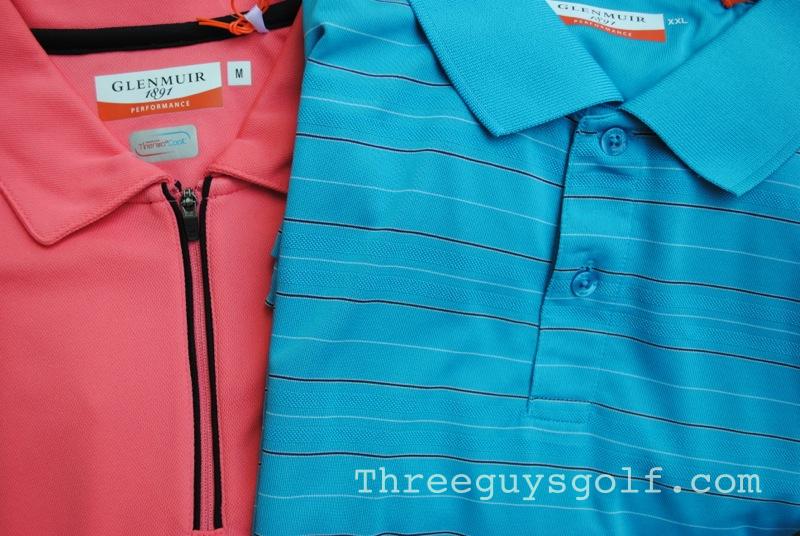 Glenmuir Apparel Review: Founded in Scotland 1891, Glenmuir remains one of the most prestigious golf brands in the world. So recognized for style and quality, Glenmuir has been worn by the Ryder Cup, the Curtis Cup, and Solheim Cup teams. Most recently, Glenmuir celebrated their 29th year of sponsorship of the PGA Professional Championship. With that build up, Three Guys Golf was kinda jacked to see current batch of Glenmuir apparel.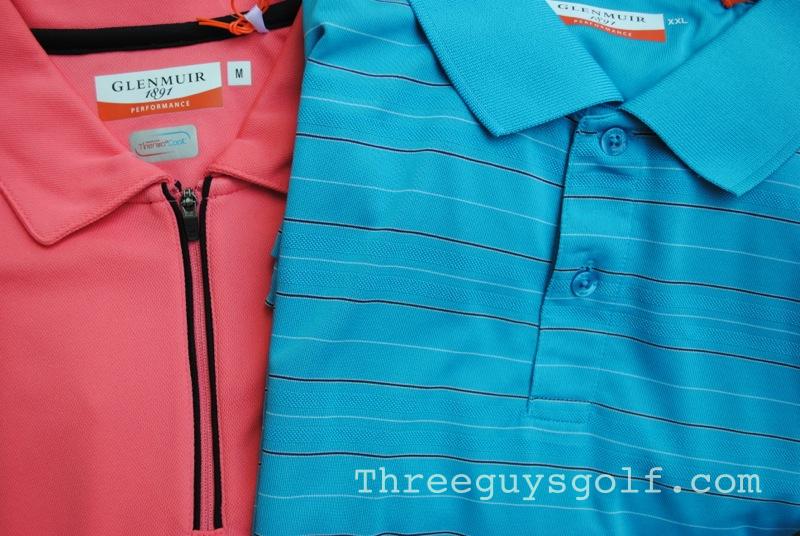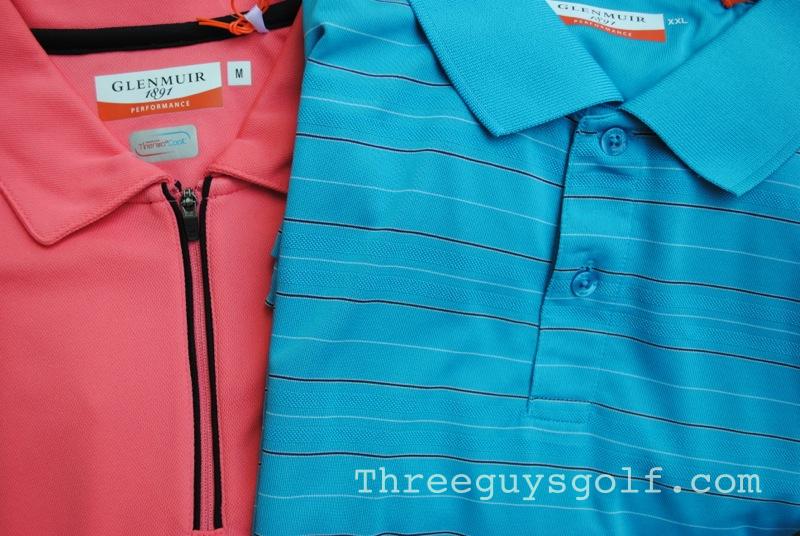 On the men's side, we took a look at the Jackson and Ambrose. Both shirts feature ThermoCool™, CoolMax®, Hi-Cool® technology. Sure, most high end shirts have a similar feature but I can tell you this is the real deal. Suffice it to say that the Jackson has instantly become on of my favorite shirts. Since I am a sucker for contrasting piping, the coral with black accents has "you are so money" written all over it. Additionally, the zipper it a nice alternative to buttons without looking cheesy.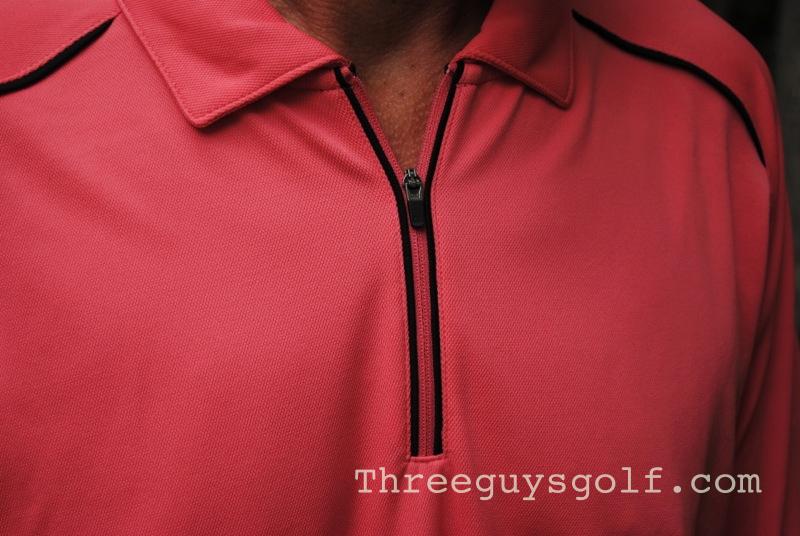 Everything about this shirt is quality. Whether it is the stitching, the fit, color or details, the Glenmuir shirt is a winner. Moreover, you can wear it with nearly anything and look sharp. If it seems like I am swooning over this guy, you are correct. I have washed it about 5 times with zero issues and it never needs anything close to an iron to look great.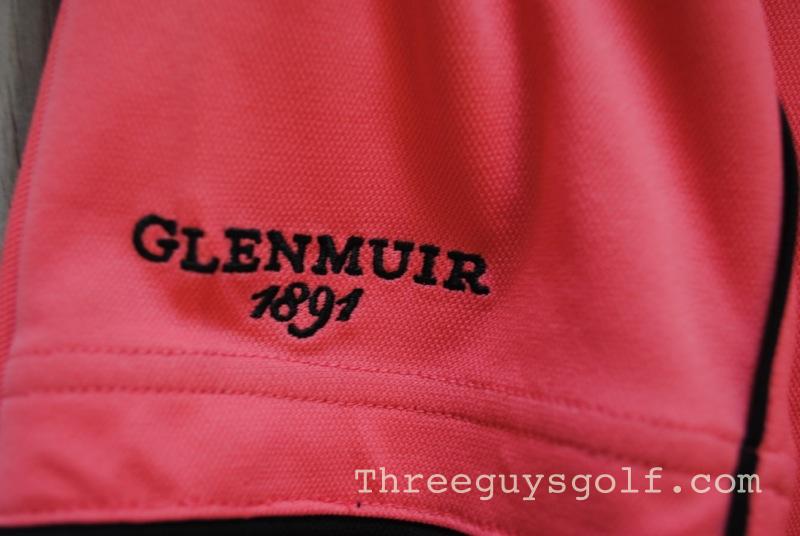 While the Ambrose is more traditional in style, it is still a very sharp looking shirt. It has just enough details like the stripes and alternate texture to set it way apart from your run of the mill golf shirts. It is not until you wear a high end golf shirt that you realize how much better they look, fit and perform. Plus sizing is correct so if you usually wear a medium, guess what, order a medium (crazy I know).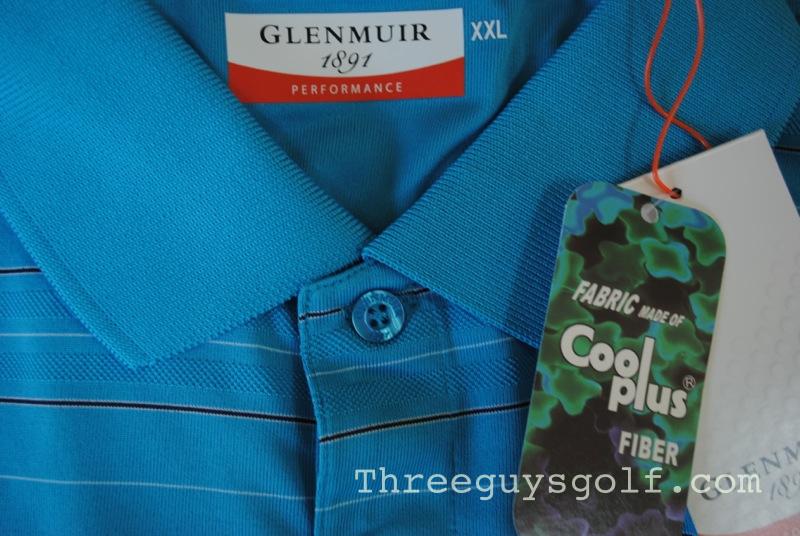 Now seeing that I do not look very good in a skort, Sue and Susan took care of the ladies side of the Glenmuir review.
Glenmuir Ladies Polo: As reviewed by Sue
The Glenmuir Ladies range also offers a wide variety of clothing. They have one of the best websites for women around, offering a comprehensive range of golf and leisurewear. All of Glenmuir Ladies clothing is inspired by a rich history and heritage and will be fitting for any club or resort. They have combined both classic and contemporary designs and added some bold colors.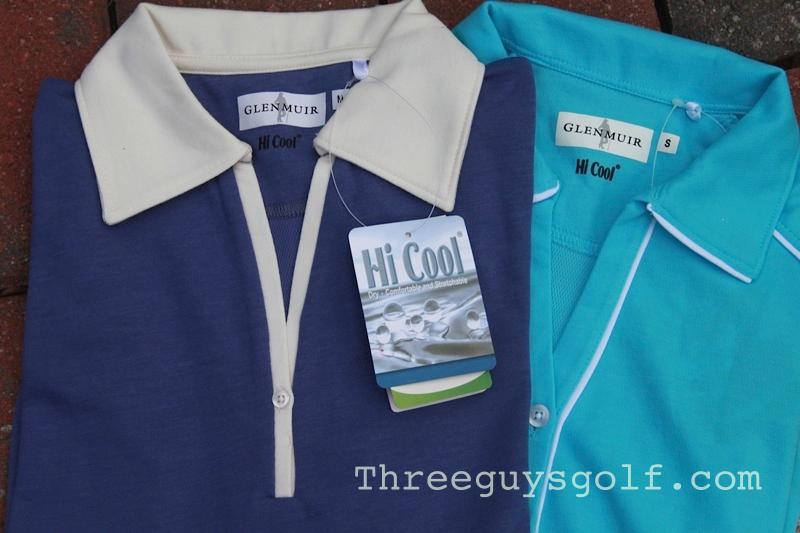 Both shirts feature Hi-Cool performance fabrics which keep you dry and comfortable. They are both extremely soft and stretchy, not to mention super cute. The fabric is 79% polyester and 21% cotton, making them easy to care for – just throw them in the wash.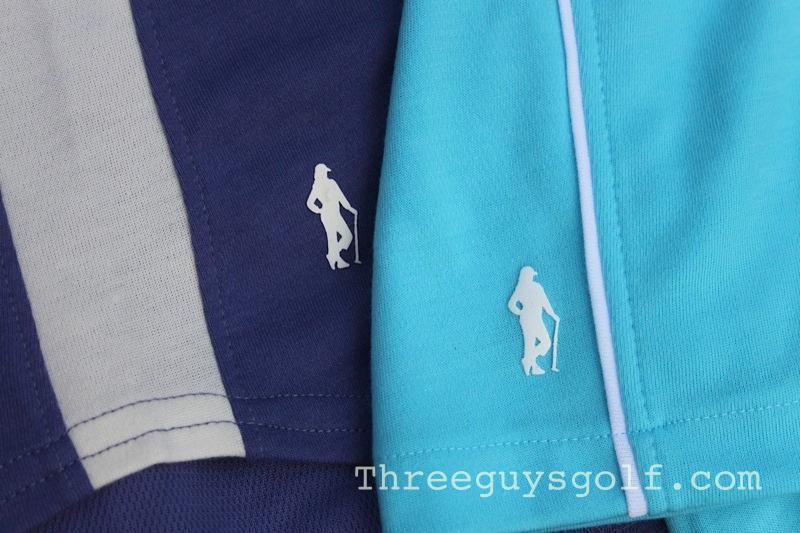 The shirt I wore is the Ladies' Glenmuir Allegra Hi-Cool Jersey Shirt in lagoon/white.  ("Lagoon" is a very pretty shade of light blue.) It has contrasting white piping and buttons and has the Glenmuir icon at the right hem. The shape of the shirt is very form flattering, and I also really like the long neckline. The collar on this shirt is not too big and and the length of the shirt was just right. I wore this shirt with a pair of white bermuda shorts and it was very sharp, if I may say so myself!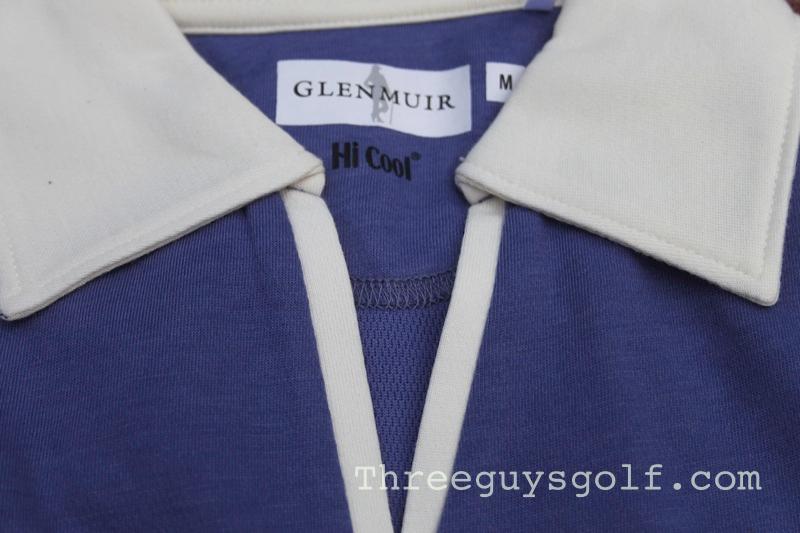 Susan wore the Ladies' Glenmuir Holly Hi-Cool Jersey Shirt in iris/winter white. The color of this shirt is a soft purple and is really lovely. This shirt is also soft and has a stretch fit, but it has something more. The cut of this shirt is a bit different in that the front and back are just slightly longer than the sides. This gives the shirt a longer look and looks quite nice untucked. The contrast color side panels give this shirt a nice fitted look, while still being stretchy enough to move with your swing.
Glenmuir has a rich history and heritage and I can see why they have designed and supplied shirts and knitwear for twelve European Ryder Cup Teams. The quality of the clothing is outstanding, and I for one am thrilled about the wide selection of women's golf attire. The Glenmuir Ladies line is fresh and bright and can be worn on and off the golf course. Be sure to check it out at www.glenmuir.com.