Golf Buddy Voice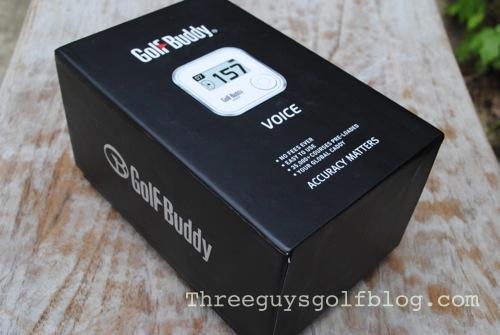 Golf Buddy Voice Review: "Hey, what's that sprinkler head say?" That's how most of us grew up getting yardage. Now it seems like everyone has a laser, phone or some kind of GPS unit. Don't get me wrong, I am as big a gadget geek as the next guy, but similar to my relationship with Facebook, I'm just not sure I am still that into it.
Sure, when I got my first golf GPS unit I was kinda jacked about being able to get yardage to every spot on the course, but I secretly suspected this information overload was actually having a negative effect on my swing. Plus, I have started to feel burdened by all the buttons and electronics I seem to be toting around the course. Therein lies the problem – I want to enjoy the zen of golf while still having easy access to reliable yardage. With the Golf Buddy Voice I finally feel like I have bridged that gap – in fact, it took me only one round to appreciate how well the Golf Buddy balances technology and aesthetics – Steve Jobs would have been proud.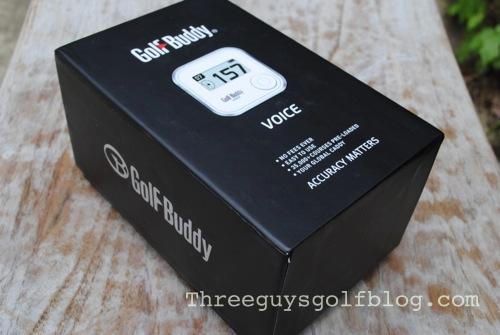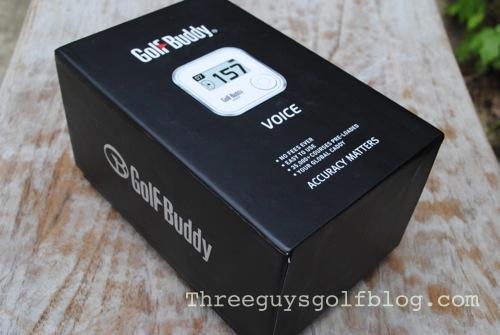 In my opinion, Golf Buddy Voice has essentially said "less is more," which goes directly against the philosophy of every other GPS unit that is packing more features and buttons into every release (not to mention the increase in size). The Golf Buddy Voice is only about 1.5″ x 1.5″ and can clip on your belt, hat, or just be put inside your pocket. Instructions? Here they are:
1) Turn it on
2) Wait a few minutes for it to find your course
3) Press the button to hear a nice lady tell you the yardage
4) Shank the ball into the woods
Well actually, #4 is optional, but with over 35,000 courses pre-loaded and no annual fee, the Golf Buddy Voice is essentially your personal caddy. The first time I played with the Golf Buddy, I felt completly freed of gadgets and was able to get back to hitting shots (I shot a 79 that day, which is about 2 strokes lower than my average for what that's worth). And to be honest, I am probably delusional to think I can dial in much more than the center of the green (don't fear, Golf Buddy Voice has yardage to back and middle as well).
The only goofy thing I encountered is that the unit once thought I was on a different hole because the course layout was tight. However, you can simply hit the select button and the + button to toggle to the correct hole. Again, this only happened to me once, but until I went back to look at the instructions I was at a loss as to what to do because it is kind of like an iPad with only one button (it actually has about 5 but you really only use one of them).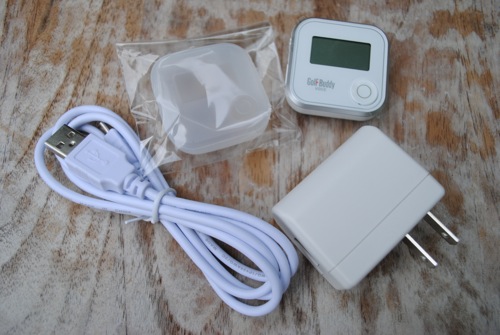 So this is what you get in the box: Golf Buddy Voice unit, USB or wall charger, rubber protector. Despite the simplicity, the Golf Buddy Voice still packs a punch. Namely:
Audio distance information (it tells you the distance)
40,000 course capacity (from all over the world)
No annual or download fees
Distances to Front / Center / Back of the green
Automatic course & hole recognition
Shot distance measurement
Multi-lingual
Dynamic green view
Volume control
Supports multiple greens
What this means for me is that I simply clip the Golf Buddy Voice on my belt, turn it on, and forget about it. When I get to my ball, I just hit the button and I get the distance to the center. You can also look at the screen, but I prefer to have her tell me the yardage. I can toggle through using the button to get distance to the front and back, and I can also mark my ball after a shot to get carry distance. In terms of the battery, you can easily play a 6 hour round with no problem.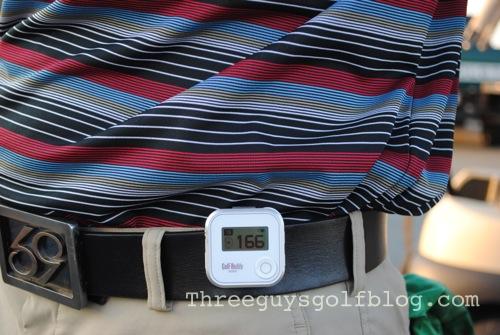 Again, the key difference from a larger GPS unit is that I don't have to tote it around or look like an IT geek with it clipped to my belt. When I compare it to a phone app, the big advantage is that it frees me from the device I hate when I am on the golf course (my cell phone). Yes, I know that sometimes getting yardage to carry a hazard is important, but that's what I have friends for, right? Seriously, sure there is some information you give up with the Golf Buddy Voice but in terms of ease of use and freedom from bulky devices, I have never seen anything like the Golf Buddy Voice. I absolutely love the Golf Buddy Voice!
You can learn more about the device on their website.