J. Lindeberg Golf Apparel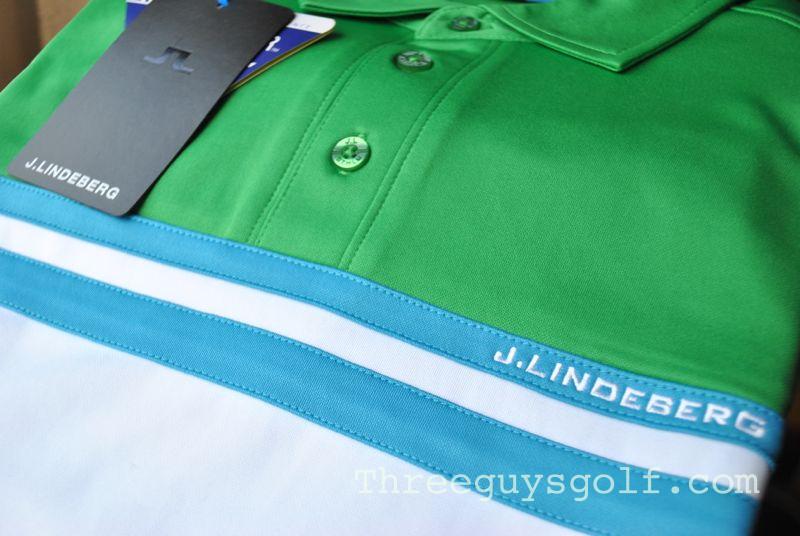 Being the primary apparel reviewer for Three Guys Golf, it is pretty hard to "wow" me simply because I get to see so much gear. The majority of the apparel I review I would categorize as "really good", but every so often a brand sticks out as truly exceptional. J. Lindeberg falls into that category. For this review, I was able to try out a number of pieces including pants, shorts and polos (from both their cotton and tech line).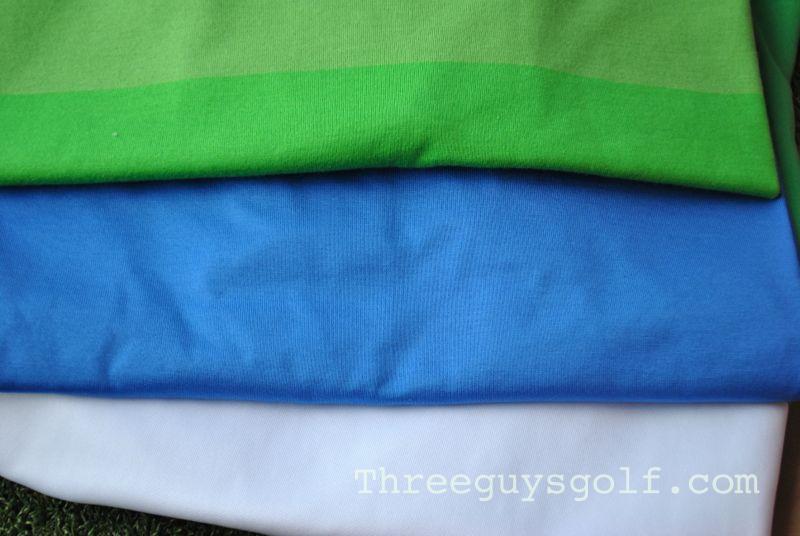 J. Lindeberg is a Swedish company that makes high end apparel that ranges from shoes to jeans to blazers to golf shirts. Because it is a Scandinavian company and is primary sold in retail locations and clubhouses, for many golfers it is not a household name. On tour, Camilo Villegas is the brand's most noted ambassador, although they do have a number of other players on the PGA and European Tours (most notably Jamie Donaldson). 
If, however, you are one of those who is familiar with the brand, you likely think of the company as a way-too-hip Euro brand that is only suitable for super good looking athletic golfers. While it never hurts to have Camilo's looks, I think brands like J. Lindeberg often get wrongly overlooked for this reason. The fact is, well designed apparel looks good on everyone.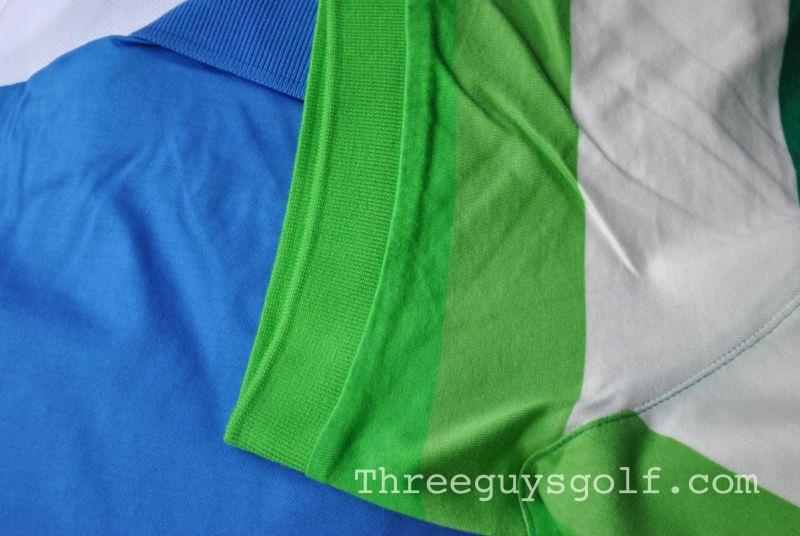 Upon receiving the package from J. Lindeberg, my first impressions came by way of inspection of the fabric. In my opinion, this is where exceptional apparel stands out. Imagine doing a blind "feel test" where the only way you could judge a golf shirt or pair of trousers was based on touch. The fact is, most golf shirts feel the same because they are made with a very standard tech material. On the other hand, with the  J. Lindeberg apparel, I could immediately discern the level of quality.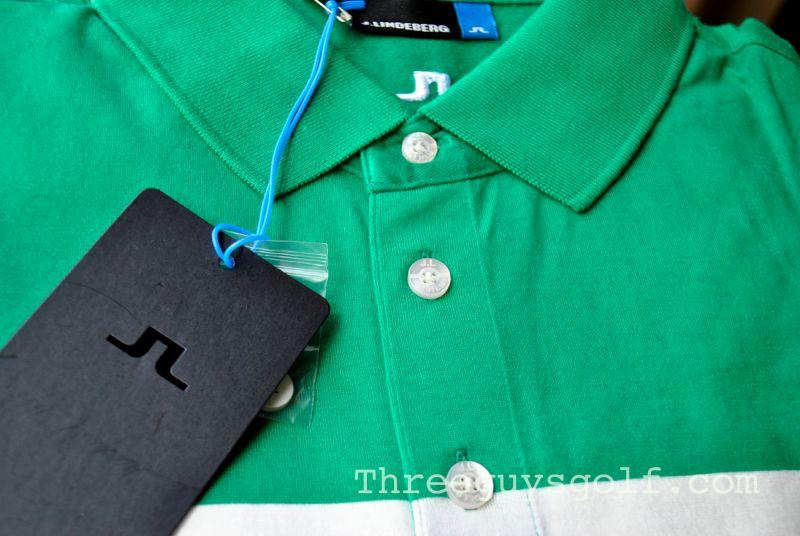 As I mentioned, J. Lindeberg sent us a full complement of their golf apparel so I had to opportunity to get a thorough look at what they had to offer. Starting with the polos, since that is what most people focus on, I broke the shirts into two categories: cotton and polyester.
On the polyester side, I received the Gustov Fieldsensor. What makes this shirt different than your average golf polo is the combination of pattern, texture and cut. As you might imagine, the cut is fairly European (although sizing is standard). The sleeve length is short, the collar is small, and the tailoring athletic which gives the shirt a svelte look that complements a thinner player. With that said, they also sent us an XL polo for one of our larger bloggers and it looks great as well. The lesson is that athletic fit polos are also complementary to those with less than world class body shapes.
Beyond the tailoring, I really like the raised fabric on the Gustov. The addition of the over-sewn stripe give the polo a level of distinction that your average golf shirt lacks, and because the stripes are all at or above shoulder level, the shirt does not accentuate the gut area. Plus it is super easy to pair with either light or dark shorts. From a care standpoint, the polyester shirts are simple wash and dry. They look fine and hold up well with little additional care.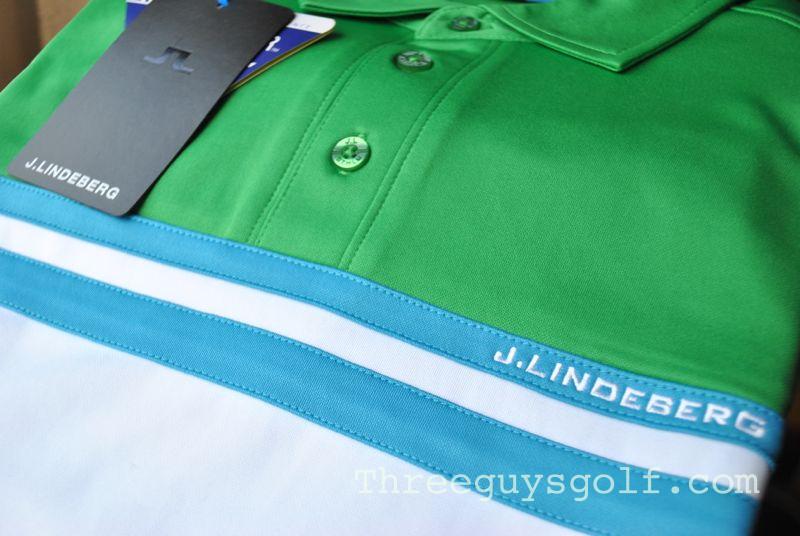 As much as I like the poly shirts, I absolutely love the cotton shirts. The three cotton J. Lindeberg shirts I received were the Wayatt Reg Lux Stripe Jersey, Travister Slip Jersy and M Marwin Jersey. The Wayatt and Travister are Lux cotton while the M Marwin is a 50/50 cotton poly, giving you the best of both worlds.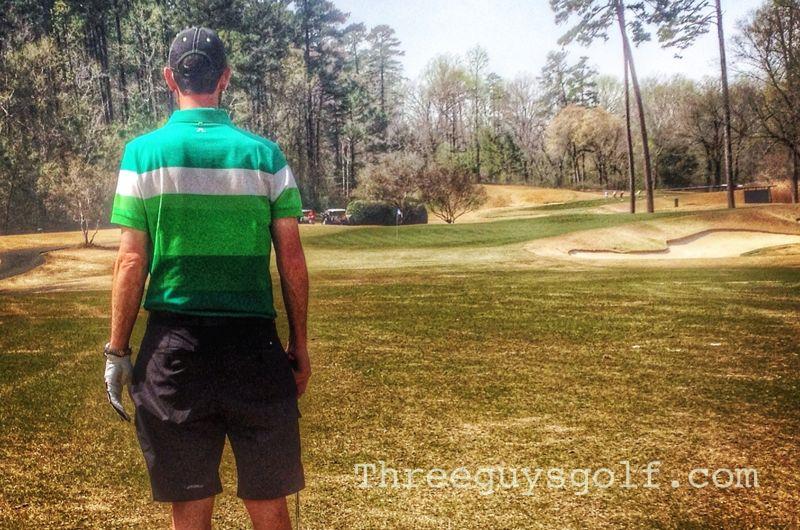 These three shirts have instantly become some of my very favorite. The Wayatt (show above) is made from some of the softest cotton I have worn and features wide green hued stripes. This is a cotton lover's dream as it is just crazy soft, but not too heavy that you cannot wear it in the heat.
Like the Gustov, the Travister Slip Jersey utilize overstitched fabric to accentuate additional features. In this case,  striped taping has been added to the shoulders.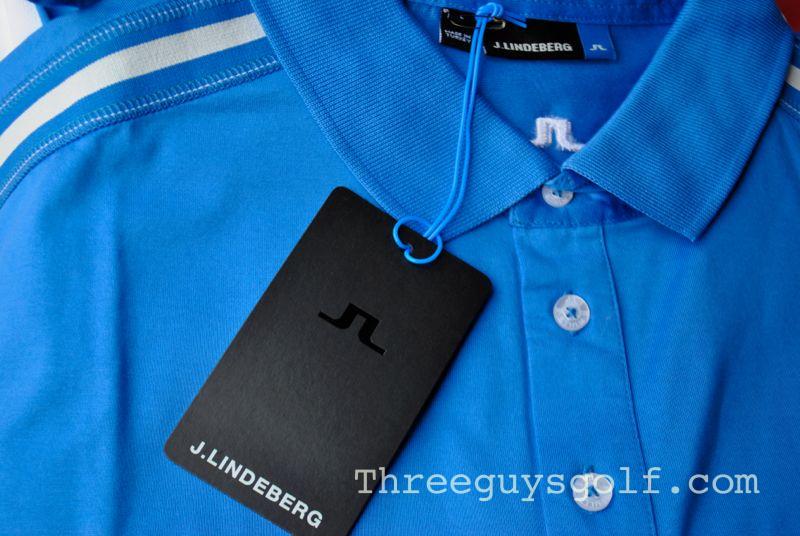 We see this feature again in the M Marwin,which has small colored blocking on the sleeve and taped ribbon in the placket. By simply adding a layer of detail, a common blue shirt now stands out from the crowd.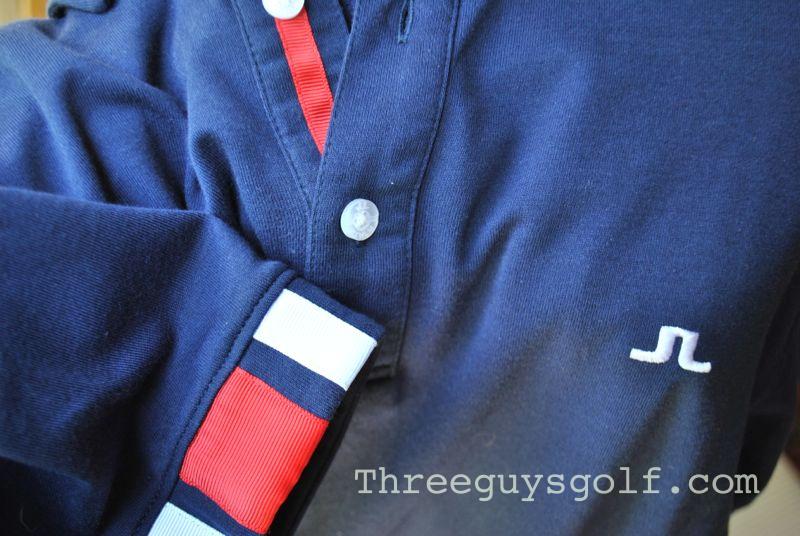 If you play in milder temperatures or simply prefer the look and feel of cotton versus tech fabrics, these J. Lindeberg polos are absolutely some to the best I have worn. For me, the slender cut works well for my body but I also think that guys who are larger will also appreciate the tailoring. Too often big guys wear over-sized shirt to try and hide a middle-aged belly when in fact they would be better served by wearing a solid colored cotton polo that actually fits properly. The reality is that with a smaller collar and shorter sleeves, the polo will draw attention to your chest and arms rather than your stomach.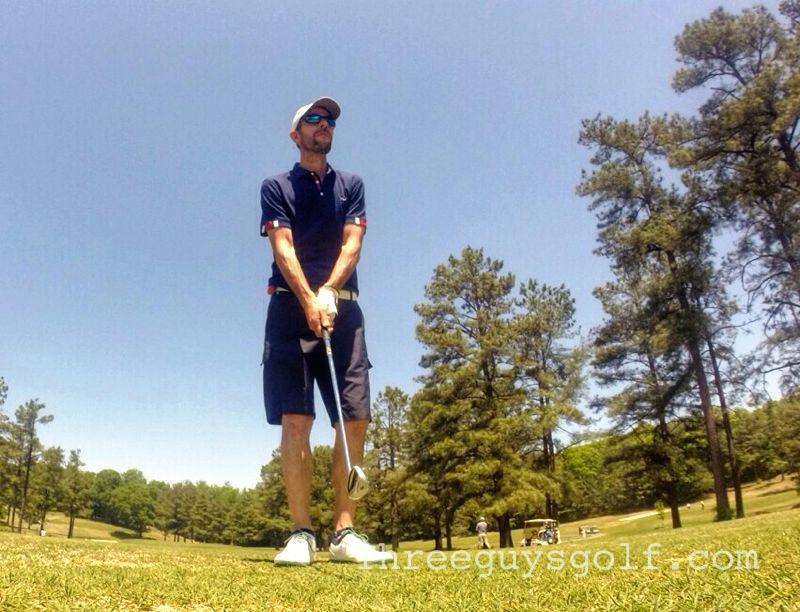 The only downside to the cotton J. Lindeberg polos is that they are not super easy to care for. If you choose to wash them you need to make sure to iron while damp or steam them (do not put these shirts in the drier). So yes, these are high maintenance shirts which is a bit of a downer for me because I am super lazy about caring for my shirts. With that said, it is kinda worth the the hassle because they look so darn sharp. Each of these polos have become my "big match" polos as they absolutely blow away nearly every other shirt I have (and I have about 60).
Moving on to the shorts and trousers, J. Lindeberg sent me their M Troon pants and M Lawrence shorts. The fabric used in the trousers is called Micro stretch which basically means they are a light polyester. These pants are perfect for fall and spring, and for those of you who like to wear pants even in the summer, they are light enough to be comfortable. Fitting is very standard so no reason to worry about skinny euro leg sizes. I would classify these pants as absolutely tour appropriate.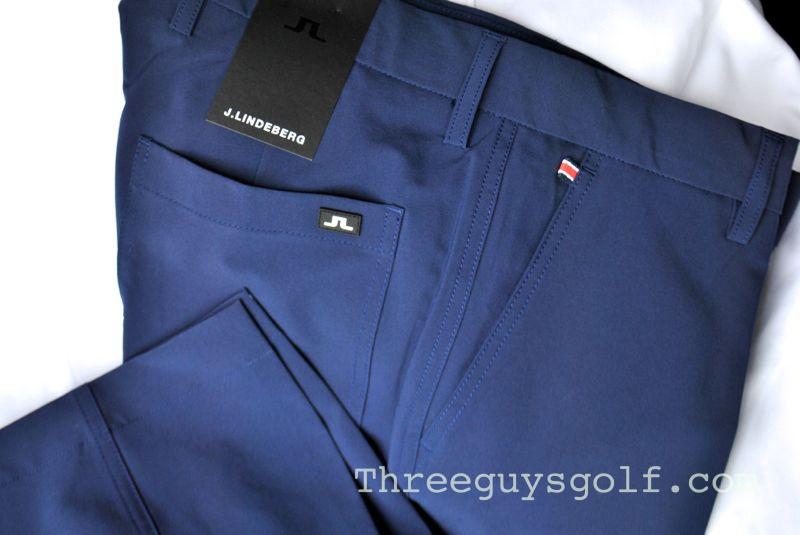 The shorts are also made from 100% polyester but they have a silkier look and feel (almost a sheen). For me, this means they resist water (or spills) and clean up in a snap. Playing in humid weather is no issue with these shorts as they are completely chaff free. Pockets are deep and rather than buttons the back pockets utilize velcro.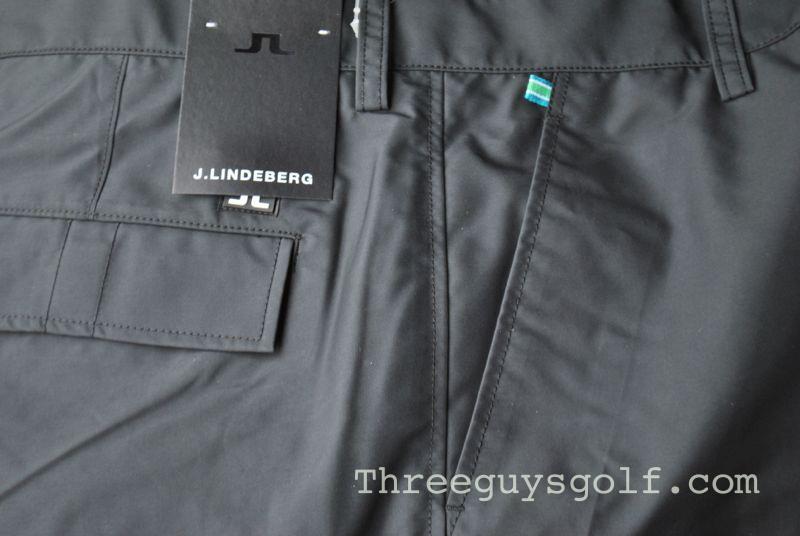 What I really like about both the shorts and pants are the fact they are stupid easy to care for. Wash and dry and they look just the same as when you first got them. They are also made to look good on just about anyone. Heck the shorts even have cargo pockets (albeit not overley noticeable). My only nit-pick on the shorts is that they do not have any rubber tapping on the waist which helps in keeping you shirt tucked in.
Three years ago I stepped into the J. Lindeberg booth at the PGA show, but being a total newbie to the golf blogging world, I did not get the opportunity to really explore the brand. Fortunately, we have reached a point in which we are able to get a first hand look at this premier clothing line. While I wish the cotton polos were easier to care for, I am 100% impressed with their golf apparel and would highly recommend the brand to discriminating golfers.
You can see the entire line of golf and lifestyle apparel on the J. Lindeberg website.