Martin Golf Shirts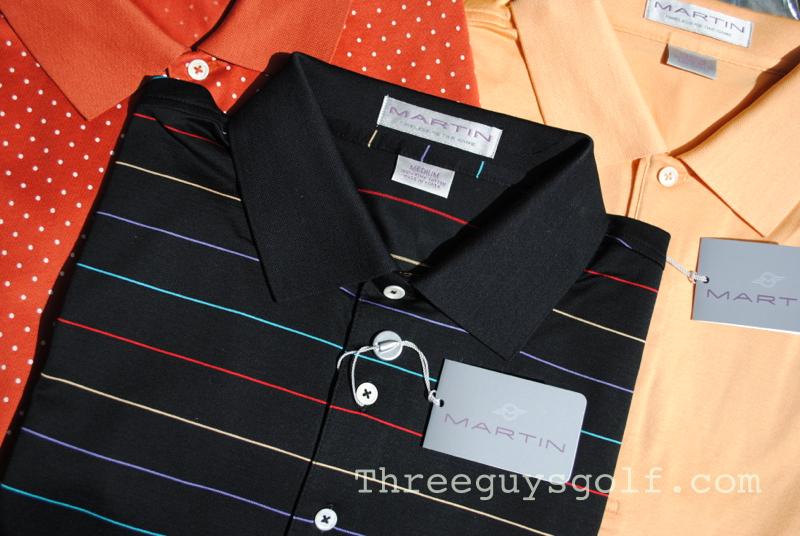 A long time ago in a galaxy far far away golfers used to wear cotton polo shirts. Now of course, 98% of golf shirts you find in your local big box store are some type of polyester performance shirt. Awesome if you have abs of steel and are 25 years old. Not so much if you are pushing 50 and like to eat three square meals a day.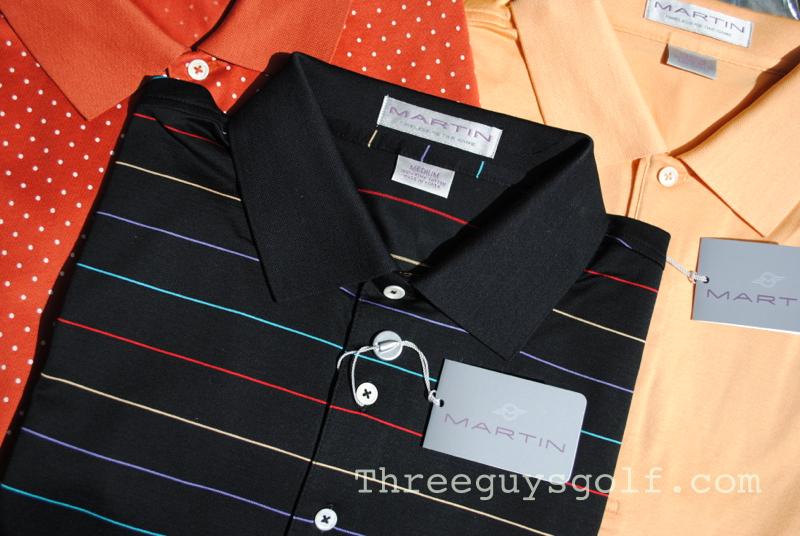 After selling the successful golf company, Fairway & Greene, Rick Martin is back in the saddle with a new venture, this time with his own namesake – "Martin". Sold exclusively at private clubs, Martin is aimed at the golfer who is more traditional in style and sees value in an $85 golf shirt that can be worn on or off the course for the better part of ten years.
Yes, ten years. While I cannot personally confirm that Martin shirts hold up this long, Rick assures me that because of the quality of the cotton and the manufacturing process, the Martin shirts will look like new for years and years. In my case, I have washed the purple shirt many times. After each wash (mixed in with every color by the way) the collar is well shaped and the sheen has been retained. In other words, it still looks money.
So let me get back to the issue of fashion for a moment. We have all watched old PGA footage from the 70's and 80's where most of the guys are wearing a cotton polo and for the most part look like dopes which begs the question, why would anyone want to go back to that era? Admittedly, I like a hipper shirt than many of the styles Martin designs but that is not to say that Martin shirts are only for the older more conservative golfer.
If I were to try and categorize Martin, I would say that there are times you want to look look good and times you want to look "country club good". In other words, Martin is perfect for when the boss invites you to play a round at the swanky country club and have cocktails afterwards (or if you are the boss who belongs to the swanky country club). On the other hand this is not the time when you reach for the techno print and red shorts.
During my conversation with Rick Martin, I asked him what he thought of the current state of style on the PGA Tour. Being diplomatic, Rick pointed to guys like Louis Oosthuizen, Darren Clarke and Vijay Singh as some of the best dressed players on tour. Others he said "look like they are wearing a costume"…ouch.
Beyond the look of a cotton polo, Rick also educated me on why cotton is better. First, he explained that only natural fibers are made to properly drape. Said another way, unlike clingy polyester, a well tailored cotton shirt compliments a "mature body" rather than highlighting a few extra pounds. Additionally, cotton is meant to move with you and allow for the motion of a golf swing.
In terms of sizing, Martin definitely runs big. I was pretty much swimming in a medium (my normal size). The small on the other hand fit great. While the arms are a bit longer than many euro shirts, they are still above the elbow. They are, however, plenty long so you will have no problem tucking it in.
You can learn more about Martin on their website.