Nike Performance Carry Bag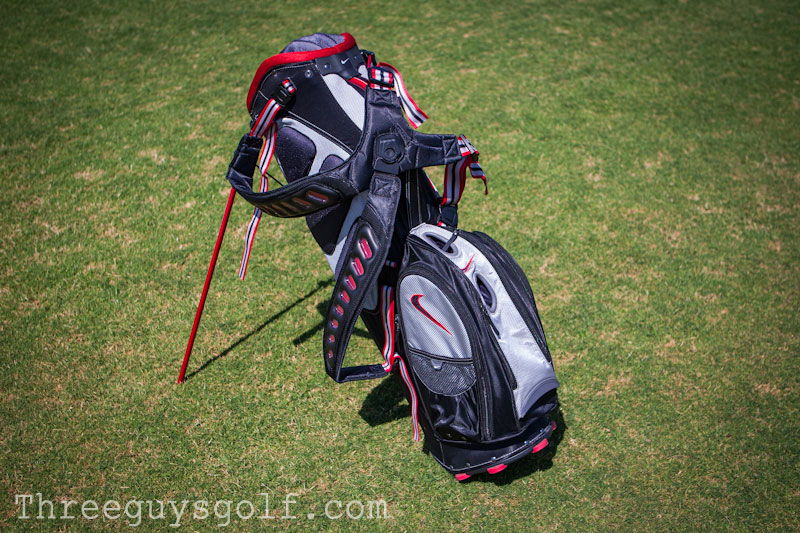 Nike Performance Carry Bag Review: Thanks to a really poor bag selection I made 8 months ago, I am now an expert on want I DON'T want in a golf bag. Now when I walk through the golf section, I'm not nearly as interested in style as I am in functionality. Yup, I am the guy opening pockets, pulling zippers and turning bags upside down to check the base for structure and stability. I guess you could say I've broadened my horizons on what to look for in a bag.
As a reference, 100% of my course time is spent using a golf cart. Out here in the desert you don't find too many nutcases walking the fairways. Even for me, being acclimated to the heat, it's just too freaking hot so a cart bag is the logical choice. However, off the course I spend a lot of time at the practice facility and my garage working on my game where a carry bag is much more convenient. You can see my dilemma. Cart or carry? Well, I've had them both and I just haven't been able to decide which type of bag is right for me.
So ever the optimist, I was willing to see if Nike Performance Carry Bag would fit the bill.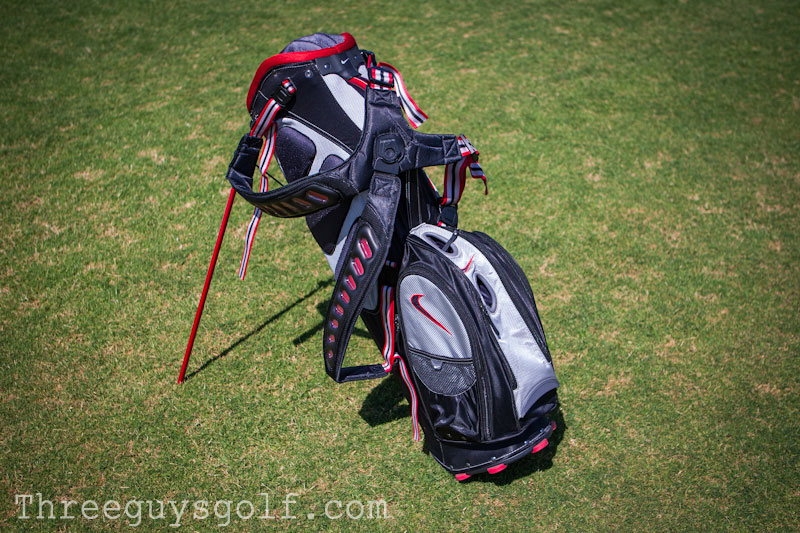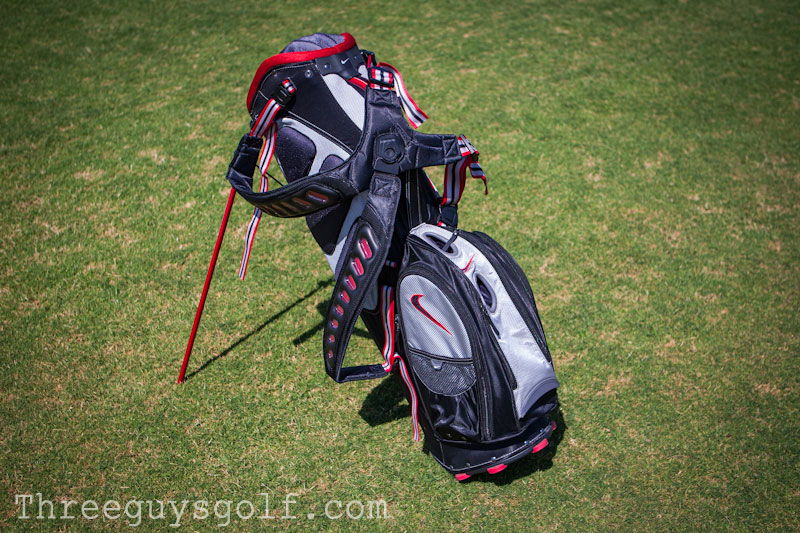 To my delight, I have found the Nike Performance Carry bag is creatively crafted to meet the needs of a player just like myself. Be it on a cart, on your back, or just propped up next to you at the range, this bag has some fantastic "feature meets functionality".
One of the features I like best about the Performance Carry is the ability to completely remove the shoulder or backpack straps. You'll understand just how awesome that is when the first time you reach into your bag for something and you don't have to weave through a jungle of adjustment straps & pads just to get to a tee or a ball.
The 14 slot top is another feature that tops my list of likes. After a few outings with the Nike bag I realized just how much I missed my original cart bag that had a 14 slot top in it as well. I've been suffering through slot deficiency lately with an inadequate 6 slot bag. With the 14 slots it's much easier keeping a neatly organized bag; it's a good way to check your clubs too, because an empty spot stands out like a sore thumb.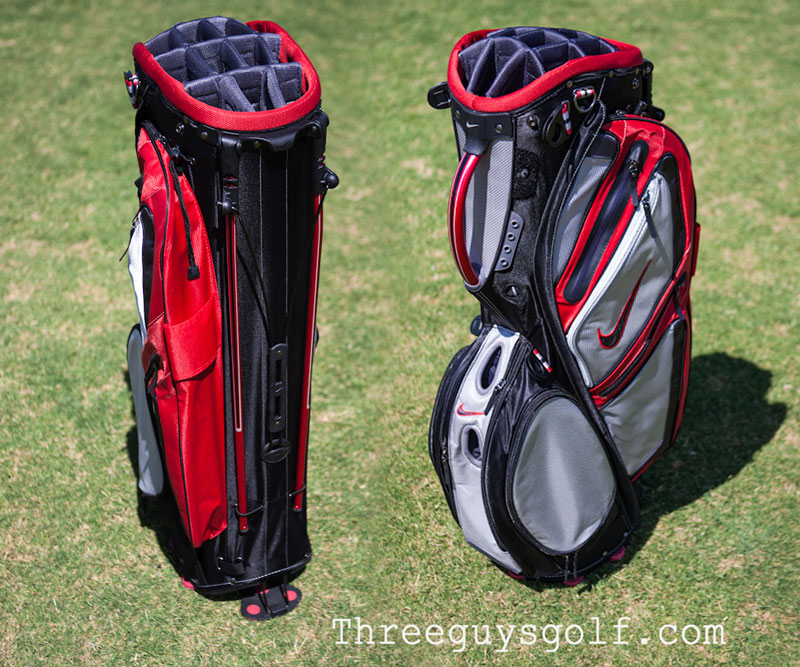 Without the backpack straps the bag is fantastic, simple and clean but it is with the straps where the bag takes it functionality to the next level. The straps are super comfortable and look great too. With the bag fully weighed down (no, I ONLY carry 14 clubs, but I really loaded the sucker up) it was a breeze to walk around with. The pockets are strategically placed to be right where you would need them, and not where they dig into your back when it is carried. In fact they have beefed up the cushioning to make it even more comfortable when being lugged around.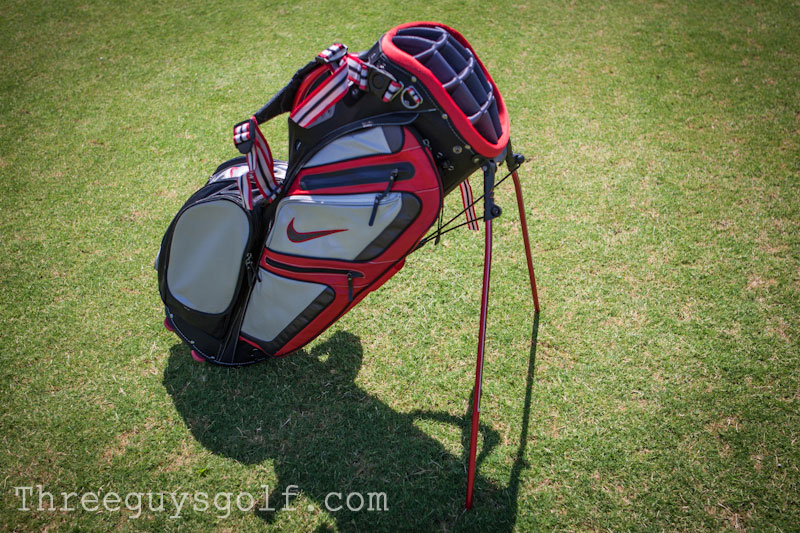 Speaking of pockets, there are just the right amount for you to house all of your on the course essentials throughout the round. There's a nice LARGE valuables pocket where you can actually store some valuables. There is also a handy thermo pocket, one that I use to keep my club cleaning tool in and my finger tape – I call that one the maintenance pocket. There is of course the ball pocket and the tee pocket that are conveniently located where they are easily accessible if being used on a cart. There is also a large garment pocket that takes up the majority of the bag in the right side (if looking at it from the front). This is a great place to store a rain suit or a pullover. NOTE: while the the garment pocket is wide, it is not large enough to put a pair of shoes.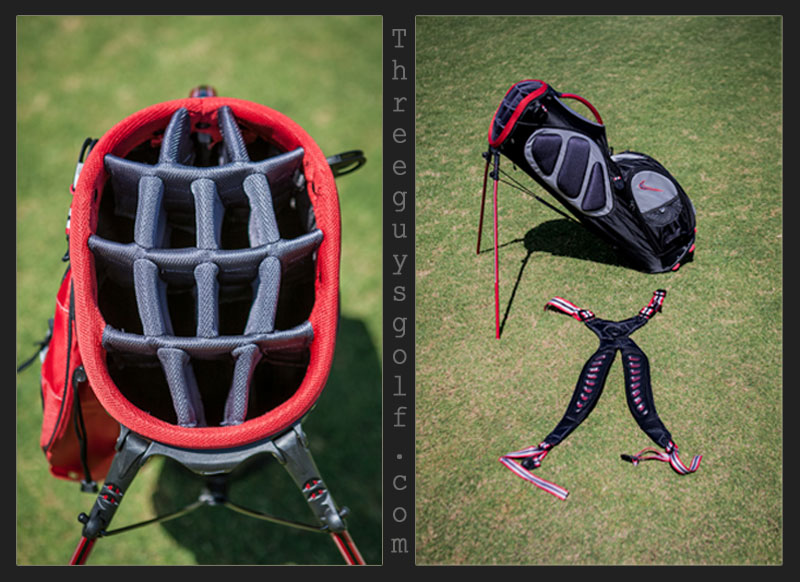 If you've ever had the delight of placing a stand bag on a cart you fully understand how the designers of golf carts really never considered a player that walks would EVER use a cart. They never fit in the floorboard where the bags go due to the extra legs and wide base. Let's just say by some miracle you are able to get the bag securely in the cart . . . then the pockets are rendered useless in the event you, for some odd reason, need to get something out of one of those pockets. Maybe it's  because you had to push and twist to get it in the cart in the first place and the only way it stays in place is when its completely sideways. You could say I've had a hate/hate relationship with my bag and cart situation for a while now.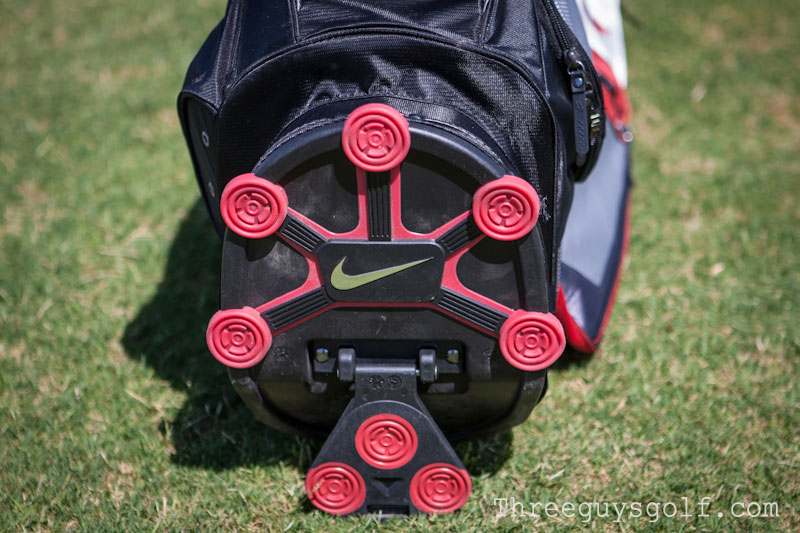 Those days are history. Nike Golf has figured out, through some major break in intellectual advancement, that it is possible to to have a carry bag and use that carry bag on a golf cart. For them I have just one word; BRILLIANT! Six rounds of golf and I don't think I've had to make one simple or slight adjustment to the bag while on the cart. It is a tight snug fit that even with the cart strap securely in place, you still have access to all your goods in the pockets. That was something I haven't experienced in a long time!
You're not going to hear anytime soon about me trekking my way through 18 holes via my own two legs, at least not in the summer, but since moving my gear over to this club carrying masterpiece it's no longer a sure bet that I'm forever cart bound. Pebble Beach could be that much better of an experience when I go there next year and for that, Nike, I thank you. You nailed it with this one!
I don't think they missed one detail when they basically took the best features from two different types of bags, carry and cart, and combined them into one all-around state of the art golf bag, The Nike Performance Carry.
The Nike Performance Carry runs about $220. You can get all the technical specs about the bag from the Nike Golf Website.