Old Guys ROOL Day 1 at The Open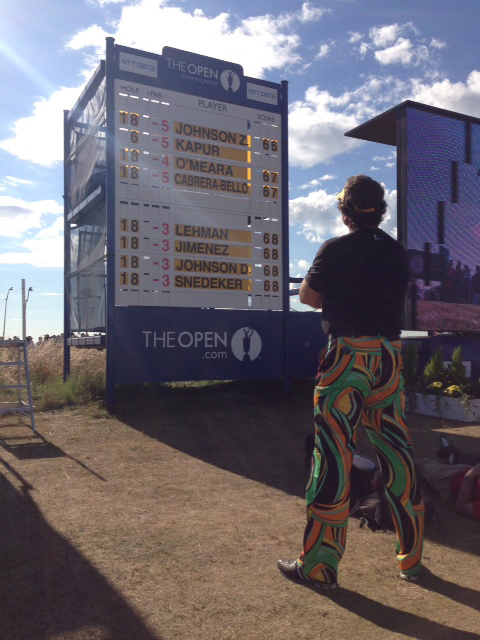 Just look at this subset of the overnight Leaderboard golf fans – Let's take a gander at these Rocks of Ages!
T2  -4  Mark OMeara                Age 56
T4  -3  Tom Lehman                 Age 54
T4  -3  Miguel Angel Jiminez    Age 49
T9  -2  Todd Hamilton               Age 47
Between the four of them are 206 years old!
I can't tell you how many young future X-girlfriends I have assured over the years that Old Guys ROOL!  If any/all are reading this blog, maybe they'll start paying attention to me now, at least on this subject. These are clearly virile old blokes that can still hit the ball and putt lights out. They aren't taking Viagra, they are hitting on 20-somethings. Heck, they learned it from the Master, Arnie is probably in Orlando right now taking a run at a waitress on Sand Lake Blvd!!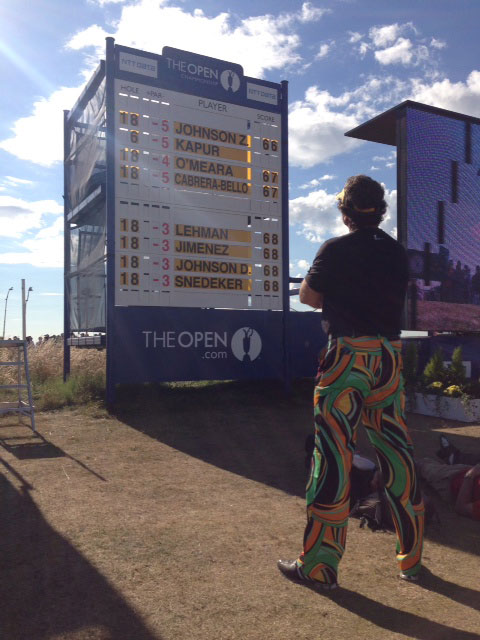 The cutest incident that happened yesterday (and I don't use the term "cutest" lightly, makes me feel little fluffy) actually took place in the bathroom! Yes, the Loo, the Toilet. They have fabulous and reasonably clean port-o-potty's here at the Open, not single doors, but full edifices w rows of urinals and toilets. It was late afternoon as I trotted in to rid myself of the useless 0% alcohol liquid remnants Bollinger & Glenmorangie when right behind me a guy strolled in w the same thought, but he was on a call w his speaker phone on. The toilet was about half full, about 10 dudes hangin out (literally), and it became apparent very quickly that Daddy was standing at the urinal and talking to his kids on speaker phone for us all to hear:
Daddy: "Are you getting into bed girls?"
Kids: "Yes Daddy, we are."
Daddy: "Did you brush your teeth?"
Kids: "Yes Daddy, we did."
Daddy: "Make sure you …"
Kids innocently interrupting with the cutest little 5 year old London accent you'll ever hear: "Daddy, are you in the Loo?"
10 fellow wizzers exploded into raucous uproarious drunken laughter …
Ross McFarlane is an X-European player who hacked his way around the Tour for nearly a quarter of a century and now finds himself working as a verry popular commentator for Sky Sports and this week for @TheOpen Live Radio. He runs around Inside the Ropes constantly w full radio transmission equipment hanging off him looking quite a bit like the European version of an on course David Feherty. He's a cheeky bastard too and comes up with all sorts of very descriptive lines and hilarious interview questions.  Ross also happens to be a big fan of Loudmouth and rightly claims that the pants make his job easier. It is impossible for him to walk down the range without multiple golfers taunting him about his pants which is always the perfect lead in for an interview.  "Since you clearly LOVE my pants, let me ask you a couple of questions about …." and the golfer is always ready to comply since they opened the door to a parry w the initial thrust.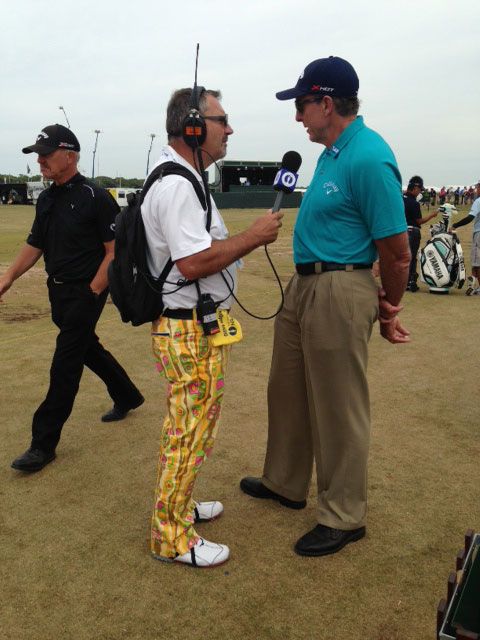 On Thursday during the Open Championship telecast here in Europe a camera crew was driving along the edge of a fairway catching up to Tiger and they drove right past Ross moving in the same direction, the crew slowed down to get a full 10 seconds of Ross's arse in his Disco Balls.  The Famous golf announcer Peter Aliss had a classic and rarely heard bit of commentary about Ross and his Loudmouth pants:
"My word … What just passed the camera? It seems we got a shot of Ross McFarlane working for The Open on course radio, he looks to have some sort of rash on his legs!"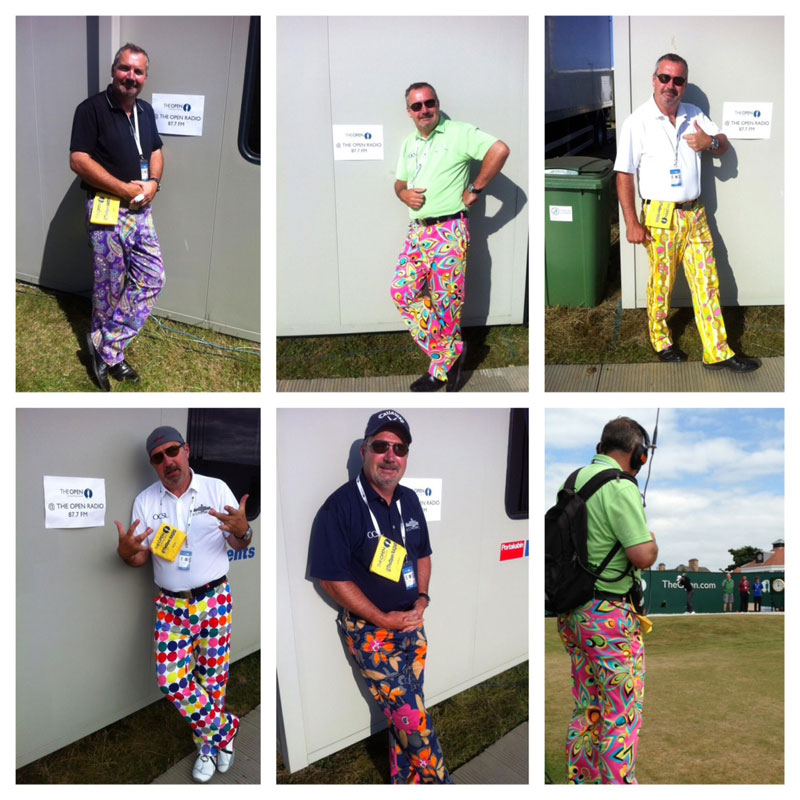 Ross has had quite a few great quotes on the radio himself this week too, a couple of my favs have been:
"The bunkers have a face like Monty after a 3-putt"
"It's so hot that I'm sweating like a dyslexic on 'Countdown'!" (British game show involving word & number puzzles)
That's it for today my fab blog readers, I'm heading to the course to try to find The Open Chaplain, Yes there is one! I want to find out if he thinks God takes an active hand in helping the winner as Bubba Watson & Webb Simpson seem to believe and expound upon.
[box]Larry Jackson "LJ"
Contributor
CEO of Loudmouth Golf. Bi-coastal resident. SF Giants fan. Private pilot for Loudmouth Air.
His dream foursome would be to play with Adrian Young (drummer for No Doubt), Alice Cooper, and Justin Timberlake. Larry claims he is the best golfer on the Loudmouth team.[/box]