Crocs Golf Shoes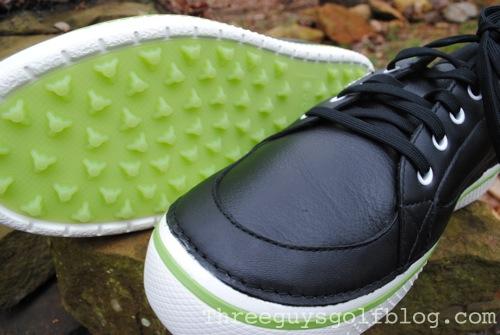 Crocs Golf Shoes: Let me start by saying that I have never ever owned a pair of Crocs, nor have I ever wanted to own a pair of Crocs. This is not to say I have never bought a pair – it's just the opposite as I think I have plopped down cash for at least 12 pairs between my three kids, but zippy Crocs for this guy. So in the spirit of non-judgmental reviews, I figured I was the perfect choice.
I first became aware of the Croc Golf shoes at the 2012 PGA show  while strolling around the 9 million square foot venue . . . I literally made a double take when I passed their booth. What I saw reminded me of Crocs but were somehow different, somehow much cooler, somehow not as "crocish" as the Crocs my kids decorated with doo-dads and stomped around in. Well one thing led to another and the next thing you know, three pairs showed up and I was off to the races.
Unlike some golf shoe companies that have basically one look with various color options, Crocs are widely styled but maintain the distintive Croc look – kinda like the Baldwin brothers. So no matter if it is in a saddle, black or wing-tip version, the Crocs vibe is apparent and unmistakeable. While I liked all three styles, I was pretty jacked that the black Braydn version was my size.
One of the first things I noticed was the nubbed insoles, which is kind of like having a Sharper Image foot massager inside your shoe. Nothing new to long time Croc lovers, but a whole new ball game for me. I have no idea of the science behind the Crocs but there is definitely a springy feeling when you walk, much like a new running shoe has. I guess this should not come as a surprise as Crocs whole gig is that they make virtual sponge for your feet.
In terms of the sole, I think one of the best features is the matching accent color they used to tie the whole shoe together, ie green sole with shoes that have a green trim and orange sole with the orange trim. As for the actual cleats, they are plentiful and sturdy. There is no slipping with these shoes as you have a virtual mouth full of gator teeth to grab the earth. As and added bonus, there is a nice gripping sound when you walk on pavement that reminds me of the days of metal spikes but in the rubber version. Despite the excellent traction, the spikes are not too bulky allowing you wear them anywhere without feeling like you are wearing golf shoes. In fact, I am pretty sure these are the same shoes Hank Haney wears 24/7 – or at least every time he is on TV (same thing?).
For the purposes of this review, I took my new Crocs to Pinehurst for a 3 day, 5 round golf outing. I figured, what better way to see how they hold up. From a comfort standpoint, I love 'em. 36 holes in one day demands a shoe with lots of cushion and is not too bulky. Moreover, I was not is any rush to shed the shoes in between rounds or even after we finished our marathon day. In fact, I put them on in the morning and did not take them off until nearly 8pm (as opposed to a bunch of guys who would quickly ditch their spikes to throw on their flip flops as soon as they finished their 1st round).
While Croc golf shoes certainly have a "look", I personally like the style and have made them my current shoe of choice. The only issue I found, and I think this would be the case for any non-traditional spiked shoe, is in pine-straw. While I had no problem with grip in the fairway, sand or rough, I did find it a bit hard to "dig in" when hitting out of deep pine-straw which is prevalent in Pinehurst. Other than that, I was absolutely thrilled with the Croc golf shoes.
A quick note on the Drayden shoe which is slightly different than the others as there are holes throughout allowing for added ventilation. This is a really nice feature for summer time play.
Finally, all of the Crocs are less than $100 so they will not break the bank. My only wish list item would be that they were offered in half sizes.
So there you have it, a full confession from a former Croc hater. I am going all in, these buggers have style, performance and comfort. What more do you want? Hank Haney's name inside? Oh yea, they have that too.
You can learn more on the Crocs website.
Three Guys Golf Blog is giving away TWO FREE pairs of Crocs!
We are giving away 2 pairs (your choice of style and size). Simply leave us a comment or tweet this post. Contest ends June 22th. We would sure love for you to follow us on Twitter too!
Winners: CONGRATS to Logan and @chineline