Holiday Golf Shopping Ideas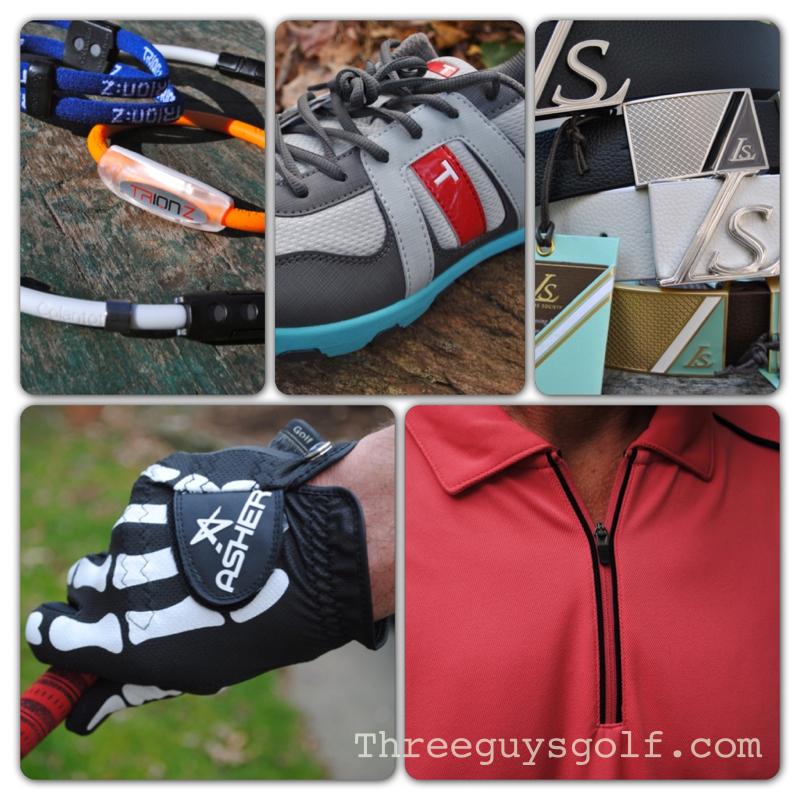 Three Guys Golf Holiday Golf Shopping Guide
Over the past year we have reviewed nearly 100 products, so we thought we would give you a list of some of the best items that make great gifts. NOTE: this is not our "Best of 2012" list since we have limited this to gift friendly items. Therefore, you will not find drivers, putters or other things that are too personal to give as a gift. All of these items have either been reviewed or are in the process of being reviewed and all get our "thumbs up." With that disclaimer, here is our list.
NOTE: We have added links to both the company website and to our product reviews. These links are noted as such.
[box] Golf Gifts Under $50[/box]
Golf Gloves:
In 2012, we played in 4 gloves and really liked them all. In no order we have the Taylormade Tour Preferred which is a super soft classic glove, the colorful G-Fore, the funky/hip Asher glove and the last forever Hirzl. Each one of these gloves is not only unique in style, but has proven to be very well made and long lasting.
Golf Must Haves:
Trion-Z: A mainstay on the wrist of many athletes, these magnetic bracelets are fashionable and might even help your game.
Club Glove Caddy Towel: Matt, Wade and I all carry this towel and each of us loves it. It is tough enough to clean your clubs but is also soft enough to use on high end sun glasses.
Champ Fly Tees:I have always hated (or thought I did), plastic tees, but the Champ Fly Tees are awesome. They don't  break and you can find them easily.
Express Yourself:
Kentwool Socks: Just about the best socks on the market. They make a number of versions including the new 19th hole collection which will turn plenty of heads. Honestly, the Kentwool socks are the best sock I own. While they are more expensive than your regular sock, they are totally worth it. This is one pair of socks that will actually be a welcomed gift.
Wyoming Creative: Hand painted Tees and personalized ball markers. Yes, it is a bit of over-kill but that's the point of gifts right? Really cool!
[box] Golf Gifts By Category[/box]
Golf Headcovers:
I can easily recommend four headcover companies to choose from. Each one makes awesome stuff. Just 4 Golf is more on the economical side while Stitch, CRU and Jan Craig are on the higher end (but amazing quality).
Golf Belts and Buckles:
I am a huge fan of belts and buckles. This year we have reviewed a bunch. For the more conservative golfer, the Adidas Trophy 2.0 belt is a nice option and runs about $60. For those who are looking to expand the style circle, options by The White Ball, 59 Belts, Druh and Leisure Society are highly recommended. All of these options run about $100-$125 and while  a bit more expensive than your big brands, they will not disappoint.
Golf Shoes:
While it is often hard to pick out shoes for others, I am going to simply tell you which shoes each one of us is currently wearing (the assumption is that this is our favorite pair we have reviewed). I am absolutely loving the True Linkswear Sensei, Wade is partial to his Ashworth Cardiff and Matt is loyal to the Adidas PureMotion.
[box] Golf Apparel[/box]
The list of golf apparel we have reviewed is pretty long, so I am going to give you three categories with suggestions for each. I have categorized these by the basic style influence. We have worn all of this gear and have given them the thumbs up.
Traditional Golf Apparel:
You cannot go wrong with any of these companies. They come in standard colors that anyone will like. The materials are high quality and the fit is great. Below are pictures and links.
Our Reviews: Antiqua, Energy Athletic, Leisure Society, Page and Tuttle, ,
Company Websites: Antiqua, Energy Athletic, Leisure Society,  Ashworth, Tommy Hilfiger, Page and Tuttle
As you can see we have reviewed a ton of apparel this year, but honestly it's all great stuff. Check the reviews for more product shots of each brand.
Progressive Golf Apparel:
If you are shopping for a younger golfer or someone who likes to stand out a bit, check out these companies who are pushing the style envelope.
Leading Edge Golf Apparel:
Wanna really go big? Below are some of the loudest golf apparel companies on the market. Not for the meek, but those who have the guts will be sure to make lots of friends.
Our Reviews: LoudMouth Golf, Royal and Awesome, Tattoo Golf, Bunker Mentality, Sub 70,
Company Websites: LoudMouth Golf, Royal and Awesome, Tattoo Golf, Bunker Mentality, Sub 70,
Golf Outerwear:
As the weather turns cold and rainy, it's a perfect time to gear up. This year we looked at three jackets. The Mizuno ImpermaLite Flex Rainwear is simply amazing and will keep you bone dry. The Nike layering is a great way to take on the ever changing temperatures throughout the round. And the Bunker Mentality wind jacket is an super affordable way to add some zing to your style while staying warm.
Ladies Golf Attire:
Not to forget the ladies, we have done a number of product reviews that are women specific. All of these companies offer great style and functionality and have been approved by the "two Sues." From top left down we have:  Iconic Sports, LoudMouth Golf, Queen of the Green, Page & Tuttle, Fairway Fox, Oxford, Tracey Lynn and Kartel.
Our Reviews: Iconic Sports, LoudMouth, Queen of the Green, Page & Tuttle, Fairway Fox, Oxford, Tracey Lynn and Kartel.
Company Websites: Iconic Sports, LoudMouth Golf, Queen of the Green, Page & Tuttle, Fairway Fox, Oxford, Tracey Lynn and Kartel
Women's Golf Shoes:
Like the men's side, I am just going to tell you the shoes that the ladies have settled into wearing on a regular basis. Here we have the lady Ecco Street which are super comfortable, light and good looking. Crocs, are new to the market this year but are a hit with Sue (plus you can add tassels) .

Golf Bags:
So you want to be someone's hero this holiday? We have listed 4 bags we can recommend. The Molhimawk bag makes a great gift for junior or younger golfers as it comes in cool patterns and is not very expensive. For the hard core golfer, the Nike Performance Carry Bag is top notch. The Sun Mountain KG3 is perfect for those who like to ride and finally the ultra light Taylormade Purelite for the golfer who loves to carry their bag.
Golf Best of the Rest:
Clickgear Push Cart: This work horse cart will last nearly forever and will never disappoint. For the hard core walker, give him/her the Cadillac of push carts.
Rukk Net: Does your golfer yearn to hit ball after ball? The Rukk net will provide him/her with endless practice.
Golf Buddy GPS: Simple, small and effective.
Cleveland Junior Clubs: Great starter or intermediate golf set for kids. Super attention to detail with big boy swag.
Well, that's the list. Happy shopping and please share this post and like us on Facebook.