James Roundy – Saying Goodbye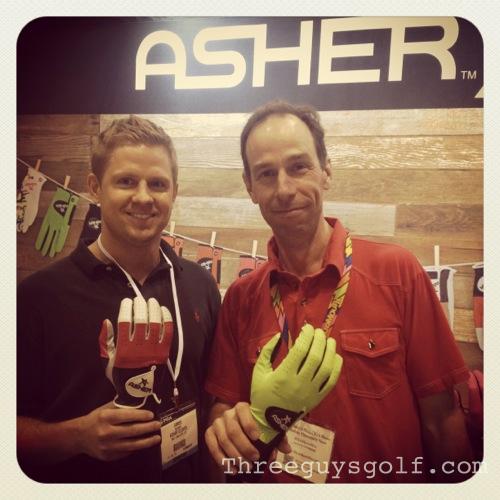 Late Tuesday evening I learned of the unexpected death of James Roundy, founder of Asher Golf. Even though I have only spent a few hours in the company of James, the news hit me hard and I have found myself preoccupied thinking about him and the family he has left behind.
In January of 2012, I went to my first PGA Merchandise show and knew exactly zero people when I landed in Orlando. On the second evening of the show, I was invited to attend a night golf event hosted by Kikkor. At face value the idea sounded great, but since I was going to be slotted in as a single which can be akin to childhood dreams of showing up to school having forgotten to wear pants, I was keeping my fingers crossed to be part of a fun foursome. As it turned out, I ended up playing with James Roundy and his business partner Ben Tua'one. (who just happens to one of the worlds best long drive competitors) …no pressure right?
With the added dynamic of total darkness and a few too many cocktails, we spent the evening bumbling around the resort course with little expectations of actually playing quality golf and focused purely on fun and the bizarre notion of the task at hand.  Over those few hours, I got to know James and Ben in the way only golfers can understand – short conversations between shots, stories from past rounds and the occasional bad joke.
But what I remember most about the round was feeling like I had met a friend. After returning home from the PGA Show, James sent us some Asher Gloves to review and subsequently we ended up corresponding every few months about the business and other things.
So when I returned to the PGA Merchandise Show this year, naturally one of my first stops was the Asher booth to say hello to James. We yakked a bit, he showed me the new glove models and I even got him to take a picture with me. Never did I ever imagine that four weeks later he would be gone.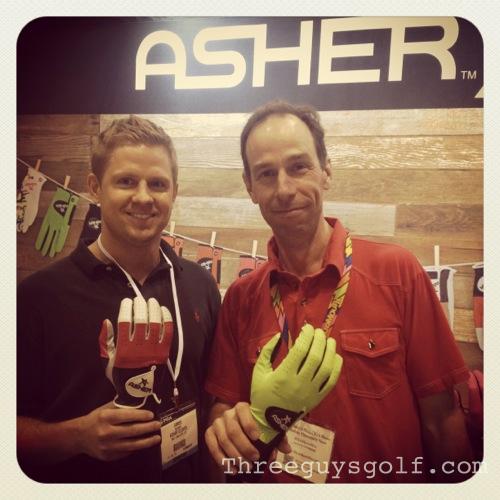 Like the previous year, I again met up with James at the Kikkor event. Since none of us brought our clubs the four of us decided to share one bag (yeah we were not that serious and it was only for 3 holes). Anyhow, we worked out a deal where each guy would be responsible for lugging the bag for one hole (I toted it from the clubhouse to the 1st hole). Much like the year before, we walked, talked, and hacked our way around the track and had a total blast.
As it turned out, after the round I ended up talking to some other guys and somehow never got a chance to say goodbye to James. Perhaps this is in part why the news of his passing has occupied my mind so much these past days.
What I do know is that in the four or so hours I spent with James, it was instantly clear to me that had we lived near each other we would have hung out more. James was easygoing, soft spoken and a genuinely nice guy who will be greatly missed by his family and friends. For me, I know when I am back in Orlando next January, my mind will again return to night golf and James.
My sincerest thoughts and prayers go out to his family, friends and Asher Golf co-workers. He will be missed.