TaylorMade PureLite 3.0 Stand Bag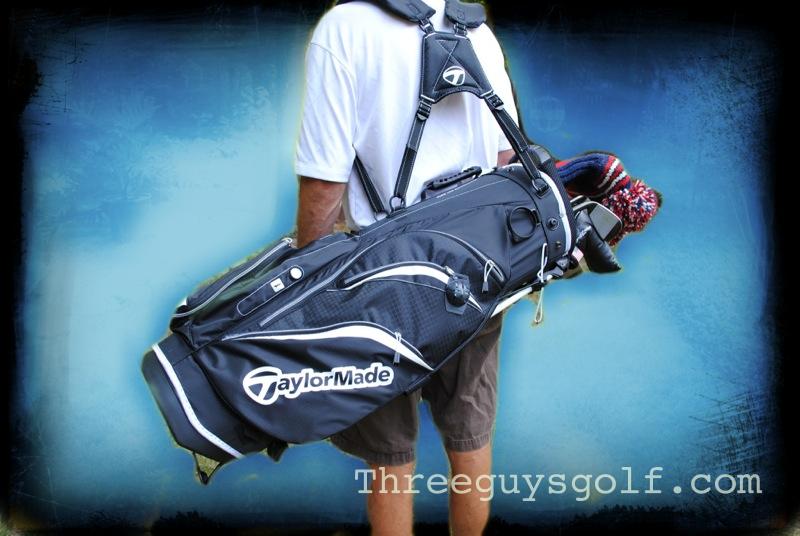 TaylorMade PureLite 3.0 Stand Bag Review: Believe it or not, there are still golfers out there that like to carry their bag – no pull cart, no llamas, just a good old-fashioned stand bag. For 18 holes, even! I admittedly kissed that world goodbye about two years ago when a buddy let me use his old pull-cart. While I may have lost a bit of my man card on that day, my shoulders rejoiced. To my defense, I am probably only about ten years away from socks-n-sandals, but I know the younger kids wouldn't be caught dead doing anything but double-strapping their sticks (see: every high school and college golf tournament on the planet). So my point is, there's still a place in the universe for the good ol' carry bag, so when it came time to try out the TaylorMade PureLite 3.0, I had no choice but to eat my Wheaties and revisit the on/off world of lugging my clubs. On to the review.
Since I had owned a few stand bags back in the day, of course I knew what to expect. What I first noticed about the PureLite, though, was that it was – well – light! At 4.9 lbs., it is TaylorMade's lightest full-size stand bag . . .   it's basically non-existent. The more I thought about it, I guess that makes sense – they are coming up with better materials for the "sturdy" parts, and the fabric never weighed much even back in the niblick era. So I'm not trying to sound too incredulous about how light this bag is, it's probably par for the course these days, but for the record – it weighs zippy.
The design of the PureLite is cool – good looking and bearing the requisite number of pockets, big and small. The bottom of the bag has the standard two-pocket layout for balls and tees; apparently even the R&D guys know not to try and fix something that ain't broken. The left side of the bag has a well placed cooler pocket, perfectly located for the quick reach to your beverage of choice as you trudge down the fairway. I can't decide if this is a new stroke of genius in the golf bag industry or if I was just too oblivious to make the connection with my last stand bag, but nevertheless, it's nice that they designed it correctly.
Moving on to other "little things", there are a few telltale signs that this is a well-made bag. The zippers have cool, quality pull tabs, the rubber used for the handle and collar of the bag is noticeably high-tech, and the kickstands have little rubber feet on the bottom, something I had never seen on any of my old bags. In fact, I can remember being stubborn and trying to solve the "stand this bag up on a hardwood floor" puzzle while cleaning my clubs from time to time, and with my old bag I always failed. Noticing these little feet, I'm guessing someone must have had a "duh" moment in the last few years, because now it just seems obvious that they are a good idea . . . furthermore, the wider feet just add a bit of stability no matter what the surface is. Oh, and something for possibly everyone but me – the bag also comes with a ballmarking aid attached to one of its clips, which is a neat little addition.
The innovation that TaylorMade is probably most proud of with its PureLite 3.0 bag, however, is the integration of it's FAST system ("Fast Action Snap Technology"), which allows golfers to quickly and securely snap compatible accessories onto the bag. Cell phones, GPS units, cigar holders, and rangefinders can all be clipped onto the bag using the appropriate FAST holding case (cases range from $25 – $30). I am a low-tech golfer in every sense of the word (who does not smoke cigars), so I cannot speak to the utility of the FAST system, but it makes sense for those of you who like to put any of those items into play during a round.
More about the actual stand system itself – it strikes me that really the only thing that can go wrong with a walking bag is the stands themselves . . . once they buy the farm, it's time to go shopping. While I haven't had enough time to vouch for the endurance of these stands, the legs are clearly well made and have shown no evidence of not being able to take the required punishment of being set down 60 times a round. Also, the little strap that keeps them at bay when it's time to put the bag into a cart is also well made and easy-to-use . . . sounds ridiculous, but I've had a few bags in the past where this strap was absolutely useless and poorly designed.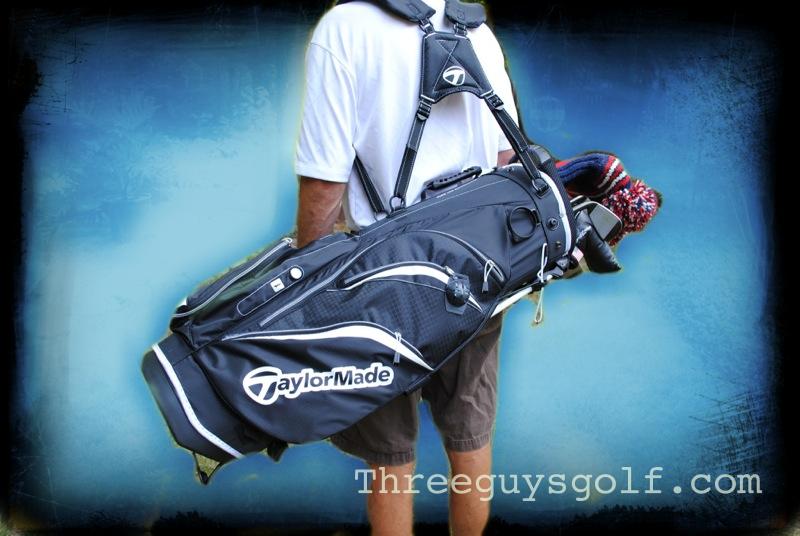 All in all, this is a great little bag. There's not one aspect of the PureLite 3.0 where TaylorMade tried to get too fancy for it's own good, and when it comes to walking bags, that kind of functional simplicity is what's most important in my opinion.
You can see the whole line of TaylorMade bags on their website.