Kronos Metronome Putter Review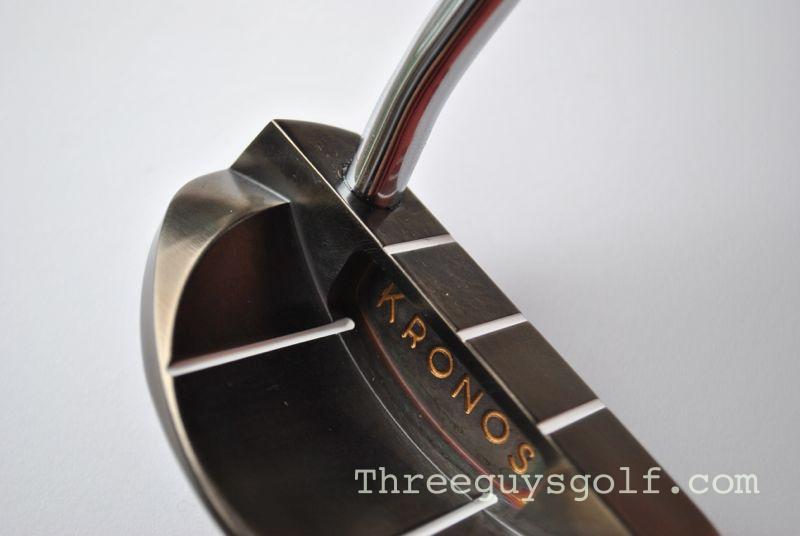 A couple of years ago at the PGA Demo day I stumbled upon a small putter company who made what I thought were some of the best looking putters I had ever seen. While I had never heard of Kronos Golf at the time, I was so intrigued by the brand that I featured them in my PGA Show recap. Beyond tinkering with the flat sticks, I was also fortunate enough to steal some time with the founder Phillip Lapuz. Over the course of 30 minutes or so, Phillip showed me about 6 of his new putters and explained how he got into the business. Seeing that Phillip looked to be 19 years old, I definitely was curious as to how such a young guy could have created such a premier line of putters. Turns out, Phillip grew up around milling and grinding machines as a kid and just had a natural affinity for it. So while young in age, the Kronos founder actually has many years of hands-on experience.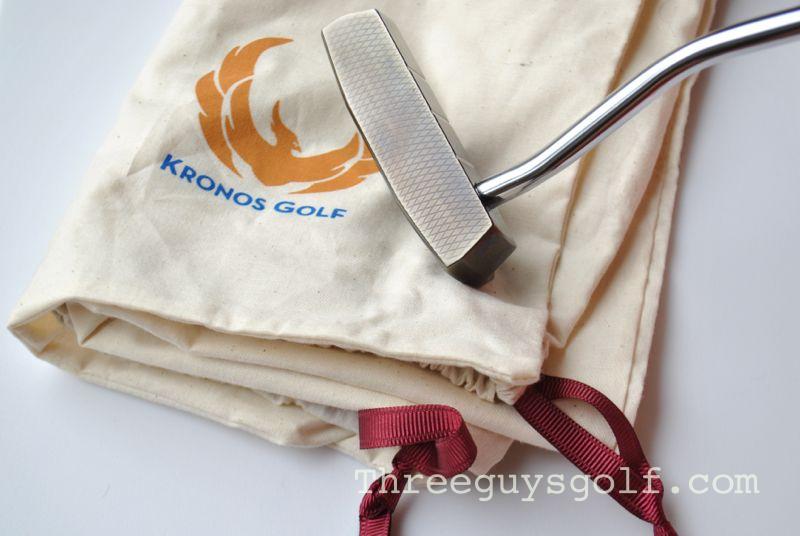 Since that time, I have kept my eye on Kronos as I was confident they would become the next "hot boutique putter company". While that mark has yet to pass, Kronos continues to make some of the finest putters available. Worse (at least for me) was that until recently I have been limited to poring over pictures of Kronos gems instead of pouring in 10 footers with an actual Kronos putter.
Well, it seems things are changing as Kronos founders will be on the season premier of Shark Tank on Sept 26th, 2014. At the time of this post I have zero details about the actual show so no need for a spoiler alert. What I do have, though, is a first hand review of the Kronos Metronome putter that I was sent about three weeks ago. As a product reviewer, I have the opportunity to try many putters. Obviously this is a good thing, but believe it or not there is some downside. Not that I am complaining, but moving between putters is not exactly optimal for your game, especially when not every putter sets up well for my stroke.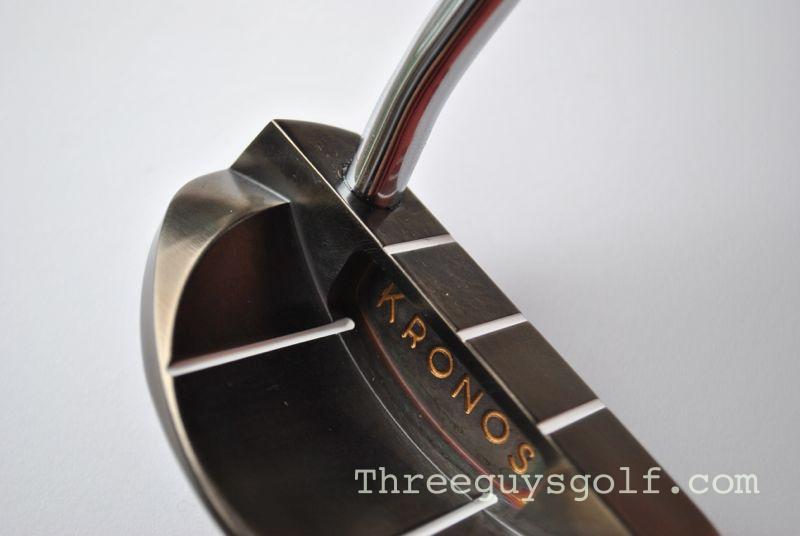 For the better part of my golfing career (lifelong earnings of about $60), I have primarily used some type of mallet. I really love the idea and look of blades, I just don't think I make as many putts with that style. Thankfully, the Kronos Metronome putter falls into my mallety sweet spot of putters I have had success with. The Metronome putter's shape is not only classic but is also very similar to the putters I have enjoyed. With that said, the Kronos has a couple of very unique features that were new to me.
First off, the Kronos is heavy. My heaviest putter is 345 grams, making the 360 gram Kronos a slightly different beast. Admittedly, it has taken me a bit of time to go from a light blade putter that I have been using this summer to something with so much more mass. For me, using a heavy putter requires a longer back stroke rather than a quicker and shorter stroke. I know this sounds a little counterintuitive, but because there is a greater mass you don't really have to 'hit' the ball but instead only need to let the head move through it. The key for me was getting used to that mass.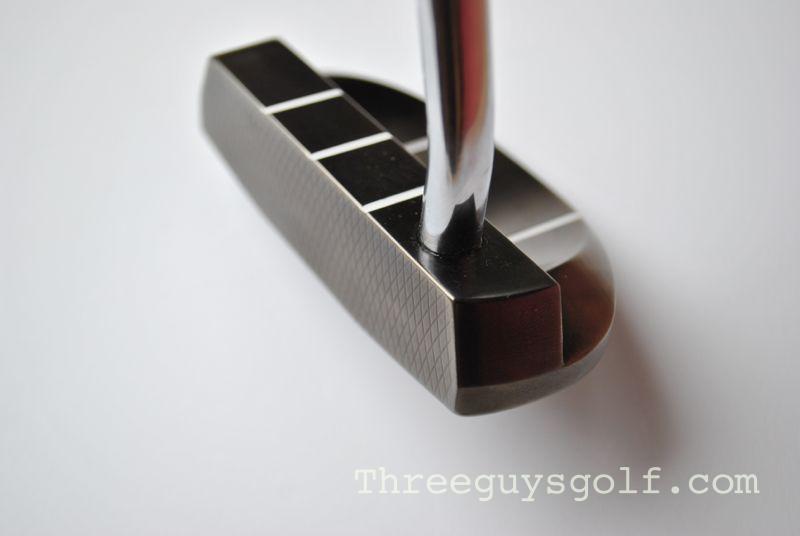 Putting lessons aside, I'd like to speak to some of the technology and craftsmanship. I mean, how can a putter justify a $450 -$550 price tag? Well, to start with it comes in a canvas bag (not exactly common). Then there is the "22 of 50" stamped on the bottom of the putter letting you know Kronos is not exactly cranking these fellas out by the bushel full. No, each one is painstakingly made and measured to be exactly what Phillip has designed. Take for example the weighting. Each putter is perfectly balanced on the sightline. How do they know that? Well, they test each one by hand. And, lest you think every putter company does this…think again. When a putter is not balanced you are basically aiming for a spot that is NOT the sweet spot. Sounds crazy but with some putters you are actually trying to hit the ball on a spot that is not optimal. The horror! Seriously, that's really dumb.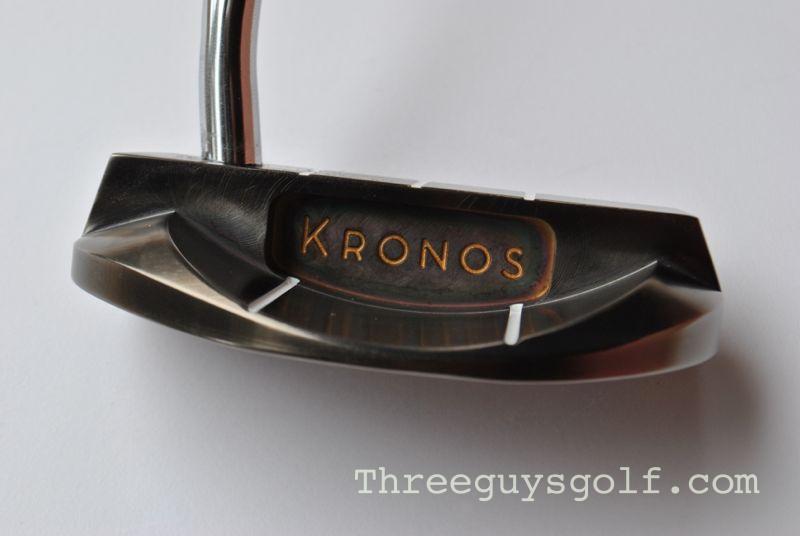 Sightline: This is perhaps my favorite aspect of the Kronos putter. Every company uses some kind of sightline. Some use balls or squares or lines. The Kronos features 3 key elements in their sightline. First is a center line (which is the exact center weight of the face). Second they have lines on either side of the top line to make sure your ball in centered. Third they have extended the outside line on the bottom section of the mallet which helps to give you a virtual "chute" to align to. Moreover, because the lines are on the top and bottom part of the putter, you can visually see when your eye is directly above the ball. When the lines do not break you know you are in a good position. Now, I don't get my eyes exactly over the ball (right or wrong), but I can still check to make sure they are consistently in the same place. You can see from the pictures below how the lines will change as your eyes go from off center to center.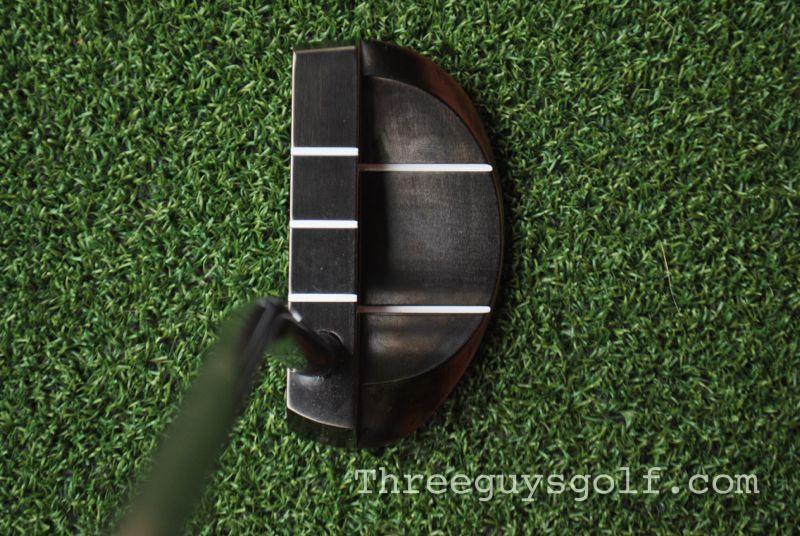 From my experience, the first step in putting well is having confidence in your line, and the Kronos putter does the best job with alignment aides of any putter I have used. It is straightforward, elegant and intuitive. I am never unsure as to where I think the ball is aimed. Not to mention it is freaking beautiful. There are just no unpleasant lines. When you think about it, the top of the putter is really the only thing you see when standing over your ball so I don't care how cool the sole looks, the top is what has got to fit your eye.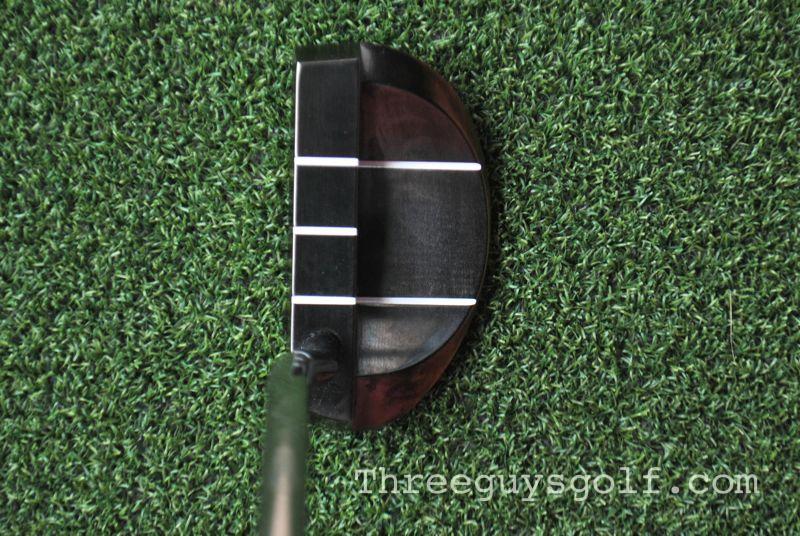 Moving on to the front of the putter you will find light milling which adds to both the look and the performance. Sure I know that milling helps get the ball rolling, but it is also a way for a putter to show craftsmanship and personality. In the case of Kronos, the milling is not super deep or overly complex, but it is detailed enough to let you know whoever made this took their time.
The sole of the Kronos putter is much like the rest – understated. Phillip has purposely kept all of the branding very light in order to maintain the weight perfection. A simple logo, a gram indication, and  "22 of 50" are all that is found. This is what is called "limited edition", and from what I remember about Econ 101, it's a pretty good way to limit supply and increase demand.
What else you will notice is that the center section of the sole is flat instead of rounded. This allows the putter to sit flat on the green and give you the opportunity to get all of your alignment correct before pulling the trigger. Again, subtle design details that you just do not see very often.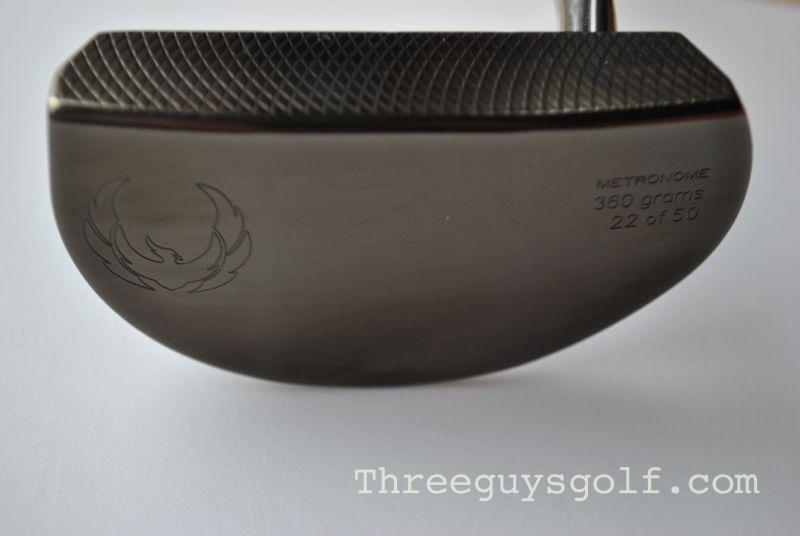 Sound and feel: For me, the sound of a putter is a huge factor. I have tested a number of putters where the sound of the ball off the face is just unpleasant enough for me to have to relegate it to the bench. Specifically, I am not a fan of a "tingy" sound. The sound of the Kronos is a nice "click". It is not overbearing but is characteristic of a putter made from a single billet of metal. In terms of feel, the ball reacts much like other milled putters in that it is not soft or springy like putters with an insert. The ball just comes off clean and square.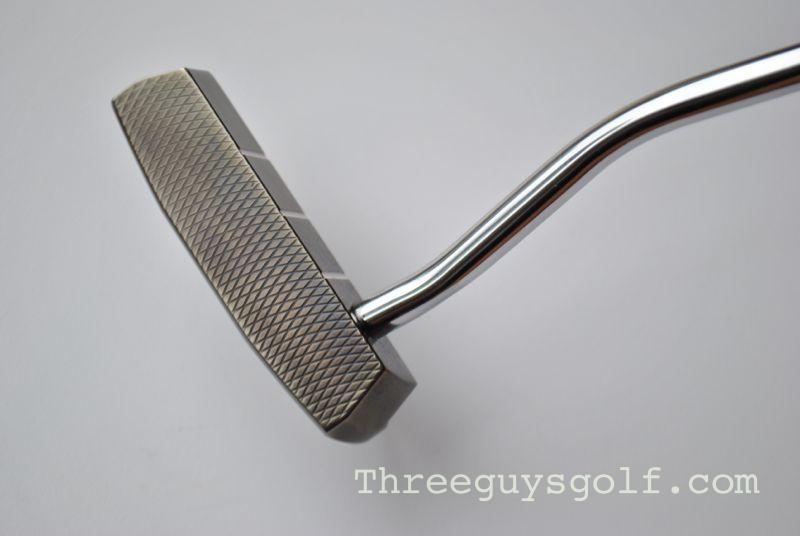 As I mentioned, I have been using the Kronos putter for about 3 weeks (about 6 rounds and a bunch of time on the practice green). Admittedly, I had huge expectations and absolutely believed I had found my "lifelong putter" just based on looks and 'wow' factor. The first few rounds I putted "ok" but was struggling with distance control. I chalked up my difficulty mostly to making such a big change in putters (light blade to heavy mallet). By round four, I had gotten used to making a longer stroke and letting the mallet push the ball rather than "striking it". In my final round before writing this review, I had posted one of my lowest rounds of the year which included 3 birdies (I average about .75 per round). My point is, I do indeed love the Kronos putter both from a looks and performance standpoint.
Lastly, let me touch on a few smaller items of note. The headcover that came with the putter is made of denim, which to me was a bit odd seeing that I equate denim with ordinary (and Brett Favre Wrangler commericals). Seeing that the Kronos is anything but ordinary I would prefer a leather headcover, which fortunately Kronos does offer.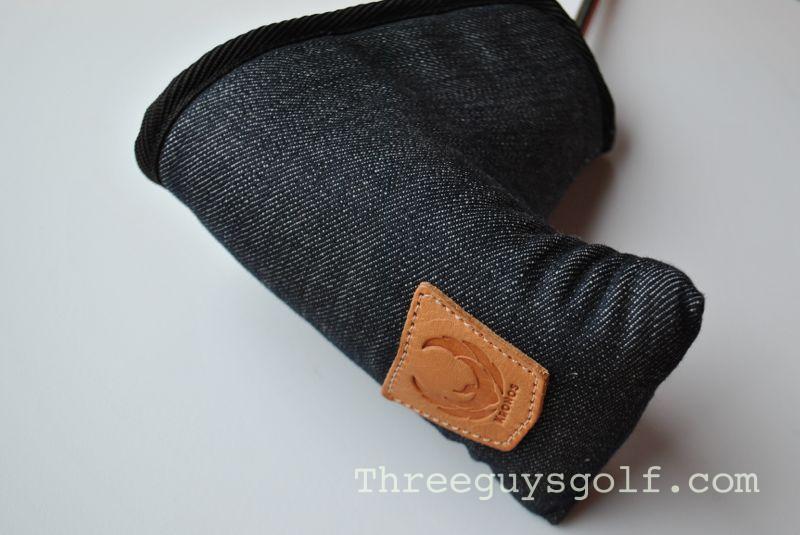 The other detail I did not love is the grip – I am a Super Stroke fan and the thinner grip does not suit my style. With that said, the stock grip is very nice and features minimalist branding that is well suited to the club. Worth noting is that Kronos is a believer in thinner grips as it gives more tactile feedback. Again, not a big deal to swap out for what you like.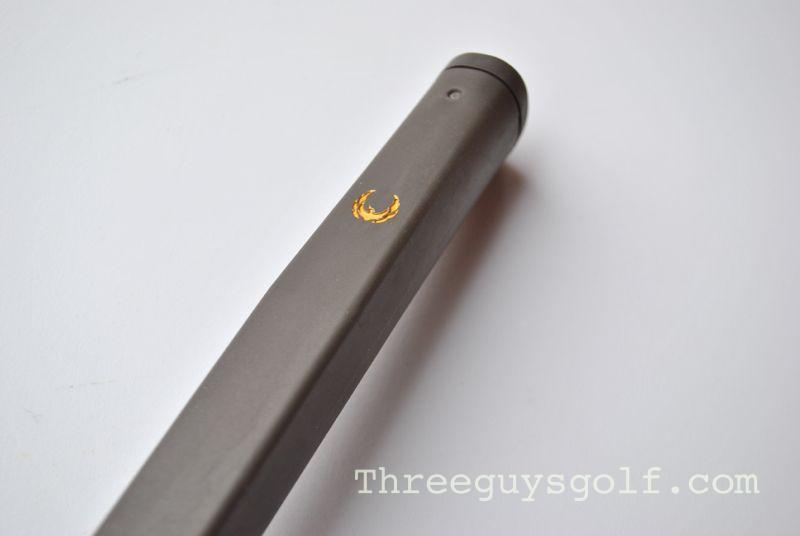 Bottom line is that I absolutly love the Kronos Metronome putter. The combination of style and craftsmanship is world class and I remain confident that there is a bright future for this small company. With that said, the putter industry is extremely competitive so it will be very interesting to see what the panel of Shark Tank think. In the meantime, you can learn more on the Kronos website (and make sure to check out the videos they have).