2013 PGA Show Recap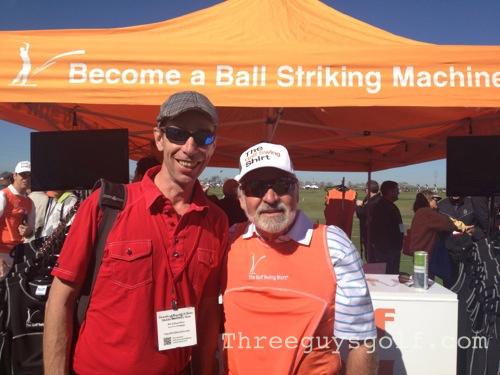 Wow, what a week. This was my second PGA Merchandise Show but my first time attending Demo Day. For those of you who have never been to Demo Day, it is quite the sight. Basically, you have a 360 degree driving range with every company in the world staking out a piece of land, albeit some stakes of land are bigger than others. While I had no desire to actually hit any balls, I must have been in the minority since there was a 90 minute wait to hit balls at the TaylorMade booth. Worse was the 45 minute wait for a freaking hot dog. Seriously, how do you run out of hot dogs? What scheduling genius did not foresee 40,000 people stranded in the middle of nowhere not getting hungry?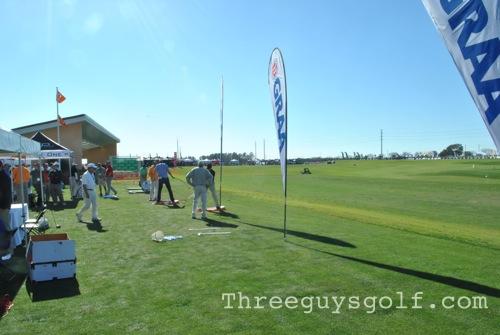 Other highlights of Demo Day included meeting Three Guys Golf hero, Jimmy Ballard. Jimmy was there demonstrating the Swing Shirt which made our Top 12 of 2012 list. If you have never heard Jimmy talk, do a little googling. He is an absolute hoot.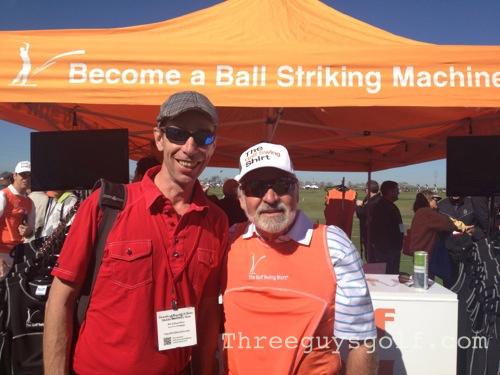 Although I did not hit any balls, I did take advantage of the putting green which was much more fan friendly in my opinion. I stopped by to see some of the mid-sized companies like Axis 1, Rife and Seemore to see their 2013 putters but what really caught my eye was a new company called Kronos.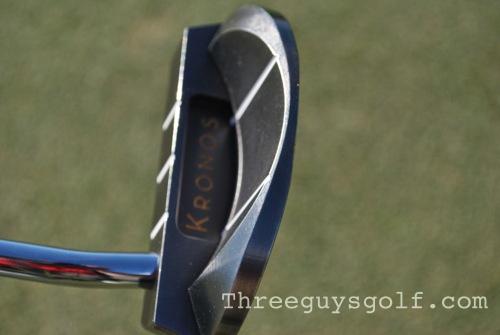 The founders of Kronos are about 14 years old (well maybe 26) but you get the idea. Somehow, they have created a putter that is simply gorgeous and rolls exceptionally well.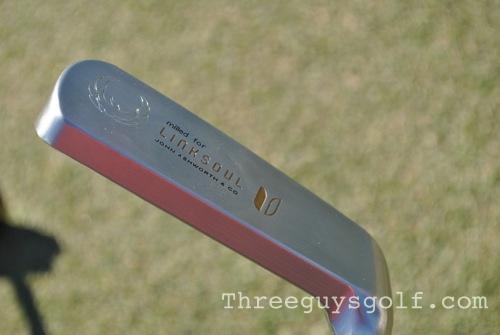 All in all, demo day was pretty cool although it really is fairly difficult to navigate the 3 mile circle of tents. Note to self, don't tell anyone you will double back.
The remainder of the PGA Merchandise Show takes place in the Convention Center which is equally huge (but at least has plenty of food). I saw about 400 companies so I won't give you the big list –  instead, I'll just mention the ones I can remember or I took pictures of.
Let's start with shoes. The ones I really dig this year are True Linkswear, Ecco and the new Footjoy. True Linkswear has become my favorite shoe and the new Proto and Chukka versions are killer. Ecco has a couple of new versions, the Biom Zero (below) and a dress shoe with a soft spike.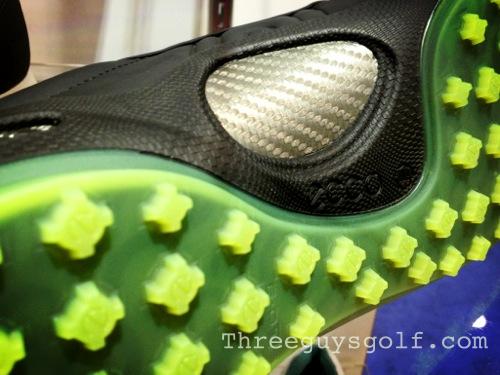 Footjoy has also stepped up the game with the M Project. I tried these on and they are very comfortable. Apparently they got the memo that not every shoe has to be a saddle.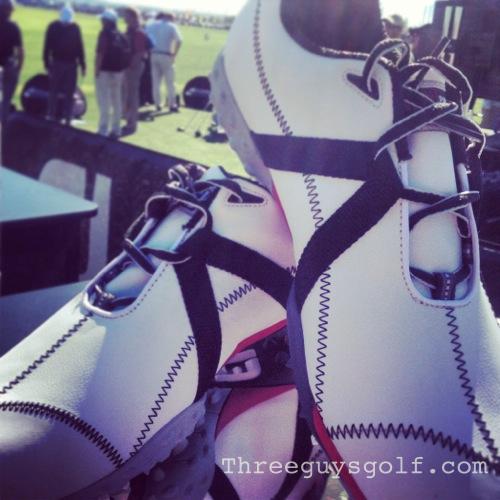 Since I push a cart about 85% of the time, I wanted to check out all of the new carts. ClicGear's new Rover is super cool and a bit smaller than the 3.0 version. I also saw a bunch of all-in-one versions. In other words, bag and cart connected. We actually have the AlphaRD cart in for review so look for that later. The one below is another example although I cannot remember who makes it.
On the apparel side, a few companies caught my eye. Chase 54 had a huge booth considering how young they are. What I learned is they have a big manufacturing advantage which has allowed them to produce an impressive line of clothing in a short amount of time. We have a bunch of Chase 54 stuff in house for review so be on the lookout for that post.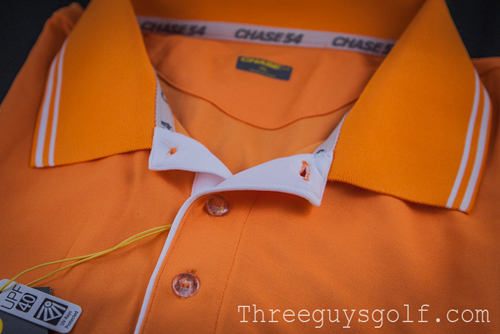 Ironically, it was the European companies that really stood out in Orlando. Specifically, Kartel, Lyle & Scott, Cross Golf and Tom Morris had super cool looks and we hope to have reviews for all of these companies in 2013.
Best expensive product: Full Swing Golf. $65,000 all in gets you your personal hitting range. It is the coolest thing ever, and the putting is not bad either. Seriously, if you want your kid to make the tour, buy this. Imagine 2,000 balls a day and never leaving the house. Plus, you can play all the great courses (the graphics are amazing).
Cheapest best product: Real Steak Jerky. This product single handily saved me from starvation on Demo Day. This is not Slim Jim. Nope, it's like a steak sandwich in a bag. Seriously, it rules.
Other Random thoughts from the days:
I dig Salty Grips: Putter grips made out of cork feel great and hold up well.
Too many bouncers and fancy booths: Come on guys, this is not a night club, I dig your stuff and the company, how about being friendly? Take notes from the Loudmouth and Asher Glove folks if you have questions.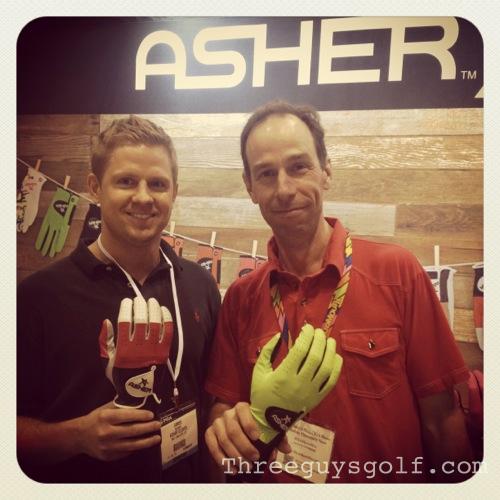 James Patrick wedges may be the best kept secret ever. Since he makes them one by one I guess it is not a surprise, but the guy is like the yoda of wedges.
Guy who you need to follow on Instagram: Known as Thee Jew Fro, and his side-kick iDaleeeO, these two are a freaking riot, and super nice. I spent Friday night hanging out with them and let me just say, it was worth feeling like hell on Saturday morning.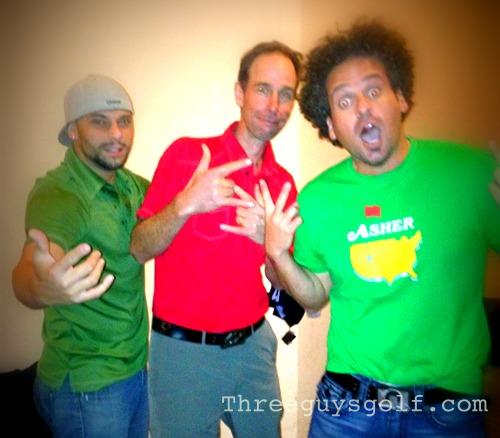 Until next year….