Page and Tuttle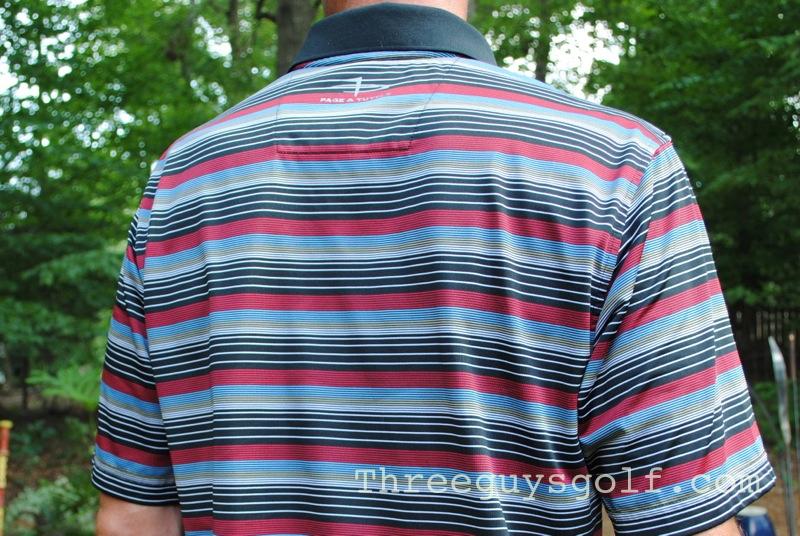 If you own more than a couple of golf shirts, you surely have at least one with patented technology that was developed specifically for the game by a company called Page and Tuttle. As one of the oldest apparel companies in America, Page and Tuttle has been a leader in apparel innovation for over 100 years.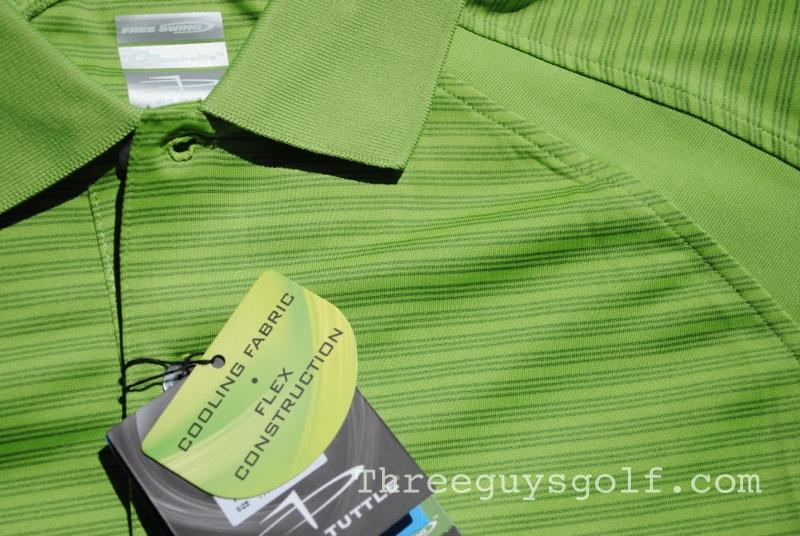 For example, you probably own a shirt that has what almost seems a patch under the arm. While you likely have never given much thought to this patch, it was introduced in the 1950's by Munsingwear (now Page and Tuttle) and is the reason your shirt allows for more natural movement. This patch, known as a gusset, is just one example of Page and Tuttle 's impact on the golf apparel industry. So while the patent on it has long expired, the gusset is now used by manufacturers world wide.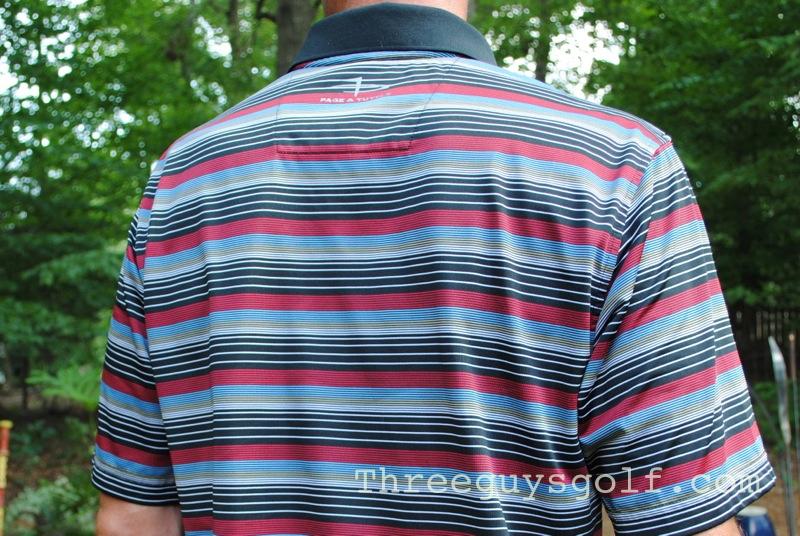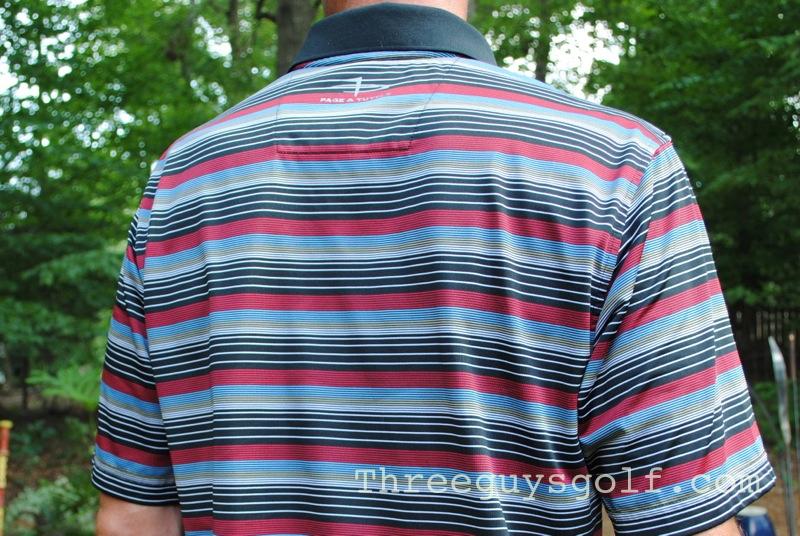 Page and Tuttle also introduced a fabric called "Cool Elite." It has embedded cooling minerals in its fibers so when you heat up, the fabric can actually cool you down 2-4 degrees Fahrenheit. That's right, it actually cools you down as you play. Not a bad idea if I do say so myself.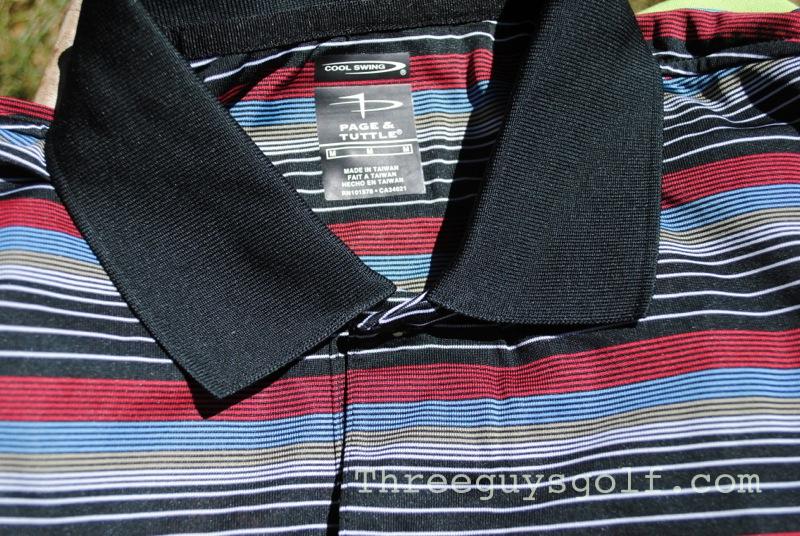 While the "Three Guys" received the above sharp looking polos, I received a "Cool Swing" white polo and light blue skort. The polo was cut with a feminine style. The collar had no buttons but there was a reinforced lip where the buttons usually go. It made for a new twist on a classic style that is very appealing, especially if you feel like all your shirts seem to blend into each other. You would think that this collar might not hold up after washing and flop since there are no buttons to stabilize it, but I am happy to report, wash and wear is no problem.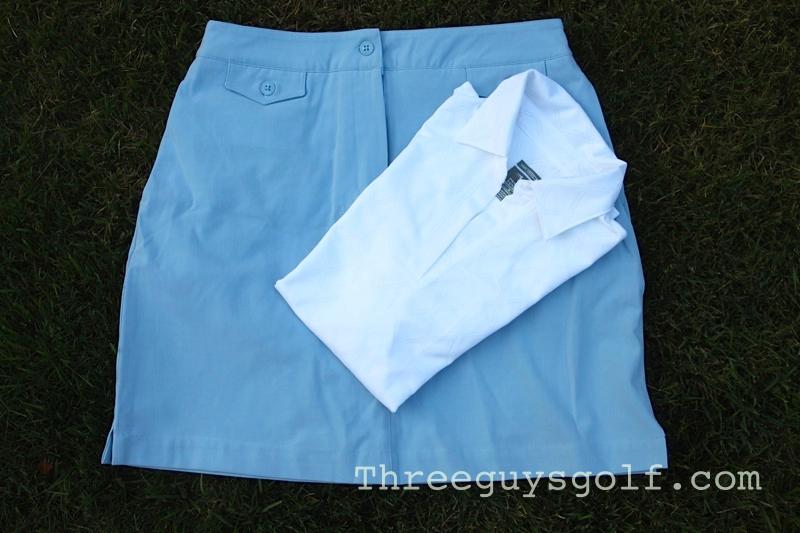 I have no intention on wearing golf clothing that I have to iron after washing so this shirt passes the test. The skort is a blend of polyester, rayon and spandex. There is nothing worse than shorts or skorts that don't stretch with you when you move about the course and are reading your putts. This skort is on the higher end of comfort and flexibility. It had maximum comfort all the while moving and stretching with me in every situation.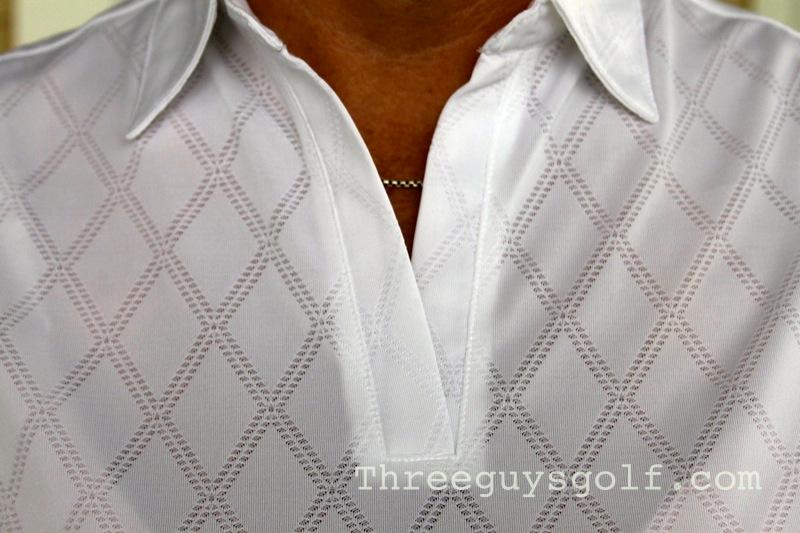 On the men's side, both polos are made from 100% micro polyester Cool Swing material which is code for "very light, breathable and soft". Both of these shirts got thumbs up from the guys. Perfect for the humid temperatures of North Carolina and nearly impossible to not match with a pair of shorts (a feature not to be underestimated). In terms of sizing, the Page and Tuttle polos run very fair and with a tradition fit.
Page and Tuttle offers a wide variety of products for both men and women across all season. You can find golfing attire with the latest that the industry has to offer at www.pageandtuttlegolf.com. Page and Tuttle offers everything from classic polos to outwear and windwear featuring their Free Swing technology (yet another innovation developed by the company) to give you every comfort and advantage in your game.