Unique Divot Repair Tools and Ball Markers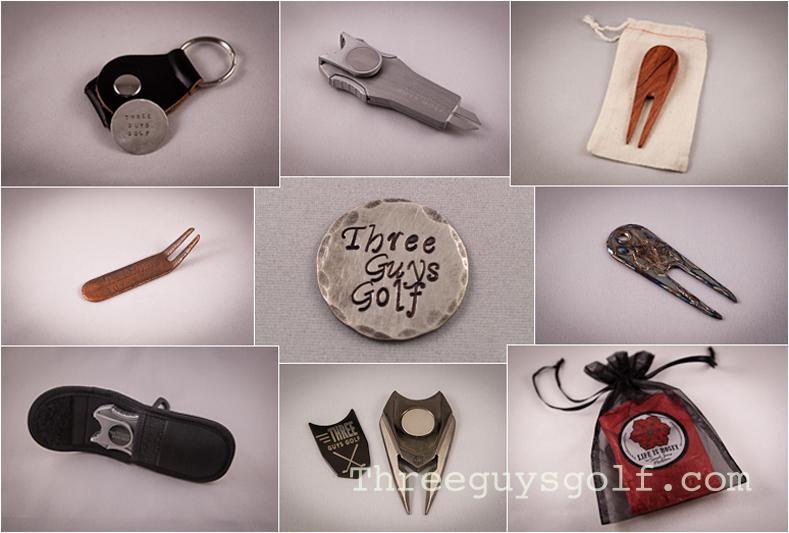 NOTICE: If you use a ball marker that snaps onto your glove or a plastic divot repair tool that says "Joe's Body Shop", it is time to upgrade your golf accessories. Not to fear, Three Guys Golf has scoured the Internet and found five unique divot repair tools and two hand made ball markers that are guaranteed to shave 5 strokes off of your game, stop that receding hair line and make you the envy of your foursome. Well, maybe just the last part, but you get the idea.
THE GENTLEMAN'S VICE MULIT-TOOL
If you're looking to WOW someone with a divot tool that will not only take care of those divots but also has the cigar aficionado at heart, you're going to love the Gentleman's Vice. With its retractable divot repairer one thing you'll never worry about is getting a surprise jab in the leg from this tool. Light weight for its size and very ergonomic, the Gentleman's Vice takes care of divots with ease. And with the restricted depth the GV provides, you won't be "that guy" that does more harm than good to the greens.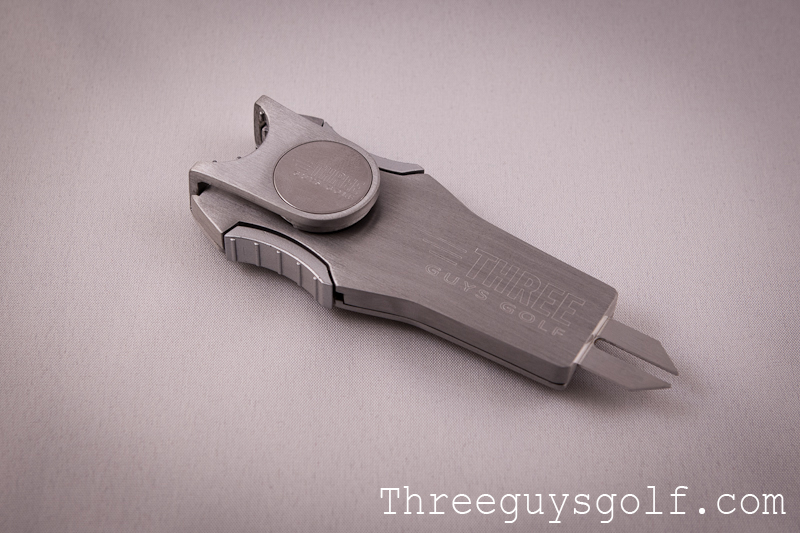 On the pocket clip the Gentleman's Vice has a cleverly placed spot for a personalized ball marker that is magnetic and quickly accessible.
You'll notice on the top of the Gentleman's Vice there is a "half-moon" cutout that serves two purposes. The first is a quick and easy club holder when you playing in wet conditions and the other is a holder for your cigar to keep it off the grass as well.
I love a good cigar on the course and I couldn't tell you how many times I've been handed one and I'm without a cutter. I'm not old school, I prefer my cigars cut. With the Gentleman's Vice the added feature of a spring loaded guillotine cutter make enjoying a cigar that much easier. The blades are super sharp and lock in nicely when not in use.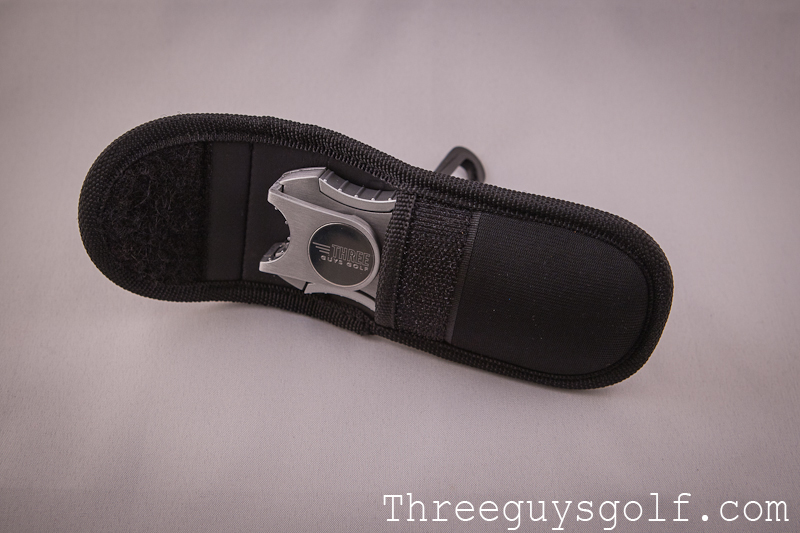 The five features; divot tool, cigar cutter, cigar holder, club holder and ball marker make this an great choice for a yourself if you like partaking in the occasional smoke, or even better, a Birthday gift for the special someone that plays and enjoys a good cigar.
Personalized engraving is available. The Gentleman's Vice come in two different metal variants and a multitude of colors and sell from $19.95 to $29.95
Visit Gentleman' Service  for more details
LIFE IS ROSEY BALL MARKER
To some a ball marker can be the magical element to a successful round. Don't think so, I beg to differ. I carried the quarter I used as a ball marker with me for months after I broke 90 for the first time. Others find a stick or a penny or one of those cheap neon see-through plastic things as a suitable marker (don't be that guy). Look, if you can spend $3.00 on a golf ball, why not give it the respect of marking it with something classy.
Life Is Rosey is the handwork of Sarah Jane Nelson and she has a great little product with her sterling silver ball marker.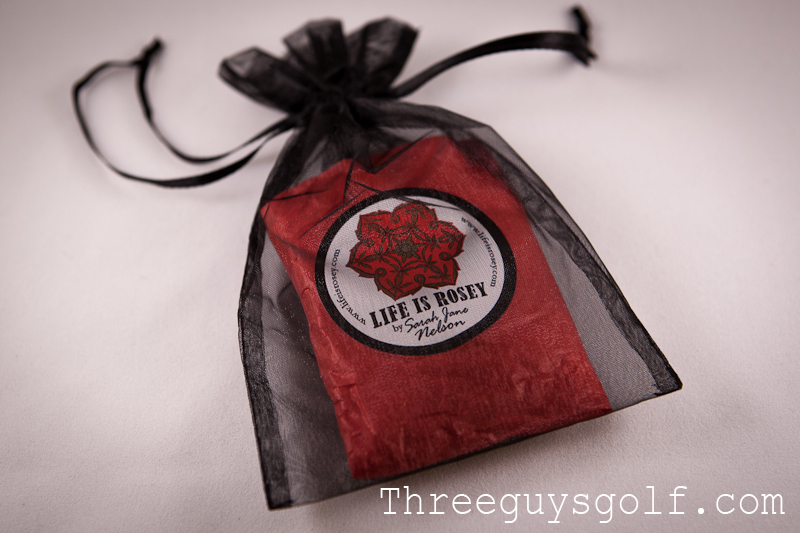 All of Sarah's work is handcrafted using sterling silver, copper, bronze and gold. Sarah custom hand stamps each piece with names, phrases and meaningful words that inspire. Her dedication to her craft shines through in not only the sterling silver ball marker but in the craft and care that goes into each piece from packaging to a hand written personal letter that came included with our marker.
The marker is very lightweight and looks fantastic when it's sitting on the green awaiting your ball. The custom stamped Three Guys Golf text came out great and looks again like a piece of art more than a ball marker thanks to the hammered effect you can select.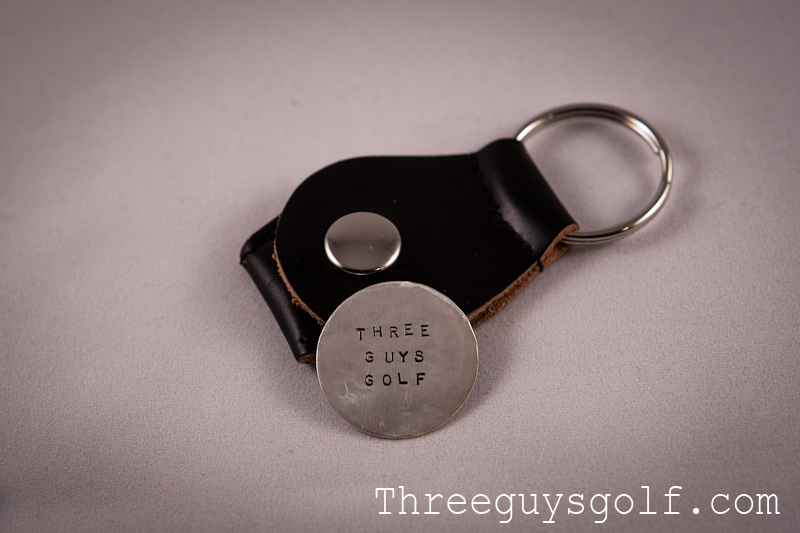 You'll also receive a polishing cloth along with a leather carrying case for the marker. Those two added touches show just how much care and heart goes into each piece that Sarah makes.
Whether you're looking to add that perfect piece to make a magical round or you're looking for the perfect gift, be it for a birthday or a wedding party, the Life Is Rosey ball marker will be an excellent choice.
The Life is Rosey ball makers sell for $48.00 plus S&H. You can view all the different variations and other products that Sarah offers on her site at Life Is Rosey
WOOD U LIKE ENGRAVED BALL MARKER & DIVOT TOOL
Who said a ball marker has to be round? Not Wood U Like that's for sure. At first glance you would never realize that this is more than just a divot tool. The sharp lines and aggressive look had me excited to put this in my hands for the first time. Yes, I said excited about a divot tool. It wasn't until I was feeling all those harsh lines that I realized that the plate the logo was engraved on was actually a ball marker too.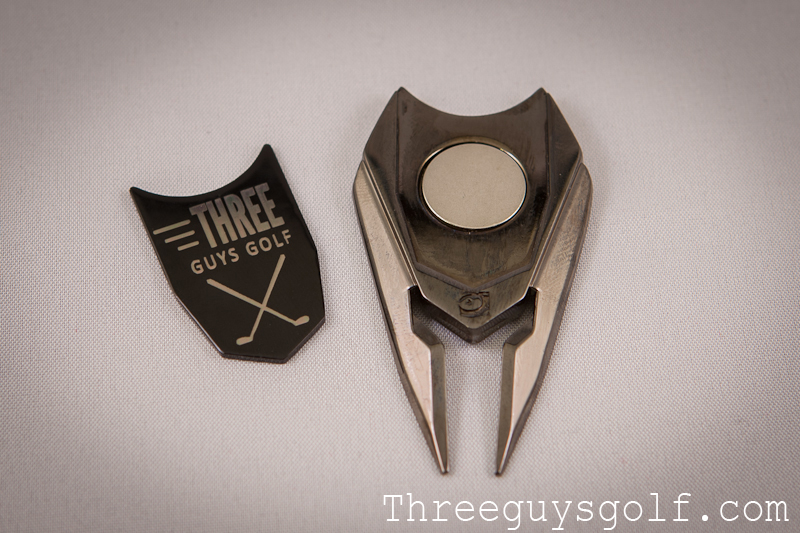 This is certainly not your Grandfather's divot tool; it fits tightly in your hand so well that you might be more inclined to take out your playing partner in an assassin type move than repair a silly divot. OK, I went too far, but if you don't somehow feel like a Ninja when you hold this bad boy in your hand your inner child has died.
The ball marker is a fantastic feature on this divot tool. It's available in wood or metal and you can even get your logo or a name, hint hint, of that special someone in your life engraved for no extra charge (up to 7 characters).
With a unique look, feel, and some creative packaging to go with it, the Wood U Like ball marker and divot tool would make a great gift or stylish choice for someone looking to make a statement about their game when it doesn't involve hitting a golf ball.
The version we received sells for $24.99
You can see this divot tool and many other wonderful items that Tim Earling offers at Wood U Like. 
EXOTIC WOOD DIVOT TOOL
One of the things that makes golf so unique is its relationship with nature. No two courses are the same and are in a constant state of change as they are inherently married to the ground, grass, trees, wind and water. This notion is at the heart of Bob DeFont's Exotic Wood Divot Tools. Hand made with no two exactly the same, these simple yet stunning repair tools are perfect for not the job at hand with a warm subtlety.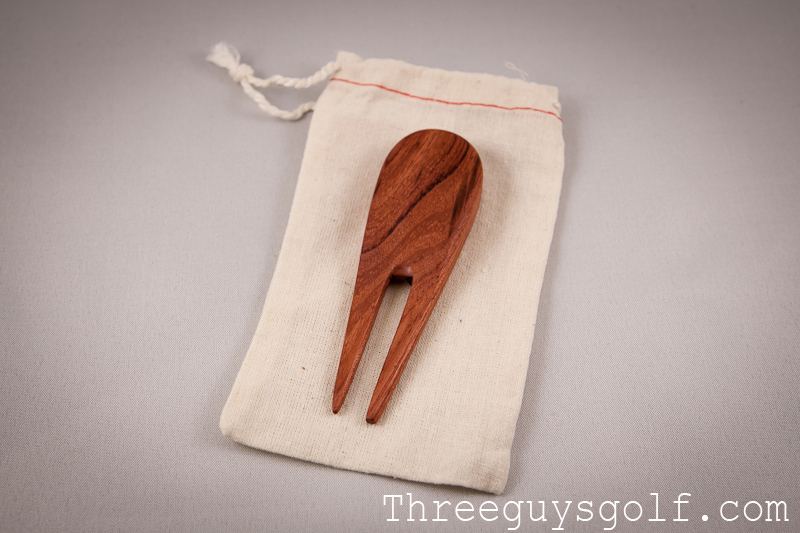 We received a hand crafted divot tool made from Bubinga which is often referred to as "African Rosewood" The wood showcases gorgeous grain patterns and a myriad of reddish brown tones with purple veining.
Lightweight and very sturdy you'll be making a statement when you pull this divot tool out of your pocket. With laser engraving of a company or club logo and also the choice to add custom engraved initials to the divot tool makes adding a personal touch to the divot tool very simple.
Starting at $24.00 and going up based on customization this divot tool is a wonderful gift idea for the player that likes to show off more than just their golf game.
You can see this along with all the other styles and wood choices at Mr. DeFonts website: Exotic Wood Divot Tools
J LYNN CREATIONS BALL MARKER
Crafted from Sterling Silver, then hammered and given a brushed finish, these ball markers from J Lynn Creations make not only a perfect gift for the golfer in your life but the perfect gift for yourself if you're looking to stand out from the crowd a make a statement as you mark your ball.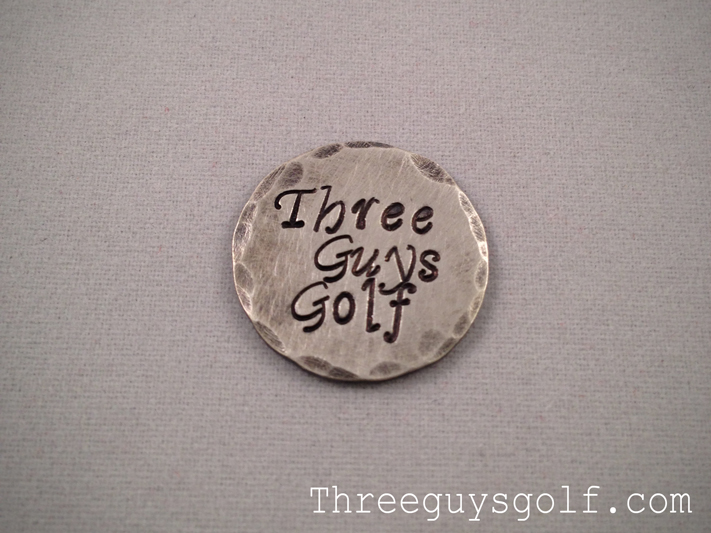 For $24.00 you receive two (one to keep one to share) sterling silver ball markers that will be hand stamped with whatever you choose. You can see from our Three Guys marker the quality of the stamping is top notch and the hammered effect is a classy touch that gives it that rugged manly look.
Visit J Lynncreations to see all the products she offers. This specific item can be purchased here.
METAL PRESSIONS DIVOT TOOL
Despite the standard shape, the Metal Pressions Divot tool is far from standard. As they say, "the secret is in the sauce". Utilizing various metals, Elisha Argentinis crafts her wares with everything from copper to solid gold.
Ranging from the $3,500 14K solid Golf divot tool to the $99.99 Sterling Silver and the $29.99 Copper version Metal Pressions makes a divot repair tool for every budget.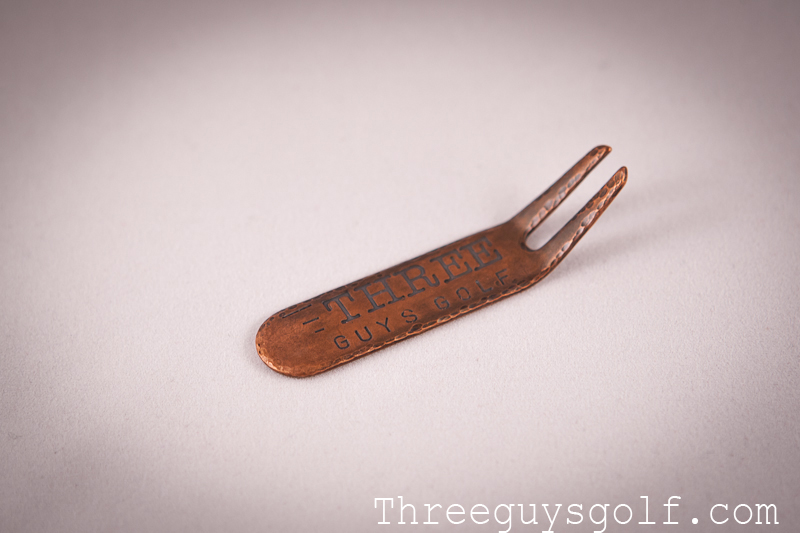 Fully customizable to fit a large variety of text and in several different fonts these divot tools make not only a statement with the metals they are made of but also the effectiveness of how well they perform at their intended purpose, fixing divots.
You can visit Metal Pressions to see all the personalized jewelry that is offered and more. This item can be purchased here.
SAWDUST MARKET TITANIUM DIVOT TOOL
That's right, Titanium. At 40% lighter than steel you'll hardly know that this divot tool is resting in your pocket as you make your way around the course.
What makes this divot tool stand out from other is the unique characteristics it obtains from getting blasted by a welding torch. That process makes each tool so unique in that no two are alike.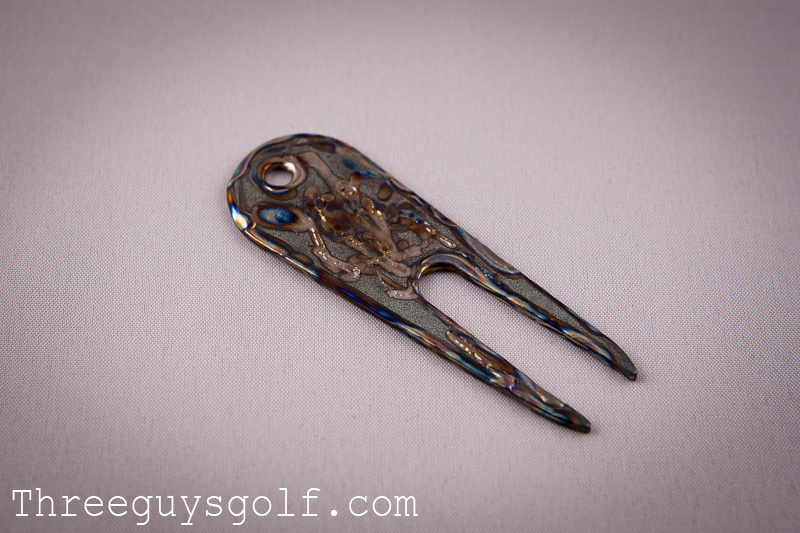 The colors are magnificent and it looks more like an art piece than a tool you would use to repair a green. Don't think that the look hampers its function though, as far as divot tools go this Titanium masterpiece is just as function at repairing divots as the top tools on the market.
At $7.00 plus shipping and handling you can afford to give these to friends and clients and still have enough left over to keep one for yourself.  A personal favorite of mine, I will have this in my bag for many years to come and because it is made of titanium I know it will be just as strong years into the future.
You can see all the products that the Sawdust Market has to offer on their website: Sawdust Market
That's the list. You now have no excuse to not carry a cool looking, hand crafted divot repair and ball marker!