Matte Grey Apparel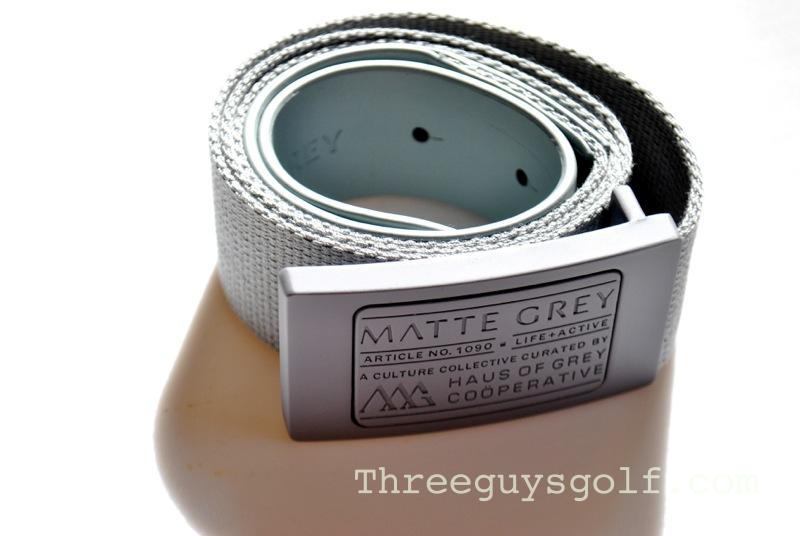 For years the mongo golf apparel brands have been able to dominate both retail sales and player sponsorship. However, in the past few years, smaller companies have been able to start to crack into the mainstream. One of the best recent examples is Travis Mathew, who while still dwarfed by companies like Nike, boasts a number of high ranking PGA players and is regularly seen being worn at your local golf course. What some of you might not know is that a few years ago Travis Mathew was bought out, leaving the founder and chief designer, Travis Johnson, to enjoy some time off and ponder his next move.
Now most normal folks who catch a big payday would smartly head straight to the nearest bar in the Caribbean to work on the perfect arrangement of paper drink umbrellas. Clearly Travis is not like most people as he felt he still had more to prove. Sorry Tahiti, next stop, House of Grey.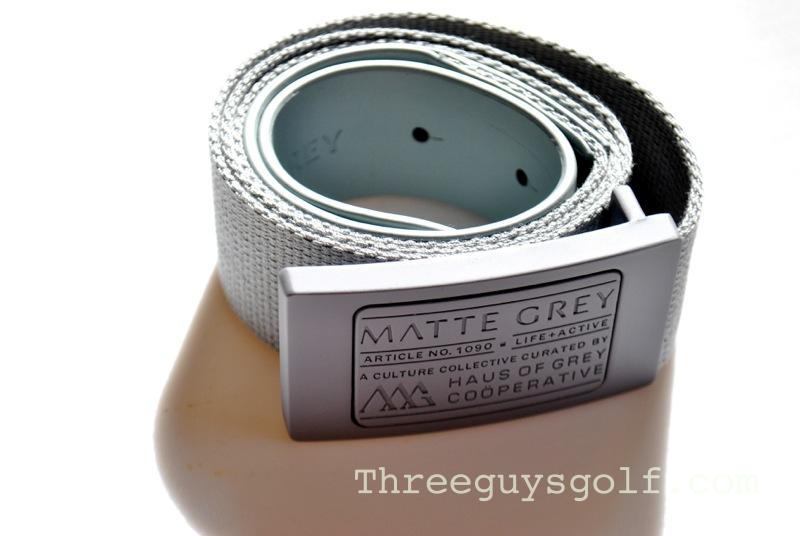 House of Grey is comprised of Matte Grey and Heather Grey, two distinct but similar apparel brands for men and women. Like some other popular boutique golf brands, Matte Grey can be classified as lifestyle company in that nearly all of the apparel can be worn on or off the golf course. In other words, nothing about the brand screams "I just played golf". With that said, all of the polos are absolutely golf appropriate and are made from material that is suitable for warm weather play.
'Lifestyle' branding seems to be thrown around a lot these days by companies, which I guess is no surprise given the fact that the golf industry is not exactly growing by leaps and bounds. So to the extent that a company can pull a "Taylor Swift" and jump across industry lines, the marketing opportunity expands. Unfortunately, many of these lifestyle claims are a bit of a stretch. I like to use the "wife test" on the lifestyle claim. Basically, if I walk out of the house and she asks where I am playing golf then the apparel is not lifestyle. Or, if she tells me that we are going out to dinner not to play golf… it is not lifestyle.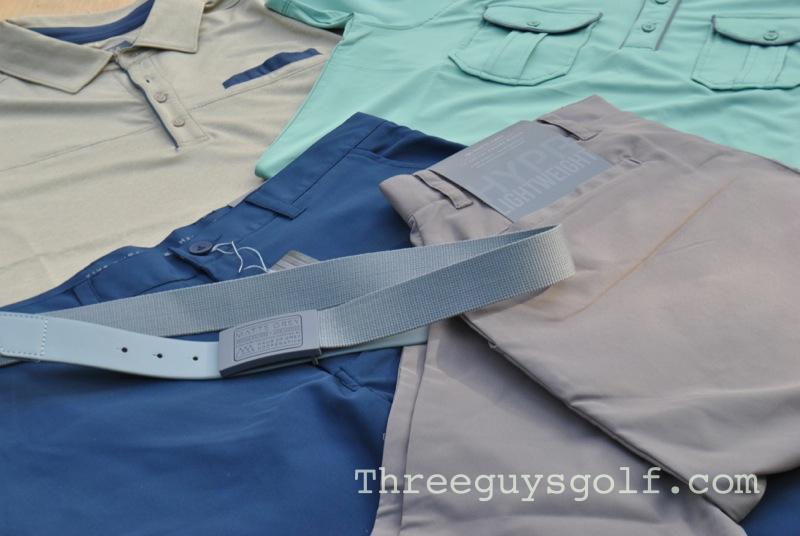 In the case of Matte Grey, I am gonna go 50/50 on the lifestyle claim. Roughly half of the polos and nearly all of the shorts are absolutely appropriate to wear for any casual occasion. Some, like the polos with contrasting shoulders and sleeves, fall into "I am playing golf" category but heck there is nothing wrong with that.
After four years of writing apparel reviews I have to admit I have become a touch snobby. The days of fuddling through the bargain rack at Golf Galaxy hoping to find a decent big brand polo for $19 are thankfully behind me. Of course I realize it is easy for me to recommend an $80 shirt when I don't have to pay for it. With that said, I do believe that investing in quality golf apparel is a wise choice. Not only will you look damn sharp, but I have also found the material holds up much better. Collars looks crisp, colors remain intact and most importantly, the tailoring is not boxy.
Matte Grey is a bit tough for me to categorize. Generally muted in colors, many of the polos have small details that are rarely seen on most golf shirts. For example, the "Captain Stubing" sleeves on the Commander Polo or the pleated chest pockets on the Castro Polo are something rarely seen. Despite these stylized details, the shirts themselves do not cross the "a little too hip" line. In fact, I think most of the Matte Grey apparel falls into the conservative range simply because the color schemes are so subtle.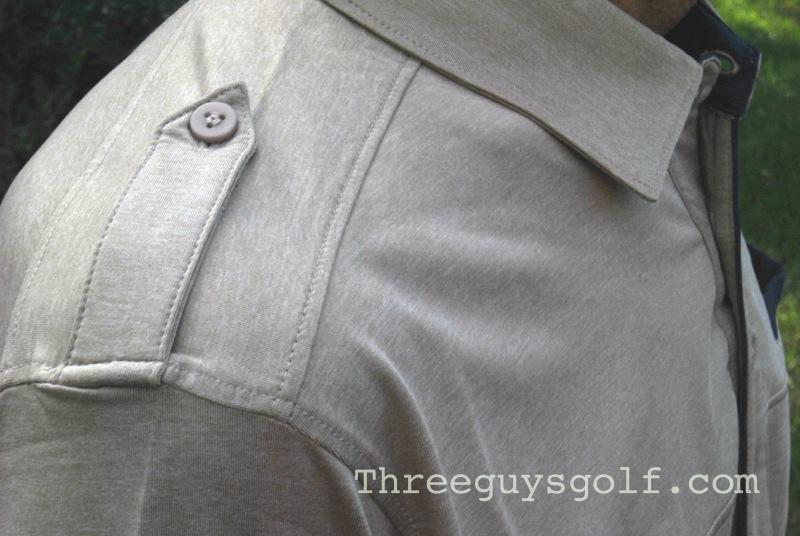 Size-wise, Matte Grey is fairly standard. Certainly more fitted than, say, FootJoy, but not nearly as thin as the European brands. Arm lengths are moderate and tail lengths are appropriate to wear tucked or untucked.
One of the most pleasant surprises I found was that Matte Grey makes it incredibly easy to mix and match tops and bottoms. For example the Shadow Players shorts (blue) are easily paired with most of the blue tonal polos. Additionally, you will note that the blue on the chest pocket of the tan Commander Polo is the exact same color as the shorts. Boom…Garanimals baby! Having a line of apparel that is this flexible makes a ton of sense but too often brands do not give enough thought to how people will actually script out the gear. Giving people the ability and ease of coordinating outfits is a huge advantage for us dopey guys who can still struggle with what color belt to wear.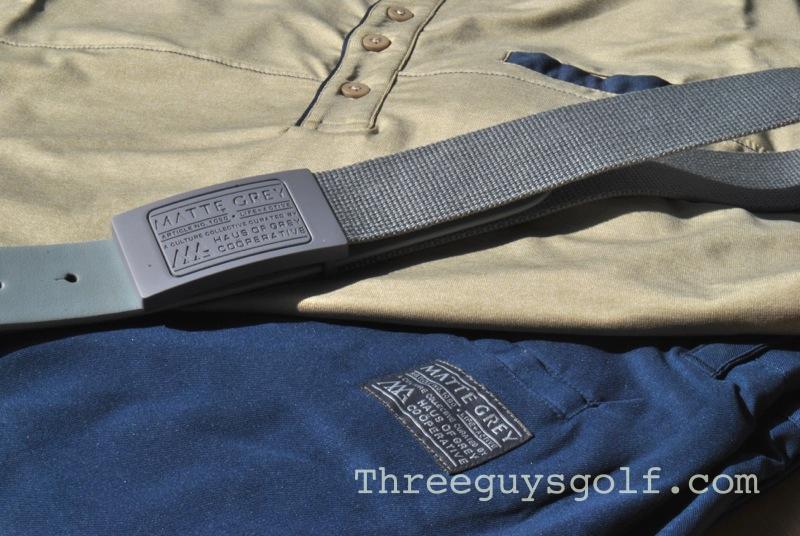 Which reminds me of a story… about 15 years ago, one of my regular golfing partners fancied himself a sharp dresser. All was fine and dandy until one day he admitted he could take very little credit for his golf scripting. As it turns out, his wife had made a chart – literally a chart on the wall – that told him exactly which shirts could go with which shorts or pants. Every Sunday (because we had the 1st tee time), he would choose an outfit from the color coded matrixes strictly determined months before. If only he had some Matte Grey… he could have dressed himself.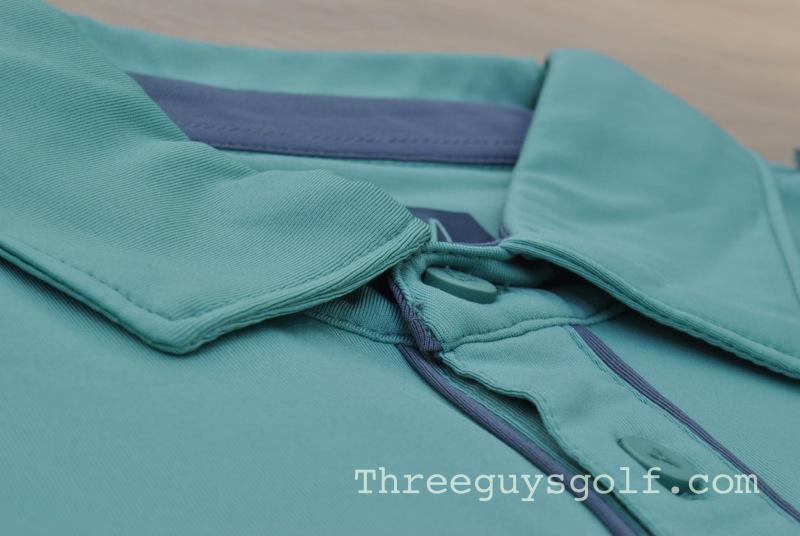 In terms of fabric, the polos are primarily a polyester with a touch of elastane. However, they don't really look like your typical shiny polyester shirt. In fact I was sure the Commander polo was cotton until I felt it. In my opinion, this is a good thing, especially if I want to wear these shirts off the course. Nothing screams golf like the sheen of polyester.
The shorts and pants are also made from polyester but again don't look like they are. Fitting is incredibly standard. They just fit like any good pair of pants. I also like the fact they have deep pockets and do not have a coin slot inside (the most annoying feature in any pants). On the course, the shorts and pants are super in the heat as they are very light. Again, the colors make them versatile so you will get a ton of use.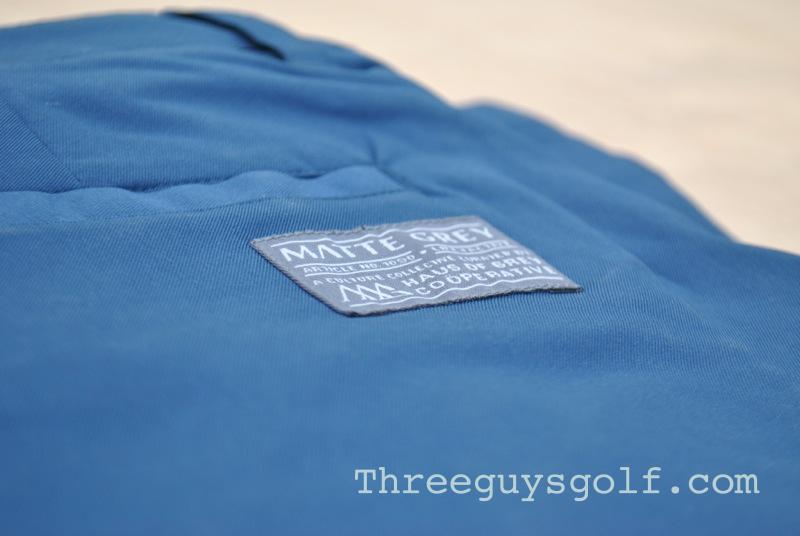 Finally, the price is right! Yes, they are more than the big brands, but not much. $70 polos and $80 pants are much less than what you will pay for like brands. So guys looking to expand your humdrum wardrobe, check out the Matte Grey Website