MyBalls Golf Ball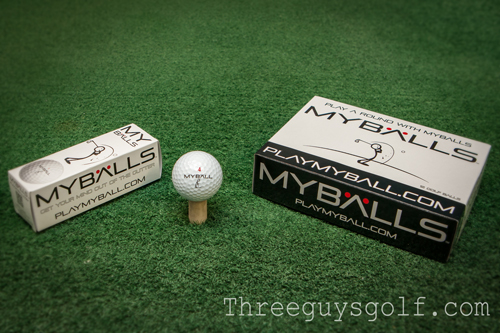 MyBalls Golf Balls: As I dive into the world of product reviews I've been challenged right out the gates with a daunting task, the golf ball review.
In the world of the higher handicap player there are a handful of things we look for in a golf ball. Is it cheap? Is it long? Is it straight? Will it last if by some miracle I get through five holes without losing it? You see we're not afforded the luxury of needing to know how many cores are inside or how many layers are included. When it comes down to it, it's a simple decision. Give me something I can hit and let's go!
I recently got the opportunity to test a relatively new ball on the market and the golfing world and it goes by the name "MyBalls".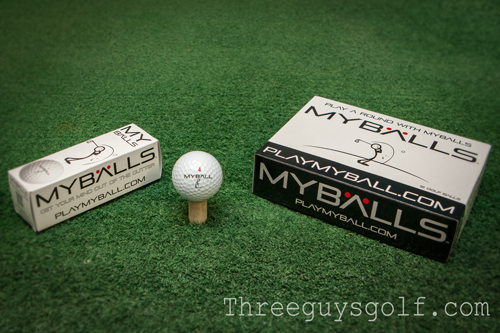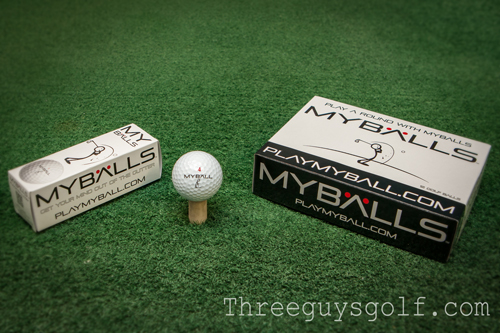 Obviously, the name is a virtual pandora's box so I have to give the folks at MyBalls some credit for taking a chance as it's sure to raise some eyebrows.
I headed out this past weekend to a local course that I've played a bunch in the past and gave MyBalls a try. A friend joined me and I talked him into giving MyBalls a go as well and off we went.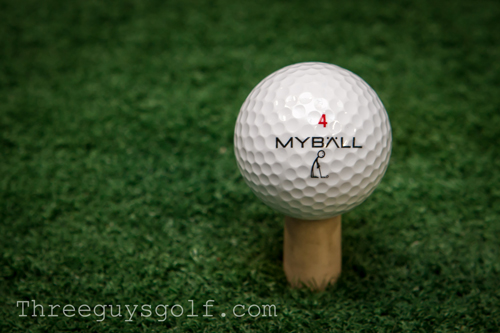 My first reaction when I opened the sleeve and the ball hit my hand was that the ball seemed really hard. You know that feeling in your fingers when you grab a ProV1 and you can almost feel the outer layer give with some with the pressure of your fingers. Not here. It's a very solid outer shell-not that this is necessary bad but I do think a 2 piece ball is a bit harder than a 3 piece ball. In any case, we tee'd em up and I hammered my first swing of the day, and so did my partner. They're long alright, and for the most part fairly straight. That was pretty much how all the tee boxes went for us. I did manage to take a horrible pass at a ball on one box and with a little effort it's not hard to make these things fly a little crooked. So don't think by any means it's a correcting ball, it's not.
Besides having a genius name, the real difference in these balls is how you buy them. MyBalls have taken out a page from the Columbia House playbook by offering a subscription model (they do have a try before you subscribe option too). You can sign up to have either one or two dozen balls delivered to your house monthly ($25 or $40 respectfully). A perfect model for the golfer who prefers to spend his time losing balls instead of going to the store to buy them.
In terms of spin and feel, I would be remiss to call MyBalls a Titleist killer, but I thought they checked decently and rolled off of the putter well. My guess would be that MyBalls are marketed to the higher handicapped player who puts a premium on price and distance more than spin.
All in all though I would have to say it's a great beginner/intermediate ball for sure. They're long, straight, hold up over the length of the course and are not too badly priced – and they are the only ball that I know of with a monthly delivery schedule.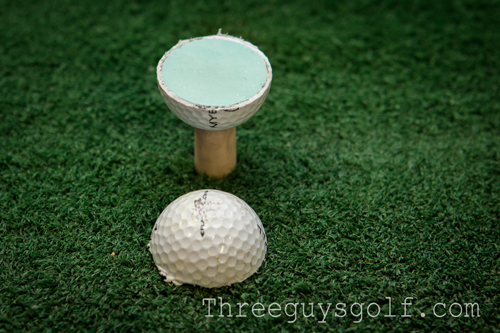 The above two images are after 14 holes of play, after that I switched to my normal ball that I've been playing with for the last five months just to get in a good comparison. While I am stubborn enough to still prefer to lose my $4.00 balls, I do enjoy the constant one liner's that MyBalls afford. You would think that after 18 holes of golf we would have come up with all the puns you could imagine but no. While we were at the 19th hole reviewing our round we were still throwing them out there. Like I said, a marketing machine!
You can learn more about MyBalls on their website. See, I did it again. It's just that easy.