PGA Expo 2013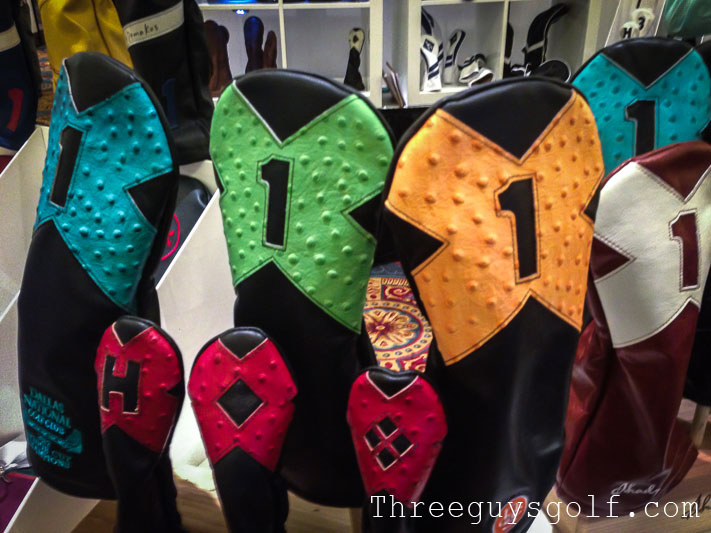 Wednesday August 21st 2013, Las Vegas, NV
Over the past several years, the PGA Expo in Las Vegas has started gaining some traction as a legitimate event for retailers and manufactures to come together and showcase their fall lineup.
When I saw the list of attendees for the Vegas 2013 PGA Expo, which took place between August 19th and August 21st, I realized that this end-of-summer expo is really starting to gain some national attention and only looks to grow in the years to come.
With big names like TaylorMade, Ashworth, Callaway, Travis Mathews, True Linkswear, Nike, Ping, and Odyssey, the show featured an all-star lineup from the golfing industry. Along with those names I found quite a few newer companies and some smaller outfits that have been around a while, with some pretty cool "new" gear.
SKECHERS
That's not a typo. Welcome Skechers to the world of Golf.
I seriously thought it was a mistake when I saw Skechers on the list of Vendors attending the Expo. There's no way the trendy fashion shoe was making a move towards the very competitive golf shoe arena. Well they are and they are bringing it.
With five different versions on the men's side and two different styles on the women's side, let alone all the choices in colors, the Skechers booth was one of if not the biggest surprise of the entire show from this bloggers perspective.
Look for the new line of golf shoes from Skechers called GOGOLF to hit the store shelves in the upcoming months.
KENTWOOL SOCKS
Kentwool is again making changes to increase their ever growing popularity. When talking with them at the Expo they were excited to show me the new designs they have coming out. Time only allowed them to bring three versions of their new line to the Expo but I was told that there is a handful of new looks and designs on deck to come out soon.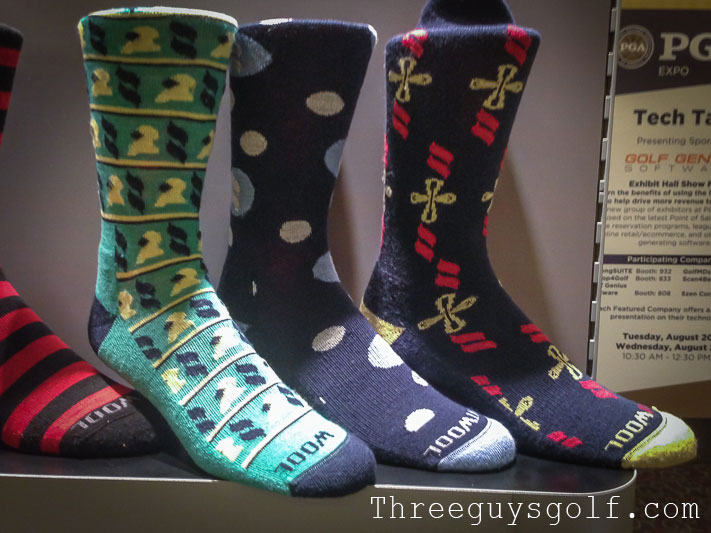 The new designs incorporate the company crest and a few other elements. It's a great way for them to commemorate over 170 years of woolmaking.
Look for the new designs to hit their site soon.
KENNY GIANNINI PUTTERS
Get ready to hear the name Kenny Giannini when it comes to putters and expect to hear it a lot! Our Editor in Chief Adam is in the midst of his review for the Kenny Giannini Putter we received earlier this month and has been nothing but pleased with it so far. Be sure to look for that review in the near future.
I got the pleasure of meeting Mr. Giannini at the Demo Night on Monday and it was easily the highlight of my night. On Wednesday at the Expo I spent some time with the reps at their booth and really got to see (in good light) how well the craftsmanship and design is for the Giannini line. They are gorgeous! Not only that but they putt the ball very well. I've never been a fan of the milled putters but that seriously changed after putting with one of Mr Giannini's putters.
LAMBDA SHOES
This new company, well new to the United States anyway, hails from Portugal and has brought over to the U.S. their high quality, handmade, traditional golf shoe. The quality that goes into each shoe was easily seen and if you're a fan of the traditional look when it comes to a golf shoe you need to check Lambda out.
Given how popular the spikeless trend is, I guess it's not really a trend anymore . . . Lambda also put out a spikeless version (pictured below) that maintains the classic look but has all the functionality of a performance golf shoe.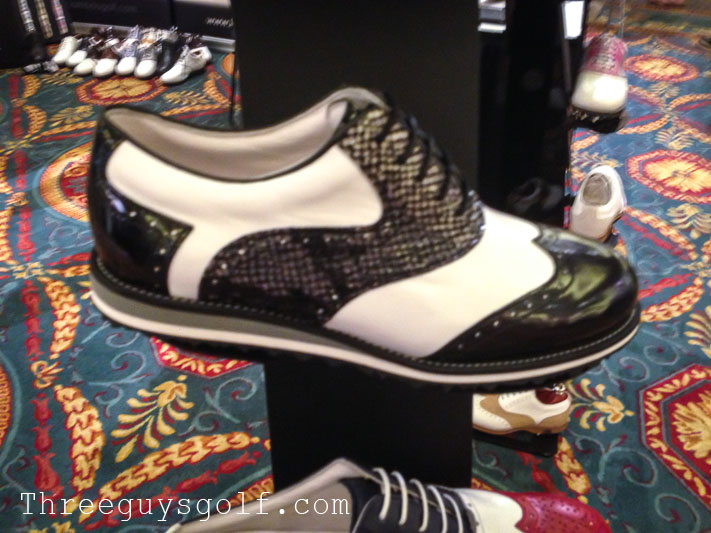 You can see all shoes Lambda offers on their site.
CHASE54
CHASE54 is another company that has been around for a little while that I feel is going to be more recognizable name in the near future. Their new collection of seasonal clothes was stunning and I found myself wanting to whip out the credit card while I was standing there being presented the new line.
Keep your eye on CHASE54 they have a lot in store for the golf apparel world.
CRU GOLF
Cru Golf continues to impress with a new line of custom leather headcovers, this time adding good ol' ostrich skin into the mix. That sounds gross. Nonetheless, the quality craftsmanship that goes into their headcovers is unbelievable, and it shows. Honestly, the pictures are a disservice to the actual product.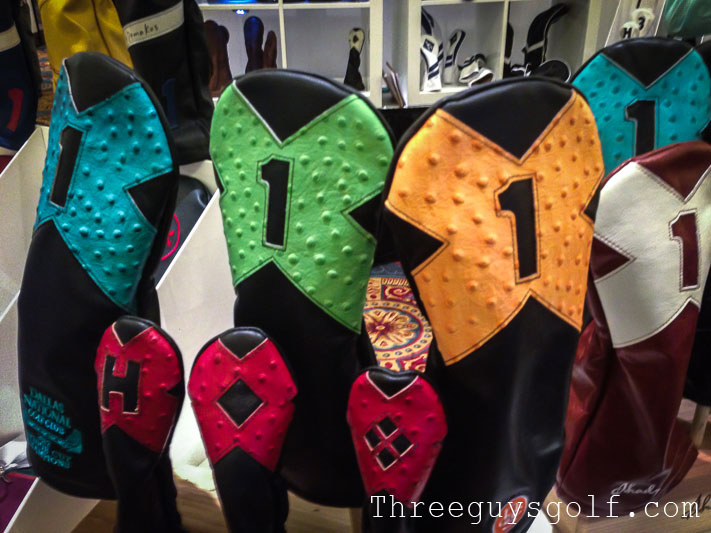 Rickie Fowler has recognized the quality I mentioned and had the folks at Cru build him a custom cover that features none other than the Oklahoma State University logo. It also features a laser etching of his name . . . a very unique feature that Cru is bringing as an option to their custom made covers.
Adam from Cru Golf let me know that they're expanding their putter covers and showed me a prototype that was really impressive. Keep your eyes out for that new cover coming soon.
TRUE Linkswear
I was very impressed with the direction TRUE Linkswear is headed. With them they brought some of the spring 2014 collection, mainly prototypes, and let me tell you they were stunning. I'm a huge fan of TRUE Linkswear, they are my go-to golf shoe and as far as I'm concerned the best golf shoe on the market. That being said I was blown away with what they have coming out for 2014.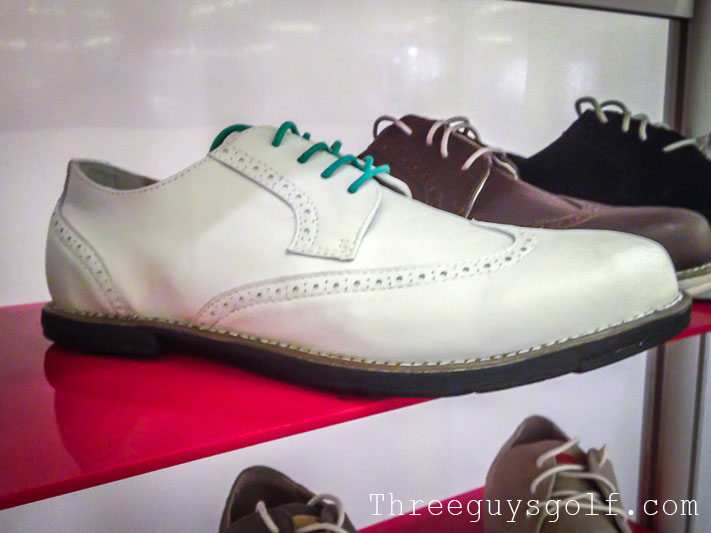 That right there is the new Gent Wingtip. Classic look with all the features you've known to come and love. Even the Zero Drop. How'd they manage that? Well, you'll just have to wait and see.
HAUTE SHOT GOLF
I couldn't leave out something for our female readers!
"Made in the U.S.A." is always an eye-catcher for me as I walk the floor of the show. I love companies that take pride in having their products made in America. It doesn't hurt when your merchandise is great looking either.
Haute Shot Golf is a women's apparel line that comes to us from the brainchild of two sisters from Boise. Vibrant color choices and designs make this unique clothing line worth taking a look. Proudly claiming that their clothes are 'made for chicks and designed by chicks' gives you an idea what they are all about and with a descriptive line like "No rear pocket to detract from your assets" you can tell they are just as passionate about enjoying life as they are about looking good while doing so.
There were so many great people that I met during the 4 hours I spent walking around the expo. This was my first time attending the actual show and not just the demo night – thank you vacation time – so I wasn't about to walk out the doors until I was certain I had seen everything… twice!
Hopefully with the growing success of the Las Vegas PGA Expo the traffic will continue to come in and the vendors that attend will continue to grow as well. It was fantastic to see all these companies here in my backyard and it didn't bother me one bit that I finally got to see Win McMurry in person.