PowerBilt Air Force One DFX Tour Black Driver
With the possible exception of the ball itself there is no more tightly regulated piece of equipment in golf than the driver. Since 1998 the USGA and R&A have capped the Coefficient of Restitution (COR) for drivers at .822. That means that since 1998 driver faces haven't gotten any hotter. Since 2002 the maximum allowable head size has been 460cc. That means drivers haven't gotten any bigger.
Anyone who tells you that drivers haven't gotten any better since 2002 has a strange view of "better." When driver development stopped being a race to see who could build the biggest head with the hottest face, R&D became focused on how to improve within the limits imposed by the ruling bodies. This got us head shapes designed to place the Center of Gravity (COG) as low and as far back as possible. Movable weight systems and adjustable hosels let you fine tune shot shape and ball flight. Most recently weight is being moved forward, as COGs had become so low and far back that some golfers were putting too much spin on the ball. All of these things are what can happen when researchers are given some limits to work within, rather than simply bigger=better.
But it's human nature to believe that how things are is not only how things should be, but how things must be. Keep this in mind when you listen to golfers talk about their games – many of us have given up 5 shots before we tee it up: "I'm not a long hitter, but I'm good with a wedge," or "I'm good tee to green, but I can't putt" aren't just observations, they're forecasts.
Companies are just like people. Ironically, the more advanced a company becomes the more it seems that they become bound by their own success. Take the auto industry: the big car companies considered gas/electric hybrid vehicles the cutting edge. Using electric motors to assist a small gas engine, or using a small gas engine to assist an electric motor was as good as it got. Once they got that technology ironed out, the next big offering in hybrids was gasp a hatchback! Then the Tesla Model S hit the road and showed the auto industry what real innovation looks like.
The Palm Pilot revolutionized personal computing. Next step: color! Cue the iPhone.
Converse Chuck Taylors were the athletic shoe. Then along came Nike.
Golf, meet PowerBilt, and the Air Force One.
PowerBilt is, to put it mildly, unusual for a golf company. They aren't Adam Scott. They aren't Rickie Fowler. They aren't even John Daly. They do sponsor Tom Watson, but their Tom Watson is a UFC middleweight. They do things differently, and they certainly don't feel tied to the way things have always been done. And that is how they bring you the Air Force One line of drivers. All Air Force One drivers are charged with up to 80 PSI of Nitrogen. PowerBilt claims that this lets them support the entire driver face without internal bracing, delivering a larger sweet spot and maximum COR across the face.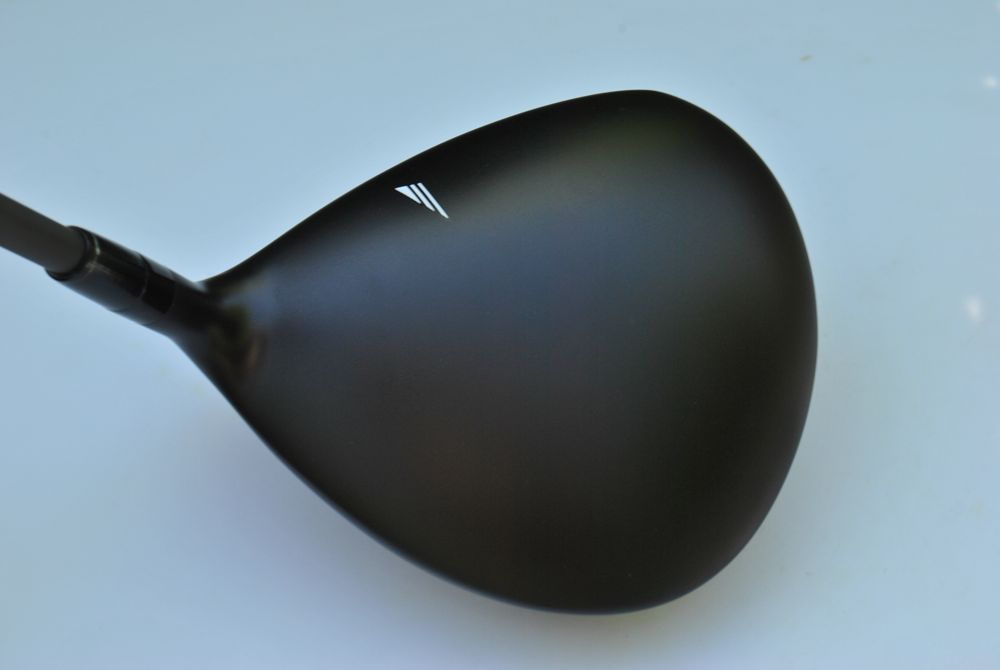 Of course for every Tesla there's a Tucker, and for iPhone there's a Lisa. They laughed at Einstein, but they laughed at Bozo the Clown, too. Lots of companies have filled things with Nitrogen and passed that off as improvement. Without a golf pedigree, and with an image that skews quite a bit from the traditional, some golfers would ask "Why would I even try one?"
I'll save you the trouble of scanning the rest of this review, the simple answer is: Because the Air Force One DFX Tour Black is easy to hit stupid long.
I'm very cynical when it comes to claims of increased distance from a driver. I just told you that the COR has been fixed since 1992. The center of the face literally cannot get any hotter. What PowerBilt's Nitrogen charging technology has done for the Air Force One DFX Tour Black is make the edges of the face more like the center of the face. I don't always hit the ball perfectly, especially with my driver, but with the AFO DFX Tour Black, I saw significant distance gains even on balls that weren't hit perfectly. Nothing will save you if you just can't find the face, but slightly off-center hits from my AFO Tour Black still fly a very long way. When I do find the middle of the face, the golf course gets shorter in a hurry.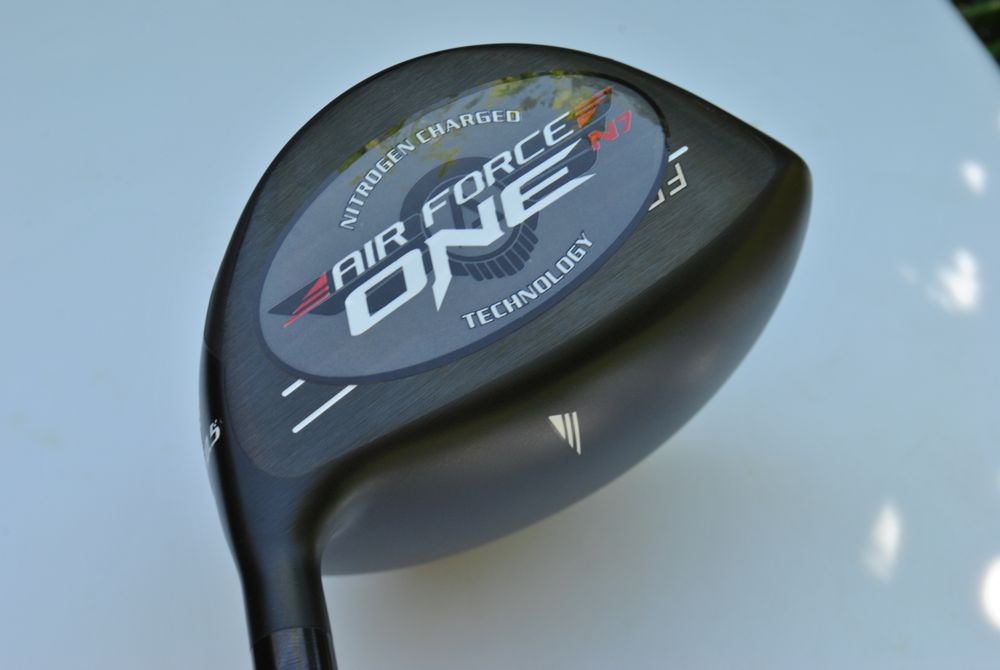 What also makes the golf course shorter is playing from the fairway, and the Air Force One DFX Tour Black helps there as well. I was surprised at how accurate the PowerBilt is, not just for a long driver, but for any driver, and impressed by how easy it is to hit. I had no trouble delivering drives at least 5-10 yards longer than my previous best, right in the middle of the fairway. My regular readers know that I'm a fan of drivers for "all abilities" and that I prefer a forgiving driver to a long one, but the Air Force One Tour Black means that I don't have to choose, and it even looks good doing it.
It's obvious starting at the sole that PowerBilt does things a bit differently. I'm pretty sure that the "Air Force One" branding on the leading edge of the sole is a decal, I didn't pick at it to make sure because I don't want to do anything to mar the club. The rest of the sole features fairly common aerodynamics, with dishing on the sides painted with modern but tasteful graphics. The secret to the Air Force One line, and the Tour Black in particular, lies right behind the branding decal. PowerBilt's N7 Nitrogen Charged port allows them to pressurize the head with 80 psi of Nitrogen, supporting the face and creating some very hot ball speeds. It also acts as a 7 gram weight that in the Tour edition is moved forward to lower spin and produce a lower, more penetrating launch (the MOI version of the AFO moves this port to the rear of the head to produce more spin and a higher launch, for those that prefer it.) As interesting as the Nitrogen charging is, I think that the lower, more penetrating launch is responsible for at least half of my distance gains.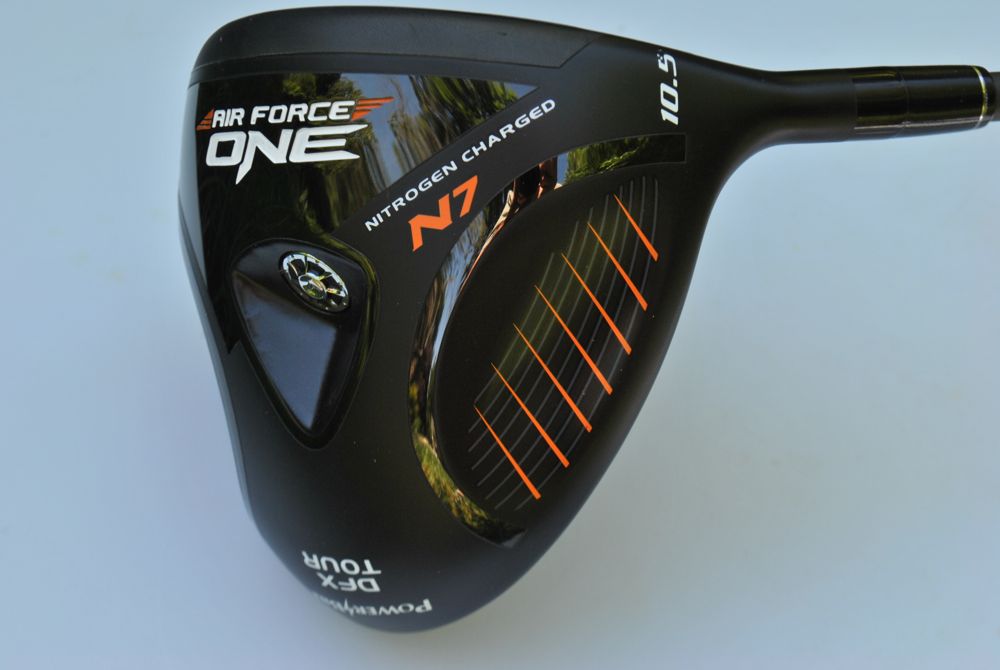 The launch is also helped by the Fujikura Pro 63 shaft installed in our sample. In R flex it's definitely bendy, but it loads and unloads smoothly and predictably, and even in the maximum available 10.5 degree loft (men's versions also come in 8.5 and 9.5) it delivers a boring trajectory that gives good distance and excellent roll out on hard summer fairways. Delivered stock at 45.5″ it's not outlandishly long either, which I think is a plus.
If the Fujikura Pro isn't your cup of tea, don't worry. It's only one of over 20 shaft options offered in the Air Force One series. While most are added-cost options, all the big names are well represented, and given PowerBilt's relatively small size and outsider market status it's a pretty safe bet that these aren't "made for" shafts, but the same item you'd get if you bought them over the counter. While most come with upcharges ranging from $100-$200, there are offerings from Fujikura, Aldila, and Graphite Design for not additional charge.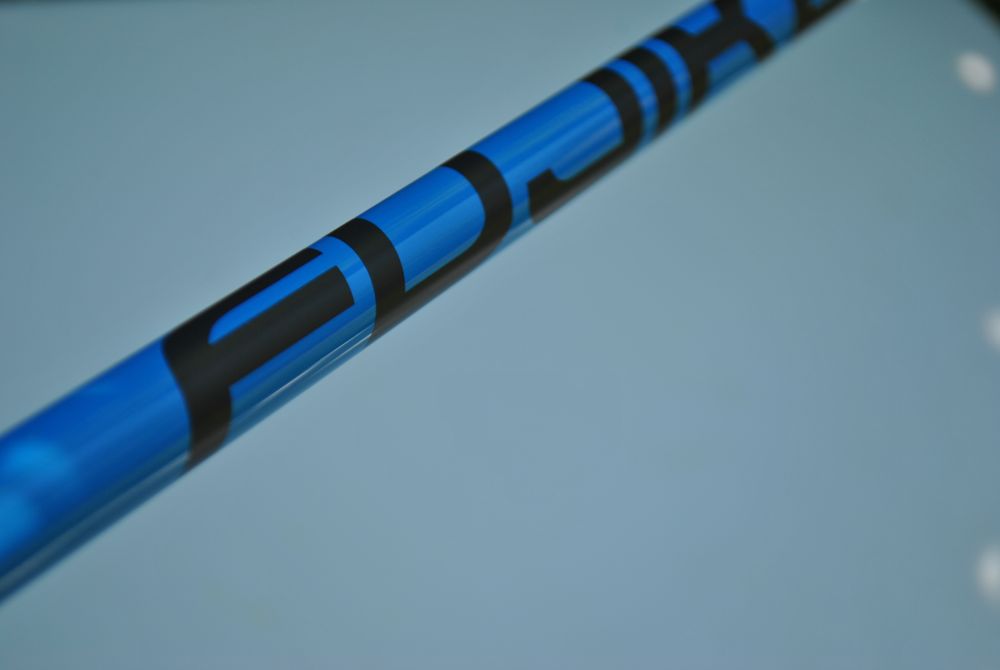 Despite the flash on the sole, the crown of the Air Force One Tour Black is both classic and classy. Featuring a matte black paint job with only a small alignment aid, the combination of slimming black and deep face result in a deceptively small look for the head at address. It's just a touch too long to be the classic pear shape, but it's certainly nothing outlandish. Our sample was beautifully finished, with paint and construction quality that you would expect from a big-name manufacturer. The hosel is a glued, non-adjustable type. Considering the fact that the Tour Black is the top of PowerBilt's Air Force One driver line that could be a surprise, but even the crown jewel is only $299, and at that price point it's not uncommon, and I don't think adjustments are necessary or even helpful. You're not likely to make anything better by fiddling with this driver.
If your tastes in fashion run more to RLX than Degeneration-X, you might want to replace the stock headcover with something a bit quieter, but it is a well-made piece, featuring silver piping and the Air Force One and PowerBilt logos. The grip is a pretty standard rubber type that could even be Tour Velvet, stamped with the Air Force One logo on the butt.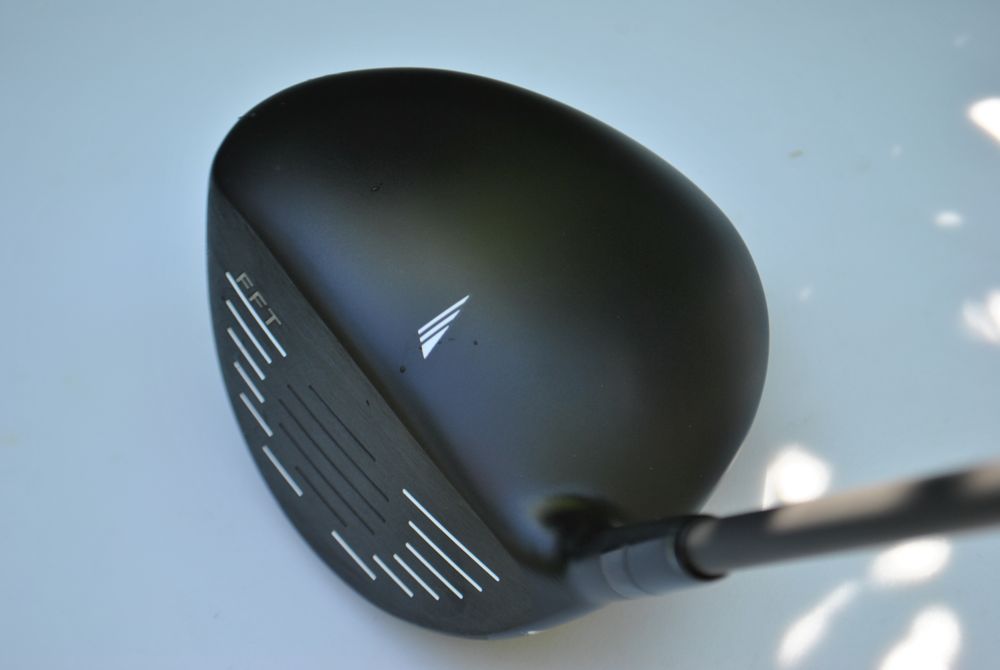 PowerBilt isn't a household name in the golf industry (yet), and certainly there are players out there who won't even look at the Air Force One series and the DFX Tour Black because of that. That's their loss because given the restrictions on drivers, the Air Force One DFX Tour Black just might be the only real breakthrough in distance in the driver market. My review sample took 8 holes to relegate my previous, big-name driver to the garage, and I'm eagerly anticipating the look on my buddies faces when I drive right past them with a driver they've never even heard of.
You can see the complete Air Force One line and learn more about Nitrogen Charging from
the PowerBilt website.