Seven 2014 Open Take-Aways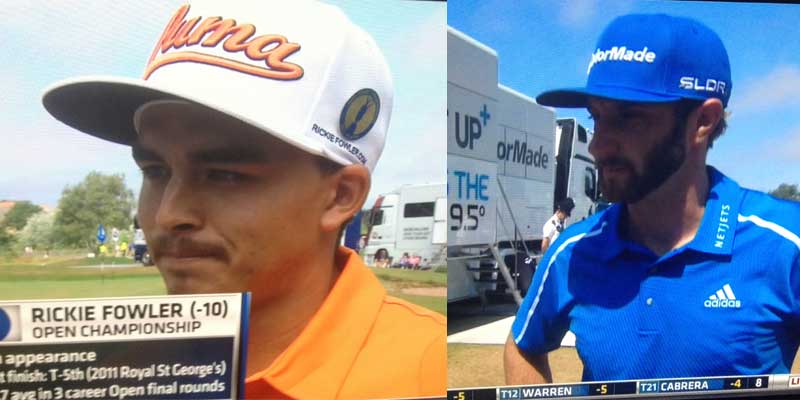 The 2014 Open is over and while it was never in doubt, I spent 5 hours watching it. What did I learn?
1) This would have been a great final day of the Open if: Had Rory only been leading by 1 or 2 strokes, this would have been a blast to watch. There were a handful of guys who played some great golf (or at least I read that, because the Network showed nearly zero shots from guys not named Rory, Rickie or Sergio). Even without the drama, the telecast provided enough shotmaking and star gazing to keep my attention for nearly the entire round.
2) David Duval has a TV future: I know he only gets the early shift but he has great insight and the fact that his life is so interesting just adds to his appeal. It will be tough to replace the guys in the booth, but I would bet a few bucks he makes his way to primetime at some point. NOTE to the Golf Channel…hire this guy NOW!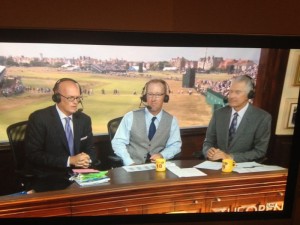 3) Nike, Adidas and Cobra were very happy: I guess this is why companies spend so much on player sponsorships because for about 5 hours these companies had their best products dominate the telecast. Rory, Rickie and Sergio are essentially 100% sponsored by Nike, Cobra and Adidas respectively, so viewers were treated to the entire line from shoes to wedges (heck, Rory carries a Nike yardage book). While all of these companies "won", I actually think Cobra made out the best of the three but let me break it down by equipment and apparel.
-Equipment: The fact that Rory won with Nike equipment should be a big deal but I don't think it moves the needle much. Perhaps because he struggled for a full year making the change probably hurts as much as this win helps. On the other hand, Cobra has been trying to be more than a flashy brand for years, and with the 2014 Rickie is having it really helps to make that point.
-Apparel: For 5 hours we saw the "best apparel" these companies had to offer, and frankly none of it was very impressive. Sure, they are leaps and bounds ahead of whatever Jim Furyk was wearing, but matching a blue hat to a blue shirt is nothing to write home about. Yes, they looked "fine" but compared to some of the guys wearing apparel by designer brands they looked downright boring.
Unfortunately, the major stars are locked into 100% company contracts so they have limited choice. Still it would be fun to see Rory wearing Boss, RLX, Illiac or some other designer brand. The kid is just too cool to not look sharper. With that said, Fowler was the best dressed of the three (except the hat).
4) How long before Tiger calls Butch Harmon: Seriously, you cannot dismiss what Butch has done for Rickie this year. All of the timing has been eliminated from his swing and he is contending on a regular basis (remember who used to do that?). Sure, Tiger will take away the positives, but it is time to go back to the swing that we all fell in love with (and won a bunch of tournaments).
5) Using a long putter to get relief seems unfair: This will be a moot point soon and while I don't have issues with guys who use a long putter on the green, I do think it odd that Adam Scott was able to squeak out a few more inches from the Gorse bush simply because he carries one.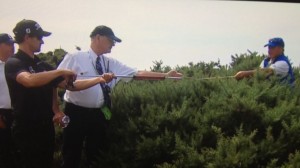 6) 12 months before I get to hear Gorse Bush is still too soon: Not sure what they are but I willing to give up grandstands if it means I never have to see one of these nasty bits of foliage. What do grandstands have to do with Gorse bushes? Well…checking in at number 7
7) How do I get a grandstand at my course: How many times have you yanked a ball only to have it kicked back by a grandstand? None? Me neither. That is not the case for Pros who routinely get great breaks because of grandstands and other man made tournament structures. Ok, now I am just bitching and Sergio absolutely meant to hit the chairs so that it would be hurled back to just off the green.
Until next year…stay clear of the Gorse!